March, 24, 2015
Mar 24
11:00
AM ET
Matthew Stafford is less than two weeks from getting hitched. His bachelor party -- and the bachelorette party of his soon-to-be-wife, Kelly Hall -- has happened. And now, the gifts are rolling in.
Hall, a former Georgia cheerleader, posted one of their gifts on Instagram, and it is a unique one. Instead of buying the Staffords a blender or furniture or something equally bland, tight end Eric Ebron went a different direction. Ebron, a noted sneakerhead, decided to get the soon-to-be newlyweds matching custom Jordans.
Not a bad gift at all, especially since Hall has shown often on Instagram how much she enjoys actually playing basketball. And they look comfortable enough to lounge around the house in as well. The Stafford-Hall wedding is April 4.
September, 26, 2014
9/26/14
5:00
PM ET
MADISON HEIGHTS, Mich. –
Matthew Stafford
leaned back onto the couch inside his trailer Tuesday afternoon, having finished an hours-long commercial shoot a little while before.
It is a commercial that is expected to be released digitally – and one that Pepsi obviously hopes will go viral at some point after shooting the commercial at a local Meijer. Stafford starred in the commercial and while his presence might help drive the video, it is unlikely he'll be pushing it socially himself.
Social media and Matthew Stafford are pretty far apart. He claims not to have Facebook or Instagram. His Twitter account,
@Staff_9
, hasn't been tweeted from in 281 days and counting, where he thanked Paramount Pictures for screening "Anchorman 2" with the Lions.
[+] Enlarge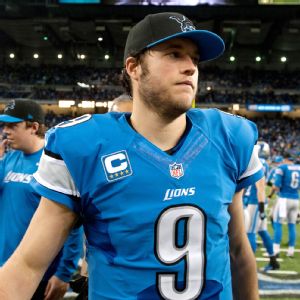 Tim Fuller/USA TODAY SportsMatthew Stafford eschews social media.
The
Detroit Lions
quarterback prefers it this way as he tries to hold on to some of his private life that has become way more public. When he was drafted out of Georgia with the No. 1 overall pick in 2009 this is what he didn't see coming.
"Not only in football but just the world, the social media aspect of life is something that five years ago I didn't think was going to be what it is today and something that personally ... not my favorite thing," Stafford said. "That everybody has access to you and everybody has an opinion about you and it's apparently news and all that.
"That's probably the biggest thing five years ago that if you would have asked me if life was going to be like that, I would have said 'No way.' "
By staying away from social media, Stafford is essentially trying to keep the last vestiges of his private life private. He has declined multiple times to talk about his engagement to former Georgia cheerleader Kelly Hall, who posted engagement pictures and pictures of her engagement ring on her Instagram account.
Even she has apparently cooled on Twitter, though, as the once-prolific Tweeter hasn't sent a message in 144 days and hasn't tweeted something that didn't come from her Instagram account in 274 days.
Stafford is similar.
"I try not to put my private life out there as much as I can and don't pay too much attention to what else is going on," Stafford said. "There's so much in my life that is public and talked about every day without my control, I'd like to be able to control as much as I can."
Trying to live some of his increasingly-public life in private does have disadvantages, though. If there is one regret from choosing to abstain from social media, it is that life has been harder to stay in touch with childhood and college friends whp are now spread out across the country.
It wasn't something Stafford always understood, but as he has grown in the league and his profile has raised as a quarterback, it is something he now accepts. To try and keep his privacy, there are things he has to give up.
"There's a positive aspect to social media as far as keeping up with people and what's going on in people's lives," Stafford said. "But that's a trade-off I'd happily make."
July, 28, 2014
7/28/14
3:05
PM ET
Matthew Stafford
will make his season debut for the
Detroit Lions
on Monday on the field -- and he'll also have two television advertisements doing the same thing.
Stafford appears in ads for DISH Network and they are ... interesting to say the least.
His fiancee, Kelly Hall, co-stars in one ad where Stafford is a surgeon trying to operate with a chainsaw. The second ad has puppets apparently trying to keep Stafford on a mountain.
Here's the
ad with Hall
. Here's the ad
with the puppets
.
Enjoy at your leisure.
May, 10, 2014
5/10/14
8:00
AM ET
ALLEN PARK, Mich. -- Through two days of the NFL draft, the
Detroit Lions
' three draft picks have little in common.
None played in the same time zone as another. None even played in the same conference, as Detroit picked players from the ACC, SEC and independents.
One thing they do have in common -- and it is something that is actually surprising when dealing with athletes in their early 20s -- all three of their picks are either engaged or married. First round pick
Eric Ebron
proposed to his girlfriend, Brittany Rountree, on Thursday -- she said yes. Second round pick
Kyle Van Noy
is engaged to a former Miss Utah, Marissa Powell. And third round pick
Travis Swanson
beat the rest of his class to the altar, marrying the former Emily Holder on March 22.
It is a strange coincidence to have, but maybe there is something to it. After all, listen to how Swanson described his wife when asked if marriage has helped him with football.
"I think the biggest thing that it helped me with is that she is essentially my rock," Swanson said. "If something stressful is happening during the day, I know I can come home to her.
"She knows how to calm me down a bit and tell me everything is OK."
Swanson said the teams who asked him about it all viewed his relationship status as engaged and then married as "positive."
Of course, the draft class isn't the only group with pending wedding plans, as quarterback
Matthew Stafford
proposed to his longtime girlfriend, former Georgia cheerleader Kelly Hall, earlier this year.