November, 22, 2010
11/22/10
2:06
PM ET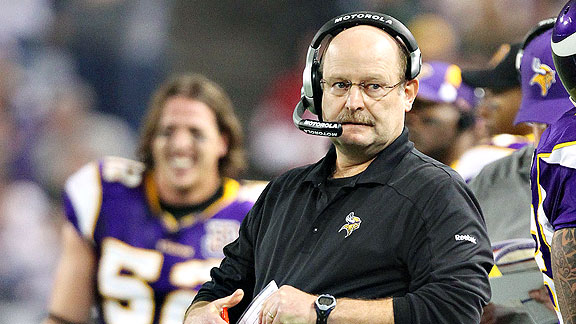 AP Photo/Andy KingBrad Childress had a cold and distant relationship with his players even when the team was winning.
EDEN PRAIRIE, Minn. -- Five years ago, the
Minnesota Vikings
swept up Brad Childress during what they believed was a frenzied, multi-team competition for the man they considered the hottest coaching candidate on the market. They flew him into town less than 24 hours after firing Mike Tice and kept him sequestered in a Twin Cities hotel while they half-heartedly interviewed the remaining candidates on their list.
Owner Zygi Wilf triumphantly lauded Childress as a disciplinarian who would restore order to the franchise on and off the field. "Brad Childress is a winner," Wilf famously said.
But Wilf could never answer the follow-up question: How do you know?
At 49, Childress had never been a head coach at any level. He had been the offensive coordinator of the highly successful
Philadelphia Eagles
, but coach Andy Reid called almost all of the plays over that period. Childress' ability to relate with players was also a debatable proposition; among other stories, it was public knowledge that mercurial receiver
Terrell Owens
had asked Childress to stop talking to him during the 2005 season.
If I had to sum up why Childress failed in Minnesota, my tight answer would include those two reasons. He had a distant relationship at best with players, feuding with most key veterans at one point or another. And his schemes were uninspiring and rigid, routinely minimizing the skills of talented players.
Few coaches bring both of those disparate skills to the table, but having one can usually mitigate the need for the other. You can inspire players to excel by reaching them personally, or you can put them in position to play well with smart schemes that maximize their skills.
Childress, however, did neither consistently. It's true that his teams won consecutive NFC North titles, something that hadn't happened in Minnesota since 1977-78. But starting with his first season and continuing through those title years, we heard the same complaints about his program.
Veteran quarterbacks from
Brad Johnson
to
Kelly Holcomb
to
Gus Frerotte
chafed in an offense they believed could have been much better if allowed more in-game freedom. When
Brett Favre
brazenly freelanced last season, Childress angrily
considered benching him
.
That rigidity wasn't limited to quarterbacks, however. In 2006, Childress minimized receiver
Marcus Robinson
because his best route -- the fade in the end zone -- wasn't a part of his red zone offense. The scheme provided no avenue to get tailbacks
Adrian Peterson
and
Chester Taylor
on the field at the same time.
If you searched hard enough, similar whispers could be heard before Childress' arrival. I doubt Wilf heard any of them. Why? His coaching search committee included no one with a football background. The primary interviewers were Wilf, his brother Mark, vice president of football operations Rob Brzezinski and vice president of operations Kevin Warren.
Brzezinski and Warren are experts in their fields, but neither was qualified to assess if Childress' football acumen was as good as advertised. It's almost as if they assumed it based on Childress' stature as a "hot" coaching candidate. I once asked a high-ranking team official this question: Whom did you use for the "football" portion of the interview, the part where Childress' schematic and actual coaching talents would be measured?
The answer?
Hall of Fame coach Bud Grant, who had been retired for 20 years. My understanding is that it was a cursory conversation, and it's interesting to note that Grant has always been silent about Childress and his performance.
Some successful coaches channel Bill Belichick, attempting to out-think and out-scheme opponents. Others emulate Bill Cowher, whose motivational skills kept his teams playing hard for more than a decade. Childress didn't fall in either category, and ultimately that's why his players turned on him this season. They felt neither inspired nor challenged.
Childress began clashing with players on a personal level early in his first season, starting with cornerback
Antoine Winfield
, and even in the best of times had what players described as a cold and distant relationship.
Without a foundation of trust and loyalty, Childress watched as his players reached near-mutinous levels at the first sign of adversity this season. It
led to a confrontation
with receiver
Percy Harvin
, among many other incidents. It all culminated Sunday when the Vikings sideline fell into chaos during a 31-3 loss to the
Green Bay Packers
. It's rare when you see a coach keep his job under those conditions.
Childress did make a positive impact in many areas of the organization, cleaning up his team's off-field behavior and professionalizing the team's organizational culture. But without a so-called hook to hang his hat on -- an attribute that could help him navigate tough waters -- he ultimately failed.
November, 17, 2010
11/17/10
7:15
AM ET
We're Black and Blue All Over:
You're on the right track if the name "Tyler Thigpen" rings a bell. The quarterback expected to start Thursday night against the Chicago Bears was a seventh-round draft pick of the Minnesota Vikings in 2007. (It always goes back to the Vikings, doesn't it?)
The Vikings liked Thigpen and wanted to develop him as a long-term project. But they weren't willing to create a roster spot to do it, and instead tried to slip him through waivers and place him on the practice squad. (The backup quarterbacks they kept instead, Brooks Bollinger and Kelly Holcomb, are long gone.) The Kansas City Chiefs claimed Thigpen largely because he impressed them during a joint training camp practice, and he had an impressive stretch of 11 starts during the 2008 season. The Chiefs traded him to the Miami Dolphins in 2009.
Jeff Darlington of the Miami Herald
chronicles Thigpen's journey. Bears fans might be rejoicing in facing the Dolphins' No. 3 quarterback, but rest assured he has more experience and skill than the players that fill that job for many teams.
December, 27, 2009
12/27/09
12:02
PM ET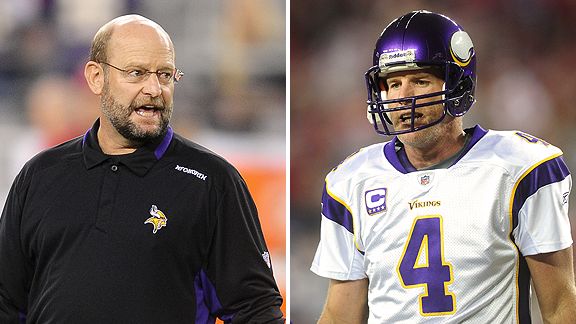 US PresswireLast week may have been a pivotal point for Brad Childress, Brett Favre and the 2009 Vikings.
The theater was entertaining. But ultimately, it was a sideshow. Many of us enjoyed suggestions of a conflict between Minnesota coach Brad Childress and quarterback
Brett Favre
. It makes for good blog material, if nothing else. In reality, however, we should be more interested in the subtext.
Namely: Was this episode the smoking gun -- proof that the Vikings' great gambit won't work? Did it signify that the flash Favre added this season won't be enough to carry Minnesota through the regular season and into the playoffs?
There exists some
compelling evidence
to support that suggestion, with more potentially on the way Monday night (ESPN, 8:30 ET) when the Vikings visit Soldier Field. The Vikings have lost two of their past three games as Favre's performance took a notable dip. One wrong move -- namely, a loss in either of their final two games -- would
threaten their season-long hold
on the NFC's No. 2 playoff seed.
And to get himself back on track, Favre will have to win a cold-weather road game for the first time in five years. That's right. Favre has lost his past seven road games when the game-time temperature was below 38 degrees, most recently Dec. 20 at Carolina. Through coincidence or otherwise, that streak is a piece of the tapestry Favre carried with him to Minnesota, a pattern that has fans and some inside the organization concerned.
I think it's too early to start drawing conclusions about what this means for Favre and the Vikings next season. Even if there had been no dust-ups, Favre's return in 2010 was far from a sure thing.
But I do believe we reached a pivot point for 2009 last week, one way or the other. Either we saw a crack in the foundation of the Vikings' season, or witnessed the cold shower that will set them back on a course for Super Bowl contention.
"We're not going to let this thing stop us," Childress said, "from getting where we want to go. That's rare when you're in the last couple of games of the season … and still be able to reach all the goals that you set in the beginning of the year."
Is he right? On what ground do Favre, Childress and the Vikings stand at this moment? Let's look at evidence from both sides.
They're cooked
Perhaps the biggest question remaining after Favre arrived is whether he would coexist professionally with Childress, who had demonstrated an exceptionally rigid commitment to his offensive scheme and left a number of frustrated veteran quarterbacks in his wake.
In 2006,
Brad Johnson
noted that he and Childress "never talk" about game-planning issues. In 2007,
Kelly Holcomb
was baffled when plays were called during games that he had never run in practice. In 2008,
Gus Frerotte
openly lamented the minimal number of audibles he was allowed to use.
So as Favre raced into MVP contention this season, the assumption was that Childress had relented and allowed Favre the freedom he needed to excel. That conclusion seems premature, based on the stories that surfaced last week detailing
at least four instances
when Childress so disapproved of a Favre decision that he considered benching him.
Most alarming for the Vikings, Favre said last week that he has been less assertive in changing plays than ever. So he's clashing with Childress for changing plays at a frequency much lower than his usual approach?
"This year, probably more so at any other time in my career, I've tried to play it exactly the way we want to play it," Favre said.
But in an issue independent of freedom within the offense, Favre's performance has undeniably slipped beginning with the Vikings' Week 13 loss at Arizona. Following a
post-Week 12 pattern
that dates to 2005, Favre has thrown more interceptions (four) than touchdown passes (three), and finished with passer ratings under 80 in each of his past three games.
The slip hasn't been as dramatic as in recent years, and it's hard to imagine the Bears' depleted defense putting up too much of a fight Monday night. But the pattern at least gives reason for pause when considering the game-time temperature is forecast for under 30 degrees at Soldier Field.
They're stronger
The Vikings' confidence in their passing game reached an
all-time high
in Week 12, when Favre passed on 46 of the Vikings' first 65 plays in a 36-10 victory over Chicago. At that moment, their offense seemed to transition from an emphasis on tailback
Adrian Peterson
to Favre.
That the Vikings lost two of their next three games might not be a coincidence, and if anything positive came of this week's episode, it was an agreement from both Childress and Favre that Peterson should be the primary focus on the offense.
"I know our offense starts with Adrian Peterson and that's where it ends," Favre said, "and we have to get that back on track."
There is an old adage about quantity of running plays being more important than quality, and it's one Childress mentions often. As constructed, his offense would work best with Peterson providing the base and Favre feasting on play-action.
It's no surprise that Favre has the NFL's third-best rating on play-action passes, according to ESPN's Stats & Information. Unless the Vikings fall behind early Monday night, it would be shocking to see them repeat their play selection from last month's game against Chicago. The Bears should prepare for a heavy, heavy dose of Peterson -- who has rushed for 345 yards and five touchdowns in two career games at Soldier Field.
A rebalanced offense, centered on Peterson but capable of the big passing strike, is a better formula to lead the Vikings through the playoffs. Will it work out that way? Or did the Vikings peak too early this season? As we like to say, tune in to ESPN's "Monday Night Football" to find out.
February, 24, 2009
2/24/09
2:30
PM ET
Posted by ESPN.com's Kevin Seifert
Here's a fun player-personnel fact for you as we await official confirmation of Minnesota's trade for Houston quarterback Sage Rosenfels. Assuming the trade is finalized, the Vikings will have devoted eight draft choices to acquiring six quarterbacks in the three-plus offseasons since Daunte Culpepper blew out his knee in 2005.
Here's the breakdown:
And for those keeping track, this will be the second time Minnesota vice president Rick Spielman has acquired Rosenfels. While with Miami in 2002, Spielman traded a seventh-round pick to Washington for him.
January, 6, 2009
1/06/09
7:14
AM ET
Posted by ESPN.com's Kevin Seifert
Minnesota quarterback Gus Frerotte has expressed his disappointment several times in the Vikings' decision to return him to backup status following his recovery from a fracture in his lower back. This week, he took his sentiments a step further by telling Michael Silver of Yahoo.com that he was the Vikings' best option and should have started Sunday's 26-14 loss to Philadelphia.
Here's the relevant quote:
"I just don't know what to think right now. It was a very frustrating experience, because I felt like I should've been the one playing. That might sound selfish, but I think I would've given us the best chance to win. I'm going home to St. Louis [on Monday] to be with my family and figure out where things stand, but the way things played out at the end really makes me question things."
Many people around the Vikings are expecting Frerotte to retire or otherwise effect his departure from the team. He'll join Brad Johnson, Kelly Holcomb and Brooks Bollinger as veteran quarterbacks who have left the team -- either by their choice or the Vikings' -- after being acquired by coach Brad Childress over the past three years.
Continuing around the NFC North on this fine Tuesday:
October, 27, 2008
10/27/08
10:20
AM ET
Posted by ESPN.com's Kevin Seifert
Despairing in Minnesota about the Vikings' long-term quarterback situation? Then you might not want to read this post from ESPN.com's Bill Williamson, my AFC West colleague. (Actually, you should. Reading is learning).

Thigpen
Bill chronicled the eye-opening day of Kansas City quarterback Tyler Thigpen, a former Vikings draft pick who completed 25 of 36 passes for 280 yards and two touchdowns in a 28-24 loss Sunday to the New York Jets. It's way too early to draw any conclusions, but at minimum Thigpen gave the Chiefs something to think about as they mull signing veteran Daunte Culpepper after losing Brodie Croyle and Damon Huard to injuries.
It's difficult to project a player's long-term prospects off one game, and Thigpen has struggled in other appearances over the past two seasons. But rest assured, no passing performance in the Vikings' recent history has matched even the mild optimism Thigpen generated Sunday.
The Vikings were among a handful of teams who uncovered Thigpen at Coastal Carolina prior to the 2007 draft. They initially planned to sign him to a free-agent contract but ultimately used a seventh-round pick to ensure they got him onto the roster.
Thigpen proved to be a quarterback worth developing during training camp, and he seemed destined to be the Vikings' No. 3 quarterback in 2007. But when No. 2 quarterback Brooks Bollinger struggled, the Vikings acquired Kelly Holcomb to provide backup for young starter Tarvaris Jackson.
Rather than release Bollinger, however, the Vikings tried to sneak Thigpen onto the practice squad on final cutdown day. The Chiefs, who had scouted him during a joint training camp practice between the two teams, claimed him on waivers.
Vikings coach Brad Childress said at the time he was "sick" upon losing Thigpen, and for good reason. Jackson flopped early this season, and current starter Gus Frerotte is 37. If the Vikings fall out of the 2008 playoff race, wouldn't it be an ideal time to give a developmental player like Thigpen an opportunity?
Alas, the Vikings won't have that chance. And for what? Holcomb was released in March and Bollinger lost a competition with rookie John David Booty during this summer's training camp. Jackson, meanwhile, has a murky future at best. Who will be the Vikings' 2009 quarterback? In all likelihood, he's not on the roster today.
Consider it this way: The Vikings haven't had a quarterback throw for at least 280 yards and two touchdowns with no interceptions in four seasons. Yep, it's been since Culpepper threw for 280 yards and two scores on Oct. 23, 2005. Hope has been fleeting ever since.
September, 17, 2008
9/17/08
4:32
PM ET
Posted by ESPN.com's Kevin Seifert
| | |
| --- | --- |
| | |
| | Tom Dahlin/Getty Images |
| | Quarterback Tarvaris Jackson has struggled in the Vikings' first two games this season. |
EDEN PRAIRIE, Minn. -- During his three years in Minnesota, I have seen coach Brad Childress stand at a podium and defiantly explain his stance on a key issue. I've watched him sneer at some questions and wax poetically on others. He's expressed sympathy, anger, humor and intelligence.
Wednesday, I saw something new: Uncertainty.
As he announced the decision to bench quarterback Tarvaris Jackson, Childress hardly seemed the confident offensive guru that the Vikings eagerly hired in January 2006. Instead, Childress seemed shaken to his core on the day when he admitted the quarterback he has groomed and built his program around had failed.
Childress suggested that part of Jackson's struggles "may" be related to a lack of experience and said: "I know Gus will give us that."
That's hardly an enthusiastic endorsement for a quarterback who was just entrusted with the final 14 games of the season. But it's the best Childress could muster after making the most complex -- and clearly the most wrenching -- decision of his career.
Let's be clear: Childress had no choice after watching Jackson struggle through the season's first two games. But in turning to Frerotte, Childress knows he is indicting his own reputation. A head coach should never give his owner a reason to doubt him, but today the Vikings' Zygi Wilf has to be wondering about Childress' purported strength in developing quarterbacks.
Childress was closely associated with the maturation of Philadelphia's Donovan McNabb and in Minnesota has demonstrated some hubristic tendencies at the position.
He never connected with incumbent Daunte Culpepper and willingly cast aside a player who had an MVP-like season in 2004. A month later, Childress signed off on drafting Jackson out of Division I-AA Alabama State, referring to him as a "piece of clay" who only needed some professional coaching in order to become the Vikings' long-term starter.
As he worked with Jackson, Childress benched veteran Brad Johnson and ran through a carousel of short-term backups. Childress' designated No. 2 quarterback flopped in each of his first two training camps, forcing the Vikings to give up draft picks to acquire Brooks Bollinger in 2006 and Kelly Holcomb in 2007 for emergency depth.
And it took only incremental improvement -- from terrible to better -- in 2007 for Childress to commit to Jackson this season, an especially weighty decision given Wilf's eight-figure investment in the free-agent market. Most owners won't spend $60 million in guaranteed money for a team that is still developing its quarterback. The understanding was that Jackson was ready, even though he had never showed it on the field.
If anything, Jackson actually has looked worse in the season's first two games than he did at the end of 2007. His mechanics were flawed, his passes inaccurate and he couldn't explain why he wasn't sliding at the end of his runs. In short, he played like a rookie after three years in the Vikings' offensive system.
It's like Childress put 51 cards in Jackson's hat, saving only one in case of emergency. And now he has played that card -- one that's hardly an ace -- in the middle of September. At a time when Childress believed the Vikings would be reaping the benefits of his essential skill, they instead are reeling because of his hubris.
August, 29, 2008
8/29/08
1:40
PM ET
Posted by ESPN.com's Kevin Seifert
As we head into final-cut weekend, quarterback depth remains an issue for each team in the NFC North. We know who will open the season as the starter: Kyle Orton in Chicago, Jon Kitna in Detroit, Aaron Rodgers in Green Bay and Tarvaris Jackson in Minnesota. Nevertheless, a few backup situations could change in the next few days.
Let's take a look at each team's situation:

Chicago Bears: Orton will start and it's pretty likely Rex Grossman will back him up. The big question among Bears fans is what will happen to undrafted rookie Caleb Hanie, who showed promise during the preseason, and most important, doesn't have "Orton" or "Grossman" in his name.
For roster flexibility, the Bears could be tempted to keep only two quarterbacks. In that scenario, they would waive Hanie for the purposes of putting him on the practice squad. (They would probably do the same thing if a veteran they want to add -- Josh McCown? Chris Simms? -- becomes available over the weekend.) The risk is that another team could claim Hanie on waivers, an endgame that would enrage Bears fans but wouldn't exactly impact the outcome of the season.
---

Detroit Lions: Dan Orlovsky won the No. 2 job by default after Drew Stanton sprained a ligament in his right thumb. Stanton will be unavailable for the first month of the season, and the Lions will have to determine whether to keep open his roster spot or place him on injured reserve.
It's likely they'll hold a spot for him, but then coach Rod Marinelli will have to decide whether to play that first month with two healthy quarterbacks or whether they should keep Drew Henson around. It's believed Henson still has practice squad eligibility.
---

Green Bay Packers: Rookie backups Brian Brohm and Matt Flynn played like, well, rookies for most of the preseason, posing a significant risk for a team with playoff aspirations if Rodgers were sidelined. Coach Mike McCarthy wouldn't rule out the possibility of signing a veteran backup this weekend -- Daunte Culpepper is one possibility -- but it would be difficult to imagine anyone getting up to speed in time for the Sept. 8 opener against Minnesota.
Regardless of whether they bring in a veteran, the Packers have to determine how Brohm and Flynn stack up against each other on the depth chart. Brohm was a second-round draft pick, which would seem to give him the edge, but those who have watched the Packers closely consider it a toss-up from a competitive standpoint.
---

Minnesota Vikings: Jackson and Frerotte are set as the top two quarterbacks, but coach Brad Childress seemed hugely disappointed in both Brooks Bollinger and John David Booty after Thursday night's preseason finale at Dallas. Normally, the No. 3 quarterback isn't considered the highest of priority decisions. Keep in mind, however, that in each of the past two years, the person who opened the year as the Vikings' No. 3 quarterback has gotten on the field in a meaningful way.
(Overall, the Vikings have had four different starters in the past 32 games: Jackson, Bollinger, Brad Johnson and Kelly Holcomb.)
You would think Booty has the upper hand in this competition; the Vikings traded up in the fifth round of the draft to get him, but it wouldn't be out of the question for both players to be released if a more intriguing developmental quarterback becomes available this weekend.

NFC NORTH SCOREBOARD
Thursday, 9/4
Sunday, 9/7
Monday, 9/8