NFC North:

Ken Whisenhunt
August, 24, 2012
8/24/12
11:00
AM ET
For a number of reasons, but mostly because of the sheer volume of news during training camps, the state of NFL officiating hasn't spurred widespread alarm. I imagine that will change as soon as we're done with this third week of the preseason, after which teams usually look beyond the fourth and final week and set their focus squarely on the regular season.
As you know, replacements have been working preseason games because the NFL has locked out its permanent officials in a labor dispute. Major mistakes have occurred weekly, and both games Thursday night featured fundamental problems with rule interpretation.
[+] Enlarge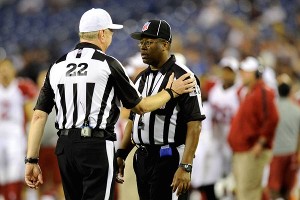 Joe Howell/AP PhotoSubstitute officials Robert Dalton (22) and Anthony Stroman confer in the fourth quarter of Thursday's Cardinals-Titans preseason game.
At least one NFC North player began speaking out as a result. After watching the
Arizona Cardinals
-
Tennessee Titans
game on ESPN,
Chicago Bears
place-kicker
Robbie Gould
-- who is also the team's player representative --
tweeted
: "Watching the coaches get upset on @espn because the refs [are] clueless @nfl when did you stop caring about the integrity of the game. …I understand there is a fine line in negotiations To get the refs back on the field. But I hope both sides can reach a deal soon."
Among the calls Gould was referring to: Referees mistakenly believed that a holding penalty against the Cardinals should offset a penalty for 12 men on the field against the Titans. According to NFL rules, the 12-man penalty should override a holding penalty, meaning only the Titans should have been penalized on the play. Afterwards, Cardinals coach Ken Whisenhunt ranted on the sideline to whomever would listen.
In addition, Titans coach Mike Munchak said after the game that there had been "some confusion" on timeouts before halftime. According to my AFC South colleague Paul Kuharsky, Titans defensive coordinator Jerry Gray walked away from an argument with replacement officials and called them "The Three Stooges" on the field.
Meanwhile,
Cincinnati Bengals
coach Marvin Lewis said replacement officials didn't fully understand the rule protecting defenseless receivers when they called safety
Taylor Mays
for a 15-yard penalty after hitting
Green Bay Packers
tight end
Tom Crabtree
.
Here's what Lewis
told reporters
: "It was exactly shoulder-to-shoulder. Unfortunately, the guy that made the call's explanation was not correct. It's one of those things. They are getting better. Hopefully, it will get closer and closer to what we need. His understanding was that the player was a defenseless receiver. He was, but you are allowed to hit a defenseless receiver shoulder-to-shoulder. There is no such thing as a defenseless player unless he is hit in the head with your head. It was a misinterpretation of the rule. I know they are working hard. The league is working hard to get this stuff corrected. They are working overtime on it actually. It'll get better and better."
The concern, however, is that these officials don't have much time to improve before the start of the regular season. Most of us have assumed that the NFL and its permanent officials will, under the pressure of the regular-season deadline, come to an agreement soon. If not, however, there is a strong likelihood that a regular-season game in Week 1 will be impacted not by a judgment call -- which happens every week of every season -- but by an official who either doesn't know all of the NFL's rules or misapplies them.
We have come to accept debatable calls for, say, pass interference or whether a player had two feet in bounds after making a catch. But losing track of timeouts? Not knowing how to apply the 12-men-on-the-field rule? Not demonstrating full knowledge of what constitutes a defenseless receiver? That's scary.
January, 8, 2010
1/08/10
4:17
PM ET
We're no
closer to knowing
whether Arizona receiver
Anquan Boldin
(knee, ankle) will play in Sunday's wild-card matchup against Green Bay.
Boldin missed a third consecutive day of practice Friday but is listed as questionable on the Cardinals' injury report. By NFL definition, that means it's a 50-50 proposition. Boldin has been noted for playing with injuries on multiple occasions in his career, and Cardinals coach Ken Whisenhunt told reporters a decision won't be made until Sunday morning.
Here's how Boldin put it, courtesy
Tom Pelissero of the Green Bay Press-Gazette
: "If I can go, I'll be out there. I'm doing everything within my power to make sure I'm on the field Sunday. If I'm not able to go -- trust me, it won't be nothing that I didn't do. I have doctors at my house at night, poking and prodding, acupuncture -- everything that's possible. I'm trying to make sure that I'm on the field."
Cardinals beat writer Darren Urban, writing on the
team's Web site
, notes that Boldin's status "wouldn't even be a question" if this were a regular season game. Indeed, if Boldin plays, it will be an exceptional effort by a big-time player in a sudden death game.
Without Boldin, the Cardinals would rely more heavily on receivers
Steve Breaston
and
Early Doucet
.
The Cardinals also listed safety
Antrel Rolle
(thigh) and cornerback
Dominique Rodgers-Cromartie
(toe/knee) as questionable. But both players practiced Thursday and Friday and are expected to play.
Meanwhile, only one Packers player could miss Sunday's game because of injury. Safety
Derrick Martin
(ankle), primarily a special teams player, is listed as doubtful. Nose tackle
Ryan Pickett
(hamstring), who has missed three of the past four games, is probable.
January, 7, 2010
1/07/10
5:58
PM ET
Two of Arizona's three injured players got back on the practice field Thursday, but the most significant one remained sidelined.
That's the upshot of Thursday's injury report as we're now three days from Green Bay's wild-card matchup against the Cardinals. Receiver
Anquan Boldin
remained sidelined by knee and ankle sprains, and coach Ken Whisenhunt is appealing to Boldin's well-chronicled toughness.
Speaking to Arizona reporters
, Whisenhunt said: "He's proven time and time again … what he's all about as far as how tough he is and his ability to come in and play."
Safety
Antrel Rolle
(thigh) and cornerback
Dominique Rodgers-Cromartie
(toe/knee) participated in a limited portion of Thursday's practice after sitting out Wednesday. Both appear on track to play Sunday.
Meanwhile, the Packers had all hands practicing fully Thursday except for safety
Derrick Martin
(ankle).
January, 6, 2010
1/06/10
11:04
AM ET
Green Bay will return to the practice field Wednesday to continue preparations for Sunday's wild-card playoff game at Arizona, meaning it's time for us to transition from review mode to postseason mode. We'll start it off by telling Cardinals coach Ken Whisenhunt to lighten up.
This column
from Dan Bickley of the Arizona Republic suggests Whisenhunt is upset that the Packers ran up the score in two relatively meaningless games this year at University of Phoenix Stadium. I suppose there could be a level of media extrapolation here, but the claim is a joke regardless.
According to Bickley, Whisenhunt thought Packers coach Mike McCarthy needlessly game-planned for the teams' preseason game in August, one the Packers led 38-10 at halftime. Apparently that violated some kind of unwritten preseason rule.
On that count, I strongly disagree. The third preseason game is usually the only August affair that NFL teams care about. It's the closest to a regular season game as there is, and there are no articles of war. If McCarthy thought it was best for his team to work in a game-planning structure, he had every right to do it. If anything, a 28-point halftime deficit should have said more about the Cardinals than the Packers.
Meanwhile, Whisenhunt suggested McCarthy prolonged his starters' playing time in last Sunday's 33-7 victory to pad their statistics. At best, that claim has limited factual basis.
It's true that quarterback
Aaron Rodgers
played long enough to pass
Brett Favre
for second on the Packers' all-time list of most passing yards in a season. But if stat padding were truly a high priority, Rodgers would have continued playing. When he departed, Rodgers was only 25 yards away from passing Lynn Dickey for the No. 1 spot on that list.
I'm sure Whisenhunt doesn't appreciate any suggestion that the Packers have manhandled his team this year.
But if the games were as meaningless as Whisenhunt apparently believes they were, then he shouldn't be upset with the manner his team lost them. They either matter, or they don't. As far as he should be concerned, the Packers and Cardinals will meet for the first time Sunday.
January, 4, 2010
1/04/10
12:00
PM ET
After Green Bay's 33-7 victory at Arizona, here are
three (mostly) indisputable facts I feel relatively sure about:

Sunday's game put a capper on what is now an undeniable conclusion: Coach Mike McCarthy's decision to shift to a 3-4 defense was a success. There were some growing pains and a few low points, but ultimately the Packers finished with the second-ranked defense in the NFL. After intercepting Cardinals quarterbacks three times Sunday, the Packers finished the season with an NFL-leading 40 takeaways. The trend continued even after season-ending injuries to linebacker Aaron Kampman and cornerback Al Harris. The defense faces a tough task against Arizona's three-receiver set next weekend, but it played a big role in the Packers finishing the season with seven victories in eight games.
I have no problem with McCarthy's decision to play his starters into the second half Sunday. Barring unusual environmental circumstances -- bad weather, poor field conditions -- there is no more risk to using a player in the third quarter of Week 17 as there is in the first quarter of a playoff game. I certainly appreciated McCarthy's approach more than that of Arizona's Ken Whisenhunt, who benched some starters early but left others -- including All-Pro receiver Larry Fitzgerald -- on the field surrounded by backups. McCarthy left no doubt about his intentions.
In his second season as the Packers' starter, quarterback Aaron Rodgers finished with the NFL's fourth-best passer rating (103.2) and the sixth-most yardage (4,434). He also tied four players, including Minnesota's Brett Favre, for the second-fewest interceptions (seven) among qualified quarterbacks. Most importantly, Rodgers brought his career record as a starter to 17-15. His fourth-quarter performance last month at Pittsburgh would have been legendary had the Steelers not scored on the game's final play. It's this simple: The Packers enter the playoffs led by one of the NFL's best quarterbacks this season.
And here is
one question I'm still asking:
There's little doubt that cornerback Charles Woodson will start this Sunday. But will he be limited by the shoulder injury he seemed to aggravate against the Cardinals? Woodson will be a critical component of the Packers' scheme to stop Arizona's dynamic passing game. He'll need all of his faculties. Woodson told reporters that the injury won't be an issue, but you never like to see your best player wincing on the sideline a week before the playoffs begin.
January, 3, 2010
1/03/10
7:21
PM ET
We're about to find out the value of momentum entering the playoffs. No NFL team is hotter than Green Bay, which won seven of its final eight games this season to finish 11-5.


Packers coach Mike McCarthy played his starters longer than Arizona coach Ken Whisenhunt, ensuring a blowout victory at University of Phoenix Stadium. The teams will return to the facility next weekend for a wild-card rematch.
As my
NFC West colleague Mike Sando
noted, the Cardinals played well when it counted during the 2008 playoffs. But let's just put some cards on the table. Meaningless or otherwise, the Packers have now trounced the Cardinals twice in less than five months when you count the teams' Aug. 28 preseason game.
As we speak, the biggest concern for the Packers is the condition of cornerback
Charles Woodson
, who didn't return after aggravating a shoulder injury. Earlier, Woodson had intercepted his ninth pass of the season, returning it 45 yards for his third touchdown of the year. Early indications are that the injury isn't serious. It's hard to imagine the Packers making it far in the playoffs without him.
April, 16, 2009
4/16/09
11:15
AM ET
Posted by ESPN.com's Kevin Seifert
Something smells familiar around here. After all, it wasn't too long ago when an NFL team put a prominent player on the trading block and suddenly the NFC North was awash in rumors?
And for good reason, as it turns out. Exactly two weeks ago, Denver shipped quarterback Jay Cutler to Chicago after considering an offer from Detroit and speaking briefly to Minnesota early in the process. Based on the tone of letters in my mailbag, we're abuzz with the possibility that a Black and Blue team could grab receiver Anquan Boldin from Arizona.
Coach Ken Whisenhunt confirmed Wednesday the Cardinals will listen to offers for Boldin, who wants a contract that Arizona doesn't seem willing to offer. The Bears can still count receiver among their personnel needs, and Minnesota aggressively pursued free agent T.J. Houshmandzadeh earlier this offseason.
I won't entirely rule out the possibility of Boldin joining Cutler in the NFC North, but there seems to be more circumstances working against it than there are in favor. Among them:
| | |
| --- | --- |
| | |
| | Paul Spinelli/Getty Images |
| | There are NFC North teams that would love to have Anquan Boldin but do not seem to have the necessary assets to trade for him. |
There haven't been too many estimates as to the Cardinals' asking price, but the Bears already coughed up three valuable draft choices in the Cutler deal. They don't have a first- or third-round pick to trade this year, and they don't own a first-rounder in 2010. (They do have a third-round pick this season, but it was a compensatory award and thus not eligible to be traded.) The Bears could include the No. 49 overall pick this year, but that is their only immediate ammunition and probably isn't enough.
The Vikings gutted their draft last year to acquire defensive end Jared Allen, and vice president Rick Spielman has spoken multiple times about the dangers of diminishing two consecutive drafts. It's true that the Vikings heavily pursued Houshmandzadeh, but he wouldn't have cost any draft choices. That courtship isn't necessarily an indication that the Vikings are strongly committed to upgrading their receiving corps. They considered the Houshmandzadeh opportunity to be unique in several ways. I don't doubt Boldin would help their offense and be a strong complement to Bernard Berrian, but I'm not sure it's enough of a need to give up multiple draft picks to fill. Sidney Rice, a second-round pick in 2007, should be ready to take the next step.
The Lions, if they have any interest, are hampered by the same factors that conspired against them in the Cutler sweepstakes. They own eight draft picks, but that includes the poisonous No. 1 overall choice. The Cardinals, after all, won't want their compensation to earn more than Boldin is asking for. The Lions have enough assets to get a deal done, but their across-the-board holes should preclude them from dedicating a hunk of their draft toward acquiring one receiver.
To be clear, it's without malice that I leave Green Bay out of this discussion. I think most of us would agree the Packers have a deep-enough receiving corps to allow them to sit this one out and focus on filling holes in other areas.
I can't totally rule out the possibility of an NFC North team getting involved here, but it's far from the slam dunk we saw in the Cutler discussions.
February, 2, 2009
2/02/09
6:30
PM ET
Posted by ESPN.com's Kevin Seifert
Upon pondering last week's Have at It question, there wasn't much doubt from our Black and Blue readership: Detroit coach Jim Schwartz has a more difficult task ahead of him than Ken Whisenhunt did, who took a similarly cursed franchise to the Super Bowl in his second season as Arizona's coach.
Most of you agreed with Napaguy, who wrote the Lions' personnel pales in comparison with what Whisenhunt inherited in Arizona:
It is obviously a worse situation in Detroit. They have little to no talent. The whiz kid really only brought attitude and heart to the team. I mean most of the major pieces were there when he arrived (Fitz, Boldin, Warner, Dockett, Dansby, Wilson, Levi Brown, etc.) that's all Whisenhunt had to do was get these guys in gear, which a former NF North coach couldn't do. I mean basically these are Denny Green's players and Whisenhunt's taken to the next level. Schwartz has no talent besides Calvin Johnson and that's not fair for him, unless the gm helps him greatly he will be gone in 3 years.
Schwartz does have a few advantages, wrote Nyimpartial:
Arizona was the better situation, but only from a roster point of view. Arizona, like Detroit now, still had the losing culture, but unlike Detroit, it also had a much weaker (less established) fan base and ownership hadn't shown commitment. (Not that the Ford family has done better, but at least they've demonstrated loyalty to the staff.) Because of the roster potential, you know that Arizona had high expectations (and likely a shorter time to be successful). Right now, expectations for the Lions can't get any lower, so anything the team does next season will be considered a success.
Booneshinn is a bit more optimistic about the Lions' existing personnel:
I think that [Whisenhunt] inherited a better situation...but I don't believe that Schwartz has inherited a terrible situation. The Lions were not an 0-16 team this season (probably more like 4-12). They have a decent caretaker at QB (Orlovsky, not mentioned above) to mind the store while they upgrade other key areas with a load of high draft picks. Schwartz has made great hires and is rid of Matt Millen and his awful "gut" feelings regarding draft picks. The Lions won't be in the SB in two years...but they'll be in the playoffs within three.
My take? I don't think you can make a comparison between the talent Whisenhunt inherited and the roster Schwartz is currently evaluating. The Cardinals were a much more attractive job from that standpoint. But I also don't think you can underestimate the uphill battle Whisenhunt faced to create a positive atmosphere in a city that really didn't care about the Cardinals until very recently.
Say what you want about sports in Detroit, but the Lions have a large and dedicated fan base that is itching for the team to get on track. It should make a difference to players and coaches that they have loyal backers.
Loyalty and support, however, can't make up for years of poor drafting and ill-advised free agent decisions. Schwartz is entering on the bottom floor. Whisenhunt jumped in on mid-ascent.
January, 30, 2009
1/30/09
12:30
PM ET
Posted by ESPN.com's Kevin Seifert
The new coach stepped to the podium, gave an opening statement and asked for questions.
Paraphrasing the first line of inquiries:
Why would you want this job?
The answer:
"I can't speak of the past. I'm here right now; I'm not here to exorcise any ghosts and those kinds of things. I said on Monday that my dad would be very disappointed if I backed away from a challenge. That's in our blood. ... There's no better feeling in football than turning a situation around. That's what drives me here."
Ok, pop quiz: Who was the coach? Detroit's Jim Schwartz? Or Arizona's Ken Whisenhunt?
Perhaps a better question is this: Does it matter?
Like Whisenhunt, Schwartz has taken one of the most historically difficult jobs in the NFL: Coaching a woebegone franchise that literally hasn't experienced significant success in generations. Whisenhunt, however, has indirectly given Lions fans hope by leading the Cardinals to the Super Bowl in his second season.
The Cardinals didn't exactly dominate the regular season, winning a weak NFC West with a 9-7 record. But their postseason march to Super Bowl XLIII is nothing short of remarkable considering some 60 years of organizational failure.
The Lions' history is similar. So I'd be interested in hearing who you think had a more difficult job facing him when he took over: Whisenhunt or Schwartz? Let me know in the comments section below or hit the mailbag. I've included some key facts and figures below to spur your thoughts. We'll reconvene on the topic next week. Have at it.

Oh, and the quote above? It was Schwartz.
Tale of the Tape: Arizona vs. Detroit
Category
Arizona
Detroit
Record previous season
5-11
0-16
Eight year record
41-87
31-97
Playoff success
One victory since 1947
One victory since 1957
Best inherited player
Larry Fitzgerald
Calvin Johnson
Inherited QBs
Kurt Warner and Matt Leinart
Daunte Culpepper and Drew Stanton
Home field advantage
Arizona selling out new stadium
Ford Field blacked out four times
First draft

Three picks in the top 69, including No. 5

Four picks in the top 65, including No. 1
January, 28, 2009
1/28/09
3:00
PM ET
Posted by ESPN.com's Kevin Seifert
The Arizona Cardinals suffered through eight consecutive losing seasons from 1999-2006. They managed an 8-8 record last season, improved one game in 2008 and will play for the NFL championship Sunday in Super Bowl XLIII.
That journey should provide a series of lessons for all NFL teams, not the least of which are our four Black and Blues. What can Minnesota, Chicago, Green Bay and Detroit learn from the Cardinals? Let's take a look:
Vikings: The value of a veteran quarterback. Yes, Kurt Warner is a former MVP and certainly not your average free agent quarterback. But that's exactly how the Cardinals acquired him, signing him off the free agent scrap heap in 2005. Warner hasn't had a perfect season, and ironically he played one of his worst games Dec. 14 against the Vikings. But it's difficult to overstate his value in setting a calm but highly focused tone for the playoff run. His 5-for-5 performance in the winning drive of the NFC Championship Game is exactly why most coaches prefer an experienced hand with the game on the line.
Bears: Receivers can make a difference. It's hard to imagine where the Cardinals would be without the receiving trio of Larry Fitzgerald, Anquan Boldin and Steve Breaston. Fitzgerald has been the primary postseason target, but Boldin and Breaston did their share to help Arizona clinch the NFC West. My colleague Mike Sando has documented the Cardinals' increased reliance on the running game, but I would argue the running game benefits from the attention drawn by Fitzgerald and friends. Chicago general manager Jerry Angelo clearly doesn't believe in high-priced receivers, but the Cardinals are proving their value in 2009.
Packers: Sometimes it's preferable to keep opponents guessing about your defensive front. The Cardinals use a 4-3 base, but occasionally defensive coordinator Clancy Pendergast will mix in a 3-4 look based on personnel. It's a twist that coach Ken Whisenhunt brought from Pittsburgh and one that poses a significant gameplanning problem for opposing offenses. The Packers plan to use a 3-4 in 2009, but new coordinator Dom Capers -- another coach with Pittsburgh roots -- could keep the 4-3 in storage for the right occasions.
Lions: Even the most cursed history eventually turns around. In the 60 years after winning the NFL Championship in 1947, the Cardinals franchise won exactly one playoff game before this season. The Lions ended the 50-year curse of Bobby Layne with an historic 0-16 season, meaning there is nowhere to go but up. If the Cardinals can overcome decades of bad karma, so can the Lions.