April, 19, 2010
4/19/10
2:39
PM ET
Monday's
trade
of linebacker Ernie Sims prompts us to update our, uh, visual depiction of Detroit's decade-long draft woes. Sims was the last remaining player from the 2006 class, meaning the Lions have only two players on their roster from the seven drafts from 2000-06.
If you want to know how you become a team whose top need is talent, take a look. Enough said.
2000:
0
2001:
2 (Left tackle Jeff Backus, center Dominic Raiola)
2002:
Nada
2003:
Zip
2004:
Nothing
2005:
Nil
2006:
Zilch*
2007:
3 (Receiver Calvin Johnson, quarterback Drew Stanton, guard Manny Ramirez)
2008:
7 (Right tackle Gosder Cherilus, linebacker Jordon Dizon, tailback Kevin Smith, defensive tackle Andre Fluellen, defensive end Cliff Avril, fullback Jerome Felton, defensive tackle Landon Cohen)
2009:
9 (Quarterback Matthew Stafford, tight end Brandon Pettigrew, safety Louis Delmas, linebacker DeAndre Levy, receiver Derrick Williams, defensive tackle Sammie Lee Hill, running back Aaron Brown, linebacker Zack Follett, tight end Dan Gronkowski)
*Update:
Safety Daniel Bullocks signed his tender Monday, officially returning him to the Lions' roster. So technically, one player remains from the 2006 draft even though Bullocks is battling a serious knee injury.
March, 31, 2010
3/31/10
1:00
PM ET
»
NFC History
:
East
|
West
|
North
|
South
»
AFC
:
East
|
West
|
North
|
South
»
Draft Watch
:
Biggest needs
(2/17) |
Busts/gems
(2/24) |
Schemes, themes
(3/3) |
Recent history
(3/10) |
Needs revisited
(3/17) |
Under-the-radar needs
(3/26) |
History in that spot
(3/31) |
Draft approach
(4/7) |
Decision-makers
(4/14) |
Dream scenario/Plan B
(4/21)
Each week leading up to the NFL draft (April 22-24), the ESPN.com blog network will take a division-by-division look at key aspects of the draft. Today's topic: History in that spot.

Chicago Bears
The Bears' top pick is No. 75 overall. Here are the last five players taken in that spot, with their NFL team in parentheses:
2009:
Ball State tackle
Robert Brewster
(Dallas)
2008:
Oklahoma defensive back
Reggie Smith
(San Francisco)
2007:
Illinois State receiver
Laurent Robinson
(Atlanta)
2006:
Louisville guard
Jason Spitz
(Green Bay)
2005:
Virginia Tech defensive back
Eric Green
(Arizona)
Robinson had 37 receptions as a rookie but has since moved to St. Louis. Spitz was the Packers' opening-day center last season before a back injury sidelined him. He is a candidate to start in 2010. Smith has played in 13 games over the past two seasons for the 49ers, with seven tackles and no interceptions.

Detroit Lions
The Lions' top pick is No. 2 overall. Here are the last five players taken in that spot, with their NFL team in parentheses:
2009:
Baylor offensive tackle
Jason Smith
(St. Louis)
2008:
Virginia defensive end
Chris Long
(St. Louis)
2007:
Georgia Tech receiver
Calvin Johnson
(Detroit)
2006:
USC running back
Reggie Bush
(New Orleans)
2005:
Auburn running back
Ronnie Brown
(Miami)
Brown, Bush and Johnson have all been dynamic playmakers for parts of their careers. Coincidentally, all three have been slowed by knee injuries of varying severity. The Rams are still waiting for elite payoff from Long and endured an inconsistent rookie season from Smith.

Green Bay Packers
The Packers' top pick is No. 23 overall. Here are the last five players taken in that spot, with their NFL team in parentheses:
2009:
Mississippi offensive tackle
Michael Oher
(Baltimore)
2008:
Illinois running back
Rashard Mendenhall
(Pittsburgh)
2007:
LSU receiver
Dwayne Bowe
(Kansas City)
2006:
Oklahoma guard
Davin Joseph
(Tampa Bay)
2005:
Nebraska cornerback
Fabian Washington
(Oakland)
Oher, Mendenhall, Bowe and Joseph have been full-time starters. Washington moved from Oakland to Baltimore.

Minnesota Vikings
The Vikings' top pick is No. 30 overall. Here are the last five players taken in that spot, with their NFL team in parentheses:
2009:
Rutgers receiver
Kenny Britt
(Tennessee)
2008:
Purdue tight end
Dustin Keller
(
New York Jets
)
2007:
LSU receiver
Craig Davis
(San Diego)
2006:
LSU running back
Joseph Addai
(Indianapolis)
2005:
Virginia tight end
Heath Miller
(Pittsburgh)
All five are skill players, for what it's worth. Davis has been a bust, but Miller, Addai and Keller are highly productive players. Britt is on pace to be as well.
April, 24, 2009
4/24/09
3:00
PM ET
Posted by ESPN.com's Kevin Seifert
We've been talking about this thing since January. Now, we've finally made it to the eve of the NFL draft. Soon we'll be under way -- and actually getting some answers to the questions we've been asking for months.
Aside from that nagging issue of Detroit's negotiations with quarterback Matthew Stafford, here is the latest on the key issues facing NFC North teams this weekend:

Will the Lions actually make a pick at No. 20 and No. 33, as currently scheduled? We all know the Lions have five of the first 82 draft choices, but overall they have eight for the weekend. Given their across-the-board personnel needs, that's not a high total. (Especially when you consider they have none in the fourth or fifth rounds.) The lower third of the first round, and the top of the second, are considered high value picks and the Lions should have opportunities to trade at least one of them to accumulate more picks in the middle of the draft. Here's another question: If USC linebacker Rey Maualuga is available at No. 20, as he is in Mel Kiper Jr.'s final mock draft,

do you take him or trade down?
Has Jeff Backus played his last down as a left tackle for the Lions? There has been talk of moving Backus to left guard if the Lions drafted a left tackle with the No. 1 overall pick. But assuming Stafford is the guy, Detroit might not be in position to draft a left tackle who is ready to start instantly. The Lions must hope Mississippi tackle Michael Oher falls to them at No. 20. A Stafford-Oher pairing not only would allow the Lions to move Backus to guard, but it would also give Detroit the flexibility to concentrate on defense for the remainder of the draft. For what it's worth, Kiper has Oher going to San Diego at No. 16.

Would Ted Thompson take Alabama tackle Andre Smith? The answer seems to depend on whom you talk to. I've heard from some people who don't think Thompson would take on a player with as many red flags as Smith has displayed, no matter how good a player he might be. (Smith left the scouting combine early, was out of shape at his pro day and recently changed agents.) Others consider Thompson a traditional personnel man whose top priority is football ability. If it's the latter, Smith will be a Packer if he's available. It's also possible we'll never find out. Kiper has Smith going to Cincinnati at No. 6, three spots ahead of the Packers' choice.
Where are the Packers going to get much-needed help at defensive end and linebacker if they go offense in the first round? Well, they still have an early second-round pick and two choices in the third to address those issues. For the sake of conversation, I'll pass along ESPN analyst Todd McShay's take in his seven-round mock draft.

With the No. 41 overall pick, McShay had the Packers taking Cincinnati linebacker Connor Barwin. McShay also had the Packers taking Oregon cornerback Jairus Byrd in the third round and USC defensive end Kyle Moore in the fourth.

Would Minnesota really pull the trigger on Florida receiver Percy Harvin? We know the Vikings have put an awful lot of work into researching Harvin's history, probably more than could be expected if it were all a smokescreen. (Would coach Brad Childress really spend a day on Florida's campus three days before the draft just to throw off other teams?) There are so many red flags on Harvin that it's hard to believe the Vikings would draft him. But they might view him as a special talent who wouldn't be available at No. 22 were it not for the issues he has encountered. Alas, the Vikings might never get a chance to make this decision. Kiper, at least, has Harvin going to the New York Jets at No. 17.
If they miss or pass on Harvin, will the Vikings still take a receiver at No. 22? The whole world seems to think so. Kiper has them taking Rutgers receiver Kenny Britt, while McShay predicts Maryland's Darrius Heyward-Bey. I've been slow to this bandwagon, believing the Vikings would be more likely to take an offensive tackle if all things are equal. But as it turns out, all things might not be equal. Arizona tackle Eben Britton likely will be available at No. 22, but there are some indications the Vikings aren't high on Britton at that value spot.

Will Chicago get an impact player at No. 49 overall? It probably depends on what position they draft. Unless the market tanks, you can reasonably expect at least five receivers to be off the board when the Bears' pick arrives. The chances aren't high of the draft's sixth-best receiver contributing right away. If they go with a receiver, he's more likely to be a complementary/developmental player. The same can't be said for safety, however. If things fall the right way, the Bears could have their pick of perhaps every safety in the draft. Western Michigan's Louis Delmas, Alabama's Rashad Johnson and Missouri's William Moore could all compete for a starting job right away.
April, 22, 2009
4/22/09
12:15
PM ET
Posted by ESPN.com's Kevin Seifert
We here at the ESPN Blog Network decided to have some fun and conduct our own mock draft. Its intrinsic value rates somewhere below the efforts of actual experts Mel Kiper and Todd McShay, but it was fun nonetheless.
I'll expand my explanations for the NFC North picks below, including one highly controversial choice for which I'm certain to absorb an unmerciful flogging. Onward...
No. 1 overall
Detroit Lions: Quarterback Matthew Stafford
Why: I think it's pretty clear the Lions have targeted Stafford over Wake Forest linebacker Aaron Curry. Otherwise, Curry probably would be signed by now. Baylor offensive tackle Jason Smith is also a candidate, but in the end it seems the Lions want to open their new era with a blue-chip building block at the game's most important position.
No. 9 overall
Green Bay Packers: Andre Smith
Why: AFC South colleague Paul Kuharsky made this choice a bit easier by taking Boston College nose tackle B.J. Raji off the board one pick earlier. Some of the defensive names previously connected to the Packers were still available, including Penn State defensive end Aaron Maybin and LSU defensive end Tyson Jackson. But in this scenario I think Packers general manager Ted Thompson would select the best player available. It just so happens Green Bay has a need at the position as well.
No. 20 overall
Lions: Running back Knowshon Moreno
Why: Ah, yes. I will accept virtual pummeling via the mailbag. I know the Lions have more pressing needs than at running back. And I'm well aware they have a good young tailback in Kevin Smith and signed veteran Maurice Morris in free agency. I guess I'm just taking coach Jim Schwartz at his word that the Lions won't allow need to trump talent in this draft. When I looked at the players left on the board at this spot, I thought Moreno was clearly the best value. The Lions aren't necessarily targeting Moreno, but I think they will seek out the best value -- regardless of position -- at every spot in this draft.
No. 22 overall
Minnesota Vikings: Offensive tackle Eben Britton
Why: I went with the best offensive tackle available even with all of the draft's second-tier receivers still available (Darrius Heyward-Bey, Percy Harvin, Kenny Britt and Hakeem Nicks among them). This might be a few spots too high to take Britton, but in the end I'm not totally convinced the Vikings are targeting a first-round receiver. And that was before news surfaced that they worked out West Virginia quarterback/receiver Pat White.
April, 13, 2009
4/13/09
10:30
AM ET
Posted by ESPN.com's Kevin Seifert
We brought you the first-round highlights of Mel Kiper's latest mock draft last week. Of course, the exercise left out a Chicago team that gave up its first-round pick in the Jay Cutler trade. But Mel's mock extended four rounds, giving us the opportunity to discuss the receiver he selected for the Bears in the second round with the No. 49 overall pick.
| | |
| --- | --- |
| | |
| | Kevin C. Cox/Getty Images |
| | Mel Kiper Jr. has the Bears selecting Georgia receiver Mohamed Massaquoi. |
Like every other NFL team, the Bears plan to draft the best available athletes. But it is the assumption of many people that they -- Surprise! -- will just so happen to have a receiver at the top of their draft board when the No. 49 pick rolls around.
When you look at it, receiver is the Bears' last remaining area of need on offense after revamping the offensive line and upgrading at quarterback. (We'll save their defensive personnel for another day.)
Kiper has the Bears selecting Georgia receiver Mohamed Massaquoi, a reliable and big-framed pass catcher who would complement Devin Hester nicely. Massaquoi figures to develop into a strong possession receiver and received stellar grades from Scouts Inc. for his toughness, durability and character.
You need an Insider subscription to see the entire mock draft. But for those of you who are interested in draft strategy, I can tell you Massaquoi was the eighth receiver taken in this mock. The following were already off the board at No. 49:
Texas Tech's Michael Crabtree
Missouri's Jeremy Maclin
Maryland's Darrius Heyward-Bey
Rutgers' Kenny Britt
North Carolina's Hakeem Nicks
Florida's Percy Harvin
Ohio State's Brian Robiskie
Massaquoi is one of numerous receivers the Bears have worked out privately in recent weeks, although his came after the Cutler trade altered the Bears' draft status. Massaquoi was a team captain at Georgia, graduated in December and has excellent size at 6-foot-1 1/2 and 210 pounds. Here's how Scouts Inc. evaluated his competitiveness and toughness:
Willing to go across the middle and has shown ability to hold onto ball after taking a big hit. A physical blocker that works hard to sustain. Does a good job of throwing blocks for other receivers and flashes ability to deliver a knockout blow on crack-back blocks.
I always caution people against "shopping" for draft picks. The way a player performed in college is not always an indication of his pro potential. Sometimes "possession receiver" translates into "slow" in the NFL. (Massaquoi ran a 4.66 in the 40-yard dash at the scouting combine.)
But no player available at No. 49 overall is a perfect prospect. Massaquoi, who caught 58 passes last year for the Bulldogs, likely will be the type of player -- if not the player -- the Bears wind up targeting.
April, 9, 2009
4/09/09
1:00
PM ET
Posted by ESPN.com's Kevin Seifert
You've been waiting for it, and now it's here: ESPN legend Mel Kiper Jr. is offering up a four-round mock draft for Insider subscribers. It's behind the pay wall of ESPN.com, but since I like you guys so much, I'll steal some the high-profile NFC North picks for Black and Blue readers (just keep 'em to yourselves).
(Remember, Chicago doesn't pick until No. 49 overall because of the Jay Cutler trade.)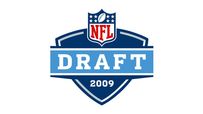 DETROIT LIONS
No. 1 overall: Georgia quarterback Matthew Stafford
No. 20 overall: Mississippi offensive lineman Michael Oher
My 1.5 cents: Kiper has been all about Stafford for months, so that's no surprise. But Oher at No. 20 would be a pretty nice catch. And, for all you Lions fans who want a linebacker at that spot, let's just say Mel has a certain Ohio State player who backs up the line landing in Detroit during the second round.
GREEN BAY PACKERS
No. 9 overall: Boston College defensive tackle B.J. Raji

My 1.5 cents: Nose tackle is one of the few defensive positions the Packers seem to have locked down with Ryan Pickett. But general manager Ted Thompson has always been about taking the best player. Raji is a force. Kiper has the Packers addressing the offensive line in Round 2. Packer types: I'd like to follow-up on Raji in a future post. Your thoughts?
MINNESOTA VIKINGS
No. 22 overall: Rutgers receiver Kenny Britt

My 1.5 cents: For whatever reason, everyone seems to think the Vikings will take a receiver with their first pick. In this scenario, Britt is the best available with Missouri's Jeremy Maclin and Maryland's Darrius Heyward-Bey off the board. Arizona offensive lineman Eben Britton is also available here.
March, 29, 2009
3/29/09
9:30
AM ET
Posted by ESPN.com's Kevin Seifert
Team needs: Receiver, safety, right tackle
Dream scenario: Chicago's personnel deficiencies at receiver all but mandate a significant commitment in the draft, starting with the No. 18 overall pick.
| | |
| --- | --- |
| | |
| | Icon SMI |
| | Jeremy Maclin could provide an immediate upgrade to Chicago's receiving corps if he were available at No. 18. |
At this point, it's possible that only one receiver -- Texas Tech's
Michael Crabtree
-- will be off the board when the Bears jump on the clock. That means Chicago will have its choice of Missouri's
Jeremy Maclin
, Maryland's
Darrius Heyward-Bey
, North Carolina's
Hakeem Nicks
, Rutgers'
Kenny Britt
, Florida's
Percy Harvin
and others. Grabbing the best of that remaining group at No. 18 would address a huge need at an appropriate value. Receivers don't often contribute immediately, but that's not always an expectation for a player drafted in the second half of the first round.
Plan B: I don't see a scenario in which the Bears won't have their choice of at least two of the receivers noted above. But some teams avoid drafting receivers in the first round because they are not always ready to contribute right away. If the Bears follow that thinking, they might look toward the offensive line or possibly trade down to explore the safety market in the second round. If they decide to go the route of an offensive lineman, the Bears might hope for Mississippi tackle Michael Oher or Arizona tackle Eben Britton to be available.
Scouts Inc. take: I think they need a receiver and I like the idea of a bigger guy like Hakeem Nicks. Harvin doesn't make as much sense for the Bears because what he does is a lot like what Devin Hester tries to do. To have a bigger guy like Hicks makes more sense on the opposite side. The receiver position is the toughest position to draft and develop. But I don't think they'll draft a receiver. That's the history of their general manager, Jerry Angelo. If I were them, I would be hoping that a tackle like Michael Oher from Mississippi would fall to them. That would be more of a Jerry Angelo type of pick. -- Jeremy Green
Who has final say: Jerry Angelo enters his eighth draft as the Bears' general manager.
Now On the Clock: New York Jets, March 30.
Previous On the Clock: Tampa Bay Buccaneers. The team-by-team series.
March, 25, 2009
3/25/09
3:19
PM ET
Posted by ESPN.com's Kevin Seifert
DANA POINT, Calif. -- Unless they change their current direction, the Chicago Bears have decided on this course for improvement at the receiver position: Earl Bennett and the draft.
That's the impression I got Wednesday morning after speaking with coach Lovie Smith on the last day of the NFL owners' meeting. Smith's eyes lit up when I asked about Bennett, and he downplayed any concern about relying on rookie receivers for immediate production.
Bennett didn't catch a pass last season after the Bears selected him in the third round of the 2008 draft. Nevertheless, Smith said he has Bennett penciled in as the starter opposite Devin Hester. The only way that status changes, I'm guessing, is if the Bears bypass their current philosophy and sign a veteran free agent (Torry Holt?) or draft a player who blows him away from the first day of training camp.
On Bennett, Smith said:
"We liked what he did in the preseason. He didn't get a chance to do a lot as a wide receiver last year. But in practice, we saw a change in him last year. He'll get an opportunity. We list him as our starter right now at wide receiver, so he'll get a chance to prove what he can do. He had a lot of success at Vanderbilt. He'll do everything possible to become a good football player in the league."
When asked about the strengths of the 2009 draft, the first position Smith named was receiver. And the Bears have been actively scouting that group, setting up private workouts for North Carolina's Hakeem Nicks and Rutgers' Kenny Britt, among others.
Rookie receivers don't typically contribute right away, however. In 2008, for instance, a total of 35 receivers were drafted. Only four, however, averaged more than two catches per game: Denver's Eddie Royal, Philadelphia's DeSean Jackson, Miami's Davone Bess and St. Louis' Donnie Avery.
Smith, however, said the Bears won't be afraid to play young receivers in 2009:
"I'm not one that thinks you have to have four or five years to be [ready] in this league. We've had success playing guys. [Tailback] Matt Forte was our starter from Day 1. Especially some of the skill positions, especially if they have a veteran group around them. You realize that there's going to be some growing pains you go through, but eventually they get it. So I don't really see that being much of a problem at the receiver position."
Smith has been nothing if not consistent on this issue. He said Wednesday he would like to have at least three playmaking receivers when the season begins. If that's going to happen, it almost certainly will have to be Hester, Bennett and a highly-drafted rookie.
March, 25, 2009
3/25/09
8:27
AM ET
Posted by ESPN.com's Kevin Seifert
DANA POINT, CALIF. -- During a meeting with Detroit reporters Tuesday at the NFL owners' meeting, Lions general manager Martin Mayhew insisted most options remain open for the Lions' pair of first-round picks in next month's NFL draft.
Mayhew said he has entertained offers to trade the No. 20 overall pick, most likely to accumulate more picks later in the draft. The Lions remain open to trading out of the No. 1 overall pick, according to John Niyo of the Detroit News, but Mayhew said:
"There hasn't been a lot of interest in acquiring that [No. 1] pick, at this point. But I would think that if there's interest in doing that, that it would come later, as we get closer to the draft. I think it's a little early right now for somebody to have made the decision to go after that pick."
In other words, don't rule out anything. We'll take that lead and rule in the rest of the NFC North:
The Lions didn't deny the validity of a proposed new team logo that leaked briefly onto the internet Tuesday. Check out Nicholas J. Cotsonika's blog on the Detroit Free Press Web site to see the new logo.
Chicago has scheduled a private workout with Rutgers receiver Kenny Britt this week, according to Vaughn McClure of the Chicago Tribune. The Bears have been focusing heavily on receivers during their pre-draft scouting activities.
Green Bay general manager Ted Thompson said he wasn't more active on the free-agent market this offseason because "I am confident in our team" as it is comprised. Tom Silverstein of the Milwaukee Journal Sentinel caught up with Thompson at the owners' meeting.