April, 29, 2013
4/29/13
11:05
AM ET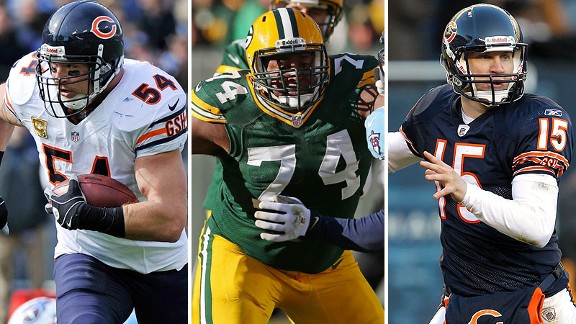 Getty ImagesFollowing the 2013 NFL draft, the futures for Brian Urlacher, Marshall Newhouse and Josh McCown appear unclear.
NFC North teams added dozens of intriguing young players over the weekend. They filled glaring holes and added to already-established strengths. Some areas remain weak, of course, while other selections created new storylines we hadn't anticipated.
So here's my post-draft plan. We'll use this post to lay out the unfilled holes and new storylines and then circle back over the next days and weeks as needed. I'll also sprinkle in some interesting and/or offbeat stories that emerged from the draft but would have been buried if I had posted them over the weekend.
Issue:
The
Green Bay Packers
continued signaling potential change at left tackle.
Analysis:
Coach Mike McCarthy said in March that the team needed better play from its left tackle position, manned last season by
Marshall Newhouse
. Then the Packers went out and drafted Colorado's
David Bakhtiari
and Cornell's
J.C. Tretter
in the fourth round. Bakhtiari has played left and right tackle; Tretter played tackle as well but might project as a guard. Saturday, McCarthy left all options open at the position -- including moving right tackle
Bryan Bulaga
back to the position he played at Iowa. McCarthy also said
he is "really counting"
on
Derek Sherrod
, the Packers' top pick in 2011 who hasn't played since breaking his leg late that season, to compete for the job.
Don Barclay
, who started four games last season at right tackle (plus another two in the playoffs), is also in the mix. Suddenly, the Packers have six legitimate possibilities to compete for the left and right tackle spots if they want. Moving Bulaga isn't as easy as it sounds, and there is something to be said for leaving him at a position he has excelled at. But it's telling that the Packers are even considering it.
Issue:
The Packers drafted 11 players, but none of them were safeties.
Analysis:
General manager Ted Thompson said afterwards that he has faith in incumbents
M.D. Jennings
and
Jerron McMillian
, who will compete to play alongside
Morgan Burnett
. We'll see if the Packers feel compelled to kick the tires on a veteran.
Among those available
are
Quintin Mikell
,
Kerry Rhodes
and
Gerald Sensabaugh
. Historically, the Packers' approach has been to evaluate younger incumbents first before seeking veteran replacements elsewhere.
Issue:
None of the
Minnesota Vikings
' nine draft choices play middle linebacker.
Analysis:
We should note that the Vikings used a seventh-round pick on Penn State's
Michael Mauti
, who has been projected as a middle/inside linebacker by some. But Mauti is recovering from his third career ACL tear and can't be counted on to fill any sort of significant role. Internal candidates include
Erin Henderson
, the strong-side linebacker whom the Vikings have said could play inside if needed, and 2012 seventh-round pick
Audie Cole
. The elephant in the room is veteran
Brian Urlacher
, who was reported at one point this spring to have
had conversations with Vikings officials
. Urlacher isn't
anything close to the profile of the player
general manager Rick Spielman typically brings in, but this is an extenuating circumstance. Remember, the Vikings
used their nickel defense on 58.9 percent of their snaps last season.
Whomever plays middle linebacker for the Vikings could be off the field for three of every five snaps.
Issue:
The Vikings used a fifth-round pick to make
Jeff Locke
the first punter drafted.
Analysis:
In the past five years, four punters have been selected with a fifth-round pick or higher. All four became their team's primary punters in their rookie seasons. There is every reason to believe the Vikings plan for Locke to replace veteran
Chris Kluwe
, perhaps as soon as they get a look at him during their rookie minicamp this summer. I know that Spielman said Locke was
brought in "to compete" for the job
, but that competition will be short and one-sided. NFL teams don't use draft picks on specialists unless they are certain they want to make a change.
Issue:
The
Detroit Lions
didn't draft an offensive tackle after the departure of both 2012 starters.
Analysis:
Riley Reiff
, the Lions' top draft choice in 2012,
will start at left tackle
. The Lions' right tackle could be
Jason Fox
or
Corey Hilliard
. That still leaves the Lions thin along the line, especially at right guard if rookie
Larry Warford
isn't ready to step in right away. Regardless, Lions general manager
Martin Mayhew
made clear the Lions need to add more depth. "We're really young there so we'll look at some veteran guys there I think over the next few weeks."
Issue:
The Lions didn't draft a receiver until the sixth round (Virginia Tech's
Corey Fuller
), but they almost….
Analysis:
According to
Ian Rapoport of the NFL Network
, the Lions told Michigan's
Denard Robinson
that they planned to draft him with the No. 136 overall pick. Mayhew had spoken before the draft about Robinson's potential as a "slash" player from the backfield and/or slot receiver position. Robinson, however, was selected at No. 135 by the
Jacksonville Jaguars
. Eventually the Lions used the No. 166 overall pick to select Notre Dame's
Theo Riddick
, who is not as explosive as Robinson but is a good receiver out of the backfield in his own right. Ultimately, the Lions finished this draft thin at the traditional receiver position given the injury rehabilitations of
Nate Burleson
and
Ryan Broyles
.
Issue:
The
Chicago Bears
did not draft a quarterback, seemingly leaving
Josh McCown
as the primary backup to
Jay Cutler
.
Analysis:
The Bears
figured to be a candidate to draft a quarterback
in part because of coach Marc Trestman's expertise in developing them and in part to end the cycle of searching for a veteran backup each year. In the end, the Bears couldn't justify drafting one given their limited number of picks. (They started with five and through trades finished with six.) Said general manager Phil Emery: "Things would have to line up perfect to take a quarterback with five picks." McCown was relatively impressive during a two-start stint to end the 2011 season, but overall he has played in a total of six games over the past five seasons. I wouldn't call this the Bears' most pressing need, and the Bears signaled as much with their draft results.
Issue:
The Bears feel better about their tight end situation than most draft pundits.
Analysis:
Many draft analysts
thought the Bears would draft
Notre Dame tight end
Tyler Eifert
if they had a chance, but they passed him up Thursday night in favor of offensive lineman
Kyle Long
. Eifert went one pick later to the
Cincinnati Bengals
. It's true that Eifert would have been a luxury pick given the free-agent acquisition of tight end
Martellus Bennett
, but in the larger sense he would have been another weapon for quarterback Jay Cutler's make-or-break season.
November, 7, 2010
11/07/10
4:22
PM ET
MINNEAPOLIS -- Let's hit the high (or low) points of Sunday's affair at the Metrodome, won
27-24
by Minnesota.


What it means:
The
Minnesota Vikings
avoided a supernova by eking out an overtime victory against the
Arizona Cardinals
, improving their record to 3-5 and (presumably) saving the job of their head coach. This game was ugly for the first three and 1/2 quarters, but the 43rd game-saving/winning drive of quarterback Brett Favre's career was enough to send the team's faithful home happy for at least one day.
What happened:
The Vikings scored 14 points in the final 3 minutes, 38 seconds of regulation and then got a 35-yard field goal from
Ryan Longwell
on their first possession of overtime to win it.
Chilly watch:
Owner Zygi Wilf wouldn't discuss the status of coach Brad Childress before the game, but he did make a point of shaking hands with Childress during pregame warm-ups. I'm not sure if Childress' job was resting on the outcome of this game, but if it were, you would assume there will be no coaching change this week. You could probably make an argument that this team shouldn't need to score 17 unanswered points to beat the Cardinals at home, but I don't see how Wilf can be justified making a move now if he wasn't compelled to do so last week.
Coach-battlers watch:
Favre threw for a career high 446 yards, completing 36 of 47 passes. One of his two interceptions came in the end zone, robbing the Vikings of at least three points in what was a one-score game. He was also fortunate that his other interception wasn't returned for a touchdown; Cardinals safety
Kerry Rhodes
fumbled at the 3-yard line, and the ball trickled out of the back of the end zone for a touchback. Overall, however, it was hard to complain about a performance that --in case you forgot -- came with two bones still fractured in his left foot.
Coach-battler watch II:
Receiver
Percy Harvin
caught a career-high nine passes for 126 yards but also lost a fumble on the opening kickoff of the second half, leading to a Cardinals touchdown. Harvin needed to come out of the game at least twice because of his sprained left ankle.
Apathy the best policy:
Childress' decision to waive
Randy Moss
and his Friday confrontation with Harvin might have raised the ire of the team's fan base. But that anger sure didn't manifest itself Sunday. If anything, the sellout crowd at the Metrodome was oddly quiet until the end of the fourth quarter, when I have to admit it got pretty loud as the Vikings clawed back. Earlier, however, the crowd's near-silence was especially notable during the Cardinals' two-minute drill to end the first half. Typically, crowd noise in the building makes it difficult for opposing offenses to run a no-huddle offense. Sunday, it felt more like a training-camp scrimmage. The loudest noises were whistles and the shouts of individual fans.
What's next:
One can only imagine. On the field, the Vikings travel to Soldier Field to take on the
Chicago Bears
next Sunday.
November, 7, 2010
11/07/10
1:14
PM ET
MINNEAPOLIS --
Greg Camarillo
just saved (or delayed) a riot at the Metrodome.
The
Minnesota Vikings
receiver chased
Arizona Cardinals
safety
Kerry Rhodes
almost 70 yards downfield to force a fumble at the end of an interception Rhodes was set to return for a touchdown. Camarillo knocked the ball out of Rhodes' hands at the Vikings' 3-yard line after a 66-yard return. The ball rolled out of the end zone for a touchback.
There had already been "Fire Childress" chants before the play. Had Rhodes scored on the interception, who knows what we would have heard.
January, 1, 2009
1/01/09
6:30
PM ET
Posted by ESPN.com's Kevin Seifert
Can you hear it? That's a round of cackling coming from Green Bay as the topic of Brett Favre's future consumes another organization.
Let's skip the debate on the merits of Favre's departure from Green Bay and agree on this: Favre's annual indecision was arguably the biggest reason the Packers decided to move on this summer. Now, less than a week into the offseason, New York Jets players already are facing questions about whether Favre will -- or should -- return.
Safety Kerry Rhodes, for one, wants Favre to make a 100-percent commitment to the offseason program and training camp before agreeing to return:
"If he's dedicated and he wants to come back and do this, and do it the right way ... and be here when we're here in training camp and the minicamps and working out with us ... then I'm fine with it. But don't come back if it's going to be half-hearted or he doesn't want to put the time in with us."
Sound familiar? Green Bay lived with the same issues for the past several years. But in New York, Favre doesn't have the institutional support to skip offseason practices or otherwise play by a different set of rules. Indeed, Jets players don't appear willing to play with a mercenary quarterback for another season.
It's hard to imagine that the team's new head coach will want that, either. You would think it's going to be all or nothing for Favre if he wants to play another season in New York.