July, 24, 2014
7/24/14
6:55
PM ET
MANKATO, Minn. -- According to the summary the
Minnesota Vikings
released last week of an independent investigation into former punter Chris Kluwe's allegations, long snapper
Cullen Loeffler
was the only member of the team to corroborate Kluwe's claim that special-teams coordinator Mike Priefer made a homophobic remark during the 2012 season. But if Kluwe contends he was released in part because of his support for same-sex marriage, Loeffler said he never felt in danger of losing his job for telling investigators he remembered Priefer making the statement.
Loeffler
"I was never worried about my job, never worried about the Vikings' support," Loeffler said. "They've been very supportive throughout the process. Just wanted me to cooperate, which I did."
Loeffler, who told investigators that he and Kluwe both laughed off Priefer's comment about "putting all the gays on an island and nuking it," said again on Thursday he remembered thinking the remark was a joke. He said he hasn't talked to Kluwe since the former punter published his allegations in a Deadspin piece on Jan. 2, and said he was glad the investigation had come to a close.
According to the summary, Loeffler met with Vikings executive director of player development/legal Les Pico after Kluwe asked him to sign an affidavit confirming the remarks in May 2013. Kluwe told investigators that Loeffler was concerned he would be "blacklisted" from the NFL if he was associated with a controversy involving Priefer. The summary said Pico told Loeffler he felt a need to alert general manager Rick Spielman and vice president of legal affairs Kevin Warren about the situation, even though Kluwe wanted it to remain private and avoid any risk of jeopardizing Loeffler's job status.
Asked about his conversations with Pico on Thursday, Loeffler said, "At the time I wasn't really sure what was going to come out of it. Really everything that I've said is in the report. If you want to address that question you can address it from the report."
Pico has declined comment since the summary was published, referring questions to his attorneys.
November, 22, 2010
11/22/10
2:06
PM ET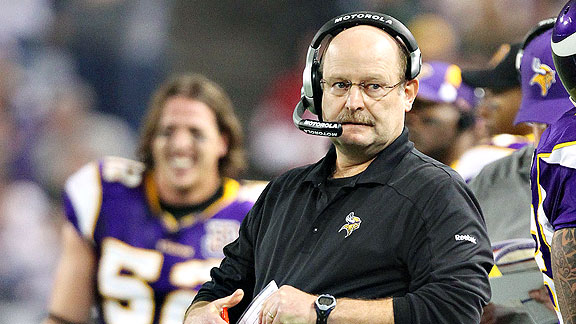 AP Photo/Andy KingBrad Childress had a cold and distant relationship with his players even when the team was winning.
EDEN PRAIRIE, Minn. -- Five years ago, the
Minnesota Vikings
swept up Brad Childress during what they believed was a frenzied, multi-team competition for the man they considered the hottest coaching candidate on the market. They flew him into town less than 24 hours after firing Mike Tice and kept him sequestered in a Twin Cities hotel while they half-heartedly interviewed the remaining candidates on their list.
Owner Zygi Wilf triumphantly lauded Childress as a disciplinarian who would restore order to the franchise on and off the field. "Brad Childress is a winner," Wilf famously said.
But Wilf could never answer the follow-up question: How do you know?
At 49, Childress had never been a head coach at any level. He had been the offensive coordinator of the highly successful
Philadelphia Eagles
, but coach Andy Reid called almost all of the plays over that period. Childress' ability to relate with players was also a debatable proposition; among other stories, it was public knowledge that mercurial receiver
Terrell Owens
had asked Childress to stop talking to him during the 2005 season.
If I had to sum up why Childress failed in Minnesota, my tight answer would include those two reasons. He had a distant relationship at best with players, feuding with most key veterans at one point or another. And his schemes were uninspiring and rigid, routinely minimizing the skills of talented players.
Few coaches bring both of those disparate skills to the table, but having one can usually mitigate the need for the other. You can inspire players to excel by reaching them personally, or you can put them in position to play well with smart schemes that maximize their skills.
Childress, however, did neither consistently. It's true that his teams won consecutive NFC North titles, something that hadn't happened in Minnesota since 1977-78. But starting with his first season and continuing through those title years, we heard the same complaints about his program.
Veteran quarterbacks from
Brad Johnson
to
Kelly Holcomb
to
Gus Frerotte
chafed in an offense they believed could have been much better if allowed more in-game freedom. When
Brett Favre
brazenly freelanced last season, Childress angrily
considered benching him
.
That rigidity wasn't limited to quarterbacks, however. In 2006, Childress minimized receiver
Marcus Robinson
because his best route -- the fade in the end zone -- wasn't a part of his red zone offense. The scheme provided no avenue to get tailbacks
Adrian Peterson
and
Chester Taylor
on the field at the same time.
If you searched hard enough, similar whispers could be heard before Childress' arrival. I doubt Wilf heard any of them. Why? His coaching search committee included no one with a football background. The primary interviewers were Wilf, his brother Mark, vice president of football operations Rob Brzezinski and vice president of operations Kevin Warren.
Brzezinski and Warren are experts in their fields, but neither was qualified to assess if Childress' football acumen was as good as advertised. It's almost as if they assumed it based on Childress' stature as a "hot" coaching candidate. I once asked a high-ranking team official this question: Whom did you use for the "football" portion of the interview, the part where Childress' schematic and actual coaching talents would be measured?
The answer?
Hall of Fame coach Bud Grant, who had been retired for 20 years. My understanding is that it was a cursory conversation, and it's interesting to note that Grant has always been silent about Childress and his performance.
Some successful coaches channel Bill Belichick, attempting to out-think and out-scheme opponents. Others emulate Bill Cowher, whose motivational skills kept his teams playing hard for more than a decade. Childress didn't fall in either category, and ultimately that's why his players turned on him this season. They felt neither inspired nor challenged.
Childress began clashing with players on a personal level early in his first season, starting with cornerback
Antoine Winfield
, and even in the best of times had what players described as a cold and distant relationship.
Without a foundation of trust and loyalty, Childress watched as his players reached near-mutinous levels at the first sign of adversity this season. It
led to a confrontation
with receiver
Percy Harvin
, among many other incidents. It all culminated Sunday when the Vikings sideline fell into chaos during a 31-3 loss to the
Green Bay Packers
. It's rare when you see a coach keep his job under those conditions.
Childress did make a positive impact in many areas of the organization, cleaning up his team's off-field behavior and professionalizing the team's organizational culture. But without a so-called hook to hang his hat on -- an attribute that could help him navigate tough waters -- he ultimately failed.
February, 4, 2010
2/04/10
7:04
PM ET
FORT LAUDERDALE, Fla. -- Man, I love Twitter.
I was sitting vacantly in the Super Bowl media center when Minnesota left tackle Bryant McKinnie tweeted that he was walking in the door. I hopped up and ran into him signing posters over on radio row.

McKinnie
We talked for about five minutes about his
dismissal from the Pro Bowl
, his combination of regret and defiance and his relative lack of sympathy for the players left to cover for him in the game.
Below is most of our Q&A. I'll follow up with a few comments at the bottom.
Tell us what happened.
Bryant McKinnie:
I understand I missed it. But they tried to make it seem like it was because you were at the club and you couldn't get up. No. I had called [agent Drew Rosenhaus] and told Drew I wanted to withdraw.
I had taken a cortisone shot in my foot the week before the game. When you take that shot, it numbs whatever. You don't feel like you're hurt anymore. It was the New Orleans game. You feel like you're good on Wednesday.
Yes, I did go out. I can go out and still get up the next morning. But my body started feeling a certain way. So I called Drew and I said, 'I don't think I'm going to be able to play anymore because my body was hurting.'
I was trying to push myself to play. It was my first Pro Bowl, it was in Miami, so I got to come back and play at home. He got in touch with the trainer. The trainer ended up calling me at 6:30 on Friday.
I told him over the phone my problems. He said, 'Could you come see me in person?' I said I was 30 minutes away because I was down at the beach. He said he going to dinner at 7 and could I meet him at 9:30. I said yeah. We were going to meet at 9:30. Then he called me and said, 'I'm running late. I'm going to give you another time to meet.'
So me, in my mind, I already had talked to him, there's no need to go to practice. There's no reason to go to anything else.
What about the other days? Why didn't you go to practice or meetings on those days?
BM:
I had gotten sick. I was in the hotel. So he gave me medicine for that.
The league knew that's why you didn't show up?
BM:
The trainer came to my room. That was Wednesday.
Given that, do you wish you had done anything differently during the week?
BM:
Probably better communication to follow up with trainers and everything, or just withdrew earlier. But I don't feel like it needed that much attention on it.
Do you think people will be quicker to assume the worst because of your history?
BM:
But there wasn't anything bad behind it. I just feel that they made it more than it really was. It wasn't like I got locked up somewhere and couldn't play in the game because I was in jail. That's how they made it seem. I just didn't know that it was going to be that serious.
Do you see where people might note that there were only two tackles left after you and that they had to play the entire game?
BM:
Anyone who watched the game would know it wasn't like they were going that hard. If you watched the game, they were stopping in front of the quarterback. I'm like, OK….
Have you heard from Brad Childress yet?
BM:
No, not yet. Kevin Warren [a Vikings vice president], I talked to him. He was like, 'Get off Twitter for a minute.' Because I was going in there and kind of responding to people. He was like, 'Just don't.'
People saw you tweeting about going to clubs and probably made a judgment.
BM:
I'm off at the end of the day. I had a long season. It was a pretty decent season. You know what I mean? It's all alright.
A few thoughts from me:
I appreciated McKinnie standing there and speaking to me, especially after what I wrote Saturday. (I'm guessing he hasn't read it.) Nothing he said Thursday will change my original reaction. He would have had to be awfully sick during the week to make only one day of meetings and practices. Neither are taxing. And he absolutely erred by not addressing his foot injury earlier.
By "they," I believe McKinnie was referring to the media and not the NFL.
This question will have to remain unanswered: Why was McKinnie too sick and injured to practice and play, but healthy enough to go out each night in Miami? At the end of the day, those two facts can't be reconciled. I'll leave it up to you to decide.
I don't think many of his fellow Pro Bowlers are going to appreciate McKinnie's indifference to the players he left to cover for him. I agree the game wasn't taxing on a relative level, but that's not the point. The less taxing the game, the more egregious it was that he considered himself too injured to play.
November, 20, 2008
11/20/08
1:45
PM ET
Posted by ESPN.com's Kevin Seifert
Instead of resting and rehabilitating his sore shoulder Tuesday, Minnesota defensive end Jared Allen was flying back and forth to New York to meet with NFL officials about a series of late hits.
Instead of sitting in his office Tuesday on the week's most important game-planning day, Vikings defensive coordinator Leslie Frazier joined Allen in New York to dissuade the league from suspending his star pass-rusher.
Instead of practicing with their teammates Thursday, Vikings defensive tackles Kevin Williams and Pat Williams are scheduled to be in New York to appeal four-game suspensions. They are expected to return to the Twin Cities in time for practice Friday, and then will turn around and make the 2 1/2-hour flight to Jacksonville on Saturday.
This is the less-than-ideal way the Vikings are preparing for Sunday's critical game against the Jaguars -- crisscrossing the country to maintain eligibility for three of their top players. But the Vikings are determined to fight for them to remain on the field.
Allen admitted Wednesday that "traveling wasn't the best thing" for his shoulder, and the Vikings are hoping that rest for the remainder of the week will help reduce the soreness. But if the trip staved off a suspension, it was probably a fair trade-off.
The same is true for Frazier, who is a much better coach with Allen on the field than under a suspension.
"I don't know what [his presence] meant to [the NFL]," Allen said, "but I know what it meant to me. Having coach Frazier there ... taking his time from the preparation week, [it] means a lot to me. I'm pretty sure they saw that. I know they appreciated him being there. He didn't have to go. So for me, that meant a tremendous amount. It showed not only the respect he had for me, but the belief he had in me. ... Just overall, when the coach goes to bat for you, it means a lot. I think it helped because [the NFL] saw an organization that was standing behind me."
The situation is less subjective for Pat Williams and Kevin Williams, who reportedly took weight-loss supplements that contained a banned diuretic. Nevertheless, owner Zygi Wilf and team attorney Kevin Warren were scheduled to accompany them to their hearings Thursday.