February, 19, 2014
2/19/14
4:15
PM ET
INDIANAPOLIS -- The
Minnesota Vikings
' contingent of front office people and coaches is arriving in Indianapolis this week, with plenty of prospects to meet and a glaring hole at quarterback at or near the top of their to-do list. The Vikings have the No. 8 pick in the draft, however, which means they'll likely need to move up or hope for some help if they want to get one of the top quarterbacks.

That's part of the reason we've spent so much time looking at the Vikings' other options for the No. 8 pick, and it's entirely possible the Vikings will still be looking for a young quarterback when their second-round pick (No. 40 overall) comes up on May 9.
Would the Vikings be better off dealing that second-round pick to the
Washington Redskins
for
Kirk Cousins
or to the
New England Patriots
for
Ryan Mallett
? It's a question they'll certainly have to explore.
According to the Washington Post, the Redskins want a second-round pick for Cousins, and the Patriots reportedly have a similar asking price for Mallett. Both quarterbacks are 25, and would come with some NFL seasoning -- Cousins has started four games the last two seasons for the Redskins, while Mallett has backed up
Tom Brady
for three seasons -- but they'd carry some risks, too.
Cousins threw seven interceptions while playing in five games (starting three) for the Redskins in 2013, while Mallett hasn't started a NFL game. The Vikings would have evaluated both quarterbacks as they were coming out of the draft -- and in Mallett's case, they would have passed on him when they selected
Christian Ponder
in 2011. There can be a tendency to over-value the hot backup of the moment (see:
Matt Flynn
or
Matt Schaub
), but in the case of
Matt Hasselbeck
with the Seahawks, trading for a backup can be a viable path to finding a franchise QB.
And if the price were a second-round pick, the Vikings would have to seriously weigh a trade as an option in the event they don't get a quarterback in the first round. They'd have to stack up Cousins or Mallett against QBs like LSU's
Zach Mettenberger
, Fresno State's
Derek Carr
or or Eastern Illinois'
Jimmy Garoppolo
, and determine if a quarterback with some NFL experience is a better option. They'd have to navigate the financial landscape with two quarterbacks on the back ends of their rookie contracts, and realize they wouldn't get the benefit of starting those quarterbacks in the most affordable years of their careers.
It's certainly an option, though, and as they size up their quarterback prospects, the Vikings will no doubt consider it.
February, 13, 2014
2/13/14
10:00
AM ET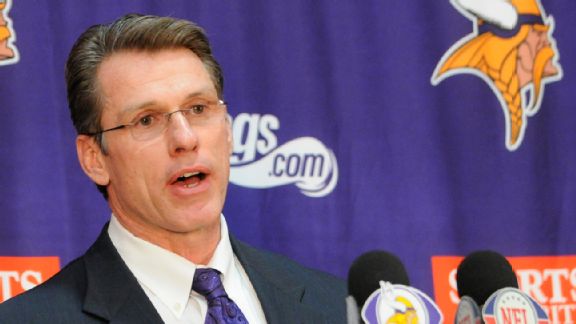 AP Photo/Jim MoneThe success of the next Minnesota Vikings quarterback may determine the legacy of general manager Rick Spielman.
MINNEAPOLIS -- In his 17 years as a member of NFL front offices, through a career that's spanned three teams and taken him through two convoluted power structures,
Minnesota Vikings
general manager Rick Spielman might never have had more influence over a team than he does right now.
Vikings ownership scrapped its disjointed "triangle of authority" structure in 2012, elevating Spielman from vice president of player personnel to general manager and giving him full control over personnel decisions. The Wilf family decided not to give coach Leslie Frazier a contract extension after a surprising 10-6 season in 2012 and fired him after a 5-10-1 season in 2013. Spielman got to pick his own coach for the first time in his career, hiring well-respected former
Cincinnati Bengals
defensive coordinator Mike Zimmer, and heads into the 2014 draft with four of the top 100 picks, including the No. 8 overall selection.
Spielman could use that pick to take the highest-drafted quarterback in Vikings history. If he does, he could also be making the selection that defines the rest of his tenure as the Vikings' GM.
The biggest hole in Spielman's résumé with the Vikings -- which includes an otherwise commendable record on first-round picks, a shrewd trade for DE
Jared Allen
, and what appears to be a good return on dealing WR
Percy Harvin
-- is his inability to find a long-term solution at quarterback. Spielman came to the Vikings shortly after the team had used a second-round pick on
Tarvaris Jackson
, and didn't have to devote a high pick in the draft to a QB until the end of
Brett Favre
's two-year run triggered a youth movement in 2011. And now the Vikings appear to be acknowledging that the decision to pick
Christian Ponder
12th overall in 2011 was a mistake.
"I haven't got it right yet. We've worked as hard as we could to try to get that right," Spielman said after the Vikings fired Frazier on Dec. 30. "I wish that you could get a quarterback [easily], and it's not. It's maybe the most difficult position to fill, but we're going to do everything and use every resource we can to try to get that corrected."
Spielman will have veteran offensive coordinator Norv Turner helping him this time, and the GM might rightly conclude that the best decision is to take a defensive player in the first round, come back to draft a quarterback later and let him develop without the expectations (and guaranteed money) that often drive a first-round pick into action right away. But the Vikings would have to bring
Matt Cassel
back on a new deal or go another route if they want to have a veteran quarterback on their roster next year, and trading for a player like
Kirk Cousins
or
Ryan Mallett
would cost the Vikings at least a midround pick while offering few guarantees. More than ever, it's incumbent upon Spielman to get it right at a position he's struggled to fill since his days in Miami.
During his five seasons with the Dolphins, Spielman initiated the first of his two trades for
Sage Rosenfels
, a move he'd repeat with the Vikings. Spielman had a hand in the acquisitions of
Ray Lucas
and
Brian Griese
, and in 2004 -- his only season as the Dolphins' full-fledged GM -- Spielman dealt a second-round pick to Philadelphia for
A.J. Feeley
, only to watch the quarterback fail to hold the starting job as the Dolphins slipped from 10-6 to 4-12.
The Dolphins' 2004 season went awry in part because running back
Ricky Williams
went AWOL before the season, but a clear direction at quarterback might have helped the offense weather the loss of its best player. And for all of the Vikings' defensive issues -- and running back
Adrian Peterson
's nagging injuries -- along the way in their fall from 10-6 to 5-10-1 in 2013, there's a convincing argument to be made that the team could have won a mediocre NFC North if it had stability at quarterback. Frazier seemed to be making that point on his way out of town, leaving some strong hints that responsibility for the quarterback situation -- and who started games there in 2013 -- should be borne by more people than just him.
Frazier, of course, is gone now, and Spielman got his chance to build a more seamless football department by picking his own coach. He has outlived his gaffe on Ponder, and he has more than $20 million of cap space with which to mold the roster this spring. Ownership seems firmly behind him, and as the Vikings move toward the opening of their new stadium in 2016, their direction is firmly under Spielman's control.
But the stigma of his misses at quarterback still follows him around, and if he can't get the position right this time around -- especially if he makes what turns out to be a bad investment with the eighth overall pick -- he likely won't get another chance to change his reputation. General managers can often survive at least one coaching change, but the best ones extend their careers by finding quarterbacks.
To his credit, Spielman seems to know he needs to fix the position. All that's on the line is all he's built for himself in his time with the Vikings.
"I have confidence we'll get this quarterback situation resolved. I really do," he said on Dec. 30. "What that answer is right now, I'm not going to have those answers until we get the coach in place. And when we sit down and delve into what we have at this position -- what is potentially out there in free agency? What is the draft class? Those answers will all come in time."
April, 18, 2013
4/18/13
8:19
PM ET
»
NFC schedule analysis
:
East
|
West
|
North
|
South
»
AFC
:
East
|
West
|
North
|
South
Breakdown:
The Packers' 2013 schedule has a familiar ring. They open with the
San Francisco 49ers
for the second consecutive season, a quirk that also affords a rematch with the team that knocked them from the 2012 playoffs. They'll play the
Detroit Lions
on Thanksgiving Day for the fourth time in seven years. They once again have a prime-time game against the
New York Giants
and will have four (out of a maximum of five) night games overall.

Two of them will come at home, in Week 9 against the
Chicago Bears
and Week 14 against the
Atlanta Falcons
. Their road night games will come at the
Minnesota Vikings
in Week 8 and at the Giants in Week 11.
It's worth wondering whether the Packers will face quarterback
Robert Griffin III
or backup
Kirk Cousins
in their Week 2 game against the
Washington Redskins
; Griffin is recovering from reconstructive knee surgery and isn't a lock to be ready for the start of the season. But perhaps most interesting is that the Packers won't play back-to-back road games, the first time that has happened in team history. By definition, that makes it a balanced schedule.
Complaint department:
I guess I know why the NFL prefers divisional matchups on Thanksgiving Day -- television ratings and attendance -- but this Packers-Lions thing is getting comical. The Packers will have played in this game six times in 13 seasons: 2001, '03, '07, '09, '11 and now '13. Thursday games are a scramble to prepare for, and it would be fair to spread the wealth a bit more evenly.
579:
According to coach Mike McCarthy, the Packers have made that number their offseason mantra. It refers, of course, to the total yards their defense gave up to the 49ers in a divisional-round playoff loss three months ago at Candlestick Park. The Packers sent their defensive staff to Texas A&M this spring for a coaching clinic as part of an organization-wide effort to respond to the debacle, and we're expecting that push to continue through the draft. The timing of this game means the "579" story will carry nicely -- and eventually ad nauseam -- through training camp and the preseason.
Packers Regular-Season Schedule (All times Eastern)
Week 1: Sunday, Sept. 8, at San Francisco, 4:25 p.m.
Week 2: Sunday, Sept. 15, Washington, 1 p.m.
Week 3: Sunday, Sept. 22, at Cincinnati, 1 p.m.
Week 4: BYE
Week 5: Sunday, Oct. 6, Detroit, 1 p.m.
Week 6: Sunday, Oct. 13, at Baltimore, 1 p.m.
Week 7: Sunday, Oct. 20, Cleveland, 4:25 p.m.
Week 8: Sunday, Oct. 27, at Minnesota, 8:30 p.m.
Week 9: Monday, Nov. 4, Chicago, 8:30 p.m.
Week 10: Sunday, Nov. 10, Philadelphia, 1 p.m.
Week 11: Sunday, Nov. 17, at N.Y. Giants, 8:30 p.m.
Week 12: Sunday, Nov. 24, Minnesota, 1 p.m.
Week 13: Thursday, Nov. 28, at Detroit, 12:30 p.m.
Week 14: Sunday, Dec. 8, Atlanta, 8:30 p.m.
Week 15: Sunday, Dec. 15, at Dallas, 4:25 p.m.
Week 16: Sunday, Dec. 22, Pittsburgh, 4:25 p.m.
Week 17: Sunday, Dec. 29, at Chicago, 1 p.m.

April, 16, 2012
4/16/12
4:00
PM ET
I'm continuing to pass along every clip of Jon Gruden's QB Camp, for those of you who are hoping your team drafts a developmental quarterback, and also knowing some of you will take a special interest in the individuals involved. Michigan State quarterback
Kirk Cousins
probably falls into both categories.
In the clip, Cousins and Gruden discuss fade passes in the red zone -- both on film and on the practice field -- and discuss Cousins' title as a "natural leader." Sometimes that description is a euphemism for "can't play," but in this case I think it's genuine. Here's what Cousins said about leadership at the professional level:
"A quarterback is a quarterback. You've got to be a leader. You can't step down. If you're a natural leader and you have an idea of the dynamic in that relationship and how to handle it right, I think you'll be able to handle it OK."
The full version of Cousins' visit will debut on ESPNU at 5 p.m. ET.