April, 7, 2011
4/07/11
12:00
PM ET
»
NFC Draft Watch
:
East
|
West
|
North
|
South
»
AFC
:
East
|
West
|
North
|
South
Each Thursday leading up to the NFL draft (April 28-30), the ESPN.com NFL blog network will take a division-by-division look at key aspects of the draft. Today's topic: history in that spot.
Chicago Bears

The Bears' top pick is No. 29 overall. Here are the past seven players taken in that spot, with their NFL team in parentheses:
2010: Cornerback
Kyle Wilson
(
New York Jets
)
2009: Wide receiver
Hakeem Nicks
(
New York Giants
)
2008: Defensive end
Kentwan Balmer
(
San Francisco 49ers
)
2007: Offensive guard
Ben Grubbs
(
Baltimore Ravens
)
2006: Center
Nick Mangold
(New York Jets)
2005: Defensive back
Marlin Jackson
(
Indianapolis Colts
)
2004: Wide receiver
Michael Jenkins
(
Atlanta Falcons
)
ANALYSIS:
The bottom of the first round is a great place to find starting-caliber guards and centers. The top tackles are usually off the board. Fortunately for the Bears, they could use a guard or center just as much as a tackle. While coach Lovie Smith wants to bring back veteran center
Olin Kreutz
, a free agent, he will have to be replaced someday. And more depth at guard could allow the Bears to move 2008 first-round draft pick
Chris Williams
back to left tackle.
Detroit Lions

The Lions' top pick is No. 13 overall. Here are the past seven players taken in that spot, with their NFL team in parentheses:
2010: Defensive end
Brandon Graham
(
Philadelphia Eagles
)
2009: Defensive end
Brian Orakpo
(
Washington Redskins
)
2008: Running back
Jonathan Stewart
(
Carolina Panthers
)
2007: Defensive lineman
Adam Carriker
(
St. Louis Rams
)
2006: Linebacker
Kamerion Wimbley
(
Cleveland Browns
)
2005: Offensive lineman
Jammal Brown
(
New Orleans Saints
)
2004: Receiver
Lee Evans
(
Buffalo Bills
)
ANALYSIS:
Unfortunately for the Lions, this isn't a great spot to get an elite cornerback. Those types of players are usually drafted in the top seven or eight picks. (The Lions are hoping that Nebraska's
Prince Amukamara
somehow slips through the cracks.) This is a nice area to draft a second-tier defensive lineman, and this year, the Lions will probably have their pick of offensive tackles as well.
Green Bay Packers

The Packers' top pick is No. 32 overall. Here are the past seven players taken in that spot, with their NFL team in parentheses:
2010: Cornerback
Patrick Robinson
(New Orleans Saints)
2009: Defensive tackle
Ziggy Hood
(
Pittsburgh Steelers
)
2008: Defensive end
Phillip Merling
(
Miami Dolphins
)*
2007: Receiver
Anthony Gonzalez
(Indianapolis Colts)
2006: Defensive end
Mathias Kiwanuka
(New York Giants)
2005: Offensive guard
Logan Mankins
(
New England Patriots
)
2004: Tight end
Benjamin Watson
(New England Patriots)
*First pick of second round.
ANALYSIS:
There are some awfully productive players on this list. Part of the reason is that the previous year's most successful organization was in that spot and thus was more likely to make a good scouting decision. But it also tells us the Packers should have an opportunity to select a player who can make an immediate impact as long as they don't limit themselves to certain positions.
Minnesota Vikings

The Vikings' top pick is No. 12 overall. Here are the past seven players taken in that spot, with their NFL team in parentheses:
2010: Running back
Ryan Mathews
(
San Diego Chargers
)
2009: Running back
Knowshon Moreno
(
Denver Broncos
)
2008: Offensive tackle
Ryan Clady
(Denver Broncos)
2007: Running back
Marshawn Lynch
(Buffalo Bills)
2006: Defensive lineman
Haloti Ngata
(Baltimore Ravens)
2005: Linebacker
Shawne Merriman
(San Diego Chargers)
2004: Linebacker
Jonathan Vilma
(New York Jets)
ANALYSIS:
This list tells us what we knew already: You can get a blue-chip, impact player here if you exercise good judgment. The Vikings' decision, of course, will be complicated by their need for a quarterback. What will they do if they have, say, a potentially elite pass-rusher like North Carolina's
Robert Quinn
available to them? Take Quinn and look for a quarterback later? Or prioritize the quarterback?
April, 23, 2010
4/23/10
4:56
PM ET
EDEN PRAIRIE, Minn. -- As promised, I'm live at Minnesota's training facility as we prepare to throw down in the second round. (I'm a poet and I most certainly know it!)
Before we move forward, I'd like to pass along an interesting tidbit from
Rich Cimini's New York Jets blog
over at ESPNNewYork.com. According to Cimini, the Vikings were hoping to draft Boise State cornerback
Kyle Wilson
with the No. 30 overall pick before the Jets grabbed him at No. 29. Here's Cimini's account:
About five minutes before he was selected by the Jets, Boise State CB Kyle Wilson received a phone call from the Vikings. Made sense, considering the Vikings owned the 30th pick, one spot behind the Jets.

"I don't know if they were trying to hold me on the line, but I got a call, and then somehow the phone hung up," Wilson told New York reporters on a conference call.

Maybe the Vikings hung up when the Jets chose him at No. 29. What transpired seems rather obvious: The Vikings wanted him and, when they couldn't get him, they traded out of the 30th spot, working a deal with the Lions. The Lions took Cal RB Jahvid Best in that slot.
It's also possible the Vikings were entertaining offers from teams who wanted the No. 30 pick in order to draft Wilson. Having those teams bidding against those who wanted to be at No. 30 to draft Best would have created maximum leverage for the Vikings. The longer those dueling possibilities existed, the better for the Vikings. Just a thought.
April, 23, 2010
4/23/10
12:07
AM ET
ALLEN PARK, Mich. -- Jim Schwartz's legendary blood pressure started to rise late Thursday evening. The running back he has coveted was still available near the end of the first round, and Detroit president Tom Lewand was trying to finalize a trade -- with a division rival, no less -- to move up and draft him.
"I wanted to grab the phone from him and start beating him with it," a noticeably calmer Schwartz said a few minutes later.
Yes, the end of Thursday night's first round took on a decidedly competitive tone when the Lions talked Minnesota into giving up its spot at No. 30 overall for a price lower than originally believed. In exchange for helping the Lions draft Cal tailback
Jahvid Best
, the Vikings moved down four spots and took Detroit's No. 34 overall pick.
[+] Enlarge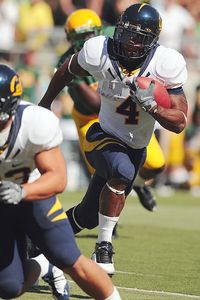 Steve Dykes/Getty ImagesJahvid Best ran for 867 yards and 12 touchdowns before missing Cal's final four games with a concussion.
The teams swapped fourth-rounders -- the Vikings moving up to No. 100 overall, the Lions dropping to No. 128 -- and the Vikings grabbed one of the Lions' seventh-round picks (No. 214) as well.
Schwartz noted fairly that "they helped us out, [but] we helped them out." But if Best makes the impact the Lions believe he will, the Vikings might one day wonder if they should have taken another offer. (Vikings vice president of player personnel Rick Spielman said the Vikings heard from several other possible trade partners.)
"This was a player that we had a lot of really good feelings for and a guy that we had a plan for exactly how we're going to use him on offense," Schwartz said. "I was hoping for two things in this draft. One was to get him. ... But if we didn't get him, [I was hoping] that he didn't go to Green Bay or Minnesota or Chicago and have to defend against a guy like that twice a year."
I can't argue with the Vikings' decision to trade down. A number of players they likely would have been interested in -- Florida center/guard
Maurkice Pouncey
and Boise State cornerback
Kyle Wilson
among them -- were off the board. Oddly, the one player that might have made sense for them was Best, who could have replaced
Chester Taylor
as the Vikings' No. 2 tailback and given them yet another blue-chip playmaker.
But Spielman said the return was too high to consider drafting Best or shying away from dealing with a division rival. He claimed all four players the Vikings targeted at No. 30 are still available, meaning they will conceivably have their pick of them at the top of the second round.
"I think the value of going up and having those slots that we were able to get was very important to us," Spielman said. "And I think if there was a player at 30 that we were definitely sold on that we said there was no way that we'd trade out of this pick to have that player, then we wouldn't have done it. But I think with us having the options to look at [Friday] that we were able to still potentially get a player that we many have taken at 30, and help ourselves with our slots."
We can't really judge this trade with six rounds remaining in the draft, and in truth it might take several years to give an accurate accounting of it. I will say this: You can't help but notice the Lions' burgeoning list of offensive skill players. The list includes quarterback
Matthew Stafford
, receivers
Calvin Johnson
and
Nate Burleson
, tight ends
Brandon Pettigrew
and
Tony Scheffler
, and now Best. Even if incumbent tailback
Kevin Smith
were healthy, I would consider Best by far the best tailback on the Lions' roster.
"We've got the makings of some special things," Schwartz said.
More to come Friday.
April, 22, 2010
4/22/10
10:09
PM ET
ALLEN PARK, Mich. -- Sitting in Detroit's media room, I watched Green Bay's selection approach with increasing drama. Who would have thought that four players long considered likely targets -- Iowa left tackle Bryan Bulaga, Texas linebacker Sergio Kindle, TCU linebacker Jerry Hughes and Boise State cornerback Kyle Wilson -- would all be available at No. 23 overall?

Bulaga
The riches were so abundant that I half expected Packers general manager Ted Thompson to trade down a few spots, gain an extra pick and still get one of those players. In the end, however, the Packers did exactly what Detroit did earlier: they refused to over think. They took the obvious and, in my mind most appropriate, option.
In the short-term, Bulaga will give the Packers insurance against the increasing health risk inherent in starter
Chad Clifton
. At some point, Bulaga will offer a seamless transition as the 33-year-old Clifton's permanent replacement.
Many of us assumed the Packers would have a much more difficult choice. Based on pre-draft mocks, at least, it seemed they would have to choose between a lesser-regarded left tackle -- I gave them USC's Charles Brown in our blog network mock draft -- or perhaps Hughes. Some unorthodox decisions in the middle of the draft allowed Bulaga to fall into their laps.
We'll have more on Bulaga as the draft continues. For now, here is a quick scouting report on him from Scouts Inc:
Pros: Works from the snap until the whistle and gives same effort when Iowa runs to the opposite side as he does when Iowa runs behind him. Short-term memory and doesn't appear to dwell on mistakes. Gets set quickly, locks out arms and can ride explosive edge rushers past the pocket. Shows excellent body control and footwork when forced to redirect. Active and strong hands.

Cons: Can be a step late sliding off combo block and covering up linebacker. Doesn't always show great spatial awareness as a zone blocker or take sound angles to downfield blocks. Vulnerable to some spin moves and needs to do a better job of handling power-to-speed moves. Must continue to improve lower-body strength in order to anchor better versus bull rush.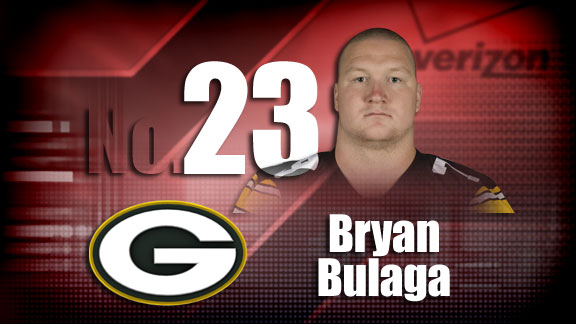 April, 21, 2010
4/21/10
8:20
PM ET
To the extent that the
Minnesota Vikings
were targeting a cornerback with its No. 30 overall pick, I doubt anything has changed based on Wednesday's
quick signing
of free agent
Lito Sheppard
. Here's where I'm coming from:
Sheppard, 29, signed a one-year, $2 million contract. Those terms paint the perfect picture of a short-term commitment to fill a specific hole. We outlined that opening earlier Wednesday: Starter Cedric Griffin is rehabilitating a torn anterior cruciate ligament. He might not be ready for the start of the season, and Benny Sapp is the only player with experience behind him. But without question, Griffin is a long-term fixture in the Vikings' lineup.
A first-round cornerback might contribute right away, but his horizon would extend far beyond Sheppard's likely career arc. In other words, if a cornerback you value is available at your spot in the draft, you're not going to pass because you just signed a veteran free agent to a one-year contract.
A rookie drafted this year would more likely be targeted as Antoine Winfield's eventual replacement. Winfield turns 33 in June.
Sheppard has played for coach Brad Childress and defensive coordinator Leslie Frazier in Philadelphia. If you have the opportunity to bring in a veteran cornerback who is familiar with your defense and as well-respected around the league as Sheppard is, you do it without consideration to the draft. I'm pretty sure no NFL team has had too much depth at cornerback.
Now, watch the Vikings pass on Kareem Jackson, Kyle Wilson and Devin McCourty -- three of the draft's top cornerbacks -- and pick a tight end at No. 30. That would show me.
April, 19, 2010
4/19/10
10:50
AM ET
So you've had a few hours to ruminate over the NFL Blog Network's
2010 mock draft
. I'm glad to see the comments are flowing over on the
NFL Nation blog
as well. Now it's time for me to justify, make excuses for and/or weakly defend my choices for Detroit, Green Bay and Minnesota.
Detroit Lions
Position:
No. 2 overall
Pick:
Nebraska defensive tackle
Ndamukong Suh
Justification:
We've been through so many angles on this pick that we forget what should be the Lions' top priority: Choosing the best player available. There is some debate about whether Suh will be a better pro than Oklahoma's
Gerald McCoy
, but there is no doubt (in my mind) that Suh was the better and more productive college player. Ultimately, I sided with past history over future projection.
Green Bay Packers
Position:
No. 23 overall
Pick:
USC tackle
Charles Brown
Making excuses:
Esteemed NFC East baron Matt Mosley immediately took a shot at this decision, calling Brown a "project" whose selection allowed Philadelphia to grab Boise State cornerback
Kyle Wilson
. I found myself in the no-man's land we
first discussed
last month. The top four tackles were off the board, as was Idaho guard
Mike Iupati
. Texas linebacker
Sergio Kindle
went at No. 22. I gave some thought to Texas Christian linebacker
Jerry Hughes
, but I decided I would rather have the next-best left tackle rather than the next-best pass-rusher. Packers general manager Ted Thompson has taken "project" players before (defensive tackle Justin Harrell). And there is no indication the Packers are looking for an immediate starter at left tackle considering the contract they gave Chad Clifton.
Minnesota Vikings
Position:
No. 30 overall
Pick:
Florida guard/center
Maurkice Pouncey
Weakly defending:
I know a quarterback would have been the more interesting choice, but my decision was not to use the No. 30 overall pick on Florida's
Tim Tebow
or Texas'
Colt McCoy
. The Vikings could probably trade back into the top or possibly middle of the second round and still get either player if that were the case. Minnesota's roster is such that it can pick for value at every spot in the draft. When I looked at the remaining players on the board, I thought Pouncey was the best. The Vikings might have their board stacked differently, but I think they'll take their highest-rated player here. In the short-term, Pouncey would put some pressure on center
John Sullivan
and right guard
Anthony Herrera
.
April, 9, 2010
4/09/10
12:05
PM ET
Much of our debate on Green Bay's pre-draft needs has centered on offensive tackle and outside linebacker. But some of you suggested an alternate focus during
last week's discussion
: cornerback.
A cornerback with sophisticated coverage skills is one of the four most-difficult targets in any draft, a list that (in my opinion) also includes pass-protecting left tackles, pass-rushing defensive ends and competent quarterbacks. That's one of the reasons you saw the Packers issue a high tender to restricted free agent
Tramon Williams
, who has made 20 NFL starts.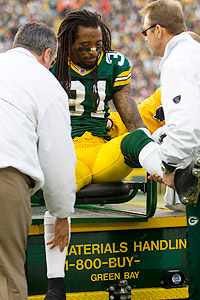 Jeff Hanisch/US PresswirePackers cornerback Al Harris, who injured his knee last season, might not be ready when the 2010 season begins.
Another big reason is something we haven't discussed much in this space: The uncertain future of longtime starter
Al Harris
, who at 35 is rehabilitating a left knee injury that was more serious than we originally thought.
Harris has been chronicling his recovery over at the
National Football Post
, but coach Mike McCarthy spoke with realism last month when discussing Harris' timetable for returning to the field. McCarthy called it a "real serious injury" and indicated that team doctor Patrick McKenzie performed two separate procedures on him to regain full range of motion.
"We'll just continue to watch that and see how he responds," McCarthy said, adding that it's "probably fair" to compare Harris' timetable to the one right tackle
Mark Tauscher
followed last year. Tauscher wasn't ready to start practicing until October.
If Harris isn't ready to start the season, Williams would start opposite
Charles Woodson
. In that scenario, the Packers would be counting on several other players to recover from injuries, including
Will Blackmon
and
Pat Lee
, to provide depth.
A first-round cornerback might not be a dramatic need, but it wouldn't be a luxury either. For what it's worth, here are Mel Kiper's
top five available cornerbacks
:
1. Florida's Joe Haden
2. Alabama's Kareem Jackson
3. Rutgers' Devin McCourty
4. Boise State's Kyle Wilson
5. Florida State's Patrick Robinson