NFC North:

LaMarr Woodley
March, 11, 2014
Mar 11
1:00
PM ET
As free agency begins Tuesday and the
Detroit Lions
figure out exactly how to fill their holes, certain players will stand out.
And over the past three days, the Lions have spent time in the beginnings of talks with free agents as they try to maximize about $11 million in salary-cap space.

It might sound like a lot -- and it will be enough to get a couple of deals done -- but the total is in the lower half of the NFL and could keep the Lions from being major movers in the market, at least until a new contract is worked out with defensive tackle
Ndamukong Suh
.
If that happens.
As everyone settles in for the insanity of free agency, here is a look at players the Lions could target on defense.
DEFENSIVE LINE:
Why:
This could be predicated on what happens with defensive end
Willie Young
. If the team is able to bring Young back, the Lions might be done at the position in the near term. If not, they might look for a replacement. At defensive tackle, the team already signed
Corvey Irvin
and has depth.
Two candidates:
Young: Last season was his first consistent extended action, and he was effective. He had 47 tackles and three sacks, but his size and speed make him an attractive free agent for teams. At 28, he is in his prime.
Brett Keisel: He is a 3-4 defensive end who can play defensive tackle in the 4-3. Though 35 years old, he had 29 tackles and four sacks in 12 games last season. He could be a cheap alternative if the team feels there is a need for another veteran on the line.
LINEBACKER:
Why not:
Sure, there could be a deal made with someone for cheap or a hybrid defensive end/linebacker, but with
DeAndre Levy
and
Stephen Tulloch
returning and the team playing more nickel than ever, it could be tough for them to lure a big-name player.
Two options:
LaMarr Woodley: Expected to be released by the Steelers later Tuesday, he has connections to the state and can play both linebacker and defensive end, making him a potentially cheap, versatile piece.
Larry Foote: Like Woodley, this is more about someone who has connections to Michigan. If Foote is planning on being a starter, he isn't going to come to Detroit -- and his price tag would likely be too much anyway.
CORNERBACK:
Why:
Despite the team having money wrapped up in
Chris Houston
and a bunch of younger cornerbacks ready to seek out playing time, the Lions might be wise to invest in another veteran, much like they did with
Rashean Mathis
a season ago.
Four candidates:
Mathis: He showed he can still play after becoming the team's top cornerback last season and was a steadying influence in the Detroit locker room for those younger cornerbacks. He would probably still come cheap.
Corey Graham: He played last season under new Detroit defensive coordinator Teryl Austin and has familiarity with Austin's schemes. At 6 feet, Graham has the height Austin wants, made 68 tackles and intercepted four passes a season ago. He could be a strong fit.
Alterraun Verner: The Lions reportedly reached out to the former Tennessee cornerback, but he is expected to be pursued heavily in free agency. Though the Lions could be a fit, Verner might end up being too expensive.
Charles Tillman: He told reporters during Super Bowl week that he wouldn't rule out playing for the Lions, and he could be an interesting cornerback/safety hybrid. He also has familiarity with the division, having played for Chicago, and has the respect of receiver Calvin Johnson.
SAFETY
Why:
Other than receiver, this might be the biggest need of all for Detroit after the team released starter
Louis Delmas
. Though the Lions could address this spot in the draft, they likely would like to put someone experienced opposite
Glover Quin
.
Some candidates:
February, 22, 2014
Feb 22
2:00
PM ET
Here is the latest edition of the Steelers' mailbag. I couldn't get to all of the questions this week and, as always, have the ones I didn't answer at the top of the list for next week's mailbag. Keep the questions coming by sending them to @ScottBrown_ESPN with #steelersmail.

And away we go ...


November, 17, 2013
11/17/13
12:10
PM ET
PITTSBURGH -- Not much of a surprise, but defensive end
Ziggy Ansah
and wide receiver
Nate Burleson
are among the inactive players for Detroit on Sunday against the Steelers.
Ansah tested the ankle during warm-ups before the game, but had only practiced one day in the past two weeks and appeared unlikely to play from the start. Rookie
Devin Taylor
will make his second career start in place of Ansah.
Burleson had hinted he likely wasn't going to play this week as well, but he warmed up before the official no-go decision was made.
In bigger news for the Lions, Steelers linebacker
LaMarr Woodley
was deemed inactive. That's a big deal for Detroit, which will start rookie right tackle
LaAdrian Waddle
for the third straight game. Facing Woodley would have been the biggest test so far for Waddle.
Lions inactives:
Burleson, Ansah; OT
Corey Hilliard
; OG
Leroy Harris
; RB
Montell Owens
; CB
Bill Bentley
; QB
Kellen Moore
.
November, 15, 2013
11/15/13
4:25
PM ET
ALLEN PARK, Mich. -- After missing two days of practice and then saying Thursday he anticipated playing Sunday against Pittsburgh,
Detroit Lions
wide receiver
Calvin Johnson
is officially listed as probable on the team's injury report Friday.
Johnson
Defensive end
Ziggy Ansah
(ankle), who returned to practice Friday on a limited basis, is officially listed as questionable but had not practiced for almost two weeks before Friday. Also listed as questionable is right tackle
Corey Hilliard
(knee).
Cornerback
Bill Bentley
(knee), who hasn't practiced all week, is listed as doubtful along with receiver
Nate Burleson
(forearm), who is still recovering from his injury.
The only player ruled out for the Lions is running back
Montell Owens
, who hasn't practiced all week.
Interesting to note, especially since he likely would have faced rookie right tackle
LaAdrian Waddle
, but linebacker
LaMarr Woodley
(calf) is officially doubtful for Pittsburgh on Sunday. Also, defensive end
Brett Keisel
(foot) is questionable for the Steelers.
September, 21, 2013
9/21/13
5:00
PM ET
CHICAGO BEARS (2-0) at PITTSBURGH STEELERS (0-2)
7:30 p.m. CT Sunday at Heinz Field on NBC
October, 7, 2010
10/07/10
11:00
AM ET
By
Scouts Inc.'s Matt Williamson
| ESPN.com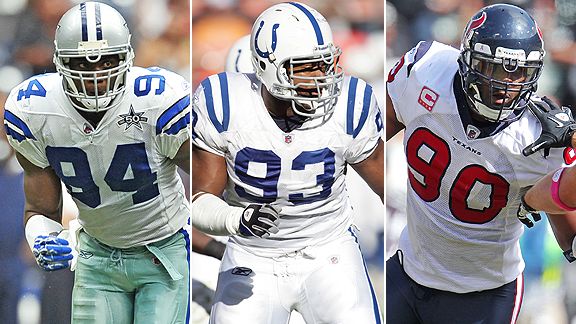 Icon SMI, AP PhotosDeMarcus Ware, Dwight Freeney and Mario Williams are among the most dominant pass-rushers.
Pass-rushers come in all shapes and sizes. But they are always at a premium.
Although they are difficult to find, there are a few tremendous interior forces when attacking quarterbacks. Those can be true upfield defensive tackles or even ends such as
Justin Tuck
who are versatile enough to move inside on passing downs.
But most great quarterback killers come off the edge, and this list reflects that. But edge-rushers also come in all shapes and sizes. Some are defensive ends in the 4-3, while others are pass-rushing outside linebackers in the 3-4. Some are tall, linear athletes with great wingspans, while others are shorter and built for leverage. Some pass-rushers rely on power, technique or speed. But every esteemed member of this group is more than just a one-trick pony.
One thing is certain: All can harass quarterbacks extremely well. These are the best of the best.
DeMarcus Ware, LB, Cowboys: Ware has it all. He has great quickness, but is also incredibly smooth and fluid with all his movements. Ware has a very long, lean athletic body type that he uses extremely well to keep blockers away from his frame, but also gets low and demonstrates great leverage. He also has a full array of pass-rush moves and a great motor to cap it all off. Ware already has four sacks in three games this year. Oh yeah, he also had 20 sacks in 2008.

Dwight Freeney, DE, Colts: If Freeney has lost a step, it is hardly noticeable. His body of work is amazing, but so is what he is doing now. Before his ankle injury last season, Freeney might have been rushing the passer at a higher level than at any point of his career. I also tend to think that the Super Bowl might have ended a little differently if the Colts' best defensive player had been healthy. Despite that injury, Freeney did notch 13.5 sacks in 2009.

Mario Williams, DE, Texans: This ultra-talented young man has come into his own in 2010. Only two players have more sacks this season than Williams (five). And he is one player on this list who is continually double-teamed. Few players look the part like Williams, and his skill set is off the charts. He has power, the body and closing speed. Now he is putting it all together. The league is taking notice.

Julius Peppers, DE, Bears: Peppers was great in Carolina, but looks rejuvenated -- and much more dangerous and consistent -- since joining the Bears. Peppers and Williams are the two players on this list who are just a different breed of athlete. Peppers and Williams are bigger and more gifted than the others. Although the Bears invested a small fortune in this great player, they must be happy with their investment to this point.

James Harrison, LB, Steelers: One of the functionally strongest players in the league, Harrison is a master at staying low and bullying his opponent. But his flat-out tenacity is what sets him apart. He got to the quarterback 16 times in 2008 and is also one of the very best in the business at dislodging the football when he does reach the quarterback. Harrison arrives with violence. Harrison and teammate LaMarr Woodley (see below) are probably the two best of this top 10 at setting the edge and playing the run.

[+] Enlarge

Jeff Hanisch/US PresswireClay Matthews leads the NFL with seven sacks.

Clay Matthews, LB, Packers: Bred to play the game, Matthews leads the NFL with seven sacks. Despite more or less learning a new position, he notched double-digit sacks as a rookie. He is a terrific blend of athletic ability, which he displays really well bending the edge without losing leverage or speed. But it is his technique -- most noticeably his use of his hands -- and overall tenacity that make Matthews special.

Robert Mathis, DE, Colts: Mathis is averaging a sack per game thus far in 2010, and the Colts have not played with their accustomed leads. Mathis benefits from Freeney being on the other side and also plays in the ideal conditions to use his amazing speed, but that should not take away from what he brings off the edge.

Jared Allen, DE, Vikings: Allen was second in the league in sacks last year, and from 2007 to 2009, Allen notched a whopping 44.5. Allen has begun this season rather slowly in this department, but the Vikings have played only three games and his track record speaks for itself. Not only is he a tremendous hustle player, but he uses his length extremely well.

Tamba Hali, LB, Chiefs: Hali doesn't get the credit he deserves or the accolades of the others on this list. In fact, Kansas City has really struggled to get after opposing quarterbacks over the last few years. But don't blame Hali. He has recently blossomed into a great 3-4 outside linebacker after spending time as a defensive end in Herm Edwards' Cover 2 scheme. The Chiefs are starting to get some recognition. Go out of your way to watch Hali. You will not be disappointed.

LaMarr Woodley, LB, Steelers: He has been great this year, but was out-of-this-world the second half of last season. He is one of the few pass-rushers on this list who usually lines up against slower-footed right tackles, but he can win one-on-one with technique, quickness or power. Woodley is just reaching his prime and will only get better.
Honorable Mention
:
Elvis Dumervil
,
Cameron Wake
,
John Abraham
,
Matt Roth
,
Ray Edwards
,
Trent Cole
,
Brian Orakpo
,
Terrell Suggs
,
Anthony Spencer
, Justin Tuck.
Scouts Inc. watches games, breaks down film and studies football from all angles for ESPN.com.
October, 25, 2009
10/25/09
4:16
PM ET
Posted by ESPN.com's Kevin Seifert
PITTSBURGH -- What an absolutely bizarre and -- if you're a Pittsburgh fan -- exhilarating fourth quarter between two of the best teams in the NFL.


Minnesota benefited from some fortunate twists last week against Baltimore. Sunday, the Steelers took advantage of two red zone miscues to hold their lead at Heinz Field. Linebacker
LaMarr Woodley
returned a
Brett Favre
fumble 77 yards for one touchdown, and fellow linebacker
Keyaron Fox
returned an interception 82 yards for another score.
Fox's play came after tailback
Chester Taylor
let a screen pass sail through his hands, ending the Vikings' bid to either tie or take a lead with one minute remaining.
Without those mistakes, the Vikings might well have left with an impressive victory over one of the AFC's top teams. To be frank, the loss hardly derails any of the Vikings' long-term goals. From a tiebreaker perspective, the Vikings will be least impacted by a
road loss to an AFC team
.
February, 3, 2009
2/03/09
5:00
PM ET
Posted by ESPN.com's Kevin Seifert
Amid discussion about his players' potential fit for the 3-4 defense, Green Bay coach Mike McCarthy confirmed Tuesday that Aaron Kampman will shift from defensive end to outside linebacker in 2009.
Check out coverage from the Milwaukee Journal Sentinel and the Green Bay Press-Gazette. McCarthy said Kampman will be at outside linebacker when "we line up in the first base defense" but emphasized that new coordinator Dom Capers will devise a role around Kampman's skills. "There's not just one mold for each position," McCarthy said of the 3-4.
I guess I'll believe it when I see it. I agree that Kampman isn't a good fit as a defensive end in any version of the 3-4. At 265 pounds, it would be hard for him to play a position that has some of the responsibilities of a defensive tackle in the 4-3. But at a gangly 6-4, Kampman doesn't have the body type of a modern 3-4 outside linebacker, either.
(For comparison's sake, Kampman is four inches taller than Pittsburgh's James Harrison and two inches taller than the Steelers' LaMarr Woodley. The Steelers' 3-4 scheme finished 2008 as the NFL's top-ranked defense.)
It's true that Kampman played linebacker for two years at Iowa, but it's hard to escape the feeling that he his ideal position is a 4-3 defensive end. How many eight-year veterans make the transition to a position that requires more quickness, a greater comfort zone in space and a new pre-snap stance? I'm sure it can be done, but it's only fair to say that Kampman has a lot of work ahead of him.
The most encouraging news is that McCarthy alluded several times to the possibility of adjustments and tweaks to the traditional roles of the 3-4. If Capers can create a role that puts Kampman on the line of scrimmage and allows him almost solely to focus on rushing the passer, then this move could succeed. Otherwise, the Packers will have taken a player who has 37 sacks in the past three years and put him out of position.