July, 8, 2013
7/08/13
9:45
AM ET
So on Sunday, Lance Easley made his
previously reported appearance
as a celebrity umpire in a charity softball tournament organized by
Seattle Seahawks
cornerback
Richard Sherman
.
Photographs circulated of Easley and Seahawks receiver
Golden Tate
, who caught the disputed "Fail Mary" pass that gave the Seahawks a Week 3 victory over the
Green Bay Packers
last season. Many of us also learned that Easley
has written a book about the call
, the repercussions and lessons learned on how to live with your decisions.
And from what I could see Sunday night on Twitter, Packer Nation erupted. Again.
@TannerSmith47
tweeted that "this is like a surgeon operating on the wrong limb and trying to become a celebrity."
@HelpIamaCabbage
added: "Reflects poorly on @realLanceEasley that he's making money off this rather than humbly admitting his mistake."
@DaveyPinstripes
called the scene "despicable."
There is no doubt that Sherman's courting of Easley -- he sent a private jet to whisk him to the game, according to
Easley's Facebook page
-- implies a level of thanks for helping the Seahawks win more than it does a show of support for an embattled official. And it sure feels like Easley is helping to twist the knife with photographs such as the one with Tate below.
Seahawks WR Golden Tate reunites with "Fail Mary" referee Lance Easley at celebrity softball game » pic.twitter.com/slkuuC6TYq

— SportsCenter (@SportsCenter) July 8, 2013
But let's not allow this episode to cloud the waters of blame and free market. The NFL office bears full responsibility for the mess that put Easley in position to make the call.
Sunday night on Twitter, I compared it -- somewhat hastily -- to an NFL team signing a Division III quarterback and then losing a game on his key mistake. Who deserves blame? The unqualified quarterback who had been assured by the team he could handle the job? Or the team itself?
The league's attempt to use replacement officials as leverage in a labor dispute was arrogant from the start and failed miserably. Easley and his compatriots were earnest but miscast and put in an impossible situation.
The loss impacted the Packers' playoff seeding and
cost them a first-round bye in the playoffs
, but let's not hold Easley responsible for that. Easley might not have kept his eye on the ball, but we can in a figurative sense. You might argue with his decision to capitalize on it, but ultimately the market will determine his success.
I don't think anyone wants to hear his justification for making the call, although it's here in a
Tacoma News Tribune blog post
if you're interested. But if his message moving forward is about handling fallout from the split-second decisions we all make every day, then maybe something good can eventually come from this mess.
May, 16, 2013
5/16/13
11:30
AM ET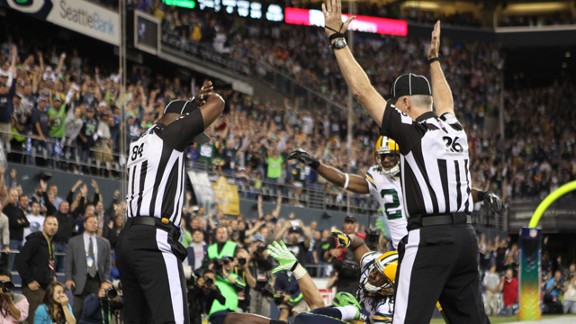 Otto Greule Jr/Getty ImagesMaybe some good can come from the role of replacement ref Lance Easley, right, in the infamous "Fail Mary" play that gave the Seahawks a win over the Packers last season.
I tried. I really tried to be outraged at
Richard Sherman
's creative inclusion of Lance Easley in his celebrity softball game schedule this summer. Alas, I cannot. Nathan Poole is a big reason why.
(Hat tip to
@KCousineau09
for pairing the two stories Thursday morning on Twitter.)
Taking a step back: Sherman is the
Seattle Seahawks
' outspoken All-Pro cornerback. Easley is the NFL replacement official who first signaled for a touchdown in the Seahawks' "Fail Mary" victory over the
Green Bay Packers
last season. And Poole is the former NFL receiver whose touchdown catch for the
Arizona Cardinals
on the final play of the 2003 regular season flipped the NFC North standings, giving the Packers the division title and knocking the
Minnesota Vikings
out
of the playoffs
.
As you might recall
, the Green Bay city government brought Poole to Lambeau Field for the following week's playoff game at Lambeau Field. Poole watched the first half from the 50-yard line, the second half from a suite and received a key to the city.
I thought "Nathan Poole Day" in Green Bay was funny and inspired 10 years ago, and that's pretty much how I feel about Sherman passively rubbing the "Fail Mary" in the Packers' faces. And yes, I realize the two events aren't exactly an apples-to-apples comparison: Poole caught a legal touchdown pass, while the "Fail Mary" was at best a disputed touchdown.
But at some point we all move on from heartbreak, anger and outrage. In the big picture, Sherman is just publicizing an event that
will raise money for the Helping a Hero program
, which provides homes for wounded military personnel and their families. If Lance Easley's inclusion can draw more attention and raise more money, then why not?
May, 16, 2013
5/16/13
8:05
AM ET
We're Black and Blue All Over:
The Minnesota Vikings finally are following up on their first instinct on Joe Webb. Four years after drafting him with plans to attempt a
conversion to receiver
, the Vikings have confirmed that Webb is now a receiver moving forward.

Coach Leslie Frazier and Webb himself discussed the decision with
Sid Hartman of the Star Tribune
, one that apparently was solidified after the team in March signed free agent Matt Cassel to be its No. 2 quarterback. Cassel's arrival left Webb at best as the Vikings' No. 3 quarterback, a waste of his undeniable athletic skills. (You can refresh yourself with
this post that carries links to his jumping exploits
.)
Webb has dabbled elsewhere since the 2010 draft, working as a wildcat quarterback at times while also catching one pass and returning a kickoff in 2011, but the Vikings could never make up their mind on whether they wanted him as a quarterback with "slash capabilities" or playing another position entirely.
He will be a huge target at 6-foot-4 and 220 pounds, but everyone should recognize how difficult a position change is at this point in a player's career. Although Webb spent some time at receiver at Alabama-Birmingham, the level of nuance required at the NFL level is incomparable. Using Webb at a position other than quarterback makes sense based on how the Vikings' roster is constituted now. But this type of conversion would have made better sense for a rookie spending a year on the practice squad than a fourth-year player who has already bombed out of one position.
Continuing around the NFC North:
October, 3, 2012
10/03/12
5:30
PM ET
I don't know whether to feel sympathetic or outraged after reading
this week's Hot Read from ESPN's Elizabeth Merrill and Wayne Drehs
. The reporters told a behind-the-scenes stories on some of the replacement officials used by the NFL during its recent labor impasse. Mike Wilmoth, who appears in the video, is now back to working
junior varsity eight-man high school football games
in Kansas. Wilmoth worked the Week 3 game between the
Detroit Lions
and
Tennessee Titans
. Lance Easley, the side judge who made the infamous touchdown call at the end of the
Green Bay Packers
' Week 3 loss to the
Seattle Seahawks
, has spent the past 10 days underground. He has been stalked by paparazzi and threatened by "idiots," according to his father.
September, 25, 2012
9/25/12
10:30
AM ET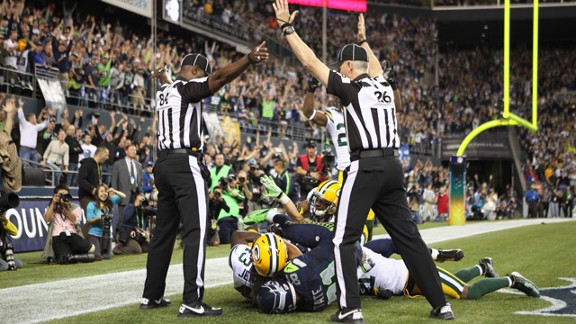 Otto Greule Jr/Getty Images
We will chat
over at SportsNation
as scheduled Tuesday at 2 p.m. ET. We'll probably cut it off before 3 p.m. ET, but such is life. It's going to be a busy day. I'm also working on my Green Bay Packers Free Head Exam, a Power Rankings update and other posts. In the meantime, take a look at what I think will be the iconic photograph of Monday night's final play: Back judge Derrick Rohne-Dunn signaling for a touchback and side judge Lance Easley calling it a touchdown.
Who's on first?
might be a good start in a "Caption This" contest.