May, 1, 2014
May 1
2:00
PM ET
PITTSBURGH -- The
New England Patriots
apparently thought enough of
Lance Moore
to at least consider him as Plan B in case they lost 1,000-yard receiver
Julian Edelman
in free agency.
Moore visited the Patriots shortly after the
New Orleans Saints
released the veteran wide receiver and they told him they would wait and see what happened with Edelman before moving forward.
Edelman re-signed with the Patriots, leaving Moore wondering about his next stop.
Then the
Pittsburgh Steelers
entered the picture.
[+] Enlarge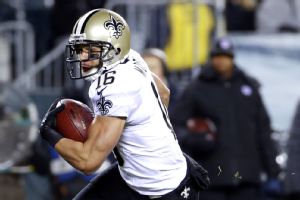 AP Photo/Matt RourkeThe Steelers are looking to Lance Moore to replace Jerricho Cotchery as the team's No. 3 receiver.
"I came up here and had a great time. I met all the coaches. It felt like it was right. Coming from a place where things are run the right way, ownership is great and you win a lot of games, obviously won a world championship, you want that feeling again," Moore said. "You want to be able to get somewhere where you have an opportunity to win. I've been in the game 10 years now. I am not here just to try to collect a check. I want to win another championship.
The Steelers signed Moore last month, moving quickly to fill the void left by
Jerricho Cotchery
's somewhat surprising departure to the
Carolina Panthers
.
Whether Moore, who won a Super Bowl in New Orleans, has a chance to win a championship in Pittsburgh is up for debate.
The Steelers are coming off consecutive 8-8 seasons and they are trying to re-establish themselves as a legitimate Super Bowl contender while also re-tooling their defense. The offense showed signs last season that it can cover for a defense that often did the same for its counterpart when the Steelers played in three Super Bowls and won two of them from 2005-10.
One thing that would help the offense build on its strong finish in 2013 is if Moore can do a reasonable Cotchery impersonation as the Steelers' No. 3 wide receiver.
The Steelers aren't going to get 10 touchdown receptions out of Moore as they did with Cotchery last season. But the 5-foot-9, 190-pounder has shown a knack for finding the end zone after making the NFL as an undrafted free agent.
Of Moore's 346 career receptions 38 of them have gone for touchdowns. For comparison sake
Antonio Brown
has 261 career receptions and 15 touchdown catches.
Moore caught 37 passes for 457 yards and two scores last season but he missed three games because of a broken hand and the injury had a lingering psychological effect on him.
"It was more of a confidence things and a mental thing, getting over a broken bone and that feeling on being able to just be consistent, catching the ball, blocking, getting tackled and stuff like that," Moore said. "It took a little longer than that three-to-four week period but it feels good now and I am ready to go."
Moore has been taking part in the Steelers' offseason program and getting used to catching passes from
Ben Roethlisberger
instead of
Drew Brees
.
And this is only part of the adjustment he is making after playing for the Saints for nine seasons.
"Last week I felt like I was the new kid at school," Moore said. "But I looked around and I think the first couple of days, Ben came in a little bit after,
Heath Miller
was rehabbing and doing what he was doing, and I was the oldest guy on offense that was here. I feel like there are a number of different things that I can do, as far as helping guys on the field, which, I am not going to go out of my way just to correct everybody and try to be another coach. But if somebody asked me, and I've always been the guy to be open and try to not necessarily tutor, but give guys some of my knowledge and some of the things I do on that field.
"That's all I wanted when I was a young player, to have somebody be able to help me out a little bit. If I felt like I could take a few things from each of the older guys' game and put it into my game, then hopefully one day I would be able to make a lot of plays. I've been lucky enough to do that."
October, 4, 2013
10/04/13
4:30
PM ET
METAIRIE, La. -- The
New Orleans Saints
officially ruled out receiver
Lance Moore
(hand), running back
Mark Ingram
(toe), safety
Roman Harper
(knee), defensive linemen
Brodrick Bunkley
(calf) and
Tyrunn Walker
(knee) for Sunday's game against the
Chicago Bears
.
The only mild surprise on that list is Bunkley, who practiced on a limited basis the past two days. The others were all held out of practice all week. Cornerback
Keenan Lewis
(hip) and defensive end
Tom Johnson
(hamstring) are listed as questionable after practicing on a limited basis all week.
None of the injuries should be too harmful to the Saints, who dominated the
Miami Dolphins
38-17 last Monday night without Moore, Harper, Ingram, Bunkley and Johnson in the lineup. The Saints have so far proven to be deep enough in each position group to absorb those losses -- though they'll be especially thin on the defensive line if Johnson is not back near 100 percent.
With Moore out last week, the Saints continued to rely heavily on top targets
Jimmy Graham
,
Marques Colston
and
Darren Sproles
. Backup receivers
Kenny Stills
and
Nick Toon
each played slightly bigger roles, with the rookie Stills catching a career-high four passes for 38 yards and Toon catching his first NFL passes for 18 yards on a key third-and-12 play in the first quarter. Tight end
Benjamin Watson
also caught his first touchdown pass since he joined the Saints this summer (a 4-yarder in the third quarter).
That was Watson's only catch in the game, though. And deep threat receiver
Robert Meachem
had zero catches. So even with Moore out of the lineup and quarterback
Drew Brees
throwing for 413 yards, the Saints still didn't have enough balls to go around for everybody in their deep offense.
January, 6, 2012
1/06/12
5:20
PM ET
FROM THE VAST NORTH AMERICAN TRANSIT SYSTEM -- As I make my way down to New Orleans, I figured I'd check in and let you know that the
Detroit Lions
are as healthy as they've been in some time as Saturday night's wild-card game against the Saints approaches.
It looks like only one player, reserve safety
Chris Harris
, might not be available for the game. Harris hasn't practiced since Wednesday because of a back injury and is listed on the Lions' final injury report as doubtful.
All other players are either probable or not listed at all. That includes safety
Louis Delmas
(knee), who hasn't played since Thanksgiving Day, and nose tackle
Corey Williams
, who missed last week's game against the
Green Bay Packers
because of a hip injury.
For the Saints, receiver
Lance Moore
(hamstring) won't play.
September, 7, 2011
9/07/11
4:19
PM ET
Two quick takeaways from the final injury report of the week heading into the
Green Bay Packers
' regular season opener Thursday night against the
New Orleans Saints
:
The Saints have ruled out receiver Lance Moore, who might be quarterback Drew Brees' most trusted receiver. Moore suffered a groin injury during the preseason and didn't practice all week. The Saints still have plenty of weapons in the passing game, but they will have to make a significant adjustment without Moore, who caught 66 passes last season.
Packers defensive end Mike Neal (knee) is questionable, which really doesn't tell us much about whether he will play Thursday night. He participated in a portion of each practice this week, but he hasn't played in a game Aug. 13. "Questionable" technically means Neal has a 50-50 chance of playing. We'll know soon enough.
The only Packers players who definitely won't play are cornerback
Davon House
, linebacker
Vic So'oto
and linebacker
Frank Zombo
.
April, 16, 2009
4/16/09
7:02
AM ET
Posted by ESPN.com's Kevin Seifert
Green Bay coach Mike McCarthy touched on a couple of interesting topics Wednesday during an interview with Rob Demovsky of the Green Bay Press-Gazette.

While there has been plenty of talk about the Packers shift to a 3-4 defense, McCarthy also said the Packers are making some scheme changes on offense as well. He wasn't specific, but when discussing quarterback Aaron Rodgers, McCarthy said:
"Aaron's been working on fundamentals and just going through some of the scheme changes that we're anticipating making. He does a great job in the fundamental drills and the skill drills."
Most teams edit their offense during the offseason, but the fact that McCarthy mentioned it suggests the Packers are changing a bit more than normal after getting a full year to see Rodgers in action.
McCarthy, meanwhile, acknowledged that safety Nick Collins continues to sit out the offseason strength and conditioning program. Collins' wife recently gave birth, but he is also known to be seeking a contract extension. McCarthy said he did not have a timetable for when Collins plans to return to Green Bay.
Continuing around the NFC North:
November, 25, 2008
11/25/08
2:14
AM ET
| | |
| --- | --- |
| | |
| | Crystal LoGiudice/US Presswire |
| | Drew Brees torched the Packers for 323 passing yards and four touchdown passes in a 51-29 drubbing of the Packers. |
Posted by ESPN.com's Kevin Seifert
NEW ORLEANS -- Atari Bigby sat at his locker with his head buried in his hands. Al Harris spoke as if in a daze. Nick Collins admitted he was "embarrassed" and questioned whether his team was ready to play.
And Charles Woodson might have said it the best of anyone when asked to describe Green Bay's 51-29 loss Monday night at New Orleans.
"We got our [tail] whupped in front of the whole country," Woodson said. "When you see the backup quarterback come in, you know you got your [tail] whupped. It was a rough day."
The Packers' revered pass defense didn't just have a down day on "Monday Night Football." It was on the short end of perhaps the best passing day of the season, a near-perfect performance from Saints quarterback Drew Brees that made the Packers look like a bunch of bullfighters.
Olé, Bigby said as Saints receiver Lance Moore ran around him for a 70-yard scoring pass in the first quarter.
Olé, Woodson and safety Aaron Rouse said as the Saints' Marques Colston ran past them for another 70-yard score in the third.
Olé, the Packers said as tight ends Jeremy Shockey and Billy Miller combined for nine receptions and 93 yards.
"We got embarrassed, we got whupped, however you want to put it," Collins said. "It was an old fashioned butt-whupping. We know we're better than that, and we can't ever let that happen again."
Collins wasn't sure why, but he nevertheless seemed convinced the Packers arrived in New Orleans unprepared for their task.
| | |
| --- | --- |
| | |
| | NFL.com Video |
| | Watch highlights from the Saints' 51-29 win over the Packers. |
"You can't explain it," he said. "We just weren't ready to play today. That's just all it was. We knew it was going to be a shootout. We just weren't ready. We just didn't have the fire tonight."
That's a disturbing admission from a prominent player on a team that needed a victory to keep pace in a mediocre division. Could the Packers have been overconfident, motivated by last week's now-distant thrashing of Chicago and the national attention on their pass defense? It's not like the Saints snuck up on anybody Monday night. Brees entered the game with more yards in his first 10 games than any quarterback in league history.
"We felt we could come in and have a better showing against this team," Woodson said. "But they turned out to be everything that everyone thought they were."
The Packers' defensive scheme relies on a certain level of physical superiority from the secondary -- the idea that Woodson and especially Harris can handle receivers in man coverage. Perhaps the Packers thought they could disrupt Brees' timing with his receivers, but the Saints clearly had them outmatched.
"They're a good secondary," Brees said. "They're a very good secondary. Arguably one of the better secondaries in this league, if not the best. [But] we felt like, with all the man-to-man matchups we would get, that if we could get the ball in the hands of our receivers, we could break a tackle and make some big plays."
Consider it mission accomplished for the Saints, whose own defense performed the way the Packers' defense hoped to. New Orleans intercepted Packers quarterback Aaron Rodgers three times and knocked down 11 other passes, leaving the Packers unable to keep up.
The Packers' offense had entered the game ready for a shootout.
"We thought we could score on them," Rodgers said.
But no one counted on the defense giving up the fifth-most points in team history.
"Just no excuses," Harris said. "If our offense scores 29 points, we have to hold them to 28. We didn't hold up our end of the bargain."
Other notable items from the Packers' postgame locker room:
Both Rodgers and coach Mike McCarthy suitably noted the urgency Green Bay now faces. The Packers, of course, trail Chicago (6-5) and Minnesota (6-5) in the NFC North and will need help to make a move in the division over the final five games of the season. "We just need to win football games," McCarthy said. "It's November. It's time." Said Rodgers: "Every game for us is a must-win."
The Packers played all but two plays without right tackle Mark Tauscher, who strained a hamstring and did not return. Tony Moll replaced him and Tauscher's status for Sunday's game against Carolina is uncertain. Tauscher blew out his knee at the Superdome in 2002 and missed 14 games.
Rodgers used his previously injured right shoulder to knock Saints cornerback Jason David out of bounds after an interception in the third quarter. "I was pretty upset," Rodgers said. "And I gave it all I had."
The Saints had 416 yards on only 54 plays, an average of 7.7 yards per play. "We expected more from our defense," McCarthy said.
The Packers got away from their running game in the second half as the deficit grew. Tailback Ryan Grant had 64 yards in the first half and 3 yards in the second. The Saints "peeled back their ears" and rushed Rodgers with renewed v
igor, McCarthy said. It's no surprise that all three of Rodgers' interceptions and both of his sacks came after halftime.

November, 24, 2008
11/24/08
10:59
PM ET
Posted by ESPN.com's Kevin Seifert
NEW ORLEANS -- You just got greedy, Sean Payton.
The Saints coach got too creative with an offense that has been steamrolling the Packers all night and just cost himself a chance, at least temporarily, to seal this game.
Green Bay safety Aaron Rouse just intercepted an ill-advised double-pass -- from Drew Brees to Lance Moore, who tried to throw to tailback Pierre Thomas. The play ended another Saints threat in the red zone. Rouse returned it to the Packers' 43-yard line to at least give the Packers another chance to stay in the game.
Luckily for Payton, the Saints defense forced the Packers to punt.