April, 25, 2013
4/25/13
9:29
PM ET
And so, in the end, the
Detroit Lions
never got a chance to tell us how they feel about their left tackle situation. When their No. 5 overall pick arrived Thursday night, all three of the 2013 draft's elite left tackles were already off the board in unprecedented fashion.
My understanding is that the Lions worked hard to trade down after
Eric Fisher
(
Kansas City Chiefs
),
Luke Joeckel
(
Jacksonville Jaguars
) and
Lane Johnson
(
Philadelphia Eagles
) were among the top four selections. When no suitable trade arose, the Lions pivoted to Plan B: BYU defensive end
Ezekiel Ansah
, a potentially dominant pass-rusher whose story is one of the most amazing in recent draft history.
Almost unknown in NFL draft circles when the college season began, Ansah recorded a grand total of 4.5 sacks last season at BYU. But he had an eye-popping performance in the Senior Bowl, in front of the Lions' coaching staff, and his raw physical skills left talent evaluators drooling at the NFL scouting combine.
[+] Enlarge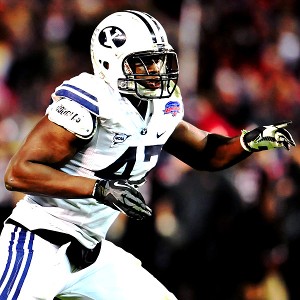 Cal Sport Media via AP ImagesEzekiel Ansah compares physically to stud pass-rushers Jason Pierre-Paul and Aldon Smith.
I started leaning away from Ansah as a possibility for the Lions last week when general manager Martin Mayhew suggested he
might not make a "Dave Kingman"
choice in the first round. In other words, Mayhew seemed to acknowledge the shaky position the franchise is in after a 4-12 season. This year might not have been the right time to swing for the fences. A safer pick -- a left tackle or perhaps Alabama cornerback
Dee Milliner
-- seemed in order.
Ultimately, we should have relied on
a discussion from earlier this month
. Under Mayhew, the Lions haven't shied away from drafting players who don't fit the profile we're expecting. He was most certainly willing to take a big swing in this draft, as in any other.
At 6-foot-5 and 271 pounds, Ansah is built like some of the NFL's top pass-rushers, having drawn favorable comparisons to the New York Giants'
Jason Pierre-Paul
and the
San Francisco 49ers
'
Aldon Smith
. His athletic skills, documented
in the Sport Science video
we posted recently, are freakish, and it's hard to imagine him getting much attention from opposing offenses who also have to deal with Lions defensive tackles
Ndamukong Suh
and
Nick Fairley
.
But Ansah essentially has one year of successful college pass rushing to his name. NFL draft history is littered with freakish athletes who couldn't play football. The truth is we don't know if Ezekiel Ansah can play. ESPN's Mel Kiper, for instance, said Ansah had the most meteoric rise of any player he's evaluated in 35 years of working the draft.
Even if Ansah realizes the potential of his physical skills, will he do it in time to save this edition of the Lions? It's optimistic at least, and a reach at worst, to think Ansah will be ready to make the kind of immediate impact you hope for from a No. 5 overall pick.
I would understand if Lions fans are a little skittish with how things worked out.
Riley Reiff
, a player seemingly destined to play right guard, will most likely be the Lions' left tackle. Milliner won't arrive to help a long-suffering secondary. Ansah, to be fair, has some work to do before he can help the 2013 team in the way that Johnson or Milliner could have.
For that reason, I give Mayhew much credit. He didn't panic. He didn't take the easiest and safest way out. He went Dave Kingman on the deal. It'll be a home run or a strikeout with the game on the line. Love it.
Earlier:
The Ansah scenario
picked up steam Thursday morning
.
April, 25, 2013
4/25/13
12:00
PM ET
In their final mock drafts of the 2013 draft season, ESPN analysts
Mel Kiper

and
Todd McShay

agree on their projected first-round picks for 75 percent of the NFC North. The details:
5. Detroit Lions
Kiper:
BYU defensive end
Ezekiel Ansah
McShay:
Ansah
Seifert comment:
In both cases, Central Michigan left tackle
Eric Fisher
and Oklahoma left tackle
Lane Johnson
are off the board. McShay has Texas A&M's
Luke Joeckel
slipping out of the top 10. Both think the Lions would pass on Alabama cornerback
Dee Milliner
. Ansah seems to be the type of "Dave Kingman" prospect that Lions general manager Martin Mayhew suggested last week he might not consider, but who knows if he was being truthful.
20. Chicago Bears
Kiper:
Notre Dame linebacker
Manti Te'o
McShay:
Te'o
Seifert comment:
Both think the Bears would take Te'o over Georgia's
Alec Ogletree
. There is no doubt that Ogletree's off-field indiscretions recently are a concern, but there is there is widespread agreement that he is better player than Te'o. If the Bears pass on Ogletree, the guess is they'll take another position rather than draft Te'o.
23/25. Minnesota Vikings
Kiper (23):
USC receiver
Robert Woods
McShay (23):
North Carolina defensive tackle
Sylvester Williams
Kiper (25):
Georgia's Ogletree
McShay (25):
Ogletree
Seifert comment:
I didn't pick a receiver for the Vikings
in this week's #bloggermock
, and I wouldn't be surprised at all if they waited until later in the draft to add at that position. Three of their four starting defensive linemen are entering the final year of their contracts. If Ogletree is available at this point, especially with Te'o off the board, the Vikings would have a hard time passing him up.
26. Green Bay Packers
Kiper:
UCLA defensive end
Datone Jones
McShay:
Syracuse offensive lineman
Justin Pugh
Seifert comment:
The general consensus is the Packers will choose a lineman if they stay in this spot, with defense being a higher priority if all things equal. Unless they take a safety, of course. Or trade out.
April, 25, 2013
4/25/13
10:30
AM ET
For a while here on the blog,
our discussion revolved around this question:
What would the
Detroit Lions
do at No. 5 overall if the following players were off the board: Texas A&M left tackle
Luke Joeckel
, Central Michigan left tackle
Eric Fisher
, BYU defensive end
Ezekiel Ansah
and Alabama cornerback
Dee Milliner
?
Our consensus: In a bit of a reach, Oklahoma left tackle
Lane Johnson
would be the choice.
[+] Enlarge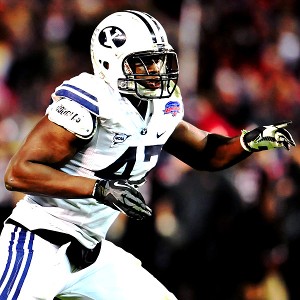 Cal Sport Media via AP ImagesEzekiel Ansah would fill an immediate need for the Lions, who parted ways with both starting defensive ends in the offseason.
Now, on the morning of the draft, we're wondering if Johnson will even be an option for the Lions.
In their final mock drafts of the season, ESPN draft analysts
Mel Kiper Jr.

and
Todd McShay

both have Johnson going to the
Philadelphia Eagles
at No. 4 overall. As a result, each mock-drafted Ansah for the Lions at No. 5. Both had them passing on Milliner, and McShay even suggested they would allow Joeckel to fall in order to secure Ansah.
My experience is that public information gets less reliable as the draft approaches. Teams are making final, sometimes-manic attempts to create draft interest and leverage. But at this point, we should at least consider whether the Lions will even have an opportunity to take an elite left tackle in this draft.
Should Ansah be the pick, it would culminate one of the most rapid rises in recent NFL draft history. Here is how Ryan McGee
capsulized Ansah's college career
in a recent edition of ESPN The Magazine:
When Ezekiel Ansah arrived on the BYU campus in the fall of 2008, the trilingual former soccer player from Ghana had not only never played football, he'd never even seen a game on TV. He was an actuarial science major on academic scholarship. He was also 6'5" and 271 pounds, so he tried out for the Cougars' basketball team. He got cut. So he tried out again in 2009 ... and got cut again. Ansah then walked on to BYU's track team as a sprinter. But all the while, coaches and classmates kept telling him: You should try out for football.

He finally took their advice in 2010. Based on pure athletic ability, he made the team and saw his first game action midway through that season covering kicks. By 2012, Ansah was a starter at defensive end for a Cougars squad that went 8-5, nearly ended Notre Dame's winning streak in October and won the Poinsettia Bowl in December. Now Ansah is expected to become just the 11th Cougar -- and the first since 2000 -- to be selected in the first round of the NFL draft. Everyone has fallen for the affable kid who in three short years has progressed from someone who couldn't identify an end zone to being the best defensive end prospect in the country.
April, 23, 2013
4/23/13
2:35
PM ET
Our 2013 #bloggermock took an early twist and left me only partially satisfied as the protector of NFC North interests. Of note: Not a single quarterback was drafted in the first round, something that hasn't happened in the real draft since 1996. We also passed up the running back position in the first round, which that hasn't happened since the common draft began in 1967.
Below are the players I would up picking for the NFC North and my reasoning in each instance.

Johnson
5. Detroit Lions
My pick:
Oklahoma left tackle
Lane Johnson
Final decision:
Between Johnson, Alabama cornerback
Dee Milliner
and BYU defensive end
Ezekiel Ansah
Process and reasoning:
The Lions' true intentions are tough to read at left tackle. When they drafted
Riley Reiff
at No. 23 overall last year, we all assumed he was the heir apparent at the position. Since the retirement of incumbent
Jeff Backus
, however, the Lions have emphasized Reiff's versatility and suggested he could play right guard or right tackle. To me, versatility is irrelevant if you have a true long-term answer at left tackle.
It's possible the Lions are deliberately clouding Reiff's future to hide their draft intentions. In the end, I thought the No. 5 pick was a great place to find a blue-chip left tackle and further strengthen the Lions' line by allowing Reiff to start at right guard or right tackle.
Johnson might be the third-best left tackle in the draft, but
draft analysts
have suggested that's a
matter of experience more than aptitude
. I had a brief pre-draft trade discussion with AFC East blogger James Walker, who wanted to use the
Miami Dolphins
' No. 12 overall pick to move up and draft a left tackle. But there was no way Johnson would be available at No. 12, so I needed much more than what Walker was offering (a second-round pick) to pass up getting him.
I know I've pushed the Lions to draft a cornerback like Milliner for years, but finding a left tackle can be even more difficult. I was tempted by Ansah, but decided to gamble that some decent defensive ends would make it to the top of the second round. In this mock, three of Mel Kiper's top five defensive ends would be available after the first: UCLA's
Datone Jones
, Auburn's
Corey Lemonier
and Florida State's
Tank Carradine
.
Ogletree
20. Chicago Bears
My pick:
Georgia linebacker
Alec Ogletree
Final decision:
There wasn't much debate.
Process and reasoning:
I did not expect Ogletree to be available at No. 20 and knew it would be difficult for the Bears to move up. But once he made it past the
New Orleans Saints
at No. 15, I thought I had a chance. The
New York Giants
have been speculated as a possible landing spot, but the Giants haven't selected a linebacker in the first round since 1984 (Carl Banks).
I'm still not sure Ogletree will be available at No. 20 in the real draft Thursday night, but in this case -- with Notre Dame tight end
Tyler Eifert
already off the board -- I couldn't justify passing him up as a long-term replacement for
Brian Urlacher
.

Williams

Hayden
23 and 25. Minnesota Vikings
My picks:
North Carolina defensive tackle
Sylvester Williams
, Houston cornerback
D.J. Hayden
Final decision:
Between Williams, Hayden, Cal receiver
Keenan Allen
, Notre Dame linebacker
Manti Te'o
Process and reasoning:
I really do think that Vikings general manager Rick Spielman has genuine interest in Te'o and wants to draft him. In looking back on this mock, I just got too greedy and sneaky for my own good.
I had enough ammunition to move up, but for whom? Tennessee receiver
Cordarrelle Patterson
went way too high (No. 8 to the
Buffalo Bills
), and West Virginia's
Tavon Austin
was gone at No. 13. Is Austin worth even an extra second-round pick to the Vikings? I couldn't do it.
Ogletree plays a position of need, but I felt sketchy about giving up extra draft choices for a player with multiple off-field flags in the past year.
So my plan was to grab two really good non-middle linebackers and then cross my fingers that someone, perhaps even Te'o, would be available in the second round, where Spielman could work some trade magic and grab one. It almost worked. Te'o made it to No. 32, where the
Baltimore Ravens
drafted him just after learning that
Rolando McClain
had been arrested once again.
Media analysis is split on whether Te'o is significantly better than the next tier of middle linebackers, and most people think the Vikings are most interested in him. So if the Vikings passed, I thought there was a chance he would tumble. In the end, that's why I passed him over even though I'm not sure Spielman will.
As for receiver, I had my eyes on Tennessee's
Justin Hunter
, but he went one slot ahead at No. 22. So I went with Williams, who could be a long-term replacement for
Kevin Williams
, and Hayden. I had a small chance to trade down, but the best offer I got to move from No. 25 to the top of the second round at No. 35 was an additional fifth-round pick. Not good enough. The cornerback class drops off after the first round, and Washington's
Desmond Trufant
was already off the board. In this scenario, the Vikings would be in position to maneuver in the second round for a receiver. Among those who are left is Clemson's
DeAndre Hopkins
.

Jenkins
26. Green Bay Packers
My pick:
Georgia defensive tackle
John Jenkins
Final decision:
Between Jenkins, Syracuse offensive lineman
Justin Pugh
, Florida State offensive tackle
Menelik Watson
Process and reasoning:
The honest truth of the matter is that I was just guessing here. Congratulations to the Packers. No one ever knows for sure who a team is going to draft, but this year, no one really has anything more than a guess on the Packers. They appear to be interested in improving their defensive line, at least based on their limited activity in free agency, and Jenkins seemed the best of what was still remaining on the board. I don't mind saying he was even more of a guess than usual.
April, 18, 2013
4/18/13
2:25
PM ET
It appears that
Detroit Lions
general manager Martin Mayhew isn't planning to take the advice of
ESPN analyst Mel Kiper Jr.
, who suggested that the Lions trade up to the No. 1 overall pick of the draft to ensure they could select Alabama cornerback
Dee Milliner
.
"That's not going to happen," Mayhew said with a smile Thursday during his annual pre-draft news conference.
Mayhew sounded pretty definitive, and for the moment I tabled conventional wisdom that requires doubt on any authoritatively-stated facts from NFL decision-makers at this time of year. I'm less sure of how seriously to take Mayhew's comments on
a topic we discussed earlier this week:
Can the Lions afford to take a player at No. 5 overall who might not be ready to make an immediate impact?
Mayhew said at several points that he would expect a pick that high "to come in and play a major role" right away. Then he said:
"At the top I think that's really important. You certainly want guys with that high ceiling, but it's also important to make sure you get that solid player that you're going to have for a long time. It may not be the best place to swing for the fence. You might not want to be Dave Kingman at 5. You might just want to get on base. You know what I mean?"
Kingman, of course, has become the go-to sports analogy for all-or-nothing aggression. (He hit 442 career home runs, struck out 1,816 times and had a lifetime batting average of .236.) If Mayhew is to be believed, he was implying that he will have a cautious appetite for the type of player -- perhaps BYU defensive end
Ezekiel Ansah
, maybe Oklahoma left tackle
Lane Johnson
-- who might need some time to develop his considerable skills and doesn't have the past production to ensure a smooth transition to the NFL.
Of course, the Lions' internal evaluations could be different from those of media draft analysts. They might believe that Ansah and/or Johnson are more polished than media projections suggest. But if the Lions have anyone in that "high ceiling, low development" category, Mayhew seemed to be suggesting he will look elsewhere. Unless it was all a Jedi mind trick. So there's that.
April, 16, 2013
4/16/13
12:30
PM ET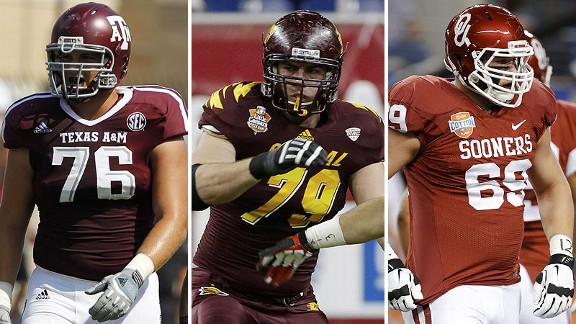 AP PhotosLuke Joeckel, Eric Fisher and Lane Johnson are prospects who could fit into the Lions' plan for 2013.
The
Detroit Lions
bottomed out and had desperate needs at nearly every position in 2009 when, with the draft's No. 20 overall pick, they selected ... a tight end. No one doubted the skills and potential of the Lions' choice, Oklahoma State's
Brandon Pettigrew
, but it seemed fair to question why they targeted a supplemental position while leaving presumably more important areas critically bare.
Two years later, the Lions targeted a running back in the second round a year after drafting one in the first round. At the time, Illinois'
Mikel Leshoure
seemed a luxury so soon after drafting Cal's
Jahvid Best
. The same could be said for the 2012 decision to draft Oklahoma receiver
Ryan Broyles
in the second round
at a time when there were several good options available
to upgrade their thin secondary.
If nothing else during the tenure of general manager Martin Mayhew, the Lions have demonstrated a thorough commitment to long-term draft philosophy over immediate need. It has given them a talented, if imbalanced, roster and provides a fascinating backdrop for next week's affair.
A 4-12 record in their fourth year under Mayhew and coach Jim Schwartz has generated a natural sense of urgency for this year's draft,
Mayhew told reporters last month
. Schwartz added: "There's nobody that doesn't feel that whether or not you've had success." The Lions' position at No. 5 overall provides a good opportunity to draft an immediate-impact player, or it could bring them a player who fits their long-term needs better but might need seasoning. The chart shows how teams have fared over the past 10 years in that spot.
If the Lions stay true to their approach under Mayhew and Schwartz, they could wind up with a player who isn't immediately ready to help them rebound from last season's debacle. Another disappointing season could prompt Lions ownership to end the tenures of both men.
Could self-preservation alter the Lions' philosophy? Will we see them draft the most NFL-ready defensive end, cornerback or linebacker -- arguably their three biggest positions of need? Or could they take a longer-term approach by drafting at a position where they already have at least an adequate starter -- say, at left tackle -- because the player is, in their view, the most talented at any position still available?
The guess, and frankly the hope, is the Lions won't deviate too far from an approach that has brought them players such as Pettigrew, Broyles, defensive tackle
Nick Fairley
and others. This discussion could quite possibly be moot, especially if Alabama cornerback
Dee Milliner
is still available at No. 5, but to me the gray area would be exposed under a scenario in which Milliner is gone.
In that situation, would the Lions draft BYU defensive end
Ziggy Ansah
, a freakish athletic talent who seems a perfect fit for their defense but had just one season as a starter and totaled just 4.5 college sacks? Ansah might not be ready to pass rush against the likes of
Matt Kalil
and
Jermon Bushrod
in Week 1, but over time there is a widespread belief he could develop into an elite defensive end in the mold of
Jason Pierre-Paul
(
New York Giants
) and
Aldon Smith
(
San Francisco 49ers
).
The most intriguing analysis comes at left tackle, where the Lions could almost certainly get by in 2013 and perhaps beyond with
Riley Reiff
, their first-round pick in 2012. But Reiff is athletic and versatile, and over the long haul, the Lions might well be better off with Reiff at right guard or even right tackle if they could find a better left tackle.
Most draft observers would tell you that Texas A&M's
Luke Joeckel
and Central Michigan's
Eric Fisher
would fall into that category. But what if Joeckel and Fisher, along with Milliner, are both off the board at No. 5? I've asked around over the past week and have been surprised
by how many people suggested
the Lions might and/or should draft Oklahoma's
Lane Johnson
in that scenario.
Johnson -- as well as Joeckel and Fisher -- would fit the profile of the Lions' recent draft approach. He is talented and well-regarded at a position the Lions don't have an immediate need at. While he hasn't been included in the Joeckel-Fisher debate, Johnson is generally considered a top-10 pick and might not make it past the
Arizona Cardinals
at No. 7.
His primary drawback is experience, having played quarterback, tight end, defensive end and right tackle before becoming the Sooners' starting left tackle last season. He has every athletic and physical measurement imaginable, from 35 1/4-inch arms to a stunning 4.72-second time in the 40, and ESPN analyst Todd McShay said the comparison between him and Reiff "is not even close in terms of natural ability." McShay said there is a gap between Joeckel/Fisher and Johnson now "but not a big difference between where they should be in a year or two."
McShay: "It all falls in line with a guy who has a chance to be a great player. But you may take some lumps in that first year. Obviously your quarterback is the franchise and that's the guy you have to protect, and he doesn't move well. ... But I do think [Johnson] is talented enough and there is such enormous potential. The ceiling is really high with him."
Can the Lions afford to take a player with "enormous potential" and a "really high" ceiling who has a better chance of making them better in 2014 than 2013? Or, in that scenario, would they need to look toward a more immediately helpful player, perhaps Oregon defensive end
Dion Jordan
? We're all waiting to see.
April, 11, 2013
4/11/13
11:30
AM ET
I thought Scouts Inc.'s Steve Muench brought up an interesting suggestion
during our video discussion Wednesday
, one that went against conventional wisdom and will depend largely on the
Detroit Lions
' internal evaluation of what many consider the third-best left tackle in the draft.

If left tackles
Luke Joeckel
(Texas A&M) and
Eric Fisher
(Central Michigan) are both off the board by the Lions' No. 5 overall pick, Muench suggested the Lions draft Oklahoma's
Lane Johnson
rather than a defensive end such as Oregon's
Dion Jordan
or LSU's
Barkevious Mingo
. The defensive end class is deep, Muench reasoned, and the Lions should have access to a good one at the top of the second round.
Would Johnson be a reach at No. 5? I wouldn't assume that fact based simply on his media ranking below Joeckel and Fisher. Johnson is a tremendous athlete, as evidenced by a stunning performance at the scouting combine, and ESPN analyst Mel Kiper Jr. ranks him
as the fifth-best prospect in the draft

. Scouts Inc. ranks Johnson
at No. 10 overall
.
Johnson, who was
a quarterback at Kilgore Junior College
, ran the 40-yard dash at the combine in 4.72 seconds and recorded a 34-inch vertical jump. Those attributes don't necessarily mean Johnson will be an elite left tackle, but they indicate he has room to grow and develop after what was already a well-regarded career at Oklahoma. He is also 6-foot-6 with 35 1/4-inch arms, measurements that should satisfy the NFL scouting community.
Of course, Johnson's presumably high ceiling is only part of the equation here. We still don't know how the Lions A) Judge their need for a left tackle and B) evaluate Johnson. Their 2012 first-round pick,
Riley Reiff
, played left tackle at Iowa and made one start there last season. But
offseason discussion about his versatility
has spurred suggestions that the Lions would prefer to play him at right guard or right tackle.
Ultimately, however, I think we should accept that the Lions' options for drafting a left tackle at No. 5 aren't completely eliminated if Joeckel and Fisher are already off the board.
April, 8, 2013
4/08/13
4:30
PM ET
What has the
Green Bay Packers
' recent run of success brought them? Among other things: Low-enough draft position to wind up with three college left tackles whose NFL futures either have or might lead to another position.

Sitting at No. 23 overall in 2009, the Packers drafted Iowa's
Bryan Bulaga
, now their right tackle. The '09 fifth round brought TCU's
Marshall Newhouse
, the starter for most of 2011 and all of 2012 but one whose future remains in doubt. In 2011, the Packers used the No. 32 overall pick on Mississippi State's
Derek Sherrod
, who worked at both guard and tackle before breaking his leg late that season. He is still recovering from that injury.
As we've discussed many times, the only way to find a surefire left tackle is to have a top-10 pick in the draft. The position is so difficult to fill that the league is spreading into two categories. One consists of teams with a left tackle and the other with someone who is trying to make it work at the position.
The Packers fall into the latter category with Newhouse, and so it's not totally surprising to see ESPN analyst Todd McShay assign them Florida State right tackle
Menelik Watson
with the No. 26 overall pick
in his latest mock draft

. Selecting Watson would give the Packers the option of moving Bulaga to left tackle, an option coach Mike McCarthy
has not ruled out in offseason interviews.
Speaking last month at the NFL owners meeting, McCarthy said he thought Newhouse graded out "OK" last season and added: "We need some improvement from the left side of our line."
The smoothest scenario would be better play from Newhouse, which would prevent moving Bulaga back to a position he hasn't played in four years. But the draft's top three left tackles -- Texas A&M's
Luke Joeckel
, Central Michigan's
Eric Fisher
and Oklahoma's
Lane Johnson
-- will be long gone by the time the Packers' No. 26 pick arrives.
Barring a trade, the 2013 draft might not offer the Packers a strong opportunity to elevate their situation at left tackle.
February, 27, 2013
2/27/13
1:55
PM ET
The ESPN.com/Scouts Inc. team of draft analysts has begun reconciling its draft rankings with combine observations, leading to a number of Insider posts I wanted to bring to your attention.
The first is
Mel Kiper's latest Big Board

, which ranks prospects without regard to where teams are choosing. Georgia linebacker
Jarvis Jones
remains atop the list, but from an NFC North perspective, it's worth noting that Central Michigan's
Eric Fisher
is now Kiper's top offensive tackle -- and his No. 3 overall prospect.
The
Detroit Lions
,
Chicago Bears
and perhaps the
Green Bay Packers
could all be in the market for tackles in the first round of this draft. To that end, I'll pass along Kiper's updated list of the
top five tackles in the draft

. I'll try to slip you a few more positions in the coming days.
Fisher
Texas A&M's Luke Joeckel
Oklahoma's Lane Johnson
Alabama's D.J. Fluker
Stanford's Justin Pugh
For those Lions fans with their hearts set on Alabama cornerback
Dee Milliner
at No. 5, I can tell you that Kiper ranks him as the No. 6 overall prospect.
February, 23, 2013
2/23/13
12:15
PM ET
INDIANAPOLIS -- If you're interested in seeing the
Chicago Bears
select an offensive lineman in the first round of the draft, chances are you've been glued to Saturday's workouts at Lucas Oil Stadium.

Johnson
I'm not sure if what we're seeing will change anything about the top of the offensive tackle class. With any luck, none of these linemen will run another 40-yard dash in their football lives.
But it's worth noting that Oklahoma's
Lane Johnson
, ranked the third-best tackle and a first-round talent by
Scouts Inc.,
ran the 40 in 4.72 seconds -- a testament to his athletic ability if nothing else. With 35 1/4-inch arms and 10 1/8-inch hands, Johnson has all of the physical measurables that NFL scouts like to see.
The fastest 40 time for an offensive lineman belongs to
Terron Armstead
of Arkansas-Pine Bluff, who ran a 4.71, crushing the combine record for a lineman. For what it's worth,
the previous mark
was set by former
Green Bay Packers
lineman Allen Barbre, who ran a 4.84 in 2007 but flopped as a starter in 2009.
Both Armstead and Johnson did fine on their bench press as well; Johnson managed 32 reps of 225 pounds and Armstead had 31.
The top two tackles entering the combine, according to Scouts Inc., were Texas A&M's
Luke Joeckel
and Central Michigan's
Eric Fisher
. Neither hurt themselves with their workouts. I'm not sure if we can say the same about Alabama's
D.J. Fluker
, who managed only 21 reps on the bench press.
*This post has been updated with official times.
February, 19, 2013
2/19/13
12:00
PM ET
»
NFC combine preview
:
East
|
West
|
North
|
South
»
AFC
:
East
|
West
|
North
|
South
NFL Nation previews the 2013 scouting combine by identifying the most important thing for each team to learn about its greatest area of need.
Chicago:
The Bears have a glaring hole at left tackle, but with the No. 20 pick, they likely aren't in a position to select any of the consensus top players at the position (Texas A&M's
Luke Joeckel
, Central Michigan's
Eric Fisher
and Oklahoma's
Lane Johnson
). The combine is another step in solidifying and ranking their targets among the second tier of left-tackle prospects for first- or later-round consideration. If the Bears don't feel there is a draftable prospect with starting credentials for 2013, they could find a player in the tackle-rich free-agent market.
Detroit:
With the No. 5 pick, the Lions can narrow their focus to a handful of prospects. Since
Kyle Vanden Bosch
has been released and
Cliff Avril
is a free agent, the Lions must hone in on the crop of top pass-rushers available and decide whether one is worth the substantial investment of the fifth pick. Taking a player such as
Bjoern Werner
,
Damontre Moore
or
Barkevious Mingo
would soften the blow of potentially losing Avril, and the combine will give the Lions a better sense of what each offers as a replacement. Team president Tom Lewand recently suggested the Lions need to find rookies who can contribute immediately, and being in Indianapolis will allow them to seek a pass-rusher who fits that mold.
Green Bay:
There's a shortage of top-rated running backs available in this draft, and the Packers discovered a bargain find in
DuJuan Harris
late last season. But there's still room to upgrade the position, and the Packers need to search for a high-upside back who can be had in the middle rounds perhaps due to a lack of polish or concerns about an aspect of his game. Four of the top seven rookie rushing leaders from 2012 were drafted in the sixth round or later. There's backfield talent to be had past the first round, and the Packers will head out to survey the landscape of mid-round running backs available.
Minnesota:
Adrian Peterson
stomped to nearly 2,100 yards in 2012 for an offense without a vertical passing game (or much of a passing offense at all), and finding a speedster to take the top off a defense would make one of the scariest sights in the NFL to an opposing defense even more frightening. The ability of defenses to stack the box helped to mildly contain Peterson; more space would open up if a vertical passing threat is on the field to stress the safeties in coverage. When the wideouts are running their 40s, the Vikings will have their stopwatches ready and be on the lookout for players who project as downfield receiving threats. Regardless of what the team decides to do with slot maven
Percy Harvin
(GM Rick Spielman recently shut down talk of a trade), adding a vertical receiver is a premium need for Minnesota this offseason.