August, 13, 2014
8/13/14
12:10
AM ET
ALLEN PARK, Mich. – A daily review of the hot topics coming out of
Detroit Lions
training camp.
The news of the day arrived before practice, when defensive end Ezekiel Ansah was pulled off the PUP list and returned to practice on a limited basis Tuesday evening. He didn't fully participate and was not expected to, but he looked fairly strong during individual drills, pushing the sled with some gusto. He appeared happy to be back as well, and he'll be eased into this since the Lions have a few weeks before their first regular-season game against the New York Giants. He'll likely get some work during a preseason game, but it won't be Friday as he's already been ruled out. Right guard Larry Warford, who missed practice Monday, also returned Tuesday.
The other major defensive line storyline revolved around defensive tackle Nick Fairley, who played with the second unit for the second consecutive practice. Ndamukong Suh and C.J. Mosley took the first-team reps at tackle throughout the practice, including during 11-on-11 periods. When Mosley wasn't in, Jason Jones moved inside to take some reps at tackle. Fairley worked with Andre Fluellen and Jimmy Saddler-McQueen on the second unit a bunch Tuesday night and didn't look all that impressive. In one-on-one drills with offensive linemen, he was blocked well once by Rodney Austin, but Fairley annihilated Austin the next time the two faced each other.
Mosley, meanwhile, looked good with the first unit. He plugged the middle of the line well and didn't lose any rushers when they came near him. In all, the first-team defensive line had another really strong performance against the first-team offensive line. Suh continues to look like his dominant self and Devin Taylor is getting better coming off the edge. It'll be interesting to see what happens when Ansah returns to full strength and Taylor is truly competing with Jones for the closed end starting spot.
Continuing with the defensive line theme here, Larry Webster had the hit of the practice, running right through Michael Williams to end the one-on-one drills. Webster said after that he just "worked one of my moves, converted speed to power." It was enough to completely flatten Williams, who is transitioning from tight end to offensive tackle during this camp.
The night practice was Jim Caldwell's idea as part of trying to prepare his players for all situations, including potential night games like the one Detroit will play Friday at Oakland. He also did it because there is always the possibility the team could end up having a flexed game at some point during the season.

"It's very, very important to get your team as many opportunities as you can to get ready for challenges that they may face and this is the time to do it, during training camp," Caldwell said. "We don't have the luxury during the regular season, we usually practice at a set time and typically not at night, so this is a time where you can adjust your schedule, move it around quite a bit. It's not the normal routine, so it makes them adjust. I like the fact that they have to adjust."

More on this Wednesday morning, but Golden Tate participated in the ALS ice bucket challenge after practice. He also said the Lions offense received Shinola watches for beating the defense in a team bowling competition Monday night, but didn't know who footed the bill for it.
The Lions return to practice Wednesday at 2 p.m., the final practice open to the public this season.
August, 2, 2014
8/02/14
3:00
PM ET
ALLEN PARK, Mich. -- A daily review of the hot topics coming out of
Detroit Lions
training camp:
The Lions had a scrimmage Saturday during their yearly family day, dividing the roster into the first-team offense and second-team defense on one side and the second-team offense and first-team defense on the other. The first-team offense and defense had all the typical players save Calvin Johnson, who did not practice Saturday. That wasn't surprising considering the Lions' focus on keeping their star as fresh as possible. In their daily switch, LaAdrian Waddle lined up with the first team at right tackle and Corey Hilliard with the second team, but that competition between two players who will make the roster continues. Defensively, Tahir Whitehead received a lot of time at linebacker spelling Stephen Tulloch.
Big day for Eric Ebron, who caught a really long pass from Matthew Stafford and appeared to be more confident on the field than he has at any point this camp. It's still going to be a learning process for him for a bit and there will certainly be mistakes, but Saturday was encouraging. Lions coach Jim Caldwell also seemed comfortable with Ebron's progress as he learns the multitude of spots he is expected to line up at this fall. Ebron's play was one of the highlights for the Lions' offense of the scrimmage considering his issues with drops.
The Lions had some issues snapping the ball when Dominic Raiola was not part of the scrimmage. Both Darren Keyton – playing with the first group – and Travis Swanson had bad snaps to quarterbacks, causing issues. In Swanson's case, it led to a fumble recovery for a touchdown by rookie Larry Webster, one of the better plays the defensive end has made during camp. While Swanson is still expected to be the backup center when everything shakes out a month from now, those issues amplified the importance of Raiola and his presence again this season.
Detroit's cornerback situation behind Darius Slay and Rashean Mathis could get interesting. Jonte Green had his best day of camp thus far, breaking up two passes intended for receiver Ryan Broyles, who has not run with the first team much this camp. Chris Greenwood struggled again Saturday as well as those two potentially compete for one roster spot. Slay, Mathis, Bill Bentley, Nevin Lawson and probably Cassius Vaughn appear to be ahead of both Green and Greenwood on the depth chart – although Lawson is going to mostly play nickel. Still a long way to go in this competition with not much settled in the first week.
Another good day for Detroit's kickers as Nate Freese and Giorgio Tavecchio made all their field goals attempted during the scrimmage, including a 50-yarder from Tavecchio that sailed through the uprights with ease. Unlike last season, when David Akers won the kicking job fairly easily, this season it seems like this could go on for a while. A wrinkle here could be something Caldwell said Saturday – that the team would consider using punter Sam Martin on extremely long field goal attempts. He compared it to his situation in Indianapolis, where Caldwell considered using punter Pat McAfee on long field goals. McAfee never attempted a field goal in a game, though. So something to consider as this competition progresses -- especially as Martin has an extremely impressive camp punting.
The Lions will take Sunday off before practicing again Monday at 8:30 a.m.
May, 11, 2014
5/11/14
11:15
AM ET
Here are some day-after thoughts on how the
Detroit Lions
did in the 2014 draft, with some time to sleep, reflect and also see the entire board of what they were trying to do.
The best pick the Lions made is probably second-round linebacker Kyle Van Noy. He fills an absolute need and Detroit general manager Martin Mayhew all but said Saturday night that he'll be a starter in the fall. That probably means Ashlee Palmer's job is in definite trouble as the third linebacker. But Van Noy gives Detroit some defensive flexibility. In person, he is a lot bigger than I initially anticipated. He's put together pretty well.
I panned the Eric Ebron pick throughout the draft -- not because Ebron won't be a good player, but because of who the team passed on at the point. Detroit desperately needed secondary help entering the draft and still needs help leaving the draft. Frankly, they needed defensive help overall, but they took care of some of those other needs later on -- including Van Noy. But Ebron felt more like a luxury. That said, if he becomes more of a wide receiver, which is entirely possible, it could end up being a very strong pick.
Speaking of the secondary -- this was probably Mayhew's biggest failing during the three-day period. Of the team's eight picks, Detroit used only one on its back seven -- in the fourth round on cornerback Nevin Lawson. Mayhew lauded Lawson's speed, but his height stands out. For months, defensive coordinator Teryl Austin explained how important tall cornerbacks were and in his history, he has often preferred players over 6-foot. Lawson is 5-foot-9. When asked about that, Mayhew said he was a short defensive back, so he can't be prejudiced about that. Nine corners went off the board in the fourth round before Detroit picked Lawson -- and one wonders how many of those were higher up on the Lions' board.
Fourth-rounder Larry Webster could end up being a good one -- but it won't be for a couple of years. He played at small-school Bloomsburg and has a good pedigree since his father played in the NFL. But even Mayhew acknowledged he is very raw at the position. He seems like an ideal candidate to learn for a year before being counted on for anything.
Drafting kicker Nate Freese in the seventh round likely means either John Potter or Giorgio Tavecchio probably won't be long for Detroit. The other will compete with Freese for the Lions' kicking duties.
Really like the addition of Caraun Reid. He is probably a bit of a developmental project as a defensive tackle coming from a small school, but he is an extremely intelligent and well-rounded person having gone to Princeton. As with many late-round guys, he'll make the team because of special teams at first -- and that is where he might excel. He appears to have a knack for blocking kicks, as he did that seven times at Princeton.
T.J. Jones could end up being a surprise as well. He's a receiver from Notre Dame who had 70 catches for 1,108 yards and nine touchdowns last season -- and was targeted 109 times by Irish quarterbacks. He will likely put pressure on Ryan Broyles and Jeremy Ross in the slot for a roster spot and playing time.
Good chance third-round pick Travis Swanson won't play much this season on offense, but he was drafted to be the team's starting center of the future -- unless he ends up as a starting guard. It's a fair bet he replaces either current center Dominic Raiola or left guard Rob Sims by 2015.
If Detroit can get some production out of its third-day players like it did out of the 2013 draft, the Lions' draft will likely look a lot better in retrospect than it does right now. But that's the thing with all of this. Until teams get on the field, this will all be speculation at best. A bit more informed speculation than before the draft, but we'll see how some of these players fit.
The Lions' undrafted free agents and tryout camp players won't be official until at least Monday and things can change quickly, so until it is official, be wary. But former Missouri quarterback James Franklin tweeted he will be joining the Lions -- and since the Lions did not draft a quarterback this weekend, that seems like a pretty safe bet. Among the other players who tweeted they will be a part of either the Lions' roster or rookie camp are Nebraska cornerback Mohammed Seisay, Appalachian State wide receiver Andrew Peacock, Kansas State offensive tackle Cornelius Lucas, Tennessee offensive lineman Alex Bullard and Oklahoma cornerback Gabe Lynn. The Detroit Free Press is reporting William and Mary safety Jerome Couplin, Robert Morris offensive lineman A.J. Dalton and Louisiana-Lafayette tight end Jacob Maxwell will also be undrafted free agents.
May, 5, 2014
5/05/14
1:05
PM ET
The NFL draft is less than a week away, which means soon enough the
Detroit Lions
will have to reveal whether all of their
Sammy Watkins
attention and visits from
Jadeveon Clowney
and
Khalil Mack
had substance or were designed to throw everyone off.
But the draft will be more than just one round for the Lions, who will need to use the three days in May to build depth on a roster that is big on stars but small on those players beyond the big names that can turn the Lions into a playoff team.
Every day up until the first day of the draft, we'll look at a different position grouping and see what Detroit has and what the team could end up looking for during the 2014 draft.
Today continues with the defensive line.
Previous previews
Players Lost:
Willie Young
, DE (signed with Chicago);
Israel Idonije
, DE (signed with Chicago)
[+] Enlarge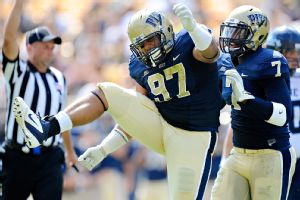 AP Photo/Don WrightTaking Aaron Donald at No. 10 would provide the Lions with insurance in case Ndamukong Suh or Nick Fairley is not back in 2015.
Players Signed:
George Johnson
, DE;
Kourtnei Brown
, DE;
Darryl Tapp
, DE/OLB;
Vaughn Martin
, DT;
Corvey Irvin
, DT.
Players on the roster:
Defensive ends:
Ezekiel Ansah
;
Jason Jones
;
Devin Taylor
; Tapp; Brown; Johnson.
Defensive tackles
:
Ndamukong Suh
;
Nick Fairley
;
C.J. Mosley
;
Andre Fluellen
; Martin; Irvin;
Jimmy Saddler-McQueen
;
Xavier Proctor
.
Draft priority
: Medium
Potential Rounds:
Any
Players who have visited or the Lions have met with
: Jadeveon Clowney, DE, South Carolina;
Larry Webster
, DE, Bloomsburg;
Denico Autry
, DE, Mississippi State (per Detroit Free Press).
Analysis:
It is an interesting situation when it comes to the Detroit defensive line, in part because the player the Lions should take in the first round could end up being available at the slot. It might not, though, be the player the Lions will take.
If
Aaron Donald
, the defensive tackle from Pittsburgh, is sitting at No. 10 and no unexpected players like
Mike Evans
are still available, the Lions should take him even though they have Suh and Fairley. The reasoning behind it is simple.
By taking Donald, the Lions would provide more depth up front in the present and also provide themselves with a potential replacement for either Fairley or Suh should either one not return to Detroit after the season. Worst case for Detroit, if both Suh and Fairley somehow returned, the Lions could have even more flexibility on the defensive line and truly have the best defensive front four in the NFL.
Donald may be the best player available at that point as well.
Even if the Lions pass on Donald, they will almost assuredly take a defensive tackle at some point this week because the team's top six defensive tackles -- and every non-practice squad defensive tackle -- will be an unrestricted free agent after the season.
Detroit needs to add a rush end, too, and
Anthony Barr
could be an option there in the first round. Larry Webster could be a late round pick to watch. He's a project, but he could fit in well with what the Lions have already in Ezekiel Ansah and Devin Taylor at the position.
Of all reasonable options, I'd take:
As mentioned above, if Donald is available, that is who I would take in Round 1. I don't think the Lions would do this -- my bet would be they bolster the secondary -- but Donald is a difference-maker.
Should that happen, the Lions could use a fourth-round pick on Webster as well and really solidify the defensive front the team tried to build the entire defense around.
Possible targets:
Donald, Webster, Barr,
Dee Ford
, DE, Auburn;
Aaron Lynch
, DE, South Florida;
Jackson Jeffcoat
, DE, Texas;
Dominique Easley
, DT, Florida;
Timmy Jernigan
, DT, Florida State;
Kelcy Quarles
, DT, South Carolina;
Ego Ferguson
, DT, LSU.