NFC North:

Laura Kaeppeler
March, 6, 2012
3/06/12
11:30
AM ET
[+] Enlarge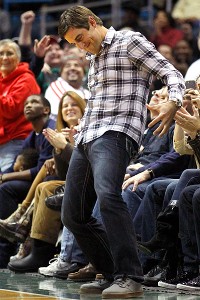 AP Photo/Jeffrey PhelpsAaron Rodgers performs his signature move during Monday night's Bucks game in Milwaukee.
The MVP and Miss America were in the same building Monday night. Whether that was by coincidence or design will be left to the gossip pages, not a serious football blog that looks down on such trivial matters and instead focuses on
matters of far greater import
.
But for those who take a little sugar in their coffee, here's the backstory:
As we grudgingly acknowledged in January
, Laura Kaeppeler — Kenosha (Wis.) native and reigning Miss Wisconsin — identified herself as a
Green Bay Packers
fan during the 2012 Miss America pageant. She also encouraged Packers quarterback
Aaron Rodgers
to call her.
Rodgers later said he watched the end of the pageant and thus saw Kaeppeler named Miss America.
Monday night, Kaeppeler sung the national anthem before the Milwaukee Bucks' game against the Philadelphia 76ers at the Bradley Center, according to
the Milwaukee Journal Sentinel
. Rodgers had courtside seats, did "The Belt" and stayed until the end of the Bucks' 97-93 victory.
I'm sure it was all a coincidence.
Not that I care.
I mean, there's only, like, one week remaining until NFL free agency and LESS THAN TWO MONTHS until the NFL draft and barely SIX MONTHS until the 2012 NFL football season starts! We have way too much to do. Let's leave the celebrity gossip to the gossipers. Grunt.
January, 18, 2012
1/18/12
10:15
AM ET
Green Bay Packers
quarterback
Aaron Rodgers
spent the better part of his ESPN 540 radio show Tuesday lamenting his team's early departure from the playoffs, hashing through some of his missed throws and insisting he will re-watch Sunday's 37-20 loss to the
New York Giants
for the sake of closure.
I understand.
You don't care about any of that, of course.
[+] Enlarge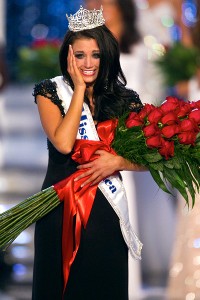 AP Photo/Eric JamisonAaron Rodgers said he is excited for the newly crowned Miss America, Laura Kaeppeler, who is from Wisconsin.
You're ready to move on.
What you want to know, clearly, is whether Rodgers has taken up an offer to call the newly crowned Miss America.
To backtrack: Before winning Saturday night's pageant, Miss Wisconsin -- Laura Kaeppeler --
identified herself as a Packers fan and said
: "If you're watching, Aaron Rodgers, call me."
At the time, Rodgers was at the Packers' team hotel. He said he was watching the
Denver Broncos
-
New England Patriots
playoff game (riiiiiiiight) when he began receiving texts about Kaeppeler's request.
"So eventually I clicked over," Rodgers said, "and actually I clicked over when it was down to the top five and was amazed as it went four, she's still up there. Three, she's still up there. Two, she's still up there. Is she really going to win this thing? And then, sure enough, she did. So I've got to give her a lot of credit for that. That's quite an accomplishment. A whole year of getting to do all of that Miss America stuff. That's exciting for Wisconsin, the one bright spot over the weekend.
"I have not talked to her, but am excited for her."
Of course, a text message or voice mail doesn't constitute "talking," but who are we to speculate? When you're the presumptive NFL MVP, you don't have to jump when Miss America wants to meet you.