October, 23, 2014
Oct 23
8:00
AM ET
Don't expect any fine offensive displays Sunday at Raymond James Stadium.
That's because the
Minnesota Vikings
and
Tampa Bay Buccaneers
both are struggling on offense. The Vikings (2-5) and Bucs (1-5) are starting young quarterbacks and ranked near the bottom of the league in most offensive categories.
The Vikings, led by rookie quarterback
Teddy Bridgewater
, rank No. 29 in overall offense and are last in passing offense. The Bucs have been starting second-year pro
Mike Glennon
and they're ranked No. 30 in overall offense.
ESPN Vikings reporter Ben Goessling and ESPN Buccaneers reporter Pat Yasinskas preview the matchup:
Yasinskas:
Ben, I know the numbers aren't pretty. But has Bridgewater been showing any signs of progress?
Goessling:
He has shown some. He hit 12 of his 15 throws after a pair of interceptions in Buffalo on Sunday, and I thought he did a better job of trusting himself to find his receivers downfield than he has in recent weeks. He has looked great at times, especially in the Vikings' win over Atlanta last month, but he's still figuring a lot of things out.
He needs to be better about throwing on target, and he has fallen victim to the same problems that plague many rookies, when he has held the ball a little too long or thrown late because he didn't make up his mind soon enough. But it's important to remember Bridgewater doesn't have
Adrian Peterson
,
Kyle Rudolph
and an offensive line that can protect him. The Vikings have given up 27 sacks this season, which is the second-most in the league, and they've forced Bridgewater to run for his life on a number of other occasions.
Speaking of quarterbacks, will Glennon remain the starter or will
Josh McCown
get the job back now that he's getting healthy?
Yasinskas:
Coach Lovie Smith has been coy about his plans. My best guess is Glennon will get at least one more start because McCown returned to practice only this week and was out for more than a month. I think Glennon has played well enough to be the full-time starter, but I'm not sure Smith sees it that way. McCown was Smith's hand-picked quarterback and the two have history together from their Chicago days. Smith's history has shown he prefers to go with veterans. Back in Chicago, he once benched
Kyle Orton
, who was playing well, as soon as Rex Grossman got healthy. It wouldn't surprise me if Smith goes back to McCown.
You mentioned Minnesota's offensive line. I know it has been banged up. Will it be any healthier this week, and can it at least give Bridgewater some protection against a Tampa Bay pass rush that hasn't been good?
Goessling:
It's hard to say at this point if it will be healthier. Guard
Vladimir Ducasse
is optimistic about his chances to play after injuring his knee on Sunday, but
John Sullivan
is still going through the concussion protocol, and his loss would be a big one. He's the Vikings' most reliable blocker, and does plenty to help Bridgewater set protections.
The biggest problem, though, has been left tackle
Matt Kalil
, who got beat again several times on Sunday and has struggled in pass protection all season. Kalil was the No. 4 pick in the draft in 2012 and made the Pro Bowl as a rookie, but got hurt last year and hasn't looked like the same guy. The Vikings were able to protect Bridgewater effectively against Atlanta, another team with an underwhelming pass rush, so I'd expect they'll fare better this week than they have against Detroit and Buffalo.
Shifting to the defensive side of the ball, how has the Vikings' old coach, Leslie Frazier, fared as the coordinator? The Bucs have obviously been shredded on defense; how much of that do you think is Frazier and Smith's old Cover 2 scheme and how much is personnel?
Yaskinsas:
Tampa Bay ranks last in total defense and also is No. 32 in pass defense. That's shocking since Smith and Frazier are supposed to be defensive gurus. I think this team has good defensive personnel, especially with tackle
Gerald McCoy
and linebacker
Lavonte David
. But the pass rush has been non-existent, and that has taken a toll on the secondary. The main problem might be Smith's stubbornness. He's sticking with the Tampa 2 scheme even though it looks like it might be outdated. I'm not saying he should totally ditch the Tampa 2, but it might be wise -- and productive -- to mix in some man coverage at times.
The Vikings lost a last-minute game against Buffalo last week. That reminded me that the Vikings lost a lot of games in the final minutes last season. Is there some sort of flaw there or is this just a young team that needs to learn how to win?
Goessling:
They believe it's the latter. The approach the Vikings took on the final drive on Sunday didn't look like what they did last year, when they sat back in coverage on a lot of those final drives. They were aggressive with their fronts, blitzing Orton four times on the drive and sacking him twice. But there were breakdowns that probably can be traced to inexperience.
Josh Robinson
needed to reroute
Sammy Watkins
when he pressed him on third-and-12,
Xavier Rhodes
misplayed Watkins' game-winning touchdown, and first-year coach Mike Zimmer said he probably should have called a timeout before a fourth-and-20 play -- like Frazier did in a couple games last season -- to get the defense settled. The Vikings gave up a first down there after
Chad Greenway
was trying to get
Captain Munnerlyn
in the right spot in a no-huddle situation. Greenway had his head turned at the snap and didn't get deep enough in coverage to keep Orton from hitting
Scott Chandler
for a first down.
The Vikings are young in the secondary, especially, and I think that showed up Sunday, but I continue to see progress in what they're doing. They have Pro Bowl-caliber players in
Anthony Barr
and
Harrison Smith
, and Rhodes has continued to improve as a corner. It'll take another year of player acquisitions, but they're headed in the right direction.
To wrap this up, why has the Buccaneers' ground game struggled so much? It might be a function of playing from behind as much as they have, but it seems like they've struggled to run the ball in closer games, too. What do you think the problem has been there?
Yasinskas:
It's true they have had to abandon the running game at times because they've fallen so far behind. But even at the start of games, they've struggled to run the ball. That's puzzling because they have a rebuilt offensive line and running back
Doug Martin
is healthy after missing much of last season with a shoulder injury. I put the majority of the blame on the offensive line. But I also put some blame on Martin. He is averaging only 2.9 yards per carry. His backup,
Bobby Rainey
, is averaging 4.9 yards a carry. Martin needs to make more out of his opportunities.
November, 21, 2013
11/21/13
10:00
AM ET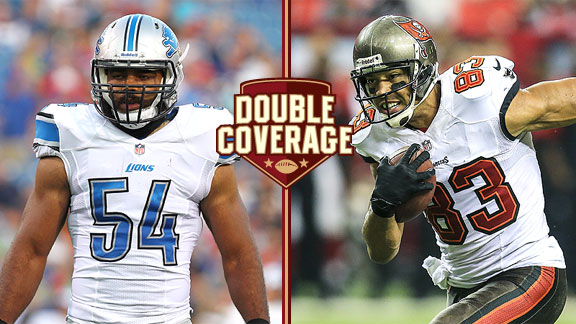 USA Today SportsDeAndre Levy and the Lions will need to keep Vincent Jackson in check on Sunday.
Tampa Bay started its season terribly before finding some answers the past two weeks. Detroit started its season strong but is suddenly vulnerable and has some questions.
Only the Lions are in the playoff picture heading into the last six weeks of the season. Meanwhile, the Buccaneers can play spoiler and give a damaging blow to the Lions' playoff hopes.
The Buccaneers will try to do that with a rejuvenated defense that caught the eye of Detroit quarterback
Matthew Stafford
.
"They are an extremely talented defense," Stafford said. "Probably the most talented defense we've played all year."
ESPN.com NFL Nation reporters Michael Rothstein (Lions) and Pat Yasinskas (Buccaneers) break down Sunday's matchup.
Rothstein:
What has happened over the past couple of weeks to turn this Tampa team around?
Yasinskas:
The short answer is that the Bucs suddenly have gotten much better at finishing games, a huge problem early in the season. But it goes much deeper than that. Coach Greg Schiano has a reputation for being stubborn and inflexible. But he's changed in recent weeks. His mood has been lighter on the practice field and when he's met with the media. More importantly, he's adjusted some things on the field. He's stopped stunting so much on the defensive line, and that's created more straight-ahead rushes for defensive tackle
Gerald McCoy
. Schiano has used cornerback
Darrelle Revis
in more man-to-man coverage after playing him in a lot of zone early in the season. The Bucs also have been running the ball much better, and that's a tribute to the offensive line.
Speaking of McCoy, he and
Ndamukong Suh
came out in the same draft, and early on, it looked like Suh clearly was the better player. But McCoy has been outstanding of late. What kind of a year is Suh having?
Rothstein:
Suh's actual statistics are fairly pedestrian and wouldn't really stand out to anyone if they were just watching Detroit from afar. But he has faced a lot of double-teams throughout the season and has been somewhat consistent throughout the year. He played his best in the two games against Chicago -- four quarterback hurries in Week 10, two sacks in Week 4 -- but he and the rest of the Detroit defensive line almost inexplicably struggled to reach Pittsburgh quarterback
Ben Roethlisberger
this past Sunday.
Detroit has not blitzed much this season, putting a lot of pressure on the front four, starting with Suh.
That'll lead into my next question -- how has
Mike Glennon
been progressing this season, and how does he move when he is pushed in the pocket a little bit?
Yasinskas:
Glennon has been a pleasant surprise. He was thrown into the lineup when
Josh Freeman
was benched, and he struggled at first. But Glennon has steadily improved and has been very good in recent weeks. He had only three incompletions in Sunday's victory over Atlanta. He's shown poise and leadership. Glennon's strength is his big arm, and the Bucs are trying to develop more of a deep passing game. They showed signs that's catching on when
Vincent Jackson
caught two long passes against the Falcons.
I first saw Glennon when I was covering the filming of "Gruden's QB Camp" this past spring. Watching Glennon's college tape, I thought he didn't have the mobility to succeed in the NFL. As it turns out, I was wrong. Glennon is not a running threat, but he's not a statue, either. He's been extending some plays by scrambling.
Speaking of deep passing games, the matchup I can't wait to see is
Calvin Johnson
against Revis. I saw the Lions-Steelers game, and it seemed like Johnson disappeared in the second half. What was all that about? Revis and Johnson went head-to-head in a 2010 game, and Johnson caught just one pass for 13 yards. Do you see Revis, with a little bit of help, being help to keep Johnson quiet?
Rothstein:
It depends on what Tampa tries to do defensively. When teams have tried covering Johnson with single coverage, he's destroyed opponents. It happened a good amount against Dallas and early against Pittsburgh. It goes to the situation most teams have had to face this season -- do you double-team Johnson and give a lighter box to
Reggie Bush
and
Joique Bell
, or do you play single high to focus on Bell and Bush and put Johnson in lighter coverage?
That said, Revis is one of the best corners in the league -- something Stafford acknowledged Tuesday -- and it should be an intriguing matchup Sunday. Johnson likes going against the top corners in the league and has had some success this season in those matchups, notably against Arizona's
Patrick Peterson
(six catches, 116 yards, two touchdowns) and Dallas'
Brandon Carr
(14 catches, 329 yards).
One of the other ways teams have had success against Detroit is to pressure Stafford, which hasn't been easy this season. It goes back to that first question with McCoy, but is he the key to any pressure Tampa might get?
Yasinskas:
McCoy is the central piece of the defensive line, and everything feeds off him. But he's not alone in the pass rush. End
Adrian Clayborn
has some pass-rush skills, and the Bucs have started lining up outside linebacker
Dekoda Watson
as a rush end. But the Bucs also like to use their linebackers as blitzers, and
Lavonte David
(five sacks) is a very good pass-rusher. But it all goes back to McCoy. The Bucs rely on him to push the quarterback off the spot, and the other players can clean up.
You mentioned Bush. At least from a distance, it seemed like he got himself in the doghouse by fumbling against Pittsburgh. Is Bush in good graces with the coaching staff, or will we see less of him Sunday?
Rothstein:
Doghouse? No. But he needs to work on protecting the ball better and hanging on to it, period. He's struggled with drops all season and lost fumbles two of the past three weeks. He's too big a weapon for Detroit to move away from him -- especially at home -- but if he continues on this trend, Bell might steal some of his snaps.
April, 18, 2012
4/18/12
5:00
PM ET
ESPN draft analyst Mel Kiper Jr. took a stab at
a three-round mock draft

using only his personal rankings of players. In this edition, Kiper did not take into consideration who he thought the teams might be leaning toward. Kiper is the judge and jury here. My comments follow his picks:

Chicago Bears
1. Illinois defensive end
Whitney Mercilus
2. Appalachian State wide receiver
Brian Quick
3. Penn State defensive tackle
Devon Still
Seifert comment:
Most everyone agrees the Bears need to find some help at defensive end, and their inability to do so in free agency leaves the draft as their final option. Mercilus has gotten as much attention as anyone at that pick. Quick is a 6-foot-3 receiver who ran a 4.55 at the scouting combine but, like veteran
Brandon Marshall
, would offer a different skill set than what the Bears have been using in recent years.

Detroit Lions
1. Nebraska outside linebacker
Lavonte David
2. Montana cornerback
Trumaine Johnson
3. Boise State safety
George Iloka
Seifert comment:
I like the David pick mostly because it mirrors the thought process Lions general manager Martin Mayhew usually takes in the draft. Need, or lack thereof, won't influence his decisions anywhere but at quarterback. If David or another linebacker sits high on the Mayhew's draft board, the Lions won't hesitate to take him if he's there at No. 23.

Green Bay Packers
1. Boise State linebacker Shea McClellin
2. Nebraska defensive end
Jared Crick
3. South Carolina safety
Antonio Allen
Seifert comment:
McClellin is getting a lot of discussion as a so-called late riser who would fit the versatile pass-rushing role the Packers would like to have. Meanwhile, the third round is a solid place to find a potential replacement for safety Nick Collins if he retires.

Minnesota Vikings
1. USC tackle
Matt Kalil
2. Notre Dame safety
Harrison Smith
3. Iowa receiver Marvin McNutt
Seifert comment:
Kiper notes he would try to trade down in the first round and would consider LSU cornerback
Morris Claiborne
if he couldn't. But in the end, there aren't many people who think the Vikings will look elsewhere from Kalil if they keep the No. 3 spot. Getting Smith in the second round would be a nice pick if he is still available.