NFC North:

Lawrence Taylor
February, 4, 2013
2/04/13
7:45
AM ET
We're Black and Blue All Over:
The NFL's 2012 season concluded Sunday night with Super Bowl XLVII, although we in the NFC North have been on hiatus for a month already. Now, we all enter into the offseason mode of the kind of player movement that Chicago Bears kick returner Devin Hester hinted at over the weekend.

In an interview with
Vaughn McClure of the Chicago Tribune
, Hester said he wants to continue playing -- backing down from
last month's threat to retire
-- but suggested he might benefit from a fresh start with a new team.
Because he is under contract for 2013, Hester would need to convince the Bears to trade or release him in order to move on. It's not clear yet how new coach Marc Trestman would use him, but at 30, you would think Hester has several productive years ahead of him.
Hester is the best return man in the history of the NFL, and that fact alone should force the Bears to exhaust every effort to keep him. On the other hand, sitting on prominent players who want out is never a good team-building policy.
We also shouldn't disregard the financial side of this situation. Hester has only one year remaining on his contract. I'm guessing he wouldn't be looking for a fresh start anymore if the Bears offer him a market-level contract extension.
Continuing around the NFC North:
February, 21, 2012
2/21/12
11:45
AM ET
June, 27, 2011
6/27/11
10:00
AM ET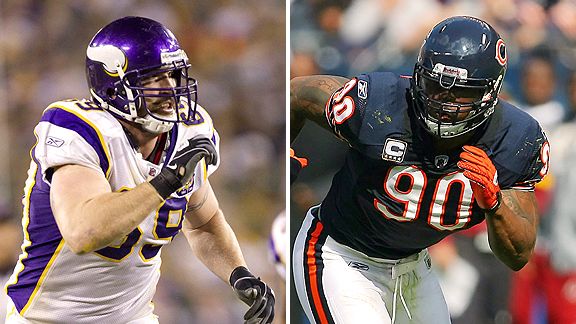 US PresswireWill Canton make room for predominant pass-rushers Jared Allen and Julius Peppers?
Another in a series on NFC North players whose career trajectories put them on a path to consideration for the Pro Football Hall of Fame.
NFL teams value pass-rushing more than any skill outside of quarterbacking, and here in the NFC North we have two of the best of this generation.
Chicago Bears
defensive end
Julius Peppers
(89 career sacks) and
Minnesota Vikings
defensive end
Jared Allen
(83) have outright dominated many games during their careers. But is either on track for future enshrinement in Canton, Ohio?
My short answer: It could go either way.
Sacks didn't become an official statistic until 1982. In reviewing how Hall of Fame voters have judged pass-rushers since then, a few tenets seem clear:
Sack totals alone, no matter how high, don't guarantee enshrinement. Otherwise, linebacker Kevin Greene (currently a Green Bay Packers assistant coach) and defensive end Chris Doleman would have been elected a long time ago. Greene has 160 career sacks, the third-most in NFL history. Doleman's 150.5 rank No. 5. They are two of 25 players with 100 or more career sacks, and eight of those 25 are in the Hall of Fame.

The first chart is a list of the eight Hall of Fame defensive linemen and linebackers whose careers took place during the sack era. I included Oakland Raiders defensive lineman Howie Long and New York Giants linebacker Lawrence Taylor, whose careers began in 1981, and eliminated Bears linebacker Mike Singletary because pass-rushing wasn't much of a factor in his enshrinement. All but Long had at least 100 sacks. So although 100-plus sacks doesn't guarantee enshrinement, it's almost always a prerequisite. There is every reason to believe that Peppers, who is 31, and Allen, 29, can and will pass that milestone.

Voters clearly perform a subjective judgment to determine which players with high sack totals deserve enshrinement. Generally speaking, players who seem classified as "pure" pass-rushers, including Greene and Doleman, face a higher bar than those who were more generally regarded as "havoc-wreakers." Examples: Long, Andre Tippett, Taylor, Rickey Jackson and John Randle.
Given their career arcs, both Peppers and Allen might have to justify a "havoc-wreaker" enshrinement. They've got good chances to break the 100-sack barrier, but how much further will they go? Peppers could reach Randle-Taylor-
Richard Dent
territory by averaging 10 sacks a year for the next five seasons. I would say that 50 sacks between the ages of 31 and 36 represents the high end of what Peppers might achieve.
Allen is 2 years younger, and a similar 50-sack run over the next five years could put him in the same territory by 34. That's a reasonable projection, but I wonder whether voters will discard Allen into the "pure pass-rusher" category that currently houses Greene, Doleman,
Leslie O'Neal
(137.5 career sacks),
Simeon Rice
(122) and
Clyde Simmons
(121.5).
One gauge to consider is ESPN.com's positional power rankings, although I recognize that it simply represents the thoughts of
eight slappy bloggers
. (But remember, Hall of Fame election is determined by 44 other slappy writers and broadcasters.) Allen was rated
as the No. 4 pass-rusher
but didn't receive a single vote for
best defensive player
.
For what it's worth, Peppers ranked No. 8 on the overall defensive player list. And I found it interesting last week that when asked to name the NFL's best player at the moment, Bears linebacker
Brian Urlacher
quickly responded: "Peppers."
In an admittedly subjective question, I ask: If Peppers and Allen finish their careers with similar sack totals, who is more likely to be elected to the Hall of Fame? I'm going to guess Peppers, barring a dramatic career arc adjustment for either player.
Comparing current players to Hall of Famers is only part of the discussion, however. As we noted in our post on Green Bay Packers quarterback
Aaron Rodgers
, candidates also must be compared to their contemporaries. In theory, only those who dominated their respective eras should be enshrined.
Our next two charts address that topic.
Since he entered the league in 2002, Peppers ranks third in sacks. Allen, meanwhile, has more sacks than any other NFL player since he was drafted in 2004.
So let's say Peppers and Allen finish their careers in the 130-140 sack range. Both will have been among the most productive pass-rushers of their time, but they'll also be "competing" against a number of contemporaries with similar credentials. We of course hope that all deserving players eventually get in, but the definition of "deserving" can be relative.
To that end, it should be noted that defensive end
Michael Strahan
(141.5 sacks) would seem relatively assured of enshrinement. End/linebacker
Jason Taylor
(132.5) and
Dwight Freeney
(94) also will be considered.
Both Peppers and Allen have potential career spans long enough to settle this debate definitively on their own. But as it stands now, with Peppers entering his 10th season and Allen his eighth, we can say they've done enough to enter the Hall of Fame conversation. Both have more work to do, and it needs to be at the same standard they've set thus far.
Earlier:
Rodgers has
put himself in on the path toward Canton
.
September, 20, 2009
9/20/09
7:55
PM ET

Posted by ESPN.com's Kevin Seifert


I'm going to go out on a limb here and suggest that Green Bay's offensive line transition hasn't worked according to plan quite yet.
I know there are a lot of things to jump on after Sunday's 31-24 loss to Cincinnati. But I can't get past the fact that Bengals defensive end
Antwan Odom
sacked Packers quarterback
Aaron Rodgers
five times. FIVE TIMES. F-I-V-E T-I-M-E-S. Those are
Derrick Thomas
numbers. Those are
Lawrence Taylor
numbers. Sorry, those aren't Antwan Odom numbers.
It's true, Packers left tackle
Chad Clifton
departed with an ankle injury, forcing the Packers to shift left guard
Daryn Colledge
over one spot to replace him. But a couple points on that: First, Odom victimized Clifton a couple times before Colledge moved over. And second, didn't the Packers want to avoid this type of multi-positional backup situation in the first place?
The performance was particularly alarming when you take into account the struggles right tackle
Allen Barbre
had in the season opener against Chicago. To me, it goes beyond personnel. When an individual is struggling to that level on a given day, isn't it incumbent on a coaching staff to stop the bleeding, even if it requires multiple adjustments elsewhere? Can you really let a guy keep motoring to a five-sack day?
The Packers have now given up 10 sacks in two games this season. Rodgers isn't going to make it through the season at that rate. No quarterback would.
September, 18, 2009
9/18/09
11:00
AM ET

Posted by ESPN.com's Kevin Seifert
I appreciated the (mostly)
civil discussion
we had this week in discussing whether Chicago linebacker
Brian Urlacher
has put together the framework of a Hall of Fame career. We've had a period here of heightened emotion, so I'm glad we could all come together and play nice.
| | |
| --- | --- |
| | |
| | Kevin Hoffman/US Presswire |
| | Brian Urlacher needs a few more productive seasons to bolster his case for the Hall of Fame. |
Short of tallying all of your 220-plus responses, my sense was that more people fell into the "maybe" and "no" category than those who answered with a straight "yes."
ShimmitySham
has Urlacher in his "hall of really good."
Tazhawkeye
, who identifies himself as a Bears fan, writes: "Not yet." He continued:
"Did Urlacher change the position? Yes, he was fast and changed the middle linebacker from a pure hitter to an all around defender. Did Urlacher dominate? Yes, for a few seasons. Are there players in his generation who did the same thing and dominate longer? Yes, Ray Lewis. Urlacher will need to make the Pro Bowl one more time and have 2 [more] healthy years in the NFL. Two more years will bring his total to 170 games played. One more Pro Bowl will bring his total to 7. By being able to come back, he will be able to say his career was sidetracked by injuries, but he was good enough to dominate 'till the end. Right now, he is competing with Ray Lewis."
Many of you brought up the Lewis comparison, noting he has played at a higher level for a longer period of time. (In particular: 10 Pro Bowl selections, six All-Pro teams, two NFL Defensive POY awards and one Super Bowl ring.) So if one criteria is dominating an era, wouldn't Lewis overshadow Urlacher? Here's what
kyleuofcummings
wrote: "When you ask a random football fan the most feared presence in the middle in the recent era it is sure to be Ray Lewis,"
Some of you believe Urlacher was well on his way to enshrinement before his play began to slip recently.
Mohktal
wrote: "In his first six years, I'd say he was definitely on his way to Canton. Especially his 2006 year. He was an absolute force that year. He was everywhere on the field, and when he tackled, you could tell the other guy woke up a little more. The past 3 seasons (plus his washout 2009) he hasn't even been the best LB on his team, let alone one of the top in the league."
Of the loyalist arguments, I thought
Andrew Sturtevant
made the most detailed presentation. He pointed to three "shining examples" to define Urlacher's body of work:
The Bears' 2006 game at Arizona.
His performances in 2001 and 2005, when "he led a team to those great regular seasons without the help of a quarterback." Andrew noted the Bears were among the top two defenses in the league those seasons.
The 2006 NFC Championship Game against New Orleans: "I single out that game because after Reggie Bush did his flip in the end zone, the defense did not allow another score the rest of the game. Again Brian Urlacher was the face of that defense."
My take?
We should be careful to avoid speaking of Urlacher's career in the past tense. There's every reason to believe he'll be back in 2010, and there's no reason why he can't string together several more successful years. Whether or not he returns, however, I'm not sure if his run from 2000 to 2006 is going to be enough to get him to Canton.

Brian Urlacher
#54 LB
Chicago Bears
CAREER STATS

TACK
SOLO
SACK
FF
INT

1,058

804

37.5

8

17
You can't evaluate Hall of Fame prospects in a vacuum. You always have to consider qualifications relative to other players in similar positions in his era. So Urlacher will be compared not only to Lewis, but also to
Derrick Brooks
and
Junior Seau
, among others.
Certainly, that group played different positions in different schemes. But when you look at the list of 19 linebackers in the Hall of Fame, you realize only a handful have been enshrined from each generation. From the 1980s, you see Mike Singletary,
Lawrence Taylor
and
Andre Tippett
. From the 1990's, you see
Derrick Thomas
(so far).
Personally, I think Lewis is the lock of this generation. (I'm not touching his past legal situation here.) That leaves Urlacher "competing" with Brooks and Seau. It's not out of the question, but I'd say that dynamic is one of the reasons Urlacher is a borderline Hall of Fame candidate.
September, 16, 2009
9/16/09
11:00
AM ET
| | |
| --- | --- |
| | |
| | Jonathan Daniel/Getty Images |
| | Is Bears linebacker Brian Urlacher a Hall of Famer? |

Posted by ESPN.com's Kevin Seifert
I know. This is the type of post you write when a player announces his retirement, suffers a career-ending injury or otherwise signals his time remaining on the field is short. None of those qualifications exist for Chicago linebacker
Brian Urlacher
, who at this point is fully expected to return in 2010 after dislocating his wrist Sunday night at Green Bay.
But let's face it. When the Bears open training camp next summer, Urlacher will be 32 and four seasons removed from his last Pro Bowl team. He's played 138 games in his career, and it's safe to say that his body of work is largely in the books. So for this week's "Have at It," let's discuss whether Urlacher has done enough to be a legitimate candidate for the Pro Football Hall of Fame.
In the history of the game, 19 linebackers have been enshrined. You can view a list of them
here
. Of that group, only four began their careers after 1980. I pulled some numbers and accomplishments for that group -- Mike Singletary, Andre Tippett, Lawrence Taylor and Derrick Thomas -- to give you a reference point for the standards the voters have most recently looked for. (I didn't include tackles because they are an unofficial stat and vary based on which linebacker position you play.)
Urlacher vs. recent Hall of Fame linebackers
Player
Year
Games
INTs
Sacks
Pro Bowls
All-Pros
Awards

Mike Singletary

1981-92

179

7

19

10

8

Defensive POY, 1985 and '88

Lawrence Taylor

1981-93

184

9

132.5

10

9

Defensive POY, 1981, '82 and '86

Andre Tippett

1982-93

151

1

100

5

2

Named to 1980's all-decade team

Derrick Thomas

1989-99

169

1

126.5

9

3

NFL Rookie of the Year

Brian Urlacher

2000-now

138

17

37.5

6

4

NFL ROY; Defensive POY, 2005
The big question voters will ask is if Urlacher dominated his era, and that should be a primary focus of this debate. Did he have a few dominant years, or was he a game-changer for a generation? Those are two questions to consider. His central role in making the Bears' defense a blueprint for the league will be reviewed, as will his status as
one of five players
in NFL history to win both the Rookie of the Year and Defensive Player of the Year awards.
Again, this is no post-mortem. Urlacher have a chance to add a finishing flourish to his legacy. The wrist injury has spared him a year of pounding and could eventually extend the timetable of his career. But while Urlacher is likely to return, it's reasonable to expect voters to most closely scrutinize his heyday from 2000-06.
As usual, we'll meet back here Friday morning to hash it all out. Have at It.
February, 24, 2009
2/24/09
5:00
PM ET
Posted by ESPN.com's Kevin Seifert
Wake Forest linebacker Aaron Curry's eye-opening workout at the NFL scouting combine has energized the debate over whether he -- and, more generally, an outside linebacker -- is a legitimate candidate to be the No. 1 overall pick in the draft.
| | |
| --- | --- |
| | |
| | Scott Boehm/Getty Images |
| | Linebacker Aaron Curry was impressive during his workout at the combine. |
First, let's consider ESPN.com analyst Todd McShay's analysis of Curry's performance:
Curry finished with the fastest 40-yard dash time (4.56 seconds), the longest broad jump (10 feet, 4 inches) and tied with two other players for the best vertical jump (37 inches) among the linebackers. He also impressed with his work during drills, particularly one that's designed to simulate a linebacker shifting through traffic between the tackles.

In that drill, each prospect steps over a set of pads while sliding laterally in one direction, quickly reverses direction, slaps the pads with his hands as he shuffles back and then explodes through the cones to finish. It's important to be fluid and quick, and just as important to keep your eyes up because teams want to know whether you can locate the ball as you scrape down the line of scrimmage. Most prospects were seen peeking down at the pads, but Curry did an excellent job of keeping his eyes up. It's a small difference but an important one. And weighing in at 254 pounds and measuring 6-foot-1 made Curry's performance that much more impressive.
I realize that Curry's performance in Indianapolis guarantees nothing about his future NFL success. But even before he arrived, most NFL teams considered him a top-5 pick. It's natural that a strong combine would catapult him into the discussion for the No. 1 overall selection.
The lack of an obvious top pick makes Curry fair game in this debate. On one side, you have many people who believe Curry is the best player in the draft. On the pragmatic scale, that makes him a no-brainer for Detroit. Right?
The other side is whether an outside linebacker is an important enough position to merit the top pick, especially for a team that runs a 4-3 defense. In fact, only two linebackers have gone No. 1 overall since the 1970 merger: Tom Cousineau in 1979 and Aundray Bruce in 1988. Let's just say neither is headed to the Hall of Fame.
Why the hesitance? We've all seen how linebackers can impact the game, from Lawrence Taylor to Ray Lewis to Shawne Merriman. Fair or not, here's how Baltimore general manager Ozzie Newsome put it last week at the combine:
"We put the premium on quarterbacks, corners, left tackles and pass rushers. For the most part, those are the guys that are going to come off the board early."
What do you think? Could Curry be enough of a difference-maker to merit a near-historic decision? Let me know, either in the comments section below or in the mailbag, and we'll revisit the topic later this week.