July, 11, 2012
7/11/12
11:30
AM ET
Monday night was the Home Run Derby.
[+] Enlarge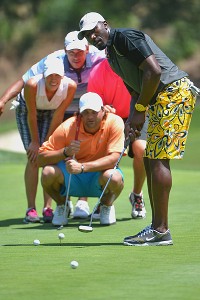 Rich Arden/ESPN ImagesGreg Jennings was easy to spot on the golf course on Tuesday.
Tuesday night was the All-Star Game.
That makes Wednesday night ESPY time.
Yes, the annual awards show is set to air at 9 p.m. ET on ESPN. Based on Twitter, a number of NFC North players are planning to attend, including
Detroit Lions
quarterback
Matthew Stafford
and
Green Bay Packers
receiver
Greg Jennings
. As you can see in the photograph, Jennings wore an awfully colorful outfit Tuesday to the ESPY Celebrity Golf Classic, which raised $1 Million for The V Foundation for Cancer Research.
To review from a division perspective:
Packers quarterback Aaron Rodgers is among four candidates for Best Male Athlete, along with Novak Djokovic (tennis), LeBron James (NBA) and Justin Verlander (baseball).

Rodgers and Lions receiver Calvin Johnson have been nominated as Best NFL Player.

Stafford is a candidate for Best Comeback Athlete. So are Sidney Crosby (NHL), Johan Santana (baseball) and Maria Sharapova (tennis).
February, 8, 2012
2/08/12
10:00
AM ET
Could the "
Discount Double Check
" lead to national television stardom for
Green Bay Packers
quarterback
Aaron Rodgers
? I guess it depends on what you consider "national television stardom," but Rodgers took last weekend's television opportunity at Super Bowl XLVI to network for an appearance on NBC's "Saturday Night Live."
Rodgers has mentioned that possibility several times on his
ESPN 540 radio show in Milwaukee
, and Tuesday he said he met a couple cast members last weekend in Indianapolis, where he worked as part of NBC's pregame show. "I'm hopeful that we can figure something out there," Rodgers said.
I'm trying to make an "SNL"-related joke, but I'm a little dated in my reference points. Hasn't been the same since Matt Foley left permanently for his van down by the river. (#ChrisFarleyRIP.)
In all seriousness, hosting "SNL" is an elite stepping stone for athletes who have crossed into celebrity status. The success of Rodgers' State Farm television commercials, as well as his MVP and his well-received work for NBC on Sunday, might have vaulted him into relatively rare advertising and publicity air. Athletes who have hosted "SNL" include Fran Tarkenton,
Peyton Manning
,
Tom Brady
,
Joe Montana
, Charles Barkley, Michael Jordan, LeBron James, Nancy Kerrigan and Walter Payton.
November, 5, 2011
11/05/11
8:00
AM ET
I was quite frankly surprised at how many of you support the
Chicago Bears
' stance with tailback
Matt Forte
, and as a result are unconcerned about the potential connection between team morale and competitiveness. That issue was the crux of our
Have at It debate this week
, which asked you to consider whether the continued public complaints from Forte and his teammates will scuttle the Bears' playoff run.
[+] Enlarge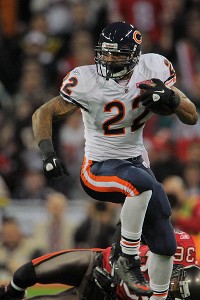 Kyle Terada/US PresswireSigns point to the Bears using their franchise tag on running back Matt Forte next season.
The public discussion continued even after our Wednesday morning post. Linebacker
Brian Urlacher
termed it "so disappointing"
that the Bears haven't agreed to terms on a contract extension for Forte, who is having an MVP-type season. Forte
told ESPN's Josina Anderson
that it was "odd" the Bears didn't seem interested in rewarding him, and even NBA star LeBron James
tweeted
that the Bears should "pay the man, please."
I don't necessarily think your position is wrong. My experience is that most fans want to see well-liked incumbents remain happily with their team. But in the end, I suppose you're not worried about Forte leaving because of the franchise tag, and you're not willing to accept any drop in competitiveness created by off-field issues.
Forte has turned down an offer that included between $13 million and $14 million in guarantees -- less than half what the
Tennessee Titans
gave
Chris Johnson
and the
Minnesota Vikings
gave
Adrian Peterson
. If he plays under the franchise tag next season, Forte will have a one-year contract worth the average salary of the NFL's five highest-paid running backs, projected to be about $7.7 million.
Wrote
severs28
: "How is an average salary of the top 5 players at your position a second-rate contract?"
It isn't for 2012, of course. But it is over the long term, considering Forte would need to continue his current level to earn a franchise tag for 2013 and match the guaranteed money he has since turned down. Running back production often peters out as a player enters his late 20's, and
bpalton007
wrote:
"The Bears are making the smart business call. I would never pay huge bucks for a running back in a league where 2,000 yards from Chris Johnson doesn't even get you into the playoffs, and excellence year in and year out from AP has translated to [nothing] for the Vikes (except in 2009, with
Brett Favre
)."
In a running back's worse nightmare, his team takes advantage of the franchise system to avoid ever committing money beyond the current season. It leaves the player at a higher level of risk and elevates the feeling of a one-sided relationship.
As harsh as it might be, many of you can see where the Bears are coming from. As
Jwoude23
noted: "The Bears are planning on riding Forte for this year and next (under the franchise tag) and then letting some other team overpay for his nonproductive years after that. As much as it pains me to say it, it's the smart football move, as running backs break down very quickly and are always one injury away from losing their agility, and therefore their edge."
Jwoude23 acknowledged that while it makes sense from a football perspective, "it probably does negatively impact the players to see the lack of loyalty shown to a consistent performer who is also a class act."
So does that mean anything? You were split at best on that.
Biggest Cheese
wondered if "a distrust of upper management" could make future players harder to sign. But would it impact how the team plays for the rest of the 2011 season? At best, wrote
youspellgodMARK
, it could galvanize players moving forward:
"To me, it seems that it has united the players against a common enemy: Management. Many contracts are incentivized, so the best way to strike back at management is to make them pay out as many bonuses as possible. Since (to this point) no players have grumbled against the coaches or each other, I think this only helps to galvanize the team."
My take?
I really do think it's rare to see this level of on-the-record public discussion about a contract issue during the season. That many of the Bears' team leaders have spoken out, as well as players on other teams and even in other sports, suggests it's being viewed as more than your basic contract stalemate.
Forte is in a rare spot: He has elevated his play to the point where he's out-priced himself for what appears to be the Bears' business model at his position. The first half of his season, at least, is on par with or better than what the very best running backs in the game have done. He turned down what would have been a below-market deal on those terms, but now he faces the real possibility of being guaranteed less to play in 2012 and then finding himself in the same situation after that season.
With that said, if the Bears don't make the playoffs in 2011, it won't be because of the way they handled Forte's contract situation. It will be because they couldn't protect quarterback
Jay Cutler
, or their defense got too old or
Devin Hester
didn't get any big returns. Players in Chicago might not be happy, but that state of mind doesn't necessarily correspond with competitiveness.
November, 4, 2011
11/04/11
11:48
AM ET
The video below contains more material for this week's "Have at It" discussion on the impact of
Chicago Bears
tailback
Matt Forte
's stalled contract negotiations. Forte tells ESPN's Josina Anderson that he wants Bears management to tell him why a deal hasn't gotten done.

"If you're an organization and you have your own player that you have drafted," Forte said, "... I'm not coming from another team. I'm a guy that has been here since Day 1 when they drafted me, working hard out there. Why not reward that guy for working hard? That's in any job. … That's what is odd to me, that it hasn't gotten done yet."
Forte's words and tone were mild and completely non-threatening, and that's about the only thing that has kept this issue from becoming a complete circus. Once again, however, I'll reiterate that it's pretty rare for NFL players to speak so openly about their contracts in the middle of a season. It's even more unusual to hear so many other players speak up on Forte's behalf, from
Lance Briggs
to
Brian Urlacher
to former Bears tight end
Greg Olsen
. Even NBA star LeBron James has gotten into the act,
tweeting Friday
that the Bears should "pay the man."
May, 8, 2009
5/08/09
6:45
AM ET
Posted by ESPN.com's Kevin Seifert
Minnesota linebacker E.J. Henderson wouldn't mind at all if his team moves past its infatuation with retired quarterback Brett Favre. Resolution is good, Henderson told Rick Alonzo of the St. Paul Pioneer Press.

Henderson: "I think it's good to have that resolution so we can just move on and focus on us, and focus on getting ready for the season without all these outside distractions. I definitely think it's good to have a resolution, if there is one. But who knows what the personnel guys, and the guys we got upstairs, what they're going to end up doing."
Who knows, indeed. And while there isn't much to distract Vikings players from right now -- their offseason practices don't begin until May 19 -- there's definitely some value to getting their minds set on having either Tarvaris Jackson or Sage Rosenfels as their starting quarterback.
Continuing around the NFC North: