July, 1, 2010
7/01/10
11:00
AM ET
Notable players:
Running back Mel Farr, center Ed Flanagan, tight end Charlie Sanders, linebacker Paul Naumoff, defensive tackle Alex Karras, cornerback Lem Barney, cornerback Dick LeBeau.
[+] Enlarge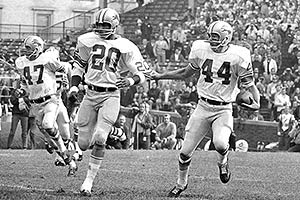 AP Photo/Jim PalmerCornerbacks Lem Barney and Dick LeBeau combined to snag 16 interceptions during the 1970 season.
Analysis:
I'm fully aware that this franchise played for four NFL Championships during the 1950s, winning in 1952, 1953 and 1957. It was without question the golden age of Lions football, but you can make a decent argument that the best team came two decades later.
The 1970 Lions ranked second in the NFL in points scored and points allowed, won their first two games by a combined score of 78-3 and finished the season with the league's second-highest average point differential (10.4), according to pro football-reference.com. They had the best turnover ratio in the league, were the victims of Tom Dempsey's then-record 63-yard field goal and produced an impressive five-game winning streak to end the regular season.
This team fielded two Hall of Fame cornerbacks, and both Barney and LeBeau had the best seasons of their careers. LeBeau intercepted nine passes, while Barney had seven -- returning two for touchdowns. The Barney/LeBeau team helped the Lions limit the powerful Dallas Cowboys to five points in the playoffs, and that total should have been enough for an offense that put up at least 28 points in six of its regular-season games.
But the offense inexplicably fell flat that day in a 5-0 defeat, leaving Lions fans their first in a series of torturous "what-ifs." At the time, there was a feeling the Lions were
bound for a Super Bowl victory
had they gotten past the Cowboys.
I realize there is some room for discussion here. But the 1970s were a newly competitive era for the NFL, and that's where I landed when comparing this team with the 1950s teams.
Most impressive victory:
I'll go with a tie for the Lions' collective performances in shutting out Green Bay twice -- 40-0 in the season opener and 20-0 in the season finale. The Packers weren't a good team that year but they did win six of their other 12 games.
Did you know?
The 1970 Lions were the first wild-card playoff team in NFL history. When the league merged with the AFL, the postseason was expanded to eight teams -- three division winners and one wild-card team.
Did you know, Part II?
Soul musician Marvin Gaye had a failed tryout for the 1970 team.
Honorable mention
1952:
A high-powered offense scored 40-plus points five times on the way to a 9-3 record and an NFL Championship.
1953:
A similar team scored a touchdown in the final minutes of the championship game to become the third team in NFL history at that point to win back-to-back titles.
1957:
The Lions overcame the training camp resignation of coach Buddy Parker and the broken leg of quarterback Bobby Layne to win its last NFL title.
February, 10, 2010
2/10/10
10:00
AM ET
I appreciated the thoughtful debate you produced Monday on Dick LeBeau's pending enshrinement to the Pro Football Hall of Fame. I asked if you
considered LeBeau a Hall of Famer
independent of his stellar coaching career, and from the top I should tell you how the voters themselves considered his candidacy.
[+] Enlarge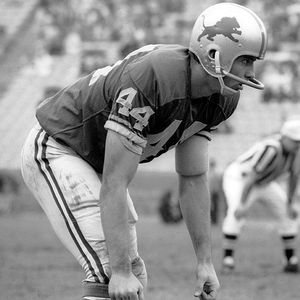 David Boss/US PresswireDick LeBeau went to three Pro Bowls as a member of the Detroit Lions.
As NFL vice president Greg Aiello
points out
, coaches aren't eligible for enshrinement until five years after they retire. LeBeau remains Pittsburgh's defensive coordinator, so by definition that means the Hall's 44 voters were required to evaluate him solely on the merits of his playing career.
I've independently confirmed that with voters. They elected LeBeau based on his performance as a Detroit cornerback from 1959-72. That said, I thought some of you made a reasonable leap by suggesting LeBeau's tenure as an elite defensive coordinator at least kept his name fresh for this generation of the seniors committee and voters.
Wrote
whelk
: He should have been elected a HOF'er as a player in the first place. However, it was his coaching that kept reminding people he was out there. Without the coaching, this deserving player likely would have been forgotten.
And who was that deserving player? You engaged in some of the most interesting debate we've had in Have at It.
Elkman812002
pointed to
this analysis
from Pro Football Reference. The piece notes LeBeau totaled 62 interceptions during an era when teams passed much less frequently than they do now. But it also points out interceptions were much more frequent relative to passing attempts during those times. "Even though only 14 games were played per season in LeBeau's era it was in fact easier to get interceptions," concluded Elkman812002.
Jerious6
countered with what we noted in the original post: LeBeau had more interceptions than any other NFL player during the meat of his career from 1960-71.
Wrote Jerious6: "No matter how easy or hard interceptions were to come by during that time, having more total picks than anyone over that period accounts for something, mostly his consistency."
I think it accounts for more than that.
My take?
I realize there was some gray area in LeBeau's candidacy. There is a reason it took 38 years after his retirement for him to be elected. He was surrounded by some better-known Hall of Fame players, including cornerback Lem Barney, cornerback Dick "Night Train" Lane and safety Yale Lary. The presence of high-caliber teammates tends to lead to the argument that LeBeau got more opportunities for interceptions because opponents chose to "pick" on him rather than challenge ostensibly more talented players.
To me, however, the point is LeBeau made teams pay if they in fact took that approach. He didn't just intercept some passes. When he retired, he had more interceptions than all but one player in the history of the game. Even today, his total ranks among the top 10 of all time. It's overthinking to suggest there is a mitigating circumstances that should overshadow 62 interceptions in 14 seasons.
Interceptions should be a weighted statistic, in my book. In general terms, turnovers are as closely associated to wins and losses than any other figure. Even if LeBeau was a less-skilled cover man than some other Hall of Fame players on his own team and elsewhere, he made up for it at the end of the day.
I understand why it took LeBeau so long to reach the Pro Football Hall of Fame. I also understand why he has finally been included.