February, 10, 2015
Feb 10
8:00
AM ET
MINNEAPOLIS -- It's easy now, in an era of postgame locker room videos, sideline microphones and round-the-clock sound bites, to take for granted how profound an idea it once was to let fans get close to the NFL, to present the game as a mythic drama largely by humanizing it.
[+] Enlarge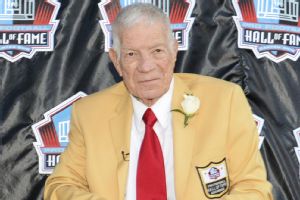 AP Photo/Shawn WoodEd Sabol was inducted into the Pro Football Hall of Fame in 2011. During his tenure at NFL Films, the organization won 52 Emmy Awards.
The work of Ed Sabol and his son Steve, through a fledgling enterprise called NFL Films, had a major hand in turning the NFL into the country's most popular league. The company's production of the 1962 NFL Championship Game at Yankee Stadium was its first, and its films helped deepen the love that brothers Mark and Zygi Wilf, now owners of the
Minnesota Vikings
, had for the
New York Giants
and the NFL.
The decision to put a microphone on
Kansas City
coach Hank Stram during Super Bowl IV, in which the Chiefs defeated the Vikings, produced some of the most famous sound bites in NFL history. And the iconic shots of Bud Grant's stoic visage, unmoved by the bitter cold at Met Stadium, helped build the lore of the greatest teams in Vikings history.
When Ed Sabol died Monday at the age of 98, his place in NFL history was clear. He and Steve Sabol had been inducted into the Pro Football Hall of Fame in 2011, and his passing brought about a fresh round of tributes from figures like the Wilfs, who saluted Sabol for what his work meant to them.
"Ed had a vision for bringing NFL content to fans in unique ways, and his innovative ideas helped grow the passion and support for this game," Mark and Zygi Wilf said in a statement. "On a personal level, his creativity also strongly contributed to our family's love for the NFL. On behalf of the Minnesota Vikings, our condolences go out to the Sabol family."
NFL Films' work on Grant's teams of the 1960s and 1970s is harder to find now, but the company maintains a catalog of its old
programs for purchase on its website
.
There is a charming simplicity in the old clips,
like this famous footage of Stram
from Super Bowl IV, but it's important to remember how groundbreaking NFL Films' methods were at the time. Everything we watch now, from "Monday Night Football" to modern Olympics coverage and highlight shows, owes something to the Sabols' approach, and their legacy is unmistakable.
We'll close with one funny Vikings story, as it relates to NFL Films.
As the Canton Repository wrote in 2011
, NFL Films approached Grant before Super Bowl IV about putting a microphone on him for the game. Grant, recalled Chiefs quarterback Len Dawson, told the Sabols in so many words "where they can put the wire." The next fall, after Stram's footage had made the rounds, the Chiefs opened the season with the Vikings and lost 27-10.
"I don't think their feet hit the ground when they came onto the field," Dawson told the newspaper. "I got the story that Bud Grant showed the team the highlight the day of the game."
August, 19, 2014
8/19/14
8:00
AM ET
GREEN BAY, Wis. -- Maybe you've seen
the picture from Super Bowl I
, when
Kansas City Chiefs
quarterback Len Dawson was photographed in full uniform, sitting on a chair in the locker room and taking a drag off a cigarette during halftime of the game against the
Green Bay Packers
.
Or perhaps you've heard the story of Packers defensive end Ezra Johnson
scarfing down a hot dog
on the sideline during a preseason game in 1980.
That is not the NFL that Chip Kelly and Mike McCarthy believe in.
"Not to say that stuff didn't work," Packers outside linebacker
Clay Matthews
joked.
[+] Enlarge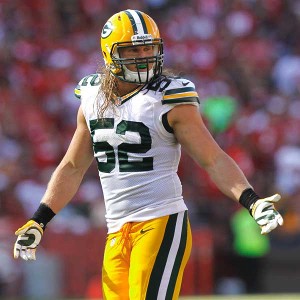 Cary Edmondson/USA TODAY Sports"There was a point where you'd smoke cigarettes and eat hot dogs at halftime," Clay Matthews said. "Now, we have specifically designed drinks for us and stuff that gets you up and going."
There has been much written of late about how Kelly, the
Philadelphia Eagles
' second-year coach, has brought an element of science to the NFL game. An
ESPN the Magazine profile
of Kelly by Seth Wickersham detailed how the Eagles players "wear mandated heart monitors and GPS devices. Trainers carry water bottles labeled with each player's name and after practice ask the players to pee into a cup, part of Kelly's plan to track hydration. A monitor on a wall in the facility ranks the most hydrated players. Drinking water is now a drinking game."
In a
recent Grantland.com story
, Chris B. Brown devoted a part of his Kelly profile to explaining how the Eagles take part in a full-speed practice the day before games "rather than the leisurely walk-throughs run by essentially every other team in the league."
If much of this sounds familiar, it's because in preparing for his ninth season as Packers coach, McCarthy has adopted some of the same practices in Green Bay.
This offseason, the Packers hired Catapult Sports, an Australian-based company that uses GPS technology to compile live data on athletic exertion and help determine how injuries can be prevented.
Nearly a month into training camp, and the Packers, who have been
crushed by injuries in recent years
, had just seven players who sat out of practice on Monday. Only one of them, defensive tackle
Letroy Guion
, had a muscle pull.
"I don't want to really talk about it, honestly," McCarthy said Monday of the relatively low injury totals. "We have a lot of football left."
McCarthy also altered his weekly routine that will put the players through a practice the day before a game. Previously, all of the Packers' on-field work was completed about 48 hours before kickoff.
"Here we are now getting it going on Saturday," Matthews said. "It's a fast, crisp practice. The next thing you know [the game is] the following day. So it doesn't feel like there's a lull. It doesn't feel like there's a wait until the game. You just kind of roll right into it."
And then this summer, the
Packers hired nutritionist
Adam Korzun, who previously worked at the University of Oregon, where it just so happens Kelly coached before jumping to the NFL in 2013. Korzun has been working closely with strength and conditioning coach Mark Lovat.
"These are … discussions that have been going on for some time," McCarthy said when asked about the comparisons to Kelly's program. "Mark Lovat does a great job staying on the front end of the research and the stuff that's out there. We've done a pretty good job around here training our players and winning games.
"We're about winning championships. Anything we feel we can do better, we're going to do our due diligence, go through it. Never want to just do something because someone else did it. But if they're doing something that's better than what we're doing, then we're going to do it. This is the Green Bay Packers. We have tremendous resources and our organization gives us that each and every year, and we feel the changes we made have been for the best."
Matthews' younger brother Casey is a linebacker for the Eagles, but he said the two have not spent much time discussing the similarities of their respective team's use of sports science. Clay Matthews said he has done some reading about what the Eagles are doing, and it sounds a lot like what's going in Green Bay. Matthews said the Packers are monitoring players' hydration levels by checking urine samples on a regular basis just like the Eagles do.
"Seeing this change, I'm able to buy into it," Matthews said. "And I think the other players are too just because of the science behind it."
Receiver
Randall Cobb
, who said he has changed his eating habits and has not eaten red meat in three months, said the team has done sleep studies to give players more information about their health and conditioning.
"Now it's on us as pros to go out and do those things," Cobb said. "They're giving us the education and helping us understand that what we can be doing to help ourselves."
This is not the NFL of Dawson and Johnson, of halftime smoke breaks and sideline sausages.
"I just think it's the natural progression of the league," Matthews said. "There was a point where you'd smoke cigarettes and eat hot dogs at halftime. Now, we have specifically designed drinks for us and stuff that gets you up and going."
July, 1, 2009
7/01/09
10:14
AM ET
Posted by ESPN.com staff
Chicago Bears
Detroit Lions
Green Bay Packers
Minnesota Vikings