April, 17, 2014
4/17/14
10:00
AM ET
GREEN BAY, Wis. -- Pick after pick crawled across the bottom of television screens last April 25, 26 and 27 and those wondering when the
Green Bay Packers
would draft a safety got their answer when the 254
th
-- and final -- pick in the 2013 NFL draft was announced.
Three safeties went in the first round, but none to the Packers.
Two more came off the board in Round 2, but neither was a Packers pick.
[+] Enlarge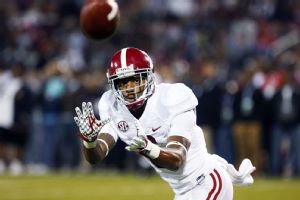 AP Photo/Rogelio SolisHa Ha Clinton-Dix may be available to the Packers when they draft in the first round.
Seventeen more were drafted on the third and final day, yet the Packers still had not filled one of their biggest needs.
That's not to say they went into last year's draft wholly convinced that they didn't need help at the position. But when it came time to exercise each of his selections, there wasn't a safety sitting there that intrigued general manager Ted Thompson enough to make that call.
Thompson liked a few of the safeties in the draft, but the ones he was sold on were either already off the board or would have been a reach at the time of his pick.
So here are the Packers, nearly a year later, and Thompson still has not put pen to paper on a contract for a new safety of any consequence. (And no, street free agent
Chris Banjo
does not count.)
That has to change next month, when Thompson will take nine selections into the May 8-10 NFL draft, doesn't it?
If Thompson fails to land one of the top, say, five or six safeties in this draft -- be it
Ha Ha Clinton-Dix
of Alabama or
Calvin Pryor
of Louisville, both of who are locks to go in the first round; or possible second- and third-round picks like
Jimmie Ward
of Northern Illinois,
Deone Bucannon
of Washington State or
Terrence Brooks
of Florida State -- then he will be handcuffing defensive coordinator Dom Capers in much the same fashion he did last season.
Last summer, Capers and coach Mike McCarthy opened the competition at free safety to a pair of second-year players,
Jerron McMillian
(a 2012 fourth-round round pick) and M.D. Jennings (an undrafted free agent the same year). It was a close competition, more so because neither one stood out, and when strong safety
Morgan Burnett
was unavailable for the season opener because of a hamstring injury, that duo started Week 1 at the two safety spots.
The Packers thought so little of their performances that they cut McMillian late last season and did not even bother this offseason to offer Jennings a restricted free agent tender, which would not have cost them any guaranteed money.
"Obviously we didn't get the production that we wanted from that [free safety] position," safeties coach Darren Perry said this offseason.
To be sure, the Packers need Burnett to show that Thompson wasn't misguided when he signed him to a four-year, $24.75 million contract last summer.
"I think he's fully capable of doing it," McCarthy said this offseason. "Morgan's going to do everything he can. He needs to be more assertive in play-making opportunities."
In order for Burnett to flourish, he can't be worried about the player lined up next to him. That player was supposed to be Nick Collins, the three-time Pro Bowl safety whose career was cut short in 2011 by a neck injury. At age 30, he still would have been in the prime of his career last season.
If the Packers don't find another Collins, they must at least come close.
Since the team's resurgence in the early 1990s, they have enjoyed a strong group of safeties -- from LeRoy Butler to Darren Sharper to Collins; all were Pro Bowl selections during their time in Green Bay.
The dynamic of the position has changed in recent years. Whereas Butler was a fierce hitter, today's safeties are judged just as much on speed and ball skills as anything else. What NFL teams need now are safeties than can cover chunks of yardage in milliseconds and knock passes away or, better yet, intercept them. The Packers were the only team in the NFL last season that didn't get a single interception from a safety.
"The intimidator isn't necessarily needed anymore," ESPN draft expert Mel Kiper Jr. said. "The big hitters, you don't need that."
Kiper doesn't believe Clinton-Dix will be around when the Packers come up at No. 21 in the first round, but Pryor very well could be available.
Even if Pryor is gone or Thompson passes on him, he will have other options, says Kiper.
"
Jimmy Ward
from Northern Illinois you could make an argument is the best cover safety in the draft," Kiper said. "He's coming off the [foot] injury but he had a very good career, has great ball skills, real good hands for the interception. And Ward is a decent tackler, but he doesn't have tremendous size [5-foot-11, 193 pounds].
"The days of that big, intimidating safety are just about over. Terrence Brooks from Florida State would fill that void at that point as a safety that could come in and help you right away."
No matter what Thompson does in the draft, Capers and McCarthy plan to work cornerback
Micah Hyde
at safety this offseason. Perhaps the fifth-round pick out of Iowa last year will be the full-time answer; he certainly showed enough as a rookie to warrant more than the 39.4 percent playing time he got last year. But if the Packers think Hyde can allow them to concentrate on other areas of need in the draft, they'd better be right.
March, 25, 2014
3/25/14
7:15
PM ET
GREEN BAY, Wis. -- No more dunking over the goal posts.
What's next, no more Lambeau Leaps?
It was worth wondering if that could be abolished after NFL vice president of officiating Dean Blandino said Tuesday the league will penalize players if they
celebrate with a dunk
over the crossbar.
Like the Lambeau Leap, which dates to 1993, the goalpost dunk was previously grandfathered in by the league, making it exempt from a celebration penalty.
Unlike the dunk, it looks like the Lambeau Leap is safe.
In response to an email seeking clarification about whether the Lambeau Leap could eventually join the goalpost dunk on the list of banned celebrations, NFL senior vice president of communications Greg Aiello wrote: "The goalpost issue is the potential delay of game for having to re-set the crossbar after being knocked askew by a dunker. It has happened a few times. Not the case for the leap."
The Lambeau Leap has become expected of all
Green Bay Packers
players who reach the end zone during a home game. It began when then-safety LeRoy Butler jumped into the stands during a game on Dec. 23, 1993, after he scored on a 25-yard fumble return that was originally recovered by defensive end Reggie White, who lateraled the ball to Butler.
"We grandfathered in some [celebrations], the Lambeau Leap and things like that, but dunking will come out," Blandino said, according to NFL.com. "Using the ball as a prop or any object as a prop, whether that's the goalpost, the crossbar, that will come out and that will be a foul next season."
May, 2, 2013
5/02/13
7:50
AM ET
We're Black and Blue All Over:
The Chicago Bears never mess around when it comes to signing their draft picks, and this week they became the NFL's first team to start locking up members of its 2013 draft class. Fifth-round pick Jordan Mills and sixth-round pick Cornelius Washington both agreed to terms Wednesday, as
Jeff Dickerson of ESPNChicago.com points out
.

There is no rush to sign draft picks at this time of year because NFL rules allow them to participate in offseason workouts even before they have a contract. And the NFL's current rookie scale has left less room for negotiating and made rookie deals more routine as training camp approaches.
Still, the Bears prefer to get their deals done early rather than risk market influence from other teams' deals later in the process. The players' incentive is to get their signing bonus earlier.
Continuing around the NFC North:
May, 1, 2013
5/01/13
11:30
AM ET
Perhaps you're aware of a series of tweets from former
Green Bay Packers
safety
LeRoy Butler
. They open a can of worms that we don't normally wade into here on the NFC North blog. This week, however, it seems appropriate.
To bring you up to date, Butler tweeted that a Wisconsin church canceled a speaking engagement (worth $8,500) because he had
tweeted support
for NBA player Jason Collins. Earlier this week, Collins became the first male athlete from a major American professional sport
to announce he is gay
.
According to Butler, the church gave him the option of keeping the gig if he deleted the tweet, apologized and "ask God [for] forgiveness." Butler said he declined. In a subsequent interview
with the Milwaukee Journal Sentinel,
Butler declined to name or provide an approximate location of the church.
A number of us have already discussed this -- quite civilly, I might add -- Tuesday morning on Twitter. Butler is a prominent former NFC North player who has maintained a public profile and has always been willing to utilize his freedom of speech. At the same time, of course, the church involved has every right to operate as it sees fit and under accordance with its core philosophies.
I don't think that a simple tweet of support would threaten the church's theology, especially if it isn't a part of the speech, but I'm nowhere close to an expert on such matters. In the end, the episode is a reminder of how complicated, divisive and multi-layered this issue remains even after Collins' momentous announcement.
The full tweets for those interested:
October, 16, 2009
10/16/09
11:05
AM ET

Posted by ESPN.com's Kevin Seifert
We stirred up parallel debates in this week's edition of "Have at It." We're apt to do that on occasion.
Brett Favre
suggested that Minnesota's 2009 team is the best he has played for, and so
we asked you
to compare it to the 1996 Green Bay squad that Favre led to a Super Bowl championship.
| | |
| --- | --- |
| | |
| | Glenn James/NFL |
| | Who deserves the nod: Reggie White's 1996 Packers or the 2009 Minnesota Vikings? |
Favre qualified his assessment -- "physically and from a talent level" -- but many of you broadened the discussion past the skills of the individual players and into the "best overall team" zone. On that level, very few of you were willing to project championship-level success for the Vikings after five games.
Wrote
Robbiemustgo32:
"I don't need to look at the rosters, the comparisons ended for me when I read '1996 Packers CHAMPIONSHIP group'."
Adambballn
wants "to see the Vikings play somebody" before drawing any conclusions. (Indeed, three of their victories have come against Cleveland, Detroit and St. Louis -- combined records of 2-13.)
A few of you attempted some roster analysis. After all, as
Cmwernick3201
noted: "Saying the '96 Packer team is better simply because they won the SB is invalid to the discussion."
I thought
pchrisb3443
had one of the less emotionally-charged evaluations:
Overall I'd go with the 1996 Packers and not just because I'm a Packer fan. This year's Vikings have the edge as far as running back and maybe offensive line but that's about it. As good as Jared Allen is, he's no Reggie White even at that point in Reggie's career. And to have Sean Jones at the other end just made Reggie even more effective. Percy Harvin's got one special team TD but he needs a few more to compare to the season [Desmond] Howard had. Mark Chmura and Keith Jackson at TE? No comparison there. The wideouts are close as are the defensive backs. I'd also take the '96 version of Favre over the '09 version but not by too terribly much. Let's not forget the coaching staffs. You've got to go with [Mike] Holmgren and his staff.
EXIT_HERE
concluded there is no debate after breaking it down this way:
QB: '96 Packers
RB: '09 Vikes
FB: '96 Packers
TE: '96 Packers
WR: '96 Packers
Oline: Even
Dline: Even
LB: Even
CB: '96 Packers
Safety: '96 Packers
Special Teams: '96 Packers
Coaching Staff: '96 Packers
My take?
I'm with those who don't think it's worth our time to debate whether Minnesota can match the accomplishments of the 1996 team. It's way too early in the season, and even Favre circled back this week and admitted he "caught a lot of heat" for even hinting at the suggestion. He emphasized that "we've got a long way to go to reach that team."
As we noted in the original post, the 1996 Packers are the only team in the past 36 years to lead the NFL in most points scored and fewest points allowed. That's a tremendous illustration of balance at a high level, something the Vikings have the potential to approach but probably won't achieve. Through five weeks, the Vikings rank No. 3 in points per game (31.2) and are tied for No. 9 in points allowed (18) per game.
As for the rosters themselves, the '96 Packers had five Pro Bowl players: Safety LeRoy Butler, tight end Keith Jackson, defensive end Reggie White, center Frank Winters and Favre. Based on how Pro Bowl voting works these days, I would suggest the Vikings have five near-locks for that honor: tailback
Adrian Peterson
, left guard
Steve Hutchinson
, defensive end Jared Allen, defensive tackle
Kevin Williams
and cornerback
Antoine Winfield
.
But when judging the rosters by position, as
EXIT_HERE
and others did, it's hard to give this year's Vikings group more than two advantages. I'll grant them running back and linebacker, but I'm feeling a bit shaky on the latter. Luckily I'm not a personnel evaluator. Just a two-bit blogger hack who enjoys a good debate.
October, 1, 2009
10/01/09
7:26
AM ET

Posted by ESPN.com's Kevin Seifert
I'm pretty convinced that current Minnesota and Green Bay players aren't nearly as affected by the rivalry between the teams as their predecessors were. Free agency, business arrangements and other modern-day advents have softened the emotions involved in such things.

But the feelings remain strong among alumni from both sides. We're already
well aware
what former Vikings quarterback Fran Tarkenton thinks of Brett Favre's arrival in Minnesota. Thursday,
Greg A. Bedard of the Milwaukee Journal Sentinel
published the reaction of former Packers players.
Hall of Fame defensive end Willie Davis said, "I just don't understand why he went to Minnesota." Former safety LeRoy Butler, meanwhile, said he cringes at the thought of watching ESPN highlights of Favre beating the Packers.
"It's going to be on every station, if they lose to the Vikings, for four days," Butler said. "I don't want to see that. I don't want to see the four-letter network have Brett's picture up and the lovefest. 'Ah, he's this. He's that. He just loves playing the game.' Nope, sorry Brett. You're on the other side now."
Former guard Jerry Kramer blamed the Packers' handling of the situation last summer for creating the vengeance he believes Favre feels now. And former receiver Antonio Freeman believes vengeance is the sole reason Favre decided to play this season in Minnesota.
Favre is scheduled to speak Thursday afternoon at the Vikings' training facility. I'll be there and will relay you the latest. For now, let's take a spin around the NFC North:
April, 24, 2009
4/24/09
6:57
AM ET
Posted by ESPN.com's Kevin Seifert
How did Minnesota miss its pick in the first round of the 2003 draft? For some reason, former Vikings owner Red McCombs re-visited that issue Friday with Rick Alonzo of the St. Paul Pioneer Press.

As you might recall, the Vikings believed they had made a deal with Baltimore to move from No. 7 to No. 9, but the trade was never fully reported to the NFL before time expired. The Vikings ended up selecting defensive tackle Kevin Williams with the No. 9 pick after Baltimore and Jacksonville leapfrogged them in positioning.
McCombs told Alonzo that the mistake occurred "because Mike [Tice] and the guys didn't have their damn signals straight. That was like junior high school handling of a situation. We didn't go up and get our draft pick in. That showed lack of organization."
The story that has always been told is that then-Vikings president Gary Woods, a McCombs associate from San Antonio, ordered the Vikings to trade down moments before the snafu occurred. In an e-mail to Alonzo, Tice said: "Being told MINUTES before the pick was to be made... 'TRADE THE PICK'... thanks."
McCombs, however, disputed that version and said: "That never happened."
Check out the story for Tice's full response to McCombs' finger-pointing.
I look at this exchange as an unfortunate addition to some of the bizarre chapters McCombs wrote at the end of his tenure with the team. Tice technically had veto power over draft decisions, but to blame him and his coaching staff alone for the mistake is a stretch.
Missing the pick reflected franchise-wide disorganization and confusion, starting at the very top. There was undoubtedly an error made, but to rub anyone's nose in it six years later seems totally unnecessary. I think the statute of limitations would have passed by now.

Continuing around the NFC North:
April, 2, 2009
4/02/09
11:15
AM ET
Posted by ESPN.com's Kevin Seifert
If you share an interest in quantitative analysis, this latest effort from ESPN Stats & Information is worth your time.
The research staff ranked more than 13,000 draft choices to identify the best draft class in the history of each NFL franchise, dating to the start of the modern draft in 1967. Each team has been seeded 1-32, and a "tournament" will ensue to determine the best draft class of all time. Fans can begin voting Thursday.
The rankings are based on the following criteria: Hall of Fame, MVP awards, first- and second-team All-Pro selections, Pro Bowls, offensive and defensive player of the year, rookie of the year awards, and participation in the Super Bowl.
You need an Insider subscription to view the entire project, but I can give you the results for each NFC North team:
Chicago: 1981. Includes offensive lineman Keith Van Horne (Round 1) and linebacker Mike Singletary (Round 2).

Detroit: 1989. Includes running back Barry Sanders (Round 1) and cornerback Ray Crockett (Round 4).

Green Bay: 1990. Includes safety LeRoy Butler (Round 2) and linebacker Bryce Paup (Round 6).

Minnesota: 1967. Includes defensive lineman Alan Page (Round 1) and defensive back Bob Bryant (Round 7).
July, 20, 2008
7/20/08
7:24
AM ET
Posted by ESPN.com's Kevin Seifert
GREEN BAY, WIS. -- After a night of celebration, the Green Bay Packers have to get down to business. Training camp opens in a week. Their draft class remains unsigned, as does running back Ryan Grant, an exclusive-rights free agent who is pushing for a long-term extension.
And then, there is that little Brett Favre issue, which continues its run as the lead story of Black and Blue all over.