NFC North:

Lions-Vikings111509
November, 15, 2009
11/15/09
8:01
PM ET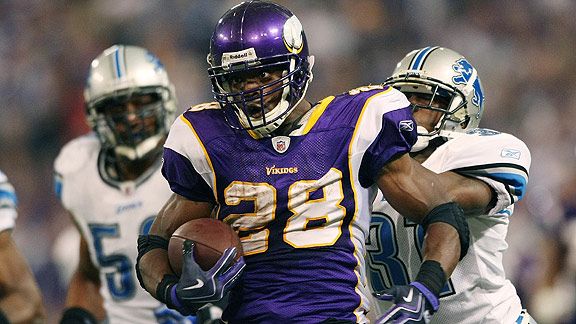 Elsa/Getty ImagesAdrian Peterson was chased down Sunday by Phillip Buchanon, who prevented a touchdown by forcing a fumble that Detroit recovered in the end zone.
MINNEAPOLIS -- Sorry. I'm a sucker for symbolism. Sometimes these things just pop into my noggin. So as I descended into the Metrodome basement after Minnesota's
27-10 victory
over Detroit , all I could think about was the
Phillip Buchanon
play.
Surely you've seen it by now. Minnesota tailback
Adrian Peterson
broke into the clear at the Lions' 47-yard line during the second quarter. Pretty much every time that's happened in Peterson's career, the result has been a touchdown. But Buchanon, the Lions' cornerback who once ran a 40-yard dash in 4.31 seconds, gave chase for 25 yards before catching up.
The NFL rushing champion was stunned as Buchanon tackled him with his left hand and punched the ball loose with his right. The Lions recovered for a touchback.
"I was caught off guard," said Peterson, adding that he was "sick" about the play and jokingly saying he wanted to "punch" Buchanon. "Overall," Peterson said, "I feel like we've got a lot to learn from this game."
Indeed, the Vikings overmatched the Lions in every way Sunday and ultimately overwhelmed them. They are 8-1 and have a three-game lead in the NFC North. This season is rapidly shaping up as a once-in-a-generation combination of opportunity and chance, putting the Vikings on a pretty short list of candidates to represent the NFC in the Super Bowl.
But lest anyone get too convinced of that destiny, remember this: If Adrian Peterson can get caught from behind, anything can happen.
"He just made a great play," Peterson said. "Those guys on the other side of the ball, sometimes those guys are fast, too."
But the second lesson/reminder of Sunday was that Minnesota has the offensive firepower to overcome even a series of similar occurrences. (It helped to be matched against the Lions' horrid pass defense, which has allowed quarterbacks to complete 71 percent of their passes on the way to a 107.8 rating.)
Minnesota gashed the Lions for 492 total yards, an average of 7.8 yards per play. Five of them went for 40 or more yards. Quarterback
Brett Favre
passed for 344 yards, receiver
Sidney Rice
totaled 201 receiving yards and Peterson finished with 133 rushing yards.
I understand the Vikings won't be playing the Lions' defense every week, and certainly not in any postseason game. But as they continue to compile elite offensive numbers, the confidence of the players surrounding Favre will only improve. Let's take a closer look at what we saw Sunday:
Rice should no longer surprise any opponent.
Entering this year, many of us considered Rice a possession/red zone receiver. Although he does not have elite speed, it should now be clear he has the ball skills to catch passes at any point on the field. On Sunday, his seven receptions included catches of 56, 43, 43, and 21 yards.
Rice outmaneuvered Buchanon (or gently shoved, depending on your team allegiance) for a 43-yard reception in the second quarter. In the fourth quarter, Lions safety
Ko Simpson
stood flat-footed in the middle of the field as Rice blew past him. "He told me afterwards that he thought I was going to break off my route," Rice said.
A possession receiver might do that, but we really shouldn't consider Rice that way anymore. In nine games this season, he is averaging 17.9 yards on 44 catches. He said Sunday that his favorite NFL receiver is Arizona's
Larry Fitzgerald
, who has maximized his receiving skills to offset speed that falls short of elite.
"As far as deep threats go," said Favre, "Sidney ranks right up there with the best."
To my good fortune, at least for this post, Rice's day ended with a bit more symbolism. With the game in hand at the 5:37 mark of the fourth quarter, the Vikings realized Rice was 9 yards away from Sammy White's team record of 210 receiving yards. Coach Brad Childress agreed on a short passing play that would give Rice the record, but Rice dropped the pass from backup quarterback
Tarvaris Jackson
.
"My bad," Rice said.
Yes, there is always room for improvement.
Not to be outdone, rookie receiver Percy Harvin turned a short slant pass into a 40-yard play in the fourth quarter.
Against a four-man defensive line, Favre opted against audibling to a running play based on his faith that Harvin could make an open-field play.
Harvin bounced off a strong hit from Lions rookie linebacker
DeAndre Levy
, kept his balance and beat the rest of the Lions' defense to the sideline.
"They actually played the pass on that play," Favre said. "By rule you would have thought, 'Hey, let's go to the run.' It helps when you have players that make plays. I said, 'Hey, give Percy a chance.'"
Buchanon's play against Peterson overshadowed a tremendous run from Peterson,
who clearly had live legs coming out of the Vikings' bye.
On the play, Peterson ran through four would-be tacklers, two at the line of scrimmage and two more at the Vikings' 47-yard line. (Levy actually had two chances at him.) Nine times out of 10, it would have been a spectacular 61-yard touchdown, replayed endlessly on highlight shows for the next 24 hours.
"That was one of the better runs, I don't want to say that I've ever seen, but in recent memory," Favre said. "It seemed like the best I've ever seen at the time. ... Adrian, he'll be killing himself all night over that. But the guy is amazing, the way he can stop and go."
Speaking as if he knew what I would be writing about Sunday, Peterson offered a final bit of perspective.
"In the NFL," he said, "you definitely know it's going to be up and down. You can't be caught up and still looking behind you. You have to play the next play."
That's what Minnesota did Sunday. After a little reminder.
November, 15, 2009
11/15/09
7:44
PM ET
MINNEAPOLIS -- I've spent a lot of time harping on the absolute necessity that Detroit upgrade its defensive line. On Sunday, you saw why the Lions' offensive line isn't much further behind.
Quarterback
Matthew Stafford
took a beating in the Lions' 27-10 loss to Detroit, one that I don't think any Lions official or fan wants to see many more of. The Vikings sacked him three times and hit him on at least 13 other occasions, according to unofficial postgame statistics. I also had the Lions with six dropped passes, although I admit I lost count late in the fourth quarter.
[+] Enlarge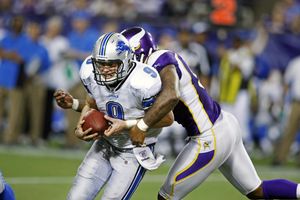 Bruce Kluckhohn/US PresswireMatthew Stafford faced pressure all day from the Minnesota defense.
It didn't take long for Detroit coach Jim Schwartz to bring up the topic during his postgame interview.
"We got our quarterback killed too much today," he said. Later, he added: "We weren't able to protect him and he wasn't able to make throws. We tried to throw quickly. We tried to throw screens and we handled it poorly as a team."
Schwartz said he wasn't "worried" about Stafford, who seems to be a pretty tough cookie. The Vikings have an exceptional defensive line, but the worst-case scenario for any young quarterback is to get beaten up and down before he has his feet firmly set in the pro game.
"It was a rough game," said Stafford, who was under such duress that he totaled only 224 yards on 29 completions. "They are good up front. They brought some good dogs and blitzes and got to us. We just have to play better."
One other Lions note: Many of us were surprised by the absence of safety
Louis Delmas
, who didn't play because of an infected tooth. That list included the Lions, who included Delmas among their 45 active players on the assumption he would be able to play with the condition. Schwartz said he "didn't' think it would be an issue" but found out otherwise during pregame warm-ups.
"He was never able to get rid of the pain," Schwartz said. "When you have a really bad toothache, you can't hit anybody, you can't run or talk. When you get a safety that can't run, talk or hit anybody, it would have been better to have known that beforehand. Louis is a tough guy that thought he would be able to answer the bell and he wasn't able to, which left us a little shorthanded. That is something we need to do a better job communicating before the game."
November, 15, 2009
11/15/09
4:23
PM ET
MINNEAPOLIS -- Minnesota is 8-1 for the first time since 1998 after
breaking away from Detroit
in the second half Sunday at the Metrodome. I wouldn't classify it as the Vikings' best performance of the season by any means, but I think it once again demonstrated how an elite quarterback can impact a run-based offense.


Vikings quarterback
Brett Favre
completed three passes of more than 40 yards to receiver
Sidney Rice
, and the third -- a 56-yarder early in the fourth quarter -- set up a touchdown that gave the Vikings a commanding two-score lead. Favre finished with 342 passing yards, the most since he joined the Vikings in August, and Rice caught seven passes for 201 yards.
We should point out that Detroit's pass defense has been horrific this season, allowing opponents to complete 71.7 percent of their passes during the first half of the season. One of Rice's receptions, in fact, came against a blown Lions coverage. But without Favre's accurate passing, the Vikings would have been mired in a much closer endgame.
Vikings tailback
Adrian Peterson
rushed for 133 yards and two scores, but his fumble on a second-quarter breakaway symbolized the Vikings' early troubles in this game. The Lions were as close as 17-10 in the fourth quarter, and quarterback
Matthew Stafford
performed well despite absorbing a brutal beating to keep the game credible.
I'll have more in a few hours. Until then …
November, 15, 2009
11/15/09
3:34
PM ET
MINNEAPOLIS -- We have a barnburner here of sorts.
Minnesota capitalized on an early second-half fumble to take a 14-point lead but hasn't been able to land a knockout punch on Detroit. The Lions put together an 84-yard drive, resulting in an 8-yard touchdown pass to
Will Heller
to make it 17-10, and they now have their second possession with a chance to tie.
I'm not sure if the Lions have the firepower to put together a full comeback, but to this point they haven't gone away. The Vikings, penalized 10 times thus far, are doing their part.
I'll keep you updated.
November, 15, 2009
11/15/09
2:37
PM ET
MINNEAPOLIS -- Some thoughts at halftime as the Vikings hold a 7-point lead over Detroit:
November, 15, 2009
11/15/09
2:01
PM ET
MINNEAPOLIS -- There's been a lot of talk recently about the burgeoning relationship between Minnesota quarterback
Brett Favre
and rookie receiver
Percy Harvin
. But fellow receiver
Sidney Rice
just reminded us that he's not far behind.
Favre trusted Rice on a jump ball in what amounted to a free play after Detroit linebacker
Larry Foote
jumped offsides. Rice got away with a bit of a push-off against cornerback
Phillip Buchanon
but ultimately came down with a 43-yard reception.
That seemed to spark an offense that opened this game in pretty lackluster fashion; the Vikings had only three points to show for two possessions deep in Lions territory. On the play after Rice's reception, tailback
Adrian Peterson
muscled his way out of Jason Hunter's arms and ran away from the rest of the Lions' defense for a 22-yard touchdown.
It's 10-0 midway through the first quarter, and frankly, I'm not sure if I see the Lions coming back.
November, 15, 2009
11/15/09
1:27
PM ET
MINNEAPOLIS -- Detroit opened Sunday's game at Minnesota without exciting rookie safety
Louis Delmas
, and it's not clear if he'll play at all.
According to the Lions, Delmas had an infected tooth and jaw that worsened during pregame warmups. The Lions have three reserve safeties on their active roster:
Marquand Manuel
,
Kalvin Pearson
and
Marvin White
. To this point, Manuel has been playing in Delmas' spot.