June, 6, 2012
6/06/12
8:57
AM ET
By
ESPN.com staff
| ESPN.com
Chicago Bears
With the coaching staff looking to add a special offensive package featuring Devin Hester, the Bears plan to cut down on his kickoff returns
in favor of punt-return duty
, the Chicago Tribune reports.
The Bears and Packers will add a new facet to their rivalry June 18 when current and former players from both sides -- including Mike Ditka, Richard Dent, Mason Crosby and Lynn Dickey --
hit the links at Medinah Country Club
for the "Rivalry Cup."
Detroit Lions
Despite suffering two concussions in a two-month span last season, running back Jahvid Best is eager to get back to full speed -- and
not worried about another head injury
. "There's no real point to thinking about it," said Best, who has not yet been cleared for contact. "I mean, I'm not impaired or anything."
Defensive coordinator Gunther Cunningham tells the Detroit Free Press that
he'll occasionally move Ndamukong Suh
from his customary spot at left defensive tackle to right defensive tackle in an effort to boost Suh's sack totals.
The Lions brought back receiver Maurice Stovall, who caught one pass in 15 games last season,
on a one-year contract
and cut receiver Jared Karstetter.
Green Bay Packers
Defensive end Mike Neal said the four-game suspension levied against him by the NFL
was for his use of Adderall
, a drug used to treat attention deficit/hyperactivity disorder. He's also battled obsessive-compulsive disorder, he tells the Green Bay Press-Gazette.
Quarterback Aaron Rodgers talks about his "obsessively competitive" attitude, last season's disappointing end and more in
a Q&A with Tyler Dunne
.
Minnesota Vikings
Receiver Percy Harvin, recovering from offseason shoulder surgery, and linebacker Chad Greenway, who missed some time last week due to a family matter,
both participated in organized team activities
Tuesday, the Vikings' official site reported.
The Vikings
signed A.J. Love
, an undrafted rookie wide receiver from South Florida.
June, 22, 2011
6/22/11
7:30
AM ET
We're Black and Blue All Over:
Dhani Jones is a journeyman NFL linebacker who is promoting a book. Why so many people are worked up about his opinion on the best players at his position is beyond me.
As you know by now, Jones did not include Chicago Bears linebacker Brian Urlacher among his top 10 and, in an interview with the NFL Network, asked when Urlacher had last gotten off a block. There is no doubt that Urlacher's best days are behind him, and that taking on offensive linemen isn't his strong suit, but I think anyone who watched the Bears last season know he played at a high level.
Jones' comments spurred
a Hot Button debate
from our friends at ESPNChicago.com. Jon Greenberg put Urlacher at No. 12 on his list. For what it's worth, ESPN.com ranked Urlacher No. 8 in its
offseason positional Power Rankings
.
Ultimately, I'm on board with Jeff Dickerson's take: "Here's the easiest way to sum up Brian Urlacher's importance at the linebacker position for the Chicago Bears: When he doesn't play, they lose. The Bears went 0-7 without Urlacher running the defense in 2004, and 7-9 in 2009 when a wrist injury sidelined the middle linebacker for roughly the entire season. The following seasons after those injuries, the Bears won the division (2005, '10), due in large part to the play of a healthy Urlacher."
Continuing around the NFC North:
January, 8, 2010
1/08/10
4:00
PM ET
AFC
:
Ravens-Patriots
:
Graham
|
Walker
»
Jets-Bengals
:
Graham
|
Walker
NFC
:
Cowboys-Eagles
:
Mosley
»
Packers-Cardinals
:
Sando
|
Seifert
Three nuggets of knowledge about Saturday's Packers-Cardinals wild-card game:
[+] Enlarge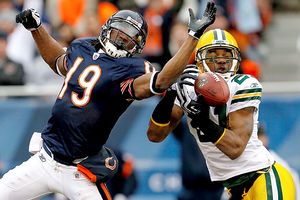 Jonathan Daniel/Getty ImagesCharles Woodson draws a tough assignment this week: covering Larry Fitzgerald.
We've spent time discussing the matchup
between Green Bay's nickel defenders and Arizona's receivers without mentioning the marquee matchup: Packers cornerback
Charles Woodson
and Cardinals receiver
Larry Fitzgerald
. The Packers have moved Woodson around their defense a fair amount this season, allowing him to develop from pure cover corner to a top candidate for the NFL's Defensive Player of the Year award. But speaking to reporters in Green Bay this week, Woodson left little doubt about the Packers' intentions. "We'll mix it up," Woodson said. "We'll try to throw them off balance a little bit and put me in some different positions. It ain't going to be a secret: Most of the day I'll probably be on Fitzgerald." Football fans of all allegiances should take a minute to enjoy that matchup.
Sunday's game could be a milestone affair for the Packers' quarterback position.
The last time someone other than
Brett Favre
started a playoff victory was before current starter
Aaron Rodgers
was born. That's right. Green Bay's last postseason victory without Favre occurred on Jan. 8, 1983. On that day, Lynn Dickey led the Packers to a 41-16 victory against St. Louis at Lambeau Field. Rodgers was born Dec. 2, 1983. The last time the Packers won a road playoff game with a quarterback other than Favre? You have to go back to Jan. 14, 1968. On that day, the Packers and Bart Starr defeated Oakland 33-14 in Super Bowl II at the Orange Bowl in Miami. Wow.
This game will feature two of the NFL's top four quarterbacks against the blitz this season.
According to the Elias Sports Bureau, Rodgers finished No. 2 on that list with a 117.4 passer rating against the blitz. Arizona's
Kurt Warner
was No. 4 at 111.8. (Elias defined a blitz as five or more pass-rushers.) Sacks don't count against passer rating, however, and so we should point out that Rodgers was sacked 9.4 percent of the time against blitzes. Warner took a sack on 5.8 percent of those instances. As the season progressed, both teams moved to shorter drops and quicker releases. That shift, along with each quarterback's success when he got the ball off during the regular season, could make blitzing a risky proposition in this game.
January, 6, 2010
1/06/10
11:04
AM ET
Green Bay will return to the practice field Wednesday to continue preparations for Sunday's wild-card playoff game at Arizona, meaning it's time for us to transition from review mode to postseason mode. We'll start it off by telling Cardinals coach Ken Whisenhunt to lighten up.
This column
from Dan Bickley of the Arizona Republic suggests Whisenhunt is upset that the Packers ran up the score in two relatively meaningless games this year at University of Phoenix Stadium. I suppose there could be a level of media extrapolation here, but the claim is a joke regardless.
According to Bickley, Whisenhunt thought Packers coach Mike McCarthy needlessly game-planned for the teams' preseason game in August, one the Packers led 38-10 at halftime. Apparently that violated some kind of unwritten preseason rule.
On that count, I strongly disagree. The third preseason game is usually the only August affair that NFL teams care about. It's the closest to a regular season game as there is, and there are no articles of war. If McCarthy thought it was best for his team to work in a game-planning structure, he had every right to do it. If anything, a 28-point halftime deficit should have said more about the Cardinals than the Packers.
Meanwhile, Whisenhunt suggested McCarthy prolonged his starters' playing time in last Sunday's 33-7 victory to pad their statistics. At best, that claim has limited factual basis.
It's true that quarterback
Aaron Rodgers
played long enough to pass
Brett Favre
for second on the Packers' all-time list of most passing yards in a season. But if stat padding were truly a high priority, Rodgers would have continued playing. When he departed, Rodgers was only 25 yards away from passing Lynn Dickey for the No. 1 spot on that list.
I'm sure Whisenhunt doesn't appreciate any suggestion that the Packers have manhandled his team this year.
But if the games were as meaningless as Whisenhunt apparently believes they were, then he shouldn't be upset with the manner his team lost them. They either matter, or they don't. As far as he should be concerned, the Packers and Cardinals will meet for the first time Sunday.