NFC North:

Malcolm Jenkins
September, 30, 2012
9/30/12
7:44
PM ET
GREEN BAY, Wis. -- A quick look at Sunday's events at Lambeau Field:


What it means
: The
Green Bay Packers
salvaged their season with a
wild 28-27 victory
over the still-winless
New Orleans Saints
. The Packers are 2-2 after four games. History has not been kind to 1-3 teams, who have missed the playoffs 85.3 percent of the time under the NFL's current playoff format.
Officiating reprise
: The Packers had another shaky day with officials. But six days after the infamous Fail Mary play cost them in a 14-12 loss at the
Seattle Seahawks
, they did benefit from a call that prevented the Saints from taking a late lead. Place-kicker
Garrett Hartley
's 43-yard field goal would have given the Saints a 30-28 lead with 2 minutes, 55 seconds left. But referee Jeff Triplette called the Saints for holding on the field goal protection, an unusual call and one for which Triplette did not name the offender. The Packers moved Hartley 5 yards closer by jumping offsides prior to the next kick, but ultimately Hartley was wide left on the ensuing 48-yard attempt.
More officiating fun
: Earlier in the game, Saints receiver
Marques Colston
appeared to get away with pushing Packers safety
Morgan Burnett
to the ground before catching a 20-yard touchdown in the first quarter. Replays also showed the Saints'
Darren Sproles
fumbled on the kickoff return that preceded the go-ahead score. Triplette ruled Sproles down by contact, and Packers coach Mike McCarthy didn't have a challenge remaining. All is well that ends well, however.
Defensive issues
: The Packers looked more like their 2011 defense than the one they have displayed in their past two games of 2012. Saints quarterback
Drew Brees
threw for 446 yards. In the end, however, the Packers had their best offensive game of the season, as well. They finished with 430 yards and quarterback
Aaron Rodgers
had four touchdown passes.
Brief Harrell era
: The Packers were in position to extend a 21-17 lead late in the third quarter when Rodgers departed after Saints safety
Malcolm Jenkins
poked him in the right eye on a blitz. Backup
Graham Harrell
, on first-and-goal at the 2-yard line, promptly tripped over center
Jeff Saturday
's leg and couldn't connect on a clean handoff with tailback
Cedric Benson
. Jenkins recovered the ball at the 8-yard line, and four plays later, Brees found reserve receiver
Joe Morgan
open against a busted coverage for an 80-yard touchdown play. What could have at least been a 24-17 lead turned into 24-21 deficit in a matter of 1:17 seconds.
What's next
: The Packers are on the road next Sunday to play at the
Indianapolis Colts
.
September, 9, 2011
9/09/11
2:35
AM ET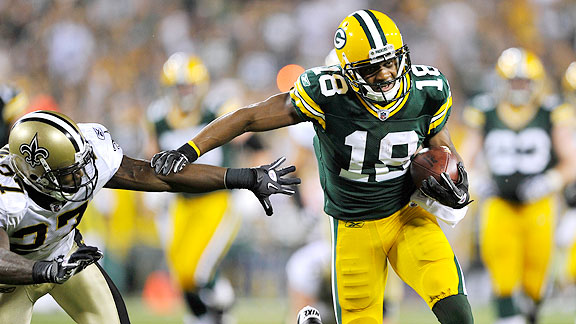 AP Photo/Jim PrischingRandall Cobb racked up two touchdowns in his debut, including a 108-yard kickoff return.
GREEN BAY, Wis. -- Some of you laughed, some of you listened and many of you mocked the audacity of some two-bit blogger's observation during a tiny window of an NFL training camp. To be sure, I'm nothing but a football amateur. Yet even to me, it was
obvious last month
that
Randall Cobb
would be the NFC North's newest dynamic playmaker.
I can't say I expected Cobb to score a pair of touchdowns in his NFL debut, as he did Thursday night in the
Green Bay Packers
' wild
42-34 victory
over the
New Orleans Saints
. But every now and then, a player comes along whose open-field running skills transcend the trained eye and are obvious to the masses. In this instance, you knew it was a matter of time.
"He's shown that from the first day of training camp," Packers coach Mike McCarthy said. "When other players talk about a player having a chance to be special, he is one of those guys. He's very raw. He's picking up our system. But he knows what to do when he gets the football in his hands, and he knows how to get open. He's a gifted young man with a lot of good football in front of him."
Cobb touched the ball on five live plays Thursday night. One was a 108-yard kickoff return, tied for the longest touchdown return in NFL history. Another was a 32-yard touchdown reception. That both came after what Cobb admitted were "rookie mistakes" only added to the significance of his debut. Namely: In his first NFL game, and 17 days after his 21st birthday, Cobb turned two busted plays into thrilling touchdowns in a nationally televised prime-time game.
"That's special," receiver
Greg Jennings
said, "and I don't care who does it or how."
There were a number of takeaways from Thursday night's game. I'm sure many of you are concerned about a defense that gave up 419 passing yards to Saints quarterback
Drew Brees
and needed a goal-line stop on the game's final play to ensure victory. The
uncertain status
of cornerback
Tramon Williams
(shoulder) is also troubling, but for me it was hard to avoid putting Cobb at the top of my postgame list.
We've spent plenty of time discussing the Packers' logjam of offensive skill players and wondering how they all could fit together. Would Cobb get blocked from an offensive contribution, especially early in the season? The answer, based on Thursday night's game, was most definitely not.
Quarterback
Aaron Rodgers
spread his 27 completions among nine receivers. On a first down in the first quarter, Rodgers changed the play just before the snap. Cobb's rookie wires got crossed, however, and instead of running a drag route to the sidelines, he ran a slant over the middle. Rodgers followed along, hit him in stride at the 25-yard line and watched as Cobb ran away from safety
Roman Harper
, put a move on safety
Malcolm Jenkins
and then leaped over the goal line.
"I ran the wrong route and luckily scored," Cobb said. "I'm going to hear about that in meeting tomorrow and probably get a negative [grade] for it. But we just made a play. That was the big thing."
[+] Enlarge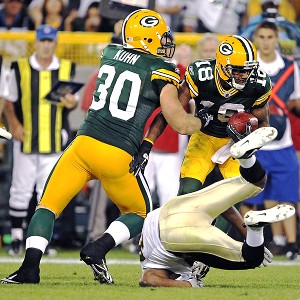 Jonathan Daniel/Getty ImagesRandall Cobb broke the team's rules on touchbacks when he brought the ball out from the end zone and scrambled for an 108-yard score.
Indeed, Cobb got a negative grade during the game from McCarthy and special teams coordinator Shawn Slocum after breaking a team rule on his third-quarter kickoff return. In the wake of the NFL's decision to move kickoffs to the 35-yard line, Slocum has instructed returners to line up 5 yards deep in the end zone.
"If I have to take any steps back," Cobb said, "the rule is don't bring it out. And I did. I'm going to be in trouble for that one. I'm thinking I'm going to get chewed out. "
In truth, Cobb probably wouldn't have made it past the 25-yard line had teammate
John Kuhn
not braced him after the Saints'
Leigh Torrence
's low hit.
"The first thing that Slocum tells us is to pick up the returner when he gets tackled," Kuhn said. "I just wanted to pick him up before he got tackled."
Still, Cobb displayed unteachable instincts and the presence of mind to accelerate downfield before the Saints realized what had happened.
"I just got lost in the moment there," Cobb said. "I just trusted in God. He told me to bring it out. I'm not supposed to bring that out at all. I'm not. Some things are illogical, and some things are the power of God. That definitely was the power of God telling me to bring it out. And he gave me great teammates to help block downfield."
McCarthy was admittedly furious that Cobb broke the 5-yard rule, but sometimes as a coach you have to shake your head and accept when a player's skills make all your structure irrelevant.
It's worth noting that Cobb quickly kneeled on his next return, which he fielded 7 yards deep in the end zone. The Packers weren't making any immediate changes to their rules, but I honestly wonder whether NFL teams watched what happened Thursday night and re-evaluated their planned responses to the league's new rule.
Of the 12 kickoffs Thursday night, eight went for touchbacks. One was an onside kick. One was returned 108 yards and another 57 yards (by the Saints'
Darren Sproles
).
If you have a potentially game-breaking returner, do you give him more leeway than you were previously planning? Should the rule really dictate touchbacks on 75 percent of a game's kickoffs?
Cobb demonstrated the benefits of the former, even if it was unintended.
"I scored two touchdowns, and they were both mess-ups," he said, laughing in the Packers' celebratory postgame locker room. "They'll go down as 'MAs.' Missed assignments. But my first game, it exceeded all of my expectations."
Maybe for the first game. But you knew it was coming sometime. NFC North, meet Randall Cobb. He's going to be around for a while.
September, 3, 2010
9/03/10
6:22
PM ET
I guess I can cross off "
X-Files
" from my list of story angles for next week's rematch of the NFC Championship Game. The
Minnesota Vikings
and
New Orleans Saints
are still scheduled to play Thursday night at the Superdome, but half of our offseason Twitter feud duo won't be on the field.
The Saints will place safety
Darren Sharper
on the reserve/physically unable to perform list this weekend, according to
Brian Allee-Walsh of NewOrleans.com
. That means Sharper, who is trying to return from microfracture surgery on his knee, won't be eligible to play until Week 7 of the regular season.
In case you forgot, Sharper and Vikings tight end
Visanthe Shiancoe
engaged in a mildly heated spring back-and-forth via Twitter. If any of us would have been listening at the time, my
NFC South colleague Pat Yasinskas
was smartly warning us that Sharper was questionable at best for the game itself.
The Saints had already moved on by moving cornerback
Malcolm Jenkins
to Sharper's free safety spot, with Sharper viewed more as late-season insurance than anything else.
With that said, I think the tweet that originally started the "feud" will remain a hot topic next week. If you recall, Sharper
suggested the Saints will target
quarterback
Brett Favre
's surgically-repaired ankle in that game. Given the Vikings'
sensitive reaction
to the beating Favre took in January, the issue will actually be one of the key factors in the game.
More on that in the coming days.
June, 3, 2010
6/03/10
10:50
AM ET
It's probably not time for a postscript to the
X-Files exchange
between the
Minnesota Vikings
and
New Orleans Saints
safety
Darren Sharper
. So consider this post a "midscript" to provide some interesting context for NFC North blog readers who might not follow the daily trends in New Orleans. (Including me.)

Sharper
Namely, there is a genuine chance that Sharper won't be much of a factor for the Sept. 9 season opener that has provided the backdrop for this Twitter-trash. Let me pull a few paragraphs of a
recent post
from NFC South colleague Pat Yasinskas:
The start of the season is a long way off. Besides, I'm thinking there's a very good chance Sharper won't even be in the starting lineup for that game. Malcolm Jenkins was getting the first-team work at free safety [last week].

I know this might not sit well with Sharper's fan club in New Orleans, and that's understandable because the guy was a huge contributor as the Saints won the Super Bowl. But he also is 34. Jenkins was a first-round draft pick last year and the Saints want to get him on the field.
Indeed, the Saints re-signed Sharper to a one-year contract this spring. Later, it was revealed Sharper had microfracture surgery on his knee, a serious procedure that has varying timetables for recovery. Then the Saints used their first-round draft pick to select cornerback
Patrick Robinson
and moved Jenkins to free safety. The team is clearly planning for a Sharper-less future, whether it's immediate or just soon.
Yasinskas, among others, has referred to Sharper as "insurance" to the Robinson-Jenkins plan. If either isn't ready to start, then Sharper would ostensibly be available to fill the gap. But if they're ready? Who knows? Even if the Saints keep Sharper on their roster, would a 34-year-old backup safety be part of the 45-man game-day roster Sept. 9?
Just something for you to consider as you imagine Sharper busting
Visanthe Shiancoe
under his chinstrap.
January, 20, 2010
1/20/10
4:58
PM ET
EDEN PRAIRIE, Minn. -- Half of Minnesota's starting defensive line sat out practice Wednesday, a situation that will be closely monitored as the NFC Championship Game approaches.
Left end Ray Edwards' absence was expected after he sprained his right knee in the Vikings' divisional-round victory over Dallas. But All-Pro defensive tackle
Kevin Williams
was also absent from practice. The Vikings hadn't previously indicated he was hobbled in any way. But according to the injury report they just released, Williams has a knee injury.
At this point, there's no reason to believe that either Williams or Edwards are injured seriously enough to miss Sunday's game. But at Wednesday's practice, at least, the Vikings were using third-year player
Brian Robison
at left end and veteran
Jimmy Kennedy
in Williams' tackle position.
Meanwhile, three key players missed practice in New Orleans: Cornerback
Malcolm Jenkins
(hamstring), receiver Robert Meacham (ankle) and tight end
Jeremy Shockey
(knee).
UPDATE: Safety Darren Sharper (knee) was a late addition to the Saints' injury report. He did not practice Wednesday, but is not believed to be seriously injured.
February, 22, 2009
2/22/09
7:00
PM ET
Posted by ESPN.com's Kevin Seifert
INDIANAPOLIS -- More than a few mock drafts have paired Ohio State cornerback Malcolm Jenkins and the Green Bay Packers, who are set to choose No. 9 overall. (Among the mock drafters are ESPN.com analyst Todd McShay.)
Will Jenkins end up with the Packers? No one knows at this point. The Packers will need weeks to filter through the information they gleaned at the scouting combine, and frankly there is some question about whether Jenkins projects as a cornerback or a safety.
Jenkins spent a good part of his media session Sunday downplaying suggestions that he is better suited for safety. If they can't project him as a cornerback, it's unlikely the Packers will select him at No. 9; rare is the safety who is deemed worthy of a top 10-pick.
Jenkins refused to say exactly how tall he is -- "6-foot-something," he said -- and makes the argument he is a cornerback in safety's body. So, let's get on with it:
Are you aware of the cornerback-safety debate?
Malcolm Jenkins: Yeah, I've heard all the [speculation] about how I'm going to run, if I run slow then I'm going to be a safety and all of that. I'm not really worried about it. It's all about how I'm going to run and I'm real confident in how I'm going to do with that.
So there is pressure on your 40 time?
MJ: No. They're expecting me to run 4.5 and I'm pretty confident I can run faster than that. So I'm not really pressured.
If you were asked, how would you sell yourself as a corner?
MJ: If you turn on the film that's what you see. I do what every other corner [does]. If you put on a film of a guy that's 5-10, 185, I'm doing the same things that they're doing [but] at my size. In the league you've got receivers that are bigger and more physical, and that's what you need, a guy that can do it all. With my size and speed, it's something rare that you don't find a lot around the nation.