NFC North:

Marcus Robertson
October, 25, 2013
10/25/13
7:30
PM ET
ALLEN PARK, Mich. --
Louis Delmas
sat on his stool in the
Detroit Lions
' locker room the other day, and a couple of seats over,
Glover Quin
's head shot up from his phone.
Delmas was continuing his running joke of calling Quin "slow," even if they both ran comparable 40-yard dash times at the 2009 NFL combine.
This is no insult to the teammate whom Delmas trusts implicitly, but rather a compliment to his complement in the Detroit secondary and what he has learned from him. Slow, you see, doesn't mean what it sounds.
[+] Enlarge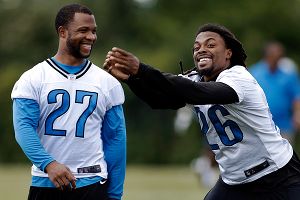 AP Photo/Paul SancyaGlover Quin (left) and Louis Delmas complement each other, in their personalities and in their play.
"It's crazy because he plays, he's always in the right position to make plays on the ball and I always wondered why," Delmas said. "He plays fast, but slow with his eyes. Sometimes you look at him on film and it makes it look like he's playing very slow, but he's always in the right position.
"That's something I always struggled with because I always thought, 'I need to get there, need to get there, need to get there.' By watching him, an older guy as far as more experience and playing more games than me, being in the organization he was in, he learned that a long time ago."
As Delmas was explaining, Quin shook his head at him. Delmas barked back at Quin.
Welcome to the playful friendship that has been all positive for Detroit's defense.
Delmas kept going, animatedly describing how watching Quin taught him that quickness is more important than speed. How reading the play correctly is paramount to being there first and hopefully on time.
As Delmas is having arguably the best season of his career -- he said he won't say that until he makes it through the year healthy -- some of the success is attributable to Quin. Same for Quin to Delmas, even if they have as opposite personalities as you could find.
Quin is the consummate professional, quiet, disciplined, focused and consistent. Delmas is the fiery, energetic, passionate soul of the Detroit defense.
Or, as defensive-backs coach Marcus Robertson put it, Delmas is the "spark plug," while Quin is the "quiet storm." Even the titles of their positions, with Delmas as the free safety and Quin the strong safety, fit their disparate personalities.
However it happens, it has worked for the Lions. Delmas and Quin are third and fifth on the team with 30 and 26 tackles, and both have two interceptions. Delmas has six pass breakups. Quin has five. Similar stats. Different approaches.
"Too much of anything isn't good," Quin said. "So if me and [Delmas] both had the same personality, it might not be good. We might bump heads. If we both played the same way, it might not be good.
"We need to balance."
With the balance comes trust, and that came instantly when Detroit signed Quin from Houston in March. Delmas was still home rehabilitating his injured knees, but he and Quin texted and called each other, expressing their mutual excitement at playing alongside one another.
There was never any concern, just the comfort that Delmas would finally have the same player next to him every day and that Quin would have a counterpart with the confidence to make plays.
Even as Delmas dealt with injuries the past two seasons, he was a constant presence when he was able to play. Next to him, though, the only consistency Detroit had was a lack of it. Through Delmas' first four seasons in the league, the Lions had what Detroit coach Jim Schwartz called a "revolving door" playing next to him.
When you're trying to build cohesion in a group and communication to the point of comfort, the always-changing safeties weren't safe at all. Delmas never slid into complete familiarity and trust with anyone he played next to as the last part of protection in the Detroit defense.
[+] Enlarge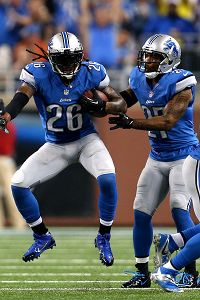 Chris Sweda/Chicago Tribune/MCT via Getty ImagesGlover Quin offers stability for Louis Delmas and the Lions.
"For such a long time, Lou hadn't had that consistent counterpart there," Robertson said. "When we made the initiative to go out and get GQ, I think that was one of the things that truly helped him out because he knew he was going to have somebody there beside him that he could depend on. Somebody he could count on, somebody that was going to have his back."
In Quin, Delmas got a counterpart he had known since he entered the league -- they first met at the 2009 combine -- and someone he trusted immediately. He also had someone who, even though they have the same number of years in the league, he could look up to.
Delmas learned that he needed to bolster his physical skills by understanding everything else. And communication is key. Delmas and cornerback
Rashean Mathis
are consistently telling each other "keep me in it" or "talk to me, talk to me, talk to me" as a way of picking up on any changes they might notice before, during or after a play.
More important is the way Quin and Delmas communicate together.
"They communicate a lot off the field, on the field, you can see," defensive coordinator Gunther Cunningham said. "Lou probably played some of his better games this year. He's not gambling as much. He's playing the system better, and he knows he's got a guy on the other side."
That guy is Quin, whom Delmas describes as a "very quiet, humble dude." Then, he added, "you've got me. The fireball."
And while Delmas has learned from Quin, he is also rubbing off on his strong safety.
"I'm pretty sure, I'm definite, that I'm feeding off of him a little bit," Delmas said. "Because every time I get in his face and getting riled up, I can see him hopping around a little bit, getting excited.
"We're different, very much different."
For Detroit this season, that's working out just fine.
February, 15, 2013
2/15/13
12:30
PM ET
By
ESPN.com staff
| ESPN.com
Chicago Bears
Former safety Chris Harris retired from playing in the NFL last month. A day later, he was embarking on a new career after the Bears hired him to be their defensive quality control coach. Harris told ESPNChicago.com's Jeff Dickerson that
he's ready to get started
. "Being a coach will be something to adjust to," Harris said. "But I don't think the players will view me as a buddy just because I was teammates with a lot of them. I was pretty respected when I played here on the defensive side of the football. I don't see that being a problem. I'm just excited to do this."
Coach Marc Trestman has talked with longtime Bears Brian Urlacher and Devin Hester, but
he won't comment about their futures
with the team, writes the Chicago Tribune's Brad Biggs.
Bears tight ends have had the fewest receptions in the NFL the past two seasons, reports Biggs, so it's no surprise that the team is
looking for more production at the position
. "We need a tight end that can threaten the defense," tight ends coach Andy Bischoff said. "We need a tight end that can create stress in the middle of the field, or wherever we place him, because we're going to line him up next to the tackle and we're going to line him up outside the numbers and we're going to line him up in the backfield and we're going to expect the defense to figure it out."
Detroit Lions
Center Dominic Raiola has
agreed to restructure his contract
, likely keeping him in a Lions uniform for a 13th season.
Former Bills safety George Wilson
visited with the Lions Thursday
and left without signing a deal, reports Chris McCosky of the Detroit News. But the free agent was "very optimistic" about his visit. The Lions currently only have three safeties under contract.
The team
promoted Marcus Robertson
to defensive backs coach to fill the void after Tim Walton left to become the defensive coordinator of the Rams, reports Mlive.com's Justin Rogers.
Defensive tackle Sammie Lee Hill made Pete Prisco's list of
lesser-known players who could be good values
in free agency.
Green Bay Packers
Greg Jennings tops Sam Munson's
list of free agent wide receivers
. "If teams are satisfied that Jennings isn't a durability concern going forward, he should be the marquee receiver and the first guy pursued by multiple teams trying to answer their question at the position. Fast, fluid and efficient with zero character questions, he makes the most sense," Munson writes.
ESPNMilwaukee.com's Jason Wilde
takes stock of where the Packers stand at tight end
, where the big question is whether Jermichael Finley will be back with the team.
Minnesota Vikings
SI.com's Chris Burke recaps the Vikings' 2012 campaign and looks ahead to
what's in store for 2013 season
.
The team made some
changes to its Norseman logo
.
Pro Bowler Cris Carter was back at Vikings headquarters Thursday and
thanked the team for its role in overcoming his substance abuse problems
. Carter: "Personally, what they did for my life, that changed my life," Carter said. "Besides my mother, there's a lot of people that helped me out but there's not a lot of people that can say that I wouldn't have made the Hall without their involvement. But I can stand here today as a man to tell you if you wouldn't have helped me that day when I came here, that second week in September, I wouldn't have made it."
The Vikings picked up Leslie Frazier's contract option for 2014 instead of giving him a new long-term deal.
What does that mean for Frazier's future with the club?
Ben Goessling of the St. Paul Pioneer Press explores.
February, 14, 2012
2/14/12
7:50
AM ET
We're Black and Blue All Over:
We noted last month
that all four NFC North teams faced decisions on their quarterback depth this offseason. The Detroit Lions, specifically, had to decide whether to bring back backups Shaun Hill and Drew Stanton -- both of whom are pending free agents -- or if they would use the positions to help draw down their bloated salary-cap structure.

Dave Birkett of the Detroit Free Press
reports that Hill is likely to return, one way or the other, even if it means taking a "slight discount" to make it happen.
That makes sense for all parties. Hill has a longtime connection with offensive coordinator Scott Linehan, performed well when the Lions needed him in 2010 and understands that he won't get a chance to beat out starter Matthew Stafford. That's a pretty good combination for a backup quarterback.
Continuing around the NFC North: