NFC North:

Mario Manningham
January, 9, 2013
1/09/13
12:00
PM ET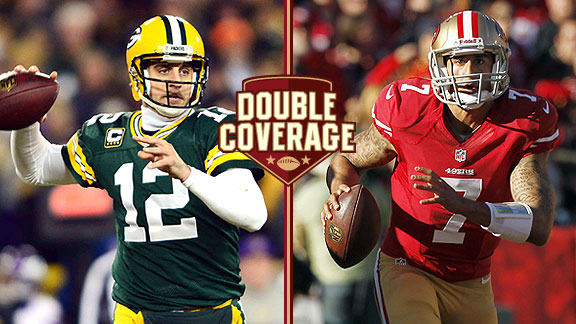 USA TODAY SportsThe play of Green Bay's Aaron Rodgers, left, and San Francisco's Colin Kaepernick will go a long way in deciding the outcome of Saturday's divisional playoff matchup.
The 2012 season began at Lambeau Field for ESPN.com's NFC West and NFC North bloggers. The
San Francisco 49ers
had a Week 1 date against the
Green Bay Packers
, which meant that Mike Sando and Kevin Seifert would be working side by side in a game that figured to be a (early) playoff preview.
Except -- oh, that's right -- Sando got caught up in
Russell Wilson
-mania, bailed on the trip to Green Bay and left Seifert to chronicle the 49ers'
wire-to-wire victory
. So it's only fair to let Seifert have the first word in this discussion of Saturday night's rematch in the divisional playoffs at Candlestick Park.
Seifert:
Yeah, Mike, I remember turning to you during the game to express surprise at how much better the 49ers seemed that day -- and there was only an empty seat next to me. I know you were busy tracking your guy Wilson, but I can tell you firsthand that the 49ers physically manhandled the Packers that day. They walked into Lambeau, took a 10-0 lead early in the second quarter and never looked back. Both teams have changed since then, but there was a clear physical advantage there. I remember seeing
Frank Gore
bulldozing into the second level and popping outside, an issue the Packers would face later in the season against
Adrian Peterson
as well. (Gore gained 72 of his 112 yards outside the tackles.) So I'll ask you: Are the 49ers still as physical of a team as they were in Week 1?
[+] Enlarge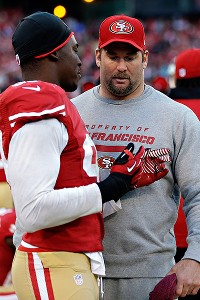 AP Photo/Marcio Jose SanchezAldon Smith, left, and the 49ers' defense weren't as productive with Justin Smith out of uniform.
Sando:
That's just how we roll in the NFC West, Kevin. It has become the new Black and Blue division. The 49ers are still a physical team. Their offense is pretty much unchanged from that standpoint. I expect a rested Gore to run the ball effectively. If the 49ers are smart, they'll involve
Colin Kaepernick
in the running game, adding another dimension. The big question for San Francisco is whether the defense can be as physical with
Justin Smith
playing through a triceps injury. Smith will have had 27 days between games by the time he suits up for this one. If he is at full strength, the 49ers will be just as physical now as then. If not, the entire defensive front is compromised. San Francisco doesn't have great depth along the line.
Seifert:
We'll dive deeper into that Smith issue in a bit, but let's pick up with the 49ers' read-option capabilities with Kaepernick. I realize it's a small sample size, but the
Minnesota Vikings
had some success Saturday night using Peterson and
Joe Webb
in a similar type of option arrangement. They ran the read-option six times and gained 65 yards on it. Gore isn't as dominant of a runner as Peterson, but I would say Kaepernick is a more reliable scrambler than Webb. Regardless, the 49ers could have some success with it Saturday night. It's a lot to keep track of. But even typing the name "Joe Webb" reminds me what can happen when a quarterback makes his first NFL playoff start. Kaepernick has to be a bit of a question mark in this game, doesn't he?
Sando:
Kaepernick is a different kind of question mark. The conventional and advanced stats say he has been as good as or better than
Alex Smith
. Kaepernick ranks third in Total QBR (76.8) behind
Peyton Manning
and
Tom Brady
.
Matt Ryan
is fourth, and
Aaron Rodgers
is fifth. That doesn't happen by accident. But the identity of the offense is changing, and the process has been a little unsettling for a team that had a pretty strong identity for more than a year. The offense can be much more explosive with Kaepernick. He has had a couple of 50-yard runs in fourth quarters and his arm strength has opened up the field, but Gore hasn't been as comfortable running from the pistol formation. It throws off his timing.
Vernon Davis
has disappeared from the passing game.
Kendall Hunter
,
Mario Manningham
and
Kyle Williams
have landed on injured reserve.
Randy Moss
' playing time is up. There has been a lot of change packed into a short window, and there's a sense almost anything could happen, good or bad.
Seifert:
Well, that certainly settles things. Anyway, I was in the Packers' locker room Saturday night after they beat the Vikings, and the team seemed to have every expectation that the 49ers would try to run the ball down its throats, especially with an inexperienced quarterback making his first playoff start. The Packers know Gore steamrolled them in Week 1, but they feel as though they've had a lot of practice against Peterson since then. Even though Peterson had 409 yards against them in two regular-season games, the Packers did a nice job bottling him up in the playoffs. (Most of Peterson's 99 yards in that game came after the Packers had a three-score lead.) But we've now spent, oh, about 800 words discussing Gore and Kaepernick in this matchup and have barely mentioned the two most important words in this game: "Aaron" and "Rodgers." With all due respect to the Smiths, Justin and Aldon, Rodgers will be the best player on the field Saturday night. You can have your Colin Kaepernick.
[+] Enlarge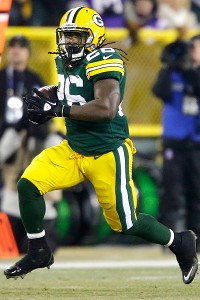 AP Photo/Jeffrey PhelpsDespite his size, DuJuan Harris was effective as a rusher for Green Bay.
Sando:
That's an interesting take on Kaepernick. I think he's better than that. He went into Gillette Stadium, threw four touchdown passes and had the 49ers up 31-3 on Tom Brady. Kaepernick and Rodgers both have 5-2 starting records since Kaepernick entered the lineup. Kaepernick is averaging more yards per drop back in part because he has taken half as many sacks (since Week 11, when both have been starting). Kaepernick has a higher Total QBR over that span. He has 10 touchdown passes and three picks. Rodgers has 14 touchdowns and three picks. Rodgers is completing 67.6 percent of his passes, while Kaepernick is at 62.5 percent. I'm giving the QB edge to the Packers in this game, but I'm not sure it's as lopsided as conventional wisdom would suggest. Is Rodgers playing lights out, or was Greg Cosell -- the NFL Films analyst -- right when he said Rodgers is "leaving an awful lot of plays on the field" through tentative play from the pocket?
Seifert:
There is no doubt Kaepernick has been productive and efficient. We in the NFC North were his first victims -- the Week 11 romp over the
Chicago Bears
. But as you're fond of saying, Mike, usually we can find a statistical split to tell whatever story we want to tell. On Rodgers-Kaepernick, I'll just throw out a few things. First, Rodgers enters this matchup having thrown 11 touchdowns without an interception over his past four games. Kaepernick has seven touchdown passes and three interceptions in his past four. Rodgers is 5-2 as a postseason starter and has the highest passer rating (105.4) in NFL playoff history. If my math is right, Kaepernick is winless as a playoff starter. Finally, on Cosell's analysis, I will say that other media observers have made similar suggestions about Rodgers' tentativeness. Ron Jaworski is one. I'm not smart enough to know how many plays Rodgers has left on the field, but I do know I would rather him pass up a few, and take a few extra sacks, than follow a more reckless approach that might hit a few more big plays but also almost certainly lead to more mistakes. Rodgers makes enough big plays; he led the NFL in touchdown passes per attempt (7.1 percent) this season. But he also has the single-best quality for a quarterback in the playoffs: He rarely throws interceptions. Rodgers' career interception ratio is 1.73, the best in NFL history by a long measure. Of all the statistical indicators, interceptions might be the one most directly correlated to postseason success and failure.
Sando:
That brings us back to the beginning. Justin Smith and that 49ers defense must affect Rodgers. I'm not sure they'll be able to do that well enough.
Aldon Smith
had 19.5 sacks this season, but none after Justin Smith played his final regular-season snap against New England in Week 15. When it comes right down to it, I'm less sure what to expect from the 49ers on either side of the ball. Their special teams also have gone from a major strength to a consistent liability -- at kicker, in the return game and in coverage. The more I think about this game, the more I think Kaepernick has to be Rodgers' equal, or close to it. That's a lot to ask, but the 49ers made the quarterback change with this type of game in mind. When I think about the Packers' allowing three touchdown passes to the Vikings'
Christian Ponder
in a meaningful Week 17 matchup, I'm inclined to take the 49ers at home. You won't see me at the betting window putting a wager on it, though.
Seifert
: The best thing the Packers have going for them in this game is that they have built a more balanced offense around Rodgers in the second half of the season. If you think back to Week 1, they were such a pass-happy offense that they ran more than half of their plays against the 49ers -- 31 of 61 -- without a single running back on the field. Now they're in a position where they've run for at least 100 yards as a team in six of their past nine games. I think this is a great and fun matchup. Heading west to win a playoff game at Candlestick is tough -- just ask the
New Orleans Saints
last year -- but it's not impossible to envision a Packers victory. Hopefully Mike joins me this time.
September, 20, 2012
9/20/12
11:20
AM ET
Randy Moss
has several "returns" to the Metrodome in his career, including the 2006 preseason while with the
Oakland Raiders
and after being re-acquired by the
Minnesota Vikings
in 2010. Here's some advice for Vikings fans who want to see Moss on the field Sunday: Pay attention.
Yes, Moss' latest homecoming is notable mostly for the part-time role he has assumed for the
San Francisco 49ers
. Moss is in essence sharing the 49ers' No. 3 receiver role with
Kyle Williams
, behind starters
Michael Crabtree
and
Mario Manningham
, and has been on the field for only 37 of the 49ers' 130 offensive snaps (28.5 percent) over the first two games. Quarterback
Alex Smith
has targeted Moss on only five of his 57 pass attempts, completing all five for 61 yards and a touchdown. (Statistics
courtesy of Pro Football Focus
.)
Moss, 35, didn't play last season and hasn't been a downfield threat since averaging 15.2 yards on 83 catches for the
New England Patriots
in 2009. The 49ers aren't really a downfield offense, preferring to utilize their physical line to run the ball while Smith attacks mid-range openings. But if the 49ers thought Moss could routinely stretch the defense downfield, it stands to reason they would use him that way -- as a decoy if nothing else.
Speaking to Bay-area reporters this week, Moss said "I am not" concerned about playing time and noted "it's really not up to me." He added: "I just come out here and practice every day. When called upon I try to make a play."
We've learned over the years that Moss is a special athlete and football player. There is no sense writing him off now, or ever. But if he has reached his physical limit, kudos to the 49ers for recognizing it and finding a reasonable way for him to contribute rather than mis-cast him in a role he played 10 years ago. And for two games, at least, Moss deserves credit for accepting the 49ers' plan.
March, 13, 2012
3/13/12
6:21
PM ET
Amid the chaos of the
Brandon Marshall
trade and the start of NFL free agency,
Seth
sent over a tweet that I'm guessing represented many of your thoughts: "Make me feel better about my Vikings doing absolutely nothing. Please."

I'm not sure if anyone expected the rebuilding
Minnesota Vikings
to jump into the first-hour bidding of free agency. But it's true they were quiet while many of the market's top receivers and cornerbacks -- two positions of acute need -- made plans to visit elsewhere.
Let's revise
our list of the top seven receivers available
with the best information we have on them, based mostly on the fast-moving Twitter feed of
ESPN's Adam Schefter
. At the moment, the Vikings aren't in on any of them.
Meanwhile, cornerback
Brandon Carr
is receiving interest from the
Dallas Cowboys
and
San Francisco 49ers
, among other teams. Cornerback
Cortland Finnegan
is expected to visit the St. Louis Rams.
With all of that said, Seth and other Vikings fans, I wouldn't fall into hysterics quite yet. All the Vikings have done at this point is sit out the madness of the first few hours of free agency, a time best reserved for teams with fewer roster holes than the Vikings. I would frankly feel more critical if they had jumped out and paid, say, Garcon $20 million in guarantees. We'll judge the Vikings over time, but not based on the past two hours. As always, there will be value deals available in the coming days and weeks.
Feel any better, Seth?
March, 13, 2012
3/13/12
12:00
PM ET
All things being equal, most of you wouldn't turn down the
Chicago Bears
' potential addition of defensive end
Mario Williams
. The unrestricted availability of one of the NFL's top pass-rushers is attractive to just about any football fan, and the prospect of Williams teaming up with current Bears All-Pro
Julius Peppers
is frightening.
Williams
In reading through our
hastily-arranged Have at It post
, I saw only a few objections. Most of them related to the salary-cap limitations Williams would impose on improvement in other areas. ESPN's Adam Schefter reported Monday that Williams is likely to command a contract that averages $15 million per season, and signing him would make it tougher to improve their thin group of receivers in an immediate way for 2012.
Recoil47
rejected a comparison with the
New York Giants
, who have won two Super Bowls in recent years in large part because of their dominating defensive lines. But in 2011, at least, the Giants were also stacked at receiver.
Wrote recoil47: "The comparison with the Giants hoarding defensive ends is a bad one. The Giants also have three wide Receivers who are better than the Bear's best wide receiver.
Hakeem Nicks
and
Victor Cruz
are far better than anything the Bears have, and
Mario Manningham
would sadly be a #1 on this team. So it's easy to try to make that comparison, but try to remember that the Giants were also stacked in areas the Bears ALSO need to fill."
Point taken. But the allure of creating an elite segment of a team seemed overwhelming for many of you.
Family_man1
wrote that "it's always temping to fix weaknesses so you can feel more "comfortable" but added: "Far more likely to succeed in the NFL is to be dominant at a few phases of the game then above be average in everything. The Packers, Patriots, Saints, 49ers all did this with great success this season. The champion Giants have a terrible secondary, but a stellar line and it paid off. Therefore, I say seek greatness in the pass rush and find cheap solutions in the other phases. "
In that vein, many of you suggested that Williams could team with Peppers for a few years of double-barreled pass rush before providing a relatively seamless transition when Peppers' career with the Bears ends. Williams just turned 27 in January, and is five years younger than Peppers.
"The one advantage of signing Williams is you are set at DE for the next 8-10 years," wrote
adambballn
. Added Family_man1: "He's a building block no
matter what you do."
My take:
I've been squarely on the side that believes receiver/tight end should be the Bears' top priority in free agency. As my colleague
Jeff Dickerson of ESPNChicago.com
notes, the Bears have spent more than twice as many draft choices in rounds 1-3 on defensive linemen than receivers since coach Lovie Smith's arrival in 2004. You get what you pay for. But I also acknowledge it's rare when a pass-rusher of Williams' abilities becomes available in free agency, and we've seen how Peppers has impacted the Bears.
So I won't hammer the Bears for signing a player of Williams' stature. I'll just take a rain check, because signing Williams doesn't mean the Bears can't address receiver through the draft and later during free agency. They might not get the prize of the receiver market,
Vincent Jackson
, but Jackson won't be the only receiver available. Stay tuned.
February, 6, 2012
2/06/12
5:45
PM ET
You're thinking it. I'm thinking it. And so was
ESPNChicago.com's Jeff Dickerson
. Namely: How nice would
Mario Manningham
look in a
Chicago Bears
uniform in 2012?

Manningham, of course, made one of the best catches in Super Bowl history Sunday night, a 38-yard grab down the left sideline that got the
New York Giants
moving toward their game-winning touchdown. It was a bright ending to a disappointing fourth season in New York for Manningham, who just so happens to be a pending free agent.
Overshadowed by teammates
Victor Cruz
and
Hakeem Nicks
, Manningham managed 39 receptions in 12 games for the Giants in 2011. But we all saw what he is capable of Sunday night, and I don't think you would find many objections to Dickerson's assertion that Manningham would improve the Bears' receiving corps.
Here's how Dickerson put it: "While it's unlikely he would solve all the Bears' issues at receiver, Manningham would certainly upgrade a group that failed to have a single member crack 40 catches or 750 yards last year."
I'm guessing we'll circle back on this discussion once or twice before March 13, when the free agent market opens.
January, 10, 2012
1/10/12
1:58
PM ET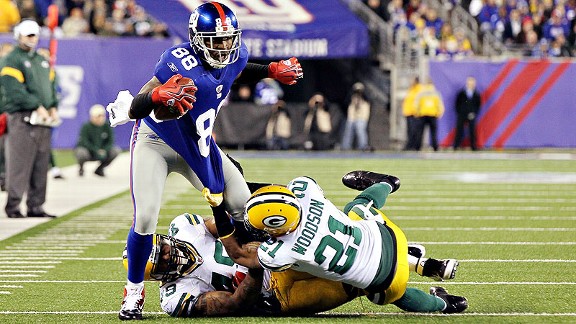 Jim McIsaac/Getty ImagesStar cornerback Charles Woodson is among those to express concern about the Packers' defense.
(Note: I hope everyone is good with pushing forward on our football discussion even as the Green Bay Packers are mourning the death of a family member. I considered holding off out of respect for those impacted by the death of Michael Philbin, but in the end I think we can be respectful while also providing an outlet for those who want to read about Sunday's divisional playoff game.)
Fear is a strong word. I don't think the Green Bay Packers fear the consequences of their historically porous pass defense. They won 15 games with it during the regular season, after all. I'm not even sure they're worried about it. They discovered and have implemented the antidote throughout the past four months.
But if you're someone who likes to conceive the worst-case scenario, you don't have to think too hard.
The Packers tripped only once this season, despite giving up an NFL-record 4,796 passing yards, mostly because they intercepted a league-leading 31 passes. In the playoffs, of course, the quarterbacks are better and less prone to mistakes. The Packers could face a Pro Bowl quarterback at every step between now and Super Bowl XLVI.
The bottom line: If an elite quarterback gashes them for yards but avoids the interceptions, he could knock the Packers out of the playoffs.
To be sure, there have been all kinds of attempts to poke holes in the Packers' near-perfect season. To me, this is the one instance with merit. The Packers' only loss this season came when
Kansas City Chiefs
quarterback
Kyle Orton
threw for 299 yards with no interceptions -- the only game this season the Packers didn't create at least one turnover.
First up this postseason will be the
New York Giants
'
Eli Manning
, who fell 67 yards shy of a 5,000-yard season and threw for 347 yards and three touchdowns in a Week 13 loss to the Packers. The final score was
38-35
, and the Packers' scoring included linebacker
Clay Matthews
' interception return for a touchdown.
With the exception
of a few pointed statements
from cornerback
Charles Woodson
, the issue has mostly bubbled below the surface. But speaking late in the regular season, Woodson reiterated his concerns about the defense's aptitude for postseason football.
"Defensively we still have some problems," Woodson said after the Packers allowed 441 total yards in Week 16 against the
Chicago Bears
. "We just give up way too many things on a consistent basis, so we have a long way to go. … Just not playing good football at times. We've been consistently inconsistent throughout the season. It's on each man to get it done. Moving forward we have a great opportunity. … Everybody on this team, to the man, has to look within himself and just get the job done."
As the chart shows, the Packers allowed a 300-yard passer in nearly half their games this season. They intercepted the
Carolina Panthers
'
Cam Newton
three times to spoil a 432-yard day, for example, and held off the
San Diego Chargers
mostly because they intercepted
Philip Rivers
a career-high three times and returned two for touchdowns.
Manning, meanwhile, compiled eight 300-yard games during the regular season; the Giants were 4-4 in those games. He threw the seventh-most interceptions in the NFL, 16, but has thrown only one interception in the Giants' past three games.
Packers defensive coordinator Dom Capers has addressed the issue on almost a weekly basis this season. Speaking to Wisconsin reporters last week, Capers admitted that "we don't like" the yardage totals but added: "We've been able to win 15 games, and the reason for that, with our defensive stats the way they are, is the fact that we ended up No. 1 in the league in takeaways and No. 1 in the league in interceptions. That's something we obviously place a high priority on."
What has been the issue? As the second chart shows, the Packers' standard pass rush -- four or less rushers -- hasn't been nearly as effective as it was last season. They have given up an NFL-high 8.5 yards per attempt on those plays and managed only 11 sacks.
As a result, Capers has dramatically increased his blitz totals from last season. He elevated from a blitz on 32.8 percent of opponents' drop-backs in 2010 to 45.7 percent in 2011, the fourth-most in the NFL, according to ESPN Stats & Information. The only NFL team that affected a bigger blitz uptick this season was the
Houston Texans
, who changed defensive coordinators in the offseason.
I included the blitz percentages for each of the 300-yard games in the first chart; they blitzed 51.6 percent of the time on Orton's 299-yard day.
The blitz is the ultimate risk-reward proposition, and it brought the Packers 18 of their 29 sacks on the season and limited opponents to eight touchdown passes. (The Packers actually had more interceptions out of their standard rush, possibly a reflection of non-elite quarterbacks forcing the ball into coverage.)
Given his druthers, I doubt Capers wants to blitz as much as he has. In his session with reporters, he pointed to the Packers' Week 12 game against the
Detroit Lions
as "far more like [the way] we want to play." In that
27-15
victory, the Packers blitzed a season-low 22.4 percent of the time and limited Lions quarterback
Matthew Stafford
to 276 yards. None of Stafford's 32 completions went for longer than 23 yards.
Is the answer to pull back on the blitz Sunday against the Giants? In that Lions game, I'm guessing Capers considered it a higher priority to cover Detroit's slew of pass-catchers than to pressure Stafford. The Giants have a similar situation, especially now that receiver
Mario Manningham
is healthy and available to complement
Victor Cruz
and
Hakeem Nicks
. Perhaps, perhaps.
To be clear, this is not meant to ring alarm bells. I haven't been impressed with most of the attempts to poke holes in the Packers' success this season. 15-1 is 15-1, and it's clear the Packers know how to win. They are nine-point favorites in this game for good reason. All I want to do is note that a season-long issue was never resolved. The Packers have to hope it won't bite them now.
August, 23, 2011
8/23/11
12:00
PM ET
I'll admit I was a bit groggy by the time I posted
Monday night's Observation deck
on the
Chicago Bears
' 41-13 loss to the
New York Giants
. My general impression of the Bears' defense was pretty neutral, especially on a night when the opponent rang up 41 points, and I wrote as much. I saw what I thought was some really sharp play in the first couple of series and thought the Bears' performance dipped at about the same time that coach Lovie Smith began removing his starters.
So I was surprised Tuesday morning to see the teeth-gnashing and general concern about the way the Bears' defense played and, especially, tackled. And I agree with
Brad Biggs of the Chicago Tribune
on this much: Smith's postgame criticism is as rare as it gets.
(While talking about the health of his team, Smith interjected: "You've got to tackle a little bit better before you start talking about injuries and things like that." Smith almost never criticizes his players, assistants or team in public.)
[+] Enlarge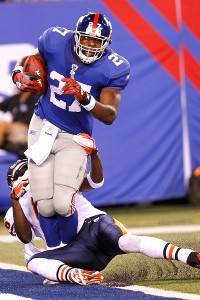 Tim Farrell/The Star-Ledger via US PresswireBrandon Jacobs
Maybe my expectations for preseason games are too low, but I go into them thinking they will be sloppy and light on fundamentals. You can get a sense for individual skills and competence in some instances, but once coaches begin sitting their starters, you're riding a slippery slope on any subsequent judgment from a team perspective.
But just for fun, I went back and re-watched the Bears' first four defensive series, after which middle linebacker
Brian Urlacher
departed. Remember, linebacker
Lance Briggs
was already sidelined for the game. What I saw confirmed my original thoughts: The Bears' starters missed maybe three tackles, one of them glaring, but also made more than a few secure stops to minimize or break up plays in the early going.
Here's what I saw:
First possession
Second possession
Third possession
Defensive end Israel Idonije missed a backfield opportunity on tailback Brandon Jacobs, who went on to a 7-yard gain on first down.

Nobody missed a tackle on Jacobs' 18-yard run on third-and-1. The Giants caught the Bears in a man defense, and linebacker Brian Iwuh followed the receiver in motion away from the point of attack.

Peppers rushed Manning on two other plays, contributing to incompletions.

Jennings tackled Bradshaw 4 yards short of a first down on third-and-10.

The Giants caught the Bears in another favorable matchup on fourth-and-4. Manning lofted a nifty 21-yard pass over Moore to receiver Victor Cruz.

Urlacher tackled Jacobs after a 4-yard gain in the red zone.

Iwuh knocked away Manning's pass for Manningham on third-and-goal, forcing a field goal.
Fourth possession
The Giants took over at the Bears' 31-yard line following Devin Thomas' 73-yard kickoff return.

Linebacker Nick Roach stuffed a Jacobs run for a 1-yard loss.

Harris stopped a reverse to Manningham after a 1-yard gain.

Bradshaw gained 13 yards on a screen play largely because center David Baas drilled Iwuh to the turf.

On the next play, Wright whiffed on Jacobs at about the 10-yard line and Jacobs dragged Harris about 4 yards into the end zone for an 18-yard scoring jaunt.
To be sure, the night didn't end well for the Bears' defense. Maybe you can excuse a safety getting dragged a few yards by a 275-pound back, but never do you want to see a safety juked by the same guy. Considered as a whole, however, I didn't see nearly enough to panic during those four possessions.
You could make the argument that backups should play better than the way the Bears' did Monday night. You can question whether they have the depth to withstand any significant injuries. Specifically, you could argue that Wright shouldn't have continued to miss tackles later in the second quarter just because he was playing with some non-starters.
But you're on your own there. In my experience, you're much better off under-analyzing preseason games than overanalyzing them. I understand why Smith was upset. He is a stickler for physical football, and he can't excuse the play of backups and mishmash lineups. But we can. So let's everyone calm down and move on.
December, 26, 2010
12/26/10
7:27
PM ET
GREEN BAY, Wis. -- A few thoughts on the
Green Bay Packers
' season-saving
victory
over the
New York Giants
:


What it means:
The Packers took the first step in a two-move dance to make the playoffs. Sunday's win was convincing, but it won't mean much if they don't beat the
Chicago Bears
next Sunday at Lambeau Field. The Packers are guaranteed a postseason berth if they beat the Bears. Overall, given the ups and downs of this season, the Packers couldn't ask for a better opportunity.
RodgersWatch:
Quarterback
Aaron Rodgers
appeared to have no lasting effects from a concussion that cost him a start last Sunday, tying a career high with four touchdown passes and setting a regular-season high of 404 yards. It was Rodgers' 10th career game with at least three touchdown passes and no interceptions, the most in NFL history for quarterbacks within three years of their first start.
RodgersSlide:
Rodgers took a fair amount of criticism for not sliding at the end of a run that caused the concussion two weeks ago, so it was noteworthy that he launched into an exaggerated baseball-style slide at the end of a 15-yard run in the first quarter. Showing some humor, Rodgers jumped up and gave a "safe" sign.
Don't call it a comeback:
The Giants stormed back from a 14-0 deficit in the first quarter largely because two Packers defensive backs fell down while covering deep passes.
Charles Woodson
slipped while defending Giants receiver
Hakeem Nicks
, leading to a 36-yard touchdown play. And
Tramon Williams
fell as
Mario Manningham
collected what would be an 85-yard score. Absent those two slips, however, the Packers never seemed close to giving up the lead thereafter. They intercepted Giants quarterback
Eli Manning
four times and forced a total of six turnovers.
Woodson's revenge:
Woodson made up for his slip by forcing
Ahmad Bradshaw
to fumble on a run-blitz early in the third quarter. The play put the Packers in position for a 31-yard field goal from
Mason Crosby
and extend the lead to 10 points.
Kuuuuuuhn:
Fans at Lambeau Field are now trained to chant for backup tailback
John Kuhn
as soon as he enters the game. Sunday, Kuhn touched the ball eight times and had three touchdowns -- two via ground, one by air.
What's next:
As we noted, the victory sets up a meaningful rivalry game against the Bears to close out the regular season. The game is currently scheduled for 1 p.m. ET, but that could change.