February, 22, 2014
Feb 22
8:00
AM ET
INDIANAPOLIS -- The
Green Bay Packers
would like to get back into the business of developing young quarterbacks like they did throughout the 1990s -- when
Ty Detmer
,
Mark Brunell
,
Matt Hasselbeck
and
Aaron Brooks
all came up through their system.
The problem is, this isn't the 1990s.
The rules of the collective bargaining agreement that was put in place following the 2011 lockout greatly reduced the amount of time coaches can work with players in the offseason, a time often set aside for individual and group instruction. For Packers' quarterbacks, that means four weeks have been shaved off coach Mike McCarthy's quarterback school.
Nevertheless, the Packers have come to the NFL scouting combine with one eye on finding a developmental quarterback prospect and hope to take four quarterbacks into training camp this summer.
"I think we definitely need four," McCarthy said at the combine, "So I'm hopeful that we can get a young guy in the draft."
The Packers have only two quarterbacks under contract for 2014 -- starter
Aaron Rodgers
and
Scott Tolzien
, who was signed to the practice squad last September and then promoted to the active roster after Rodgers broke his collarbone on Nov. 4. Tolzien has yet to go through an offseason in McCarthy's training program, having been with the
San Francisco 49ers
for his first two seasons.
Matt Flynn
was re-signed last November and became the fourth quarterback to start for the Packers last season, but his contract was only for the 2013 season.
"I thought Matt Flynn came in and did a number of good things," McCarthy said. "There's a lot of stability he brings to the quarterback room as far as the role that he needs to play and his role to the starting quarterback to help them scout and so forth, so Matt is obviously a good fit for our program. I thought he definitely gave us a shot in the arm when we needed it. Free agency is upon us, we'll see what happens."
Whatever happens, the Packers don't want to be stuck in the position they were in at the end of last summer, when the trio of
Vince Young
,
Graham Harrell
and B.J. Coleman all failed to win the backup job, forcing the Packers to sign veteran
Seneca Wallace
the week of the season opener.
That general manager Ted Thompson has drafted only one quarterback -- Coleman in the seventh round in 2012 -- since he took
Brian Brohm
(second round) and Flynn (seventh round) in 2008 would seemingly indicate that it's time to take another one.
"We're always looking," Thompson said. "Coach McCarthy's a quarterback guy. He likes to have a group, so you never stop looking, turning over rocks, that sort of thing."
February, 3, 2014
Feb 3
4:15
PM ET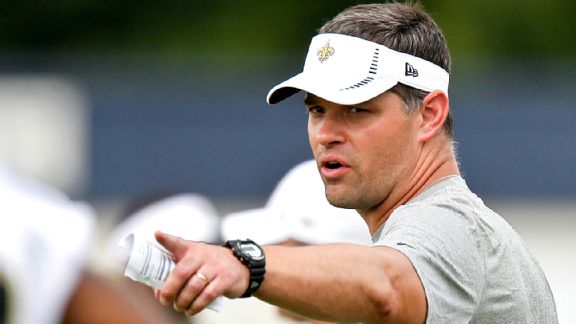 Derick E. Hingle/USA TODAY SportsNew Detroit Lions offensive coordinator Joe Lombardi will draw on past experiences as he works with quarterback Matthew Stafford.
Jeff Nowling could look at a piece of paper now, stare at a road sign with numbers in the distance and for a second, his mind flips back to college. To his time at Mercyhurst, where he played for a young offensive coordinator named Joe Lombardi, who taught those same receiving route trees stuck in his head a decade later.
Lombardi is with the
Detroit Lions
now, getting his first shot at coordinating a pro offense. But his first job running an offense came at a small Division II school in Pennsylvania.
"Constantly, I'd see numbers and automatically go back to the offense that we ran," said Nowling, a receiver and quarterback for Lombardi at Mercyhurst. "The way that he taught, he's a smart guy so he did a good job of explaining things and breaking things down and also showing things in the big picture and how they related to one another. He was a very good classroom teacher."
Less than a decade ago, Lombardi stood in front of those players and started teaching what he wanted out of his offense. He would run a pro style system, one that Nowling said would look similar to the 'Greatest Show on Turf' instituted by the
St. Louis Rams
.
The faces in the room looked back. They were excited. But there was also the question of whether or not they could actually run what their coordinator wanted. This wasn't the NFL. This was Mercyhurst, a school without
Kurt Warner
or
Isaac Bruce
or
Torry Holt
or even reasonable facsimiles of them.
"Ran everything from the 22 personnel, 11 personnel," Nowling said. "A lot of different formation packages. Very complex passing tree. There was a lot to know. It was very involved in pass protection. There was a lot in the hands of the quarterback.
"It was very high level for what you would think at a Division II school. We had an opportunity, at times, to show what we could have been with better personnel at every position, we could have had a lot more success."
While winning records eluded Lombardi at Mercyhurst from 2002 to 2005, it did set up everything that was to come. Even as the team struggled, Lombardi showed both his knowledge of football and his ability to connect with players. It was those things, things Lombardi carried from the lower levels of college football to the NFL, that told Nowling back then if Lombardi got a shot in the NFL, he'd be successful.
"His amount of knowledge that he already had, any amount of time spent with a very respectable, high-level coach like Sean Payton, I'm actually surprised it didn't happen earlier," Nowling said. "The time I spent with him and how much he knew about the game already, being with a good, solid coaching staff like that, winning a Super Bowl, it doesn't surprise me at all."
Lombardi broke into the NFL right from Mercyhurst as an assistant with Atlanta, but it was in New Orleans, where he was an offensive assistant and then the team's quarterbacks coach, where he began to gain even more notice.
Working with
Drew Brees
and helping him win a Super Bowl and to become one of the league's elite quarterbacks will do that. But it was more how he treated Brees and the other Saints quarterbacks that stuck out than him refining Brees' talent.
It was the respect he gave the players in his room and that he treated them like adults instead of overgrown children that stood out.
"He's very calm and real intelligent," said
Mark Brunell
, who played for Lombardi for two seasons in New Orleans. "Very cerebral and not one that's going to yell at you. He's one that's going to discuss it with you. He won't say that's not good enough and really get after players.
"He's going to say, 'Matthew (Stafford), what did you see? Why did you make that decision? And this is the direction that we need to go with this play.' It's very one-on-one. He never really got out of balance. He was very level-headed and I think a lot of guys, myself included, really appreciated that approach."
It is a similar approach to how Caldwell is often described. Cerebral. Always in control. And considering the importance of the relationship Caldwell and Lombardi have to have with their quarterback,
Matthew Stafford
, it is paramount that the three can work together.
It is going to be that trust and comfort the three have -- and perhaps more specifically Lombardi and Stafford -- that will determine how successful they all are in Detroit. Brunell isn't concerned about the comfort level. He wishes he had played for Lombardi his entire career and called him "ideal."
That ideal could also lead to more being expected of Stafford than ever before because he'll hold Stafford to the same type of standard he had for Brees, who Brunell called one of the most professional men he had been around on and off the field.
"One of the most impressive guys I've been around. That's really the standard, unfortunately for Matthew, it's a very high standard of which he expects Matthew Stafford to get to," Brunell said. "And so he can go and they'll watch a lot of Drew Brees cut-ups in that system.
"He'll show Matthew, this is what it is supposed to look like, this is how you approach the game. This is how you make that read. The best thing that Joe brings with him is that experience coaching one of the best in the whole game."
Now he has to try and turn Stafford into that quarterback with potential to one progressing to reach it. To do that, he'll pull on everything he has learned in the past to help his future.
January, 28, 2014
Jan 28
8:00
AM ET
A roundup of what's happening on the Green Bay Packers beat.
GREEN BAY, Wis. -- Packers running back
Eddie Lacy
may indeed win the NFL's offensive rookie of the year, an award that will be announced Saturday night in New York at the third annual NFL Honors.
Lacy
But you can't tell from the guest list at the awards program to held at Radio City Music Hall.
Sure, Lacy, fresh off his Pro Bowl appearance, was on the list released by the league on Monday.
But so was
San Diego Chargers
receiver
Keenan Allen
, who might be Lacy's top competition for the award. And so was
Minnesota Vikings
receiver/kick returner
Cordarrelle Patterson
, who also could be under consideration.
Among the others with ties to the Packers that are scheduled to appear are quarterback
Aaron Rodgers
, receiver
Randall Cobb
and former Packers players
Mark Brunell
,
Ahman Green
and
Sterling Sharpe
.
Former Packers quarterback
Brett Favre
, who
appeared on stage at last year's event
with Rodgers, was not on the list.
Rodgers will be in New York on Friday to accept
the 2014 Bart Starr Award
given to one NFL player for outstanding character and leadership on the field and in the community.
Rodgers and Cobb also are among the nominees for the NFL's Never Say Never Moment for their game-winning 48-yard touchdown in Week 17 against the
Chicago Bears
that clinched the NFC North title. That award also will be presented at the NFL Honors program.
In case you missed on ESPN.com
:
Best of the rest
:
In the Green Bay Press-Gazette, Scott Williams got a look at a Coca-Cola commercial that was filmed in and around Lambeau Field and will air during Super Bowl XLVIII.
In the Milwaukee Journal Sentinel, Bob McGinn wrote about Denver Broncos owner Pat Bowlen's ties to Wisconsin, where he played high school football in a small town in the southwest corner of the state.