NFC North:

Marlin Jackson
January, 16, 2014
Jan 16
1:35
PM ET
In the midst of his introductory news conference Wednesday, new
Detroit Lions
coach Jim Caldwell confirmed the Lions would continue running a 4-3 defense under his regime.
This was expected from the outset, when general manager Martin Mayhew said they would prefer a coach who ran a 4-3 because that is what they have built this defense to be, centered around defensive tackles
Ndamukong Suh
and
Nick Fairley
along with 4-3 linebackers
Stephen Tulloch
and
DeAndre Levy
.
And while it is not official yet, from the outset of Caldwell's candidacy, his defensive coordinator has been expected to be the defensive backs coach at Baltimore the past three seasons and his defensive backs coach at Wake Forest from 1993 to 1995, Teryl Austin.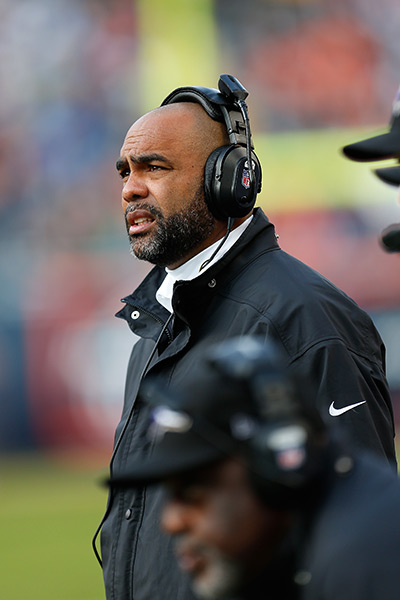 AP Photo/Scott BoehmTeryl Austin has coached defensive backs for much of his career and was defensive coordinator for the Florida Gators in 2010.
Here's a look at Austin's career to give an idea of what the Lions might end up getting should he officially be hired.
As a coordinator:
Austin's defense at Florida in 2010 had your typical level of SEC talent, including
Will Hill
(now of the Giants) at free safety and
Jelani Jenkins
(now with the Dolphins) at linebacker and
Janoris Jenkins
at cornerback.
Its top tacklers were safety
Ahmad Black
, who ended up drafted in the fifth round by Tampa Bay in 2011, and Jenkins.
Jon Bostic
, the Bears linebacker, was the team's third-leading tackler.
It was certainly a talented defense, at least in the secondary. A lot of that talent was young.
Draft picks from that defense:
2011:
Ahmad Black, S, Pick 151 (Tampa Bay)
2012:
Janoris Jenkins, CB, Pick 39 (St. Louis) *ended up at North Alabama before the NFL
Jaye Howard
, DE, Pick 114 (Seattle)
2013:
Sharrif Floyd
, DL, Pick 23 (Minnesota)
Matt Elam
, S, Pick 32 (Baltimore)
Jon Bostic, LB, Pick 50 (Chicago)
Jelani Jenkins, LB, Pick 104 (Miami)
Josh Evans
, S, Pick 169 (Jacksonville)
Potential 2014 draft picks:
Dominique Easley, DL
Jaylen Watkins, DB
One thing he did not do was recruit or coach Marcus Roberson or Louchiez Purifoy, two of the top cornerbacks coming out in this year's NFL draft. So the obvious potential tie to drafting them there is not there despite their common Florida background.
Numbers for Austin's defense at Florida in 2010:
Rushing defense: 31st (130.62 yards)

Pass efficiency defense: 12th (108.69)

Total defense: 9th (306.54 yards)

Scoring defense: 29th (21.31 points)

Pass defense: 12th (175.92 yards)

Sacks: T-86th (1.62 per game)

Tackles for loss: 40th (6.38 per game)
Here's some thoughts from our Jaguars reporter,
Michael DiRocco
, who covered Austin at Florida in 2010:
Teryl Austin stepped into a tough spot when he became Florida's defensive coordinator in 2010. He was taking over for Charlie Strong, who led defenses that were the main reasons the Gators won national titles in 2006 and 2008.

Austin did a solid job -- UF finished ninth nationally in total defense and 29th nationally in scoring -- considering he didn't have much to work with up front. The 2009 defense featured a pair of defensive ends that would go on to become second-round NFL draft picks (Jermaine Cunningham and Carlos Dunlap) but the 2010 defense had just one player on the defensive line two-deep depth chart that would go on to be drafted (Jaye Howard).

Not surprisingly, the Gators struggled against the run that season, giving up 130.6 yards per game on the ground, the worst mark since the 2004 defense gave up 142 yards per game. But Austin's defense was pretty good at linebacker and in the secondary, finishing 12th in the nation in pass defense (176 yards per game) and intercepting 22 passes, the third-highest total in the nation that season.

The defense's biggest issue was inconsistency, especially against better teams. UF lost all four games against ranked opponents (Alabama, LSU, South Carolina and Florida State) and was outscored 131-56 and gave up at least 31 points in each game.

Austin was pretty aggressive with blitzes, though that was partly due to the fact that the front four was unable to get much pressure on its own. That lack of pressure forced Austin to blitz more than he anticipated. The Gators managed just 21 sacks in 2010, the third-lowest single-season total since the school began tracking sacks in 1981."
As a position coach:
This year, the Ravens were 12th in the NFL in pass defense, allowing 230.06 yards a game and 12th in interception percentage at 2.9. In 2012, the Ravens were 17th in pass defense (228.13) and 19th in interception percentage (2.3).
In Austin's first year in Baltimore, the team was fourth in pass defense (196.25) and 19th in interception percentage (2.8).
In Arizona from 2007 to 2009, his pass defense was 23rd in 2009 (233.69), 22nd in 2008 (221.25) and 28th in 2007 (232.25). The team's interception percentage was eighth in 2009 (3.5), 19th in 2008 (2.5) and 17th in 2007 (3.2).
As a position coach, he didn't have complete control over his secondary, but his cornerbacks were typically 5-foot-11 in Arizona his first two seasons until his third year, when he had
Bryant McFadden
(6-foot) and
Dominique Rodgers-Cromartie
(6-foot-2).
In Baltimore, he clearly preferred taller cornerbacks. Only one corner,
Lardarius Webb
, was under 6-foot among his starting corners in his three seasons with the Ravens.
At Michigan, he coached Cato June, Marlin Jackson, Charles Drake and Jeremy LeSueur -- all of whom were drafted. At Syracuse, he coached former Detroit Lion Kevin Abrams, who was drafted in the second round of the 1997 draft as well as Tebucky Jones, Donovin Darius and Phil Nash, who signed with the Lions as a free agent in 1999.
April, 26, 2012
4/26/12
1:30
PM ET
There are some genuine reasons to believe the
Minnesota Vikings
would seriously consider selecting LSU cornerback
Morris Claiborne
. The most obvious was the Vikings' historically poor pass defense last season, along with the national consensus that Claiborne is the best cornerback in the draft.
But there are just as many reasons to be suspicious of the sudden league-wide uncertainty about the Vikings' intent, which for months we assumed to be either a trade or the selection of USC left tackle
Matt Kalil
. It coincides with the very public efforts of
Vikings general manager (Crazy) Rick Spielman
to create that very impression. Based on individual team needs, it's more likely that a team in the top 5-8 would trade up for Claiborne, or possibly Oklahoma receiver
Justin Blackmon
or Alabama running back
Trent Richardson
, than Kalil.
[+] Enlarge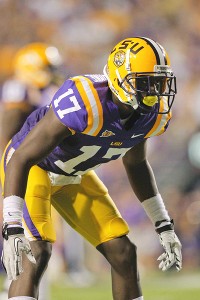 Derick E. Hingle/US PresswireLSU cornerback Morris Claiborne had 11 interceptions over his final two college seasons.
From a football perspective, some people are shaking their heads and wondering why a team whose base defense includes more zone coverage than anything else would spend the No. 3 overall pick on a cornerback. As conventional wisdom goes, individual coverage skills aren't as valuable when not employed in man/press coverage. Thus, you can get cornerbacks to play in a Cover-2 scheme lower in the draft than if you plan to use them in man coverage.
The Vikings have based their scheme on the Tampa-2 framework since 2006, when Mike Tomlin took over as defensive coordinator. Current coach Leslie Frazier, who like Tomlin is a protégé of modern-day Tampa-2 linchpin Tony Dungy, maintained continuity when he replaced Tomlin in 2007.
The goal of the scheme is to find elite pass-rushers to create havoc among the front four and allow the remaining seven players to flood the coverage zones. As a result, teams that use the Tampa-2 framework don't often pursue cornerbacks in the first round.
The
Indianapolis Colts
selected cornerbacks
Marlin Jackson
and
Kelvin Hayden
with their first two picks of the 2005 draft when Dungy was the coach there. In 2008, the
Tampa Bay Buccaneers
selected cornerback
Aqib Talib
and the
Buffalo Bills
selected
Leodis McKelvin
.
Those picks were the exceptions to the rule, and none of the cornerbacks were taken in the top 10.
Spielman said this week that the Vikings aren't a pure zone team, which is true. No NFL team could get away with a single form of coverage for 16 games. ESPN Stats & Information doesn't track coverages, and it is almost impossible to do accurately without help from someone who knew the exact play call on every play.
But considering Frazier's roots with Dungy, and a similar history of new defensive coordinator Alan Williams, it would be fair to say the Vikings' coaching staff has a strong background in zone coverage. That doesn't mean the Vikings won't, or shouldn't, draft Claiborne. But it means that one way or the other, changes would be afoot if they do.
If you have a player as talented as Claiborne in coverage, it makes sense to use more man/press coverage than the Vikings have used in the past. And if that's an issue for the coaching staff, you wonder if drafting Claiborne would further shake the ground under Frazier.
We've already noted the unique position
Frazier finds himself in entering a rebuilding process in his second full year as head coach. Would a commitment to an elite cover corner mean that Spielman isn't expecting his Tampa-2 coach to be around much longer? It's a question worth asking. We'll know if it's even relevant in a few hours. Stay tuned.
April, 7, 2011
4/07/11
12:00
PM ET
»
NFC Draft Watch
:
East
|
West
|
North
|
South
»
AFC
:
East
|
West
|
North
|
South
Each Thursday leading up to the NFL draft (April 28-30), the ESPN.com NFL blog network will take a division-by-division look at key aspects of the draft. Today's topic: history in that spot.
Chicago Bears

The Bears' top pick is No. 29 overall. Here are the past seven players taken in that spot, with their NFL team in parentheses:
2010: Cornerback
Kyle Wilson
(
New York Jets
)
2009: Wide receiver
Hakeem Nicks
(
New York Giants
)
2008: Defensive end
Kentwan Balmer
(
San Francisco 49ers
)
2007: Offensive guard
Ben Grubbs
(
Baltimore Ravens
)
2006: Center
Nick Mangold
(New York Jets)
2005: Defensive back
Marlin Jackson
(
Indianapolis Colts
)
2004: Wide receiver
Michael Jenkins
(
Atlanta Falcons
)
ANALYSIS:
The bottom of the first round is a great place to find starting-caliber guards and centers. The top tackles are usually off the board. Fortunately for the Bears, they could use a guard or center just as much as a tackle. While coach Lovie Smith wants to bring back veteran center
Olin Kreutz
, a free agent, he will have to be replaced someday. And more depth at guard could allow the Bears to move 2008 first-round draft pick
Chris Williams
back to left tackle.
Detroit Lions

The Lions' top pick is No. 13 overall. Here are the past seven players taken in that spot, with their NFL team in parentheses:
2010: Defensive end
Brandon Graham
(
Philadelphia Eagles
)
2009: Defensive end
Brian Orakpo
(
Washington Redskins
)
2008: Running back
Jonathan Stewart
(
Carolina Panthers
)
2007: Defensive lineman
Adam Carriker
(
St. Louis Rams
)
2006: Linebacker
Kamerion Wimbley
(
Cleveland Browns
)
2005: Offensive lineman
Jammal Brown
(
New Orleans Saints
)
2004: Receiver
Lee Evans
(
Buffalo Bills
)
ANALYSIS:
Unfortunately for the Lions, this isn't a great spot to get an elite cornerback. Those types of players are usually drafted in the top seven or eight picks. (The Lions are hoping that Nebraska's
Prince Amukamara
somehow slips through the cracks.) This is a nice area to draft a second-tier defensive lineman, and this year, the Lions will probably have their pick of offensive tackles as well.
Green Bay Packers

The Packers' top pick is No. 32 overall. Here are the past seven players taken in that spot, with their NFL team in parentheses:
2010: Cornerback
Patrick Robinson
(New Orleans Saints)
2009: Defensive tackle
Ziggy Hood
(
Pittsburgh Steelers
)
2008: Defensive end
Phillip Merling
(
Miami Dolphins
)*
2007: Receiver
Anthony Gonzalez
(Indianapolis Colts)
2006: Defensive end
Mathias Kiwanuka
(New York Giants)
2005: Offensive guard
Logan Mankins
(
New England Patriots
)
2004: Tight end
Benjamin Watson
(New England Patriots)
*First pick of second round.
ANALYSIS:
There are some awfully productive players on this list. Part of the reason is that the previous year's most successful organization was in that spot and thus was more likely to make a good scouting decision. But it also tells us the Packers should have an opportunity to select a player who can make an immediate impact as long as they don't limit themselves to certain positions.
Minnesota Vikings

The Vikings' top pick is No. 12 overall. Here are the past seven players taken in that spot, with their NFL team in parentheses:
2010: Running back
Ryan Mathews
(
San Diego Chargers
)
2009: Running back
Knowshon Moreno
(
Denver Broncos
)
2008: Offensive tackle
Ryan Clady
(Denver Broncos)
2007: Running back
Marshawn Lynch
(Buffalo Bills)
2006: Defensive lineman
Haloti Ngata
(Baltimore Ravens)
2005: Linebacker
Shawne Merriman
(San Diego Chargers)
2004: Linebacker
Jonathan Vilma
(New York Jets)
ANALYSIS:
This list tells us what we knew already: You can get a blue-chip, impact player here if you exercise good judgment. The Vikings' decision, of course, will be complicated by their need for a quarterback. What will they do if they have, say, a potentially elite pass-rusher like North Carolina's
Robert Quinn
available to them? Take Quinn and look for a quarterback later? Or prioritize the quarterback?