December, 13, 2013
12/13/13
10:00
AM ET
[Editor's note: This article has been updated to reflect Sunday's results.]
For the
Baltimore Ravens
and
Detroit Lions
, the playoffs are beginning well before the actual postseason starts. In reality for both teams, they begin Monday night.
Both the Ravens and Lions are fighting for playoff berths and are hanging on to those spots by head-to-head tiebreakers -- in the Lions' case for the NFC North title and for the Ravens, the No. 6 seed in the AFC.
The Ravens need to win to keep pace with Miami, which beat New England on Sunday, for a wild-card berth. The Lions need a win to keep pace with Chicago, which won Sunday at Cleveland.
ESPN.com Detroit Lions reporter Michael Rothstein and Baltimore Ravens reporter Jamison Hensley break down what might happen Monday and who might leave "Monday Night Football" still with a playoff berth in their hands.
Rothstein:
Up until Sunday, Detroit's run defense had been very, very good. Add to that
Ray Rice
appears to be struggling this season. What's going on with Rice and does the Lions' stout run defense mean more of Monday night's game is on the shoulders of
Joe Flacco
?
Hensley:
Rice's best two games over the past eight weeks have come against NFC North teams, but a lot of backs have had success against the
Chicago Bears
and
Minnesota Vikings
this year. The Ravens would love Rice to duplicate what
LeSean McCoy
(217 yards rushing) did against the Lions, but I'm pretty sure there's not going to be any snow in Ford Field. Getting the run game on track has been the biggest challenge for the Ravens, who are averaging a league-worst 3.0 yards per carry.
Baltimore hasn't abandoned the ground attack. The Ravens, though, haven't shown much confidence in it either. They have put the ball in the hands of their $120.6 million quarterback to win games. Flacco has thrown over 30 passes in nine of the past 10 games. The problem with that strategy has been the increase in turnovers. Flacco has thrown a career-worst 17 interceptions, including three Sunday. Only two quarterbacks --
Geno Smith
and
Eli Manning
-- have thrown more.
Speaking of turnovers, why have the Lions had so much trouble holding onto the ball this year?
Rothstein:
It's a combination of factors, starting with
Matthew Stafford
. In some ways -- and yes, weather is an excuse here -- Sunday's "fumbleathon" against Philadelphia can be attributed to the weather because so many of those miscues happened when visibility was nil and in blizzard-like conditions. But Stafford has thrown a lot of interceptions in the second half of the season and some of those are just poor reads with which he should be doing better. Others are the fault of his receivers, who lead the league in drops with 41, according to ESPN Stats & Information.
Reggie Bush
has had some fumbling issues, too, and that has been a major problem for the Lions' top free-agent acquisition. It really comes down to Bush improving his ball security and Stafford making smarter decisions.
You mention the
Jimmy Smith
-
Calvin Johnson
matchup in the video. Every team has kind of schemed differently for Johnson this season. What do you think the Ravens will do?
Hensley:
The Ravens don't have their cornerbacks shadow the same receivers, but they will want Smith on Johnson as much as possible because he's their most physical defender. Smith is going to have to play better against Johnson than he did in the 2012 preseason. In the game, Smith was beaten by Johnson on a leaping, 18-yard touchdown. He later held Johnson when the receiver went past him on the next drive.
But Smith is playing with more confidence and more aggressiveness in his first full season starting. He has allowed only 22 catches over his past 10 games. That is an impressive total when you consider he has covered the likes of Cleveland's
Josh Gordon
, Cincinnati's
A.J. Green
, Chicago's
Brandon Marshall
and
Alshon Jeffery
and Pittsburgh's
Antonio Brown
during that time.
The Ravens have some speedy receivers as well with
Torrey Smith
and
Jacoby Jones
. Of course, Flacco will need time to get the ball to them. How difficult will it be for the Ravens to slow down the Lions' pass rush?
Rothstein:
Depends which pass rush shows up. If it is the one that played in the last Green Bay game (seven sacks), then Flacco's success will be predicated on whether he can make the first read correctly. If the pass rush is less successful, then Flacco could have a big day. Much of it will depend on how many people Baltimore keeps home besides the five offensive linemen.
If Baltimore decides to try to block
Ndamukong Suh
one-on-one, it'll be a long night. The pass rush's success also will depend on rookie end
Ziggy Ansah
. If Ansah is healthy enough to play, he becomes a huge difference-maker for the Lions as teams have really struggled to deal with Suh on the inside and Ansah outside. If Ansah can't play -- he injured his shoulder against Philadelphia -- then that's a big bonus for the Ravens.
The Ravens were a Super Bowl team last year. Now, they appear to be very much in the middle of the pack. Did
Ray Lewis
and
Anquan Boldin
make that big of a difference?
Hensley:
I would argue that the Ravens have missed a healthy
Dennis Pitta
(out 12 games with dislocated hip) and Jacoby Jones (injured knee in season opener) more than Boldin and Lewis. You can throw in there that the Ravens have missed the same production from Ray Rice as well. Offensively, the Ravens haven't had as much of a void with Boldin as previously thought. Torrey Smith has assumed the No. 1 receiver job, and rookie
Marlon Brown
has been a weapon in the red zone with six touchdowns. And defensively, there hasn't been much talk of the loss of Lewis because
Daryl Smith
has played so well in the middle. The Ravens defense is statistically much better than last year's group.
So, why has there been so much of a drop-off this year? The offensive line and Rice have been major disappointments. There have been too few running lanes and too many sacks allowed. The lack of a running game and the inability of Rice to make plays in the open field have hamstrung this offense. The other problem has been coming up short in close games. Last year, the Ravens had the NFL's most wins in games decided by three points or fewer. This year, Baltimore has the second-most losses (four) in such games. The Ravens have begun to find a way to win those close games recently, which is why they're back in the playoff race.
The Ravens have historically come through in these December games, which is why they've made the playoffs in each of the past five seasons. Do the Lions feel added pressure in times like these because they've made the playoffs only once since the 1999 season?
Rothstein:
I don't think they do, but there is a lot at stake for Detroit over these last three games. Besides the Lions' second playoff appearance in three seasons, this is a chance at Detroit's first division title since 1993 and if the Lions don't make the playoffs, there probably will be at least a conversation about Jim Schwartz's future in Detroit.
So there are, without question, a lot of things weighing on the Lions. But for them it has been all about the mistakes they have been making and what they need to correct. Whether they do that over the last three games will essentially decide their fate.
October, 13, 2013
10/13/13
8:45
PM ET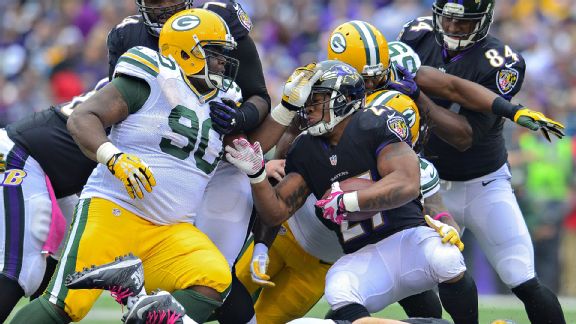 Doug Kapustin/Getty ImagesThe Packers' defense clamped down on Ray Rice and the Ravens' running game on Sunday.
BALTIMORE -- With 12 seconds left in the first half of Sunday's game against the
Baltimore Ravens
,
Green Bay Packers
outside linebacker
Nick Perry
sacked quarterback
Joe Flacco
and knocked the ball loose.
Rookie defensive end
Datone Jones
scooped up the fumble and returned it 20 yards to the Ravens' 13-yard line to set up
Mason Crosby
's 31-yard field goal on the final play of the first half.
It was exactly the kind of play that, according to Packers linebacker
A.J. Hawk
, great defenses make.
"We're definitely not a great defense yet," Hawk said after the
Packers' 19-17 victory
over the defending Super Bowl champs. "But we're trying to get there."
The Packers defense might have to get there -- and fast.
If the Packers (3-2) are going to be without receivers
Randall Cobb
and
James Jones
, both of whom left Sunday's game with injuries in the first half, then they're going to need their defense to pick up where it left off on Sunday at M&T Bank Stadium.
Among its noteworthy accomplishments in helping secure Green Bay's first road win of the season, the defense came through with:
A stop on fourth-and-goal from the 1-yard line in the second quarter after a special teams gaffe by John Kuhn, who touched a blocked punt that the Ravens recovered to keep a drive alive.

A stop on third-and-goal from the 5 in the third quarter that forced the Ravens to settle for a field goal.

Five sacks, including three by Hawk (who had that many all of last season).

A near complete shutdown of the Ravens' once-prolific running game.
"Today was good, I think, with those goal-line stands," Hawk said. "But you can't call yourself great until you're holding teams consistently under 13, 14 points, I think. We played pretty well, but it's a long season, that's for sure. We're only 3-2."
Perhaps most encouraging for the Packers was that they did it all without their best defensive player, outside linebacker
Clay Matthews
, who six days earlier underwent surgery to repair his broken right thumb, and without their defensive signal-caller, inside linebacker
Brad Jones
, who sustained a hamstring injury a week earlier against the
Detroit Lions
.
It all began with the goal-line stand.
On fourth-down from the Packers' 1-yard line, the Ravens called running back
Bernard Pierce
's number. Defensive tackle
Mike Daniels
and cornerback
Micah Hyde
were credited for stopping Pierce, but in reality it was a group effort that included Hawk and defensive tackles
B.J. Raji
and Mike Daniels.
"We pride ourselves on not giving up any rushing touchdowns," Raji said. "We stood up that play, and hopefully we can continue to do that."
[+] Enlarge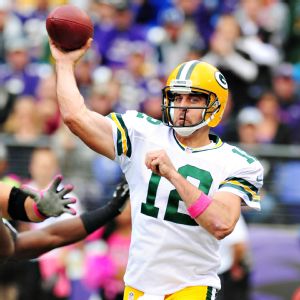 Evan Habeeb/USA TODAY SportsAaron Rodgers threw for 315 yards, but he also lost two receivers to injuries.
Just as important was the stop on third-and-goal from the 5 in the third quarter, when the Packers forced an incompletion by Flacco to receiver
Marlon Brown
. Linebacker
Jamari Lattimore
, the replacement for Jones, had tight coverage on the play. The Ravens settled for a field goal, cutting the Packers' lead to 9-3 with 4:34 left in the third quarter, and then on the next possession quarterback
Aaron Rodgers
finally hit on a big play -- a deep shot to receiver
Jordy Nelson
for a 64-yard touchdown.
"Like I tell Dom after a game like this on Monday, if you give up 17 points, we're going to win most of those games," said Rodgers, who was pressured often but still managed to throw for 315 yards on 17-of-32 passing with one touchdown and one interception.
To be sure, the Packers weren't facing an offensive juggernaut. The Ravens came into the game ranked 21st in total offense, and they haven't been able to protect Flacco. Even their usually reliable ground game with running back
Ray Rice
was just 27th in the league in yards per game coming in.
The Packers shut down Rice, who rushed 14 times for 34 yards, 11 of which came on one carry. They will almost certainly climb from their No. 5 ranking last week in rushing defense.
"The defense, I felt, carried us pretty much most of the game," Packers coach Mike McCarthy said.
That's not to say the Packers were perfect on that side of the ball. They had a major breakdown when the Ravens went for it on fourth-and-21 from their own 19-yard line with 2:40 left in the game. Safety
Jerron McMillian
fell down in coverage, which allowed Flacco to hit receiver
Tandon Doss
for a 63-yard completion. That set up an 18-yard touchdown pass to tight end
Dallas Clark
over McMillian on the next play, when McMillian said he did not hear the defensive call.
With the Ravens within two, the Packers needed their offense to burn off the final 2 minutes, 4 seconds. The combination of
Eddie Lacy
(who rushed for a career-high 120 yards on 23 carries) and a key third-down conversion to tight end
Jermichael Finley
(who should have stayed in bounds to keep the clock running after his 52-yard catch and run) did just that.
But with Cobb on crutches after the game and Jones having trouble walking, the fate of the Packers might rest on the defense.
"We're going to need them big," Finley said of the defense. "But at the same time, if Randall and James are out, it's called the next man up."
.