May, 9, 2014
May 9
1:15
PM ET
GREEN BAY, Wis. -- Armed with three selections on Day 2 of the NFL draft, the
Green Bay Packers
are spending the day plotting their strategy for picks Nos. 53 (second round), 85 and 98 (both in the third round).
After taking Alabama safety
Ha Ha Clinton-Dix
in the first round -- a move that ESPN draft analyst Mel Kiper Jr. called
one of the winners of Day 1

-- the Packers reset their draft board to reflect the best players still available.
If their grades on the players still available at 53, 85 and 98 fit their needs, here is who they might consider:
Linebackers
:
Notes:
Borland, Brown and Skov would all project as inside linebackers in the Packers' 3-4 scheme. Kiper Jr. ranked Van Noy, an outside linebacker, as
the fifth-best player still available

, and Borland as the 12
th.
In his
second-round mock draft

, Kiper Jr. predicted Borland to the Packers at No. 53. He wrote: "This would be a steal. He's not a physical freak, but Borland is a football freak. Slots in next to A.J. Hawk."
Tight ends
:

Amaro
Notes:
If the Packers are going to get an impact tight end, they probably need to do it on Friday, because the drop off after these four is significant. Seferian-Jenkins and Amaro are receiving tight ends in the mold of
Jermichael Finley
, while Fiedorowicz and Niklas are more traditional players. Scouts Inc. has the Packers taking Amaro in its
updated second-round mock draft

.
Receivers
:

Lee
Notes:
Lee could be one of the first players off the board when the draft resumes, so it's unlikely the Packers would be in position to take him unless they traded up. Keep in mind that they cannot trade No. 98 because it is a compensatory pick at the end of the third round. Lee and Landry are smaller receivers in the 5-foot-11 range, and Ellington is even smaller at 5-9 3/8. The Packers might want to go bigger at this spot, because they already have a dynamic slot receiver in
Randall Cobb
.
Centers:
Notes:
The Packers are high on second-year pro
JC Tretter
as their possible next starting center, but the former collegiate tackle has yet to play an NFL snap at any position. There is a good chance all of these centers will be available at No. 53, with Martin and Richburg as likely late second-round picks who also could slip into the third round.
February, 24, 2014
Feb 24
8:00
AM ET
Good Morning and RROOOOAAARRR!!!!!
Over the past week, the
Detroit Lions
set a somewhat large premium on finding wide receivers to join star
Calvin Johnson
and complementary receivers
Ryan Broyles
,
Kris Durham
and
Jeremy Ross
as potential pass-catchers.
And after talking to a ton of receivers over the weekend -- almost every top receiver at the combine said they had meetings with the Lions -- the receivers were finally able to work out Sunday for coaches, scouts and general managers.
Here's a quick look at how receivers did at Lucas Oil Stadium on Sunday (all numbers from NFL.com):
40-yard dash:
Top performer --
Brandin Cooks
(Oregon State) 4.33. Others of note:
Paul Richardson
(Colorado) 4.4;
Martavis Bryant
(Clemson) 4.42;
Odell Beckham
(LSU) 4.43;
Sammy Watkins
(Clemson) 4.43;
Jordan Matthews
(Vanderbilt) 4.46.
Bench Press:
Top performer --
Cody Latimer
(Indiana) 23. Others of note: Matthews 21; Bryant 16; Cooks 16; Watkins 16;
Jeremy Gallon
(Michigan) 15.
Vertical jump:
Top performer --
Tevin Reese
(Baylor) 41.0. Others of note: Bryant 39.0;
Allen Robinson
(Penn State) 39.0; Beckham 38.5;
Marqise Lee
(USC) 38.0; Richardson 38.0;
Mike Evans
(Texas A&M) 37.0.
Broad jump:
Top performers --
Donte Moncrief
(Mississippi) and Reese 11 feet, 0 inches. Others of note: Lee 10-7; Robinson 10-7; Watkins 10-6; Bryant 10-4; Richardson 10-4.
3-cone drill:
Top performer --
Damian Copeland
(Louisville) 6.53. Others of note: Beckham 6.69; Cooks 6.76;
20-yard shuttle:
Top performer -- Cooks 3.81. Others of note: Beckham 3.94; Robinson 4.00; Lee 4.01; Bryant 4.15.
60-yard shuttle:
Top performer -- Cooks 10.72. Others of note: Beckham 10.93; Robinson 11.36;
Shaq Evans
(UCLA) 11.51; Evans 11.58.
And now, some Lions news from around the Interwebs:
February, 14, 2014
Feb 14
9:00
AM ET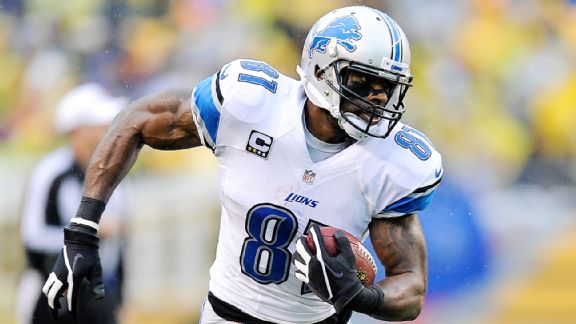 Joe Sargent/Getty ImagesLast season showed how much the Lions rely on Calvin Johnson to make their offense go.
ALLEN PARK, Mich. -- His knees ached all season. His finger was busted, too. He practiced less than he ever had, and there were times last season when
Calvin Johnson
, he of superhuman ability, couldn't be his usual self.
Even after Johnson's 329-yard game against the
Dallas Cowboys
in October, former
Detroit Lions
coach Jim Schwartz indicated Johnson was not completely healthy. He probably wasn't for the final three months of the 2013 season.
He even missed two games in 2013, something that has happened only once before in his career. In the two games he missed -- and in others in which he was obviously limited because of his multiple injuries -- the Detroit offense stagnated. This is something the Lions can't let happen in 2014, regardless of Johnson's health.
"You always have to be aware of the wear and tear of this game on your players," new Lions offensive coordinator Joe Lombardi said. "It's something that, you know -- I don't want to call it a pitch count -- but you're always cognizant of how much are these guys running in practice, how many hits they are taking, who is coming across the middle to catch this pass that is going to possibly get him hit.
"So, you know, I think that's always -- regardless of how old a player is -- you're always aware that this game is a tough game played by tough men. By the end of the season, everyone's got a little something, so I think that it's a good point that you have to be aware of those things."
The Lions were all too aware last season of what happened when Johnson didn't play. Detroit was held under 300 yards of offense three times last season. One of those games was in a snowstorm in Philadelphia. The other two were the games Johnson didn't play in. This left the Lions with an obvious problem to fix and a somewhat easy problem to solve.
Detroit needs an outside receiver to complement Johnson. Even though Johnson is only 28 and in his prime, that same receiver could also become an eventual replacement for Johnson, especially if those knee injuries he dealt with last season begin to slow him down. After Thursday's release of
Nate Burleson
, the team's only other true veteran receiver, the Lions are almost certainly going to be heavily targeting both the slot and outside positions in the next few months.
Detroit has two options for how to go about finding these complements for Johnson. One is to draft a receiver in hopes he learns from Johnson and takes pressure off him, giving defenses yet another problem to worry about besides Johnson and running backs
Reggie Bush
and
Joique Bell
.
[+] Enlarge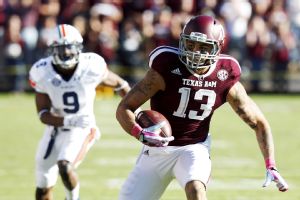 Thomas B. Shea/Getty ImagesThe Lions might look for a receiver in the draft, like Texas A&M's Mike Evans, to pair with Calvin Johnson.
The other option is to go into free agency and emerge with an established receiver. This could be trickier with Detroit's salary-cap issues -- the team is slightly under the expected 2014 cap with free agency less than a month away.
That adds to the challenge as Detroit attempts to find another speed/size wide receiver to line up opposite Johnson. Not surprisingly, Lombardi said he would have to evaluate every player individually when asked whether he wants a tall or fast receiver to line up opposite Johnson.
"I'd like big and fast," Lombardi said. "But, listen, if I was going to give a stock answer, I know what Calvin can do, how he can stretch the field, what his strengths are. I don't really know what his weaknesses are right now, but, I'm sure, maybe there's something.
"So you would say, 'Well, someone to work underneath.' You know, that would be an easy answer, but if that guy exists and there's someone better that maybe does a little something, I'd rather have the better guy."
If they go the free-agency route, they could end up going with someone who is coming off an injury and could present a risk, like the
Philadelphia Eagles
'
Jeremy Maclin
, or someone who is close in age to Johnson, which would fix Detroit's immediate complementary problem but not the succession plan the team will eventually need to implement.
So the draft, with a very deep and talented receiver class, might be the way to go to find a replacement. Johnson, the only true veteran receiver on the roster, can spend time mentoring any potential draft selection. It is a spot at which the Lions could look early in the draft, depending on who is available at No. 10, and then again in the second round. The obvious selection, if he were around, would be Clemson's
Sammy Watkins
. The early entrant has the makeup of a special receiver and would force teams to not focus so much of their coverage on Johnson.
Beyond Watkins, there are a lot of talented options in what could be one of the more talented receiver drafts in recent memory. Of the top 100 players in
ESPN.com's draft rankings
, 14 are wide receivers; eight receivers are in the top 50.
As Lombardi figures out what he would like, his boss, head coach Jim Caldwell, has previously liked tall receivers in the slot and outside. Almost every receiver he has had as a starter in Baltimore and Indianapolis has been at least 6 feet tall. In this draft, among those top 14 receivers, 10 are at least that tall -- including Watkins and the Nos. 2 and 3 receivers listed, Texas A&M's
Mike Evans
and USC's
Marqise Lee
.
So after a season that confirmed the Lions desperately need a partner for Johnson on the outside, it looks like the team should have ample options to find one.
January, 10, 2014
Jan 10
8:00
AM ET
Good Morning and ROOOAARRRR!!!!!
While a lot of the attention around the
Detroit Lions
in this space has been about the coaching search -- and rightfully so -- we've also tried to mix in some of the beginnings of what the team will look for in May's NFL draft.
And colleague Kevin Weidl, a former scout with the Jets,
broke down the draft needs of the NFC North recently

, including the Lions. Weidl agrees with what I've written before. The Lions need help at wide receiver, cornerback and weakside linebacker -- although in my opinion the linebacker situation could be dictated by the defensive scheme of the new coach.
Weidl's concern -- and it is a valid one -- is that as of now there are no surefire elite cornerbacks in this draft. The closest would be Justin Gilbert from Oklahoma State, as I
wrote about the other day
. Darqueze Dennard from Michigan State has the chance to be a riser as well, but isn't there yet.
Weidl also says if Sammy Watkins, the receiver from Clemson, is available at No. 10, Martin Mayhew should take a strong look at selecting him. Agreed here.
Whether he is there or not is the issue. Todd McShay has Watkins at
No. 4 on his latest

Top 32 and has USC'S Marqise Lee at No. 9 and Gilbert at No. 10. Also, he has linebackers Khalil Mack from Buffalo and C.J. Mosley from Alabama (not the
C.J. Mosley
who is a defensive lineman already on the Lions) as in his Top 10. Considering the quarterback needs at the top of the draft, at least one of those players should fall to the Lions.
For what it's worth, if the Lions end up with the linebacker Mosley, writers and editors everywhere will have to figure out a Mosley system for notation in stories after first references.
Meanwhile, Mel Kiper Jr.
moved Watkins up to No. 6 on his Big Board

with Lee at No. 14 and Mike Evans from Texas A&M at No. 15. Gilbert is No. 16 and Dennard is No. 19.
Those are the names to watch for now, but that will surely change over the next four months until the draft.
And now a search around the Interwebs for Lions news:
January, 8, 2014
Jan 8
3:00
PM ET
The NFL draft is still almost four months away and the
Detroit Lions
are still without a head coach, a known staff of assistants and have not gone through any free agency yet.
But there are obvious needs for the Lions heading into this offseason, most notably on the outside of the field at both wide receiver and cornerback. Detroit desperately needs a spread-the-field option opposite star
Calvin Johnson
at receiver.
And the secondary has been a mess for a few years now. While the Lions have faith in 2013 second-round pick
Darius Slay
and some of Detroit's other cornerbacks showed flashes of potential, the Lions don't have a clear No. 1 cornerback at this point.
By the end of last season
Rashean Mathis
was the team's top cornerback, and the veteran is a free agent. Detroit still has
Chris Houston
, but he struggled with consistency last season, having some games where he flashed potential to be a top cornerback and other games where he had so many issues, the Lions benched him.
So with corner and receiver two of the team's top needs, here are some potential options for Detroit with the No. 10 selection in May's draft.
WIDE RECEIVERS:
Sammy Watkins, Clemson
: He is the best receiver in this draft and a special overall talent. He may not have the height of some of the NFL's top receivers like Calvin Johnson,
A.J. Green
and
Larry Fitzgerald
, but he is still over 6-foot tall and has the speed and production Detroit would want as a complement to Johnson. The ESPN draft profile of him lists his production and height-weight-speed combination and big-play ability as exceptional and his separation skills, balls skills and competitiveness as above average. This season, he had 101 catches for 1,464 yards and 12 touchdowns.
Marqise Lee, USC:
Behind Watkins, Lee might be the best receiver in the draft. His numbers are down from this season compared to the prior two, but he also missed three games and didn't have
Matt Barkley
throwing to him anymore. With Barkley throwing to him, Lee had 118 catches for 1,721 yards and 14 touchdowns as a sophomore. He is essentially the same height as Watkins. His production, intangibles, separation and ball skills are exceptional and his height-weight-speed combination, big-play ability and competitiveness are all listed as above average.
Jordan Matthews, Vanderbilt:
After Watkins and Lee, there is more of a question of who comes next between Matthews and Texas A&M's
Mike Evans
. I like Matthews a bit more than Evans at this point, mostly because he was the clear top option for the Commodores in every game this season and managed to still grab 112 balls for 1,477 yards and seven touchdowns, including nine 100-yard games this season. He has more height than Watkins or Lee. That's more consistency than Evans, who had five 100-yard games with a better quarterback, but also had two 250-yard games.
CORNERBACKS:
Justin Gilbert, Oklahoma State:
At 6-foot, Gilbert has good size for a cornerback in the NFL and is rated as the top cornerback in this year's draft. His ESPN draft profile has him with exceptional height-weight-speed and durability along with above average production, cover skills, ball skills and in run support. Gilbert had 42 tackles, seven interceptions and seven pass breakups in 2013 for the Cowboys.
Darqueze Dennard, Michigan State:
Dennard won the Jim Thorpe Award this season and was a consensus first-team All-American. He had 62 tackles this season with four interceptions, two forced fumbles, five quarterback hurries and 10 pass breakups. He is a little smaller than Gilbert at 5-foot-11 but has excellent instincts and can be a really strong cover corner at the next level.
Loucheiz Purifoy, Florida:
He didn't have the numbers of Gilbert or Dennard and is probably a step down from the two of them in terms of talent. He had 24 tackles, two interceptions and seven pass breakups this season. His size is comparable to Gilbert and his cover skills are listed by his ESPN draft profile as exceptional. He is rated just below his Florida teammate,
Marcus Roberson
, on the Scouts, Inc. big board, but Roberson's injuries last season pushed Purifoy ahead in my mind. Neither one would be in the top three if Oregon's
Ifo Ekpre-Olomu
had chosen to head into the draft instead of staying in school.

NFC NORTH SCOREBOARD
Thursday, 9/4
Sunday, 9/7
Monday, 9/8