NFC North:

Marquess Wilson
September, 22, 2013
Sep 22
7:45
PM ET
PITTSBURGH -- The
Chicago Bears
announced their Week3 list of inactives going into Sunday night's matchup against the
Pittsburgh Steelers
at Heinz Field.
The list includes receiver
Marquess Wilson
, cornerback
C.J. Wilson
, running back
Michael Ford
, guard
James Brown
, offensive tackle
Jonathan Scott
, defensive end
David Bass
and defensive tackle
Zach Minter
.
So no surprises on this list. In fact, the list of inactives is identical to the one the club released last week prior to its win against the
Minnesota Vikings
.
Pittsburgh's inactives include quarterback
Landry Jones
, receiver
Derek Moye
, running back
Le'Veon Bell
, cornerbacks
Cortez Allen
and
Isaiah Green
, center
Cody Wallace
and defensive tackle
Hebron Fangupo
.
The Steelers also announced that
Felix Jones
will start at running back in place of
Isaac Redman
.
Fernando Velasco
will start at guard in place of
Kelvin Beachum
.
Jarvis Jones
gets the start at right outside linebacker, and
William Gay
will start at cornerback in place of Allen.
August, 26, 2013
Aug 26
2:49
PM ET
LAKE FOREST, Ill. -- The
Chicago Bears
returned to the field to resume workouts Monday, but continued to hold out defensive tackle
Henry Melton
and receiver
Earl Bennett
as the duo works through the steps of the concussion protocol to return to the field.
Melton and Bennett attended the session inside the Walter Payton Center during the portion of practice open to the media, but it appears neither has been cleared to return to activity. Considering the starters aren't likely to play much, if any, during the preseason finale against Cleveland on Thursday, there's no rush for Melton and Bennett to return to the field.
"Henry is into (the) running (phase of the concussion protocol). Earl is day-to-day," coach Marc Trestman said. "I know he was with some of the medical people this morning, I haven't checked. Henry ran today. He's going to run tomorrow and Wednesday and pick up that running significantly. That's where he is at this point."
However, the Bears have already begun preparations for the regular-season opener against the
Cincinnati Bengals
on Sept. 8, and the week leading into that outing would seem to be the target date for Melton and Bennett to rejoin the team for workouts.
As the club's franchise player, Melton has already solidified his status as a starter. Bennett, meanwhile, is competing with
Joe Anderson
,
Eric Weems
,
Terrence Toliver
and rookie
Marquess Wilson
for one of the receiver spots behind
Brandon Marshall
and
Alshon Jeffery
. Bennett hasn't practiced with the team since suffering the concussion on Aug. 3 at Soldier Field after a hard hit from safety
Chris Conte
.
Melton suffered his concussion in the first game of the preseason at Carolina.
In other injury news, the team held out quarterback
Matt Blanchard
(hand), linebacker
D.J. Williams
(calf), offensive tackle
Jonathan Scott
(knee), defensive tackle (
Corvey Irvin
) (ankle) and cornerback
Zack Bowman
(hamstring).
Fullback
Harvey Unga
(ribs), defensive end
Cheta Ozougwu
(hamstring), and long snapper
Patrick Mannelly
returned to the practice field Monday after missing last week's game at Oakland.
August, 24, 2013
Aug 24
2:15
AM ET
OAKLAND, Calif. -- Here are five things we learned in the first half of the
Chicago Bears
' 34-26 win over the
Oakland Raiders
, when the starters carried the team to a 27-3 halftime lead:
1. Matt Forte is focal point of offense:
Even before Forte's brilliant performance (six rushes, 76 yards; two catches, 33 yards and one touchdown) versus the Raiders, the tailback had been nothing short of spectacular the entire preseason. Forte seemed to gain lower-body strength in the offseason without sacrificing an ounce of his quickness and agility. Now, it needs to be pointed out that Oakland is terrible (more on that later), but Forte glided with the football in the open field. And he also showed he can change direction on a dime and cut back when necessary. With
Michael Bush
expected to be used more under Marc Trestman, a fresh Forte will be a nightmare to opposing defenses throughout the season, if healthy. The Bears have made several moves to upgrade the offense the past two seasons, which is great, but the team cannot overlook one of the most tenured guys on the unit. This needs to be Forte's offense.
August, 20, 2013
Aug 20
5:20
PM ET
LAKE FOREST, Ill. -- Defensive tackle
Henry Melton
and wide receiver
Earl Bennett
remained sidelined on Tuesday due to concussions, but both players watched practice from the sidelines for the first time since the
Chicago Bears
concluded the Bourbonnais portion of their training camp on Aug. 13.
However, Melton and Bennett have still not passed the NFL concussion protocol to return to action, and therefore both continue to be off-limits to the media, per league rules.
While veteran
Nate Collins
has elevated his game filling in for Melton at defensive tackle, the picture at the No. 3 wide receiver spot is cloudier with Bennett out. Wideouts
Joe Anderson
,
Marquess Wilson
,
Eric Weems
,
Terrence Toliver
and
Devin Aromashodu
have all been given an opportunity to run with the first and second teams in recent weeks, but quarterback
Jay Cutler
said on Tuesday that he has no input on which specific player would fill the void left by Bennett if his absence continues to drag on.
"They don't give me an opinion so we'll see who they throw in there," Cutler said. "We'll see who Marc (Trestman), Phil (Emery) and those guys like. Whoever is out there I trust that they can get the job done."
In other injury news, quarterback
Matt Blanchard
(hand), fullback
Harvey Unga
(rib), defensive end
Cheta Ozougwu
(hamstring), linebacker
D.J. Williams
(calf), long snapper
Patrick Mannelly
(rib), offensive tackle
Jonathan Scott
(knee) and defensive tackle
Corvey Irvin
(ankle) were all held out of Tuesday's practice.
The news on Blanchard is encouraging. The second-year quarterback is expected to miss about a month, but could still have a role on the team in 2013 in some capacity. Blanchard also remains eligible for the practice squad.
August, 11, 2013
Aug 11
9:26
PM ET
BOURBONNAIS, Ill. -- Wide receiver
Marquess Wilson
's sole responsibility in three years at Washington State was to catch the football, a job the Chicago Bears' 2013 seventh-round draft choice excelled at.
[+] Enlarge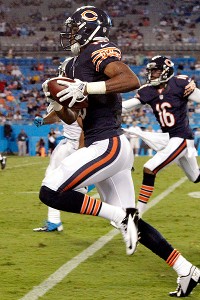 AP Photo/Bob LeveroneThe Bears' Marquess Wilson, center, runs for a long gain after a catch against the Panthers on Friday.
Wilson left school as the Cougars' all-time leader in receiving yards (3,207), while ranking second in school history in receptions (189) and touchdown catches (23). Those numbers look even more impressive when you factor in that Wilson played in only 33 career games with 27 starts before leaving the team last year after a fallout with WSU head coach Mike Leach.
Wilson flashed in the Bears' first preseason game with an impressive 58-yard catch in Carolina.
But one area Wilson did not contribute in college was on special teams, a phase of the game that almost every NFL reserve player must embrace in order to earn a spot in the 53-man roster. Wilson said the Bears are taking a look at him on the punt (gunner) and kickoff team.
"It was different coming from college where I never played special teams, Wilson said. "But (I'll do) anything to get on the field."
Bears head coach Marc Trestman stressed on Sunday the importance of Wilson making a mark on special teams. Otherwise, can the Bears afford to carry him on the 53-man roster?
"I think the truth of it is and the content of it is he's shown he can do it (special teams) and then he'll fall off and then we'll have to pick him up again," Trestman said. "He's got to understand it's so important for him to be a special teams player for us if he becomes a fourth or a fifth wide receiver and he is competing to be a fourth or a fifth wide receiver and you can see what
Joe Anderson
and
Eric Weems
do for us. That's part of the job for a receiver that is not one of the top three, he's got to be an active special teams player and give us the kind of play that Joe and Eric give us on special teams at this point.
"So, he's just starting to understand the importance. I have seen him out there and when he's active and when he's focused he shows that he has the ability to do it. He's a young player, he's probably never done it before but he's got to recognize how important it is because of where he would be on the roster presently to make special teams a priority as all the guys who are looking for roster spots who are not starters. We talk about that every day and I think it's become clearer to him now and I think we're going to see more because he's shown flashes of it in practice."
August, 6, 2013
Aug 6
9:41
PM ET
BOURBONNAIS, Ill. -- In a practice filled with defensive highlights, defensive end
Shea McClellin
authored the play of the day on Tuesday when he sniffed out a screen pass and intercepted a hard-thrown ball from quarterback
Jay Cutler
in the flat.
McClellin initially rushed up field on the play from his end spot before anticipating the throw by Cutler and coming down with a difficult catch. If the sequence had occurred in a real game, McClellin would have scored an easy defensive touchdown.
[+] Enlarge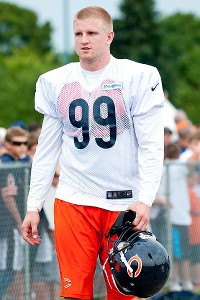 Bradley Leeb/US PresswireShea McClellin said he feels faster, and it showed on a nice play Tuesday.
"I was just doing my job and reading my keys," McClellin said. "The ball was right there so I picked it off. I was just doing my job. I feel faster out there than I did in the spring after I lost eight pounds. I still feel like I get a little heavier, but I'll work on that after camp.
McClellin has been in a groove the last week, routinely winning one-on-one battles with offensive lineman in individual and team drills. The likely plan for the former first-round pick is to move him around the defensive front, lining him up in a two-point or three-point stance depending on the defensive call or the matchup, while sometimes requiring that he cover a tight end or guard the flat on passing downs.
The Bears asked McClellin to do some of that last year as a rookie, but expect to see more of it in 2013. That's because McClellin should receive a significant boost in play-time in the Bears' three-man starting defensive end rotation that also includes
Julius Peppers
and
Corey Wootton
.
On the topic of defensive lineman moving around, the Bears had several lineman stand up in a two-point stance and either rush the quarterback or run with a tight end in coverage, the most notable being Pro Bowl defensive tackle
Henry Melton
.
As the wide receiver bubble starts to take shape, Joe Anderson is doing whatever he can to earn a spot on the Bears' final 53-man roster. A standout on special teams in the final three regular-season games of 2012, Anderson has made several impressive catches throughout camp.

On Tuesday, he beat safety Major Wright down the deep middle of the field and hauled in a touchdown bomb from Cutler.

"It was just a beautiful pass by Cut, man," Anderson said. "The safety sat and I just ran by him."

Anderson has the necessary physical skills (6-foot-1, 196 pounds), but admits that he still needs to work on the mental aspect of his game. Anderson was an undrafted rookie free agent last summer out of Texas Southern.

"I'm just as strong as Brandon Marshall or anyone else that is out here," Anderson said. "So it's not the physical part, it's more mental, like learning the fundamentals of the game. Just the little things that can get you open in tight coverages, and that starts in the film room, getting in your playbook and taking good notes in the meeting room. Then you need to come out on the field and apply it all."

It appears to be an open competition at wide receiver after the top three on the depth chart. Wideouts Anderson, Eric Weems, Devin Aromashodu, Terrence Toliver, Marquess Wilson, Josh Lenz, Marcus Rucker, Britton Golden and Jerrell Jackson all figure to get an extended look in the upcoming preseason games.

Wilson, the Bears seventh-round draft choice, is intriguing because although his 6-foot-4, 184 pound frame may not be ready to contribute much for the Bears on offense or special teams this season, would he clear waivers if the team cut him with the intent of bringing him back on the practice squad? The last thing the Bears want to do is completely cut ties with a 20-year old receiver, who if he stayed in school and continued producing at the same rate he had over his first three years at Washington State, would've been a first-round or second-round pick in 2014.



Wide receiver Earl Bennett (concussion symptoms), nickel back Kelvin Hayden (hamstring), linebacker D.J. Williams (calf), offensive tackle Jonathan Scott (knee) and Peppers (excused) were all sidelined on Tuesday.

Left tackle Jermon Bushrod participated in just individual drills for the second consecutive practice as he eases back from a right calf strain.

Defensive tackle Stephen Paea (hip) had full participation.



Team matriarch Virginia McCaskey watched the workout and later chatted with Bears general manager Phil Emery.
July, 26, 2013
Jul 26
12:00
PM ET
»
NFC Eight in the Box:
East
|
West
|
North
|
South
»
AFC:
East
|
West
|
North
|
South
One key positional battle for each NFC North team as training camps get underway.

Chicago Bears:
The wide receiver position isn't as settled as you might think in Chicago. We know that
Brandon Marshall
will be one starter, and the assumption is that
Alshon Jeffery
will work on the other side, with
Earl Bennett
in the slot. But Jeffery is hardly a proven player, having missed six games as a rookie last season and catching 24 passes in the 10 games he played. Don't forget, too, that Bennett has a long history with quarterback
Jay Cutler
. The Bears also might be motivated to find roster room for rookie
Marquess Wilson
, who was troubled but talented at Washington State and might be difficult to get on to the practice squad.

Detroit Lions:
Reggie Bush
figures to get more snaps this season than any other Lions running back, presuming he stays healthy. But he isn't expected to be a workhorse, so the identity of the team's No. 2 running back will have added importance. Training camp should feature a spirited battle between
Mikel Leshoure
and
Joique Bell
for that spot. Leshoure was the Lions' primary back last season and carries the pedigree of a second-round draft choice, but he wasn't explosive and continued to deal with hamstring injuries during the offseason. Bell proved a nifty runner last season and a good receiver as well.

Green Bay Packers:
The running back position is wide open after the decision to draft
Eddie Lacy
and
Johnathan Franklin
, who will join
DuJuan Harris
,
James Starks
,
Alex Green
and
John Kuhn
. Harris has opened training camp on the physically unable to perform (PUP) list but eventually should join the mix. Lacy's size (5-foot-11, 230 pounds) makes him a candidate to handle goal-line and short-yardage situations, but he also could emerge as a first-down back depending on Harris' condition. Starks has as much talent as anyone in the group but has never been able to stay healthy.

Minnesota Vikings:
We all know that
Greg Jennings
will be one of the Vikings' starting receivers. But who will man the second and third spots? The assumption has been that
Jerome Simpson
will start on the outside, with
Jarius Wright
in the slot and rookie
Cordarrelle Patterson
working his way into the rotation. But the competition is open, and I wouldn't assume those spots are locked up in that way. The Vikings have big plans for Patterson, and eventually he should displace Simpson alongside Jennings. It's probably just a matter of when.
July, 24, 2013
Jul 24
12:00
PM ET
NFL players are never healthier than on the first day of training camp, or so goes conventional wisdom. As the first NFC North veterans report to training camp Wednesday --
Chicago Bears
players are headed to Bourbonnais, Ill., as we speak -- it's worth revisiting players who spent a significant portion of the offseason injured and project their status for training camp.
We'll take it team by team, of course:

Chicago Bears
Veteran report date:
Wednesday
Analysis:
Receiver
Brandon Marshall
missed almost the entire offseason program because of hip surgery, getting on the field for one day of mandatory minicamp. Place-kicker
Robbie Gould
also missed time as his surgically-repaired calf healed. Receivers
Marquess Wilson
and
Alshon Jeffery
also missed time with hamstring injuries, but there are no indications that any of them will be significantly limited when practice begins Friday.

Detroit Lions
Veteran report date:
Thursday
Analysis:
One of the biggest stories in Detroit this week will be whether safety
Louis Delmas
is ready to practice, and if so, whether the Lions let him do everything or if he is limited. Delmas missed the entire offseason because of ongoing knee issues, even after signing a contract extension that will pay him $1.715 million if he can't play this season. Receiver
Ryan Broyles
, meanwhile, is just under eight months removed from tearing his ACL. The Lions could put him on the physically unable to perform (PUP) list, or they could pass him on his physical and let him ease into practice. The assumption is that two other veterans who did little this offseason, place-kicker
David Akers
(sports hernia/hip) and running back
Mikel Leshoure
(hamstring) will be ready to practice.

Green Bay Packers
Veteran report date:
Thursday
Analysis:
Many of you have asked about offensive lineman
Derek Sherrod
, who hasn't had any football activity since suffering a gruesome leg injury in December 2011. The Packers had hoped he would be in the mix at right tackle this offseason, but that never materialized. If Sherrod still isn't ready to practice when camp opens, you wonder if he ever will be. Meanwhile, it's tough to expect defensive tackle
Jerel Worthy
to be ready anytime soon after he tore his ACL in Week 17 last season. The same goes for rookie offensive lineman
J.C. Tretter
(broken ankle). On the other hand, we're assuming that cornerback
Davon House
(shoulder) and running back
DuJuan Harris
(cyst) will be ready. The status of rookie receivers
Charles Johnson
and
Kevin Dorsey
, both of whom missed the entire offseason, is not clear.

Minnesota Vikings
Veteran report date:
Thursday
Analysis:
Center
John Sullivan
sat out the offseason after having microfracture surgery on his knee. Coach Leslie Frazier said at the end of minicamp that Sullivan was on track to be ready when camp opens. There have been no reports of a setback. Linebacker
Desmond Bishop
(hamstring) didn't participate in the Packers' offseason, but he has said he will be ready for camp. Defensive end
Jared Allen
did not participate this offseason because of surgery to repair a torn labrum but has said he will be cleared for practice. Receiver
Greg Childs
was doing light running during the offseason and is now a year removed from tearing both patellar tendons, but he could be a candidate for the PUP list. Linebacker
Chad Greenway
's minor offseason knee surgery isn't expected to slow him in training camp. Cornerback
Jacob Lacey
broke his thumb in June, and his status merits observation. Rookie linebacker
Michael Mauti
(knee) got in some light work late in the offseason, but it's worth watching whether the Vikings deem him ready for contact drills.
May, 3, 2013
May 3
9:07
AM ET
We're Black and Blue All Over:
Good morning. It's the Friday after draft weekend, which means rookie minicamps in some NFL locales (including Minnesota) and a deep breath in many others. But rarely do you see this kind of news emerging on May 3 in the NFL.

Tom Silverstein of the Milwaukee Journal Sentinel
has revealed and confirmed a major shakeup of the
Green Bay Packers
' offensive line. Coach Mike McCarthy confirmed that he has moved
Bryan Bulaga
to left tackle after three years on the right side while also flipping guards
Josh Sitton
and
T.J. Lang
. Sitton will now play left guard next to Bulaga, while Lang will play next to an undetermined right tackle.
Marshall Newhouse
,
Don Barclay
and
Derek Sherrod
will compete for that job.
McCarthy said earlier this offseason that he wanted better play from the left side of his line, so in effect he has moved his two best linemen to that side.
I'll have more on this story in a bit, but for now it should be clear that the key to all of this is Bulaga, who was a left tackle at Iowa and was drafted as such in 2010 but has hardly practiced there since. He also missed the final seven games of the regular season last year because of a hip injury. At the very least, if the Packers are going to have a problem position, they want it to be on the right side and not the left.
Continuing around the NFC North:
May, 2, 2013
May 2
10:15
AM ET
First in a periodic series on NFC North draft quirks and foibles.
Every draft class has its intrigue and spawns its share of daydreaming. The
Chicago Bears
' 2013 version might go something like this: What if wide receiver
Marquess Wilson
has his head on anywhere close to straight?
[+] Enlarge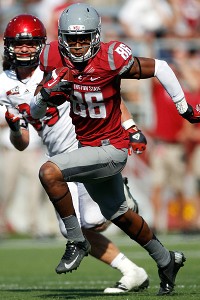 William Mancebo/Getty ImagesThere are issues surrounding rookie receiver Marquess Wilson, but the Bears are standing by the former Washington State product.
Wilson was the Bears' seventh-round pick, chosen 18 selections from the end of the draft at No. 236 overall. Nevertheless, he should be well-known to college football fans, having averaged 17.0 yards on 189 receptions in three years at Washington State, and our friends at Scouts Inc.
rated his talent

alone as worthy of a second- or third-round pick.
So how did a 6-foot-3 receiver with that kind of production and 4.5 speed nearly go undrafted? Wilson was suspended and then walked out on the team after nine games last season, criticizing coach Mike Leach's staff for preferring
"to belittle, intimidate and humiliate us."
Wilson later
recanted that statement
but was
barred from Washington State's pro day
and ultimately left NFL teams to evaluate whether he is mature enough to be a professional.
The Bears put "a tremendous amount of work" into the decision, general manager Phil Emery said. Area scout Francis Saint-Paul made several trips to gather information, including one to have breakfast with Wilson. Emery also pointed out that Wilson is still 20 and won't turn 21 until September.
"We definitely did our due diligence and we felt at that point in the draft that a person of this kind of talent deserves a second chance," Emery said. "His biggest sin is he walked out. He made a young decision. Again, he's just 20. ... We felt very comfortable that this was a good person who made an immature decision. He's owned up to that decision. He's ready to roll."
Wilson told Chicago-area reporters that "I feel like I could have handled [the departure] a little better" but that he is "moving forward."
There are certainly depth chart openings among a Bears receiving corps that, for now at least,
no longer
includes
Devin Hester
. Second-year player
Alshon Jeffery
is the leading candidate to start alongside
Brandon Marshall
, with
Earl Bennett
presumably working as the No. 3 receiver, but beyond that the competition is wide open.
Wilson described himself as "a guy that likes to go get the ball," and Scouts Inc. agreed. From their Insider scouting report: "Appears to have big hands and ball rarely gets to frame. Times jumps well and high points the ball better than most. Above average body control opening up and adjusting to throws outside strike zone. Tracks deep ball well and fields over the shoulder throws naturally. … Possesses the size, body control and leaping ability to win one-on-one downfield battles though needs to be more consistent in this area."
There is almost always a good reason why a talented player is available in the seventh round of a draft, and Wilson is no exception. But if you're the type that likes identifying and tracking draft sleepers, you won't find a more interesting one than him.
April, 29, 2013
Apr 29
8:40
AM ET
We're Black and Blue All Over:
Phew! We made it.
Veni, vidi, vici
and all that.
Three days of the 2013 draft brought us 35 new draft picks and scores of college free agents. I did my best to sort out the immediate aftermath
Saturday evening
and
Sunday morning
, and we'll start putting it context and looking for trends and hidden meaning Monday.
In a mere three more months, we'll see these guys -- along with their veteran counterparts -- in training camp. Imagine that.
For now, let's take a sampling of local draft coverage.