January, 16, 2014
Jan 16
7:10
PM ET
MINNEAPOLIS -- In the simplistic terms, the
Minnesota Vikings
went from a soft-spoken father figure who rarely showed any signs of anger on the sideline to a demonstrative, fiery head coach with a strong command of four-letter vocabulary. Their switch from Leslie Frazier to Mike Zimmer could be viewed in terms of one of the most reliable cliches in coaching -- that when a team fires a coach, it always hires the opposite of what it just had -- but that makes it hard to know what to do with this:
When the Vikings fired Frazier, numerous players talked about what he'd meant to their lives, and running back
Adrian Peterson
-- who'd campaigned for the Vikings to keep Frazier -- was so upset he wouldn't talk to reporters about it
until we caught up with him this week
. Zimmer comes to Minnesota with an equally fierce adoration from the players he's coached, and retired linebacker
Scott Fujita
-- who was one of the game's most perceptive and thoughtful players --
penned this ode to Zimmer
for Fox Sports.
[+] Enlarge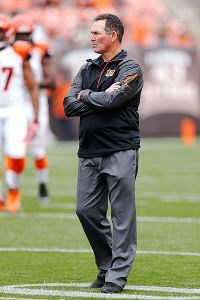 AP Photo/Joe RobbinsMike Zimmer will bring a different coaching style to Minnesota than the one the Vikings had under Leslie Frazier.
That's as impassioned an homage to a coach as I've seen a player write, and in it, Fujita raises a good point: The definition of what constitutes a "players' coach" is probably too simple.
"I honestly don't even know what a players' coach is and in the past few days, I've read reports that describe Zimmer as such," he writes. "Well if being a players' coach means that the players have a long leash, and that the coach 'takes care of his guys' and is quick to throw them a bone, then I don't know if I'd describe Zim that way. I think the more important questions about whether someone is a players' coach
should
be this: Do his guys
want
to play for him? When he stands in front of the room, do they respect him and respond to him? Is he able to reach his players? From personal experience, I can answer
yes
to each of those questions as it relates to Mike Zimmer."
The funny thing is, I'd say Frazier got the same response out of his locker room. The success of coaches like Tony Dungy -- under whom Frazier worked in Indianapolis -- has done plenty to break down the stereotype of how a football coach has to behave, and from what I've heard players say about Zimmer, he doesn't necessarily fit into the typical hard-headed disciplinarian mode, either. He'll likely be louder, more blunt and more direct with criticism, but he also seems to exude a passion for the game that players love.
Can both approaches be effective? Vikings linebacker
Chad Greenway
, who played for Kirk Ferentz (a Bill Belichick disciple) in college, had Mike Tomlin as his first defensive coordinator and spent the last seven years with Frazier, says yes.
"I think all different styles can work," Greenway said. "You see guys from Tony Dungy to Belichick to (Bill) Parcells all win in different ways. It's more about who can get results. A change was made, and it'll be a different approach. I hope that breeds success. We'll get a new system with a little bit different style, and hopefully it leads to wins."
Both defensive end
Brian Robison
and fullback
Jerome Felton
had close friends who'd played for Zimmer and raved about him; Robison talked with Cowboys defensive tackle
Jason Hatcher
, who had Zimmer as his first defensive coordinator, and Felton spoke with Bengals safety
Taylor Mays
, who played for Zimmer the past three seasons. Both got the same report on Zimmer: Tough, profane, emotional and direct, both with criticism and praise.
Felton, who loved playing for Frazier, sounded particularly optimistic about that last trait.
"One of the most stressful parts about the NFL is wondering where you stand," Felton said. "If you can get an idea of where you stand, gives you a chance to know what you need to work on. You can just focus on football, rather than wondering, 'What's going on? Why is this the situation happening?' When everybody asks what you want from a coach, I always talk about being an authentic person."
If there's going to be a major difference between Frazier and Zimmer -- both former Bengals defensive coordinators under Marvin Lewis -- it might be more in the scheme than anything else. The days of Frazier's Tampa-2 scheme are probably gone; Zimmer hasn't blitzed much more than Frazier in his career, according to ESPN Stats and Information, but he's been known to play more aggressive man coverage and use a number of different stunts to get his defensive linemen to the quarterback.
He coached in a 3-4 under Parcells, but has largely used a 4-3 scheme over the years, and Greenway expects the Vikings will stay with something similar to the 4-3 defense Zimmer called in Cincinnati.
"It's not that Coach Frazier and his ways can't win. It just wasn't working for us last year," Greenway said. "A new scheme, to a point, will be refreshing, and I hope, successful."
The Frazier-vs.-Zimmer comparison will be done ad nauseam in the coming weeks, but the NFL has a wider scope of coaching personalities today than it probably ever has. If Zimmer succeeds in Minnesota, it won't be because he's the opposite of what the Vikings had before. It will be because he can maximize what they have now.
"It's my first time going through a true coaching change, after Leslie taking over for Brad (Childress in the middle of 2010)," Greenway said. "It will be a lot of new things. That's not bad; it's just new and different."
December, 19, 2013
12/19/13
10:00
AM ET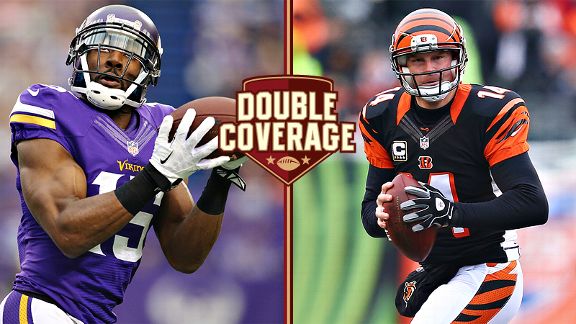 Getty ImagesCan Greg Jennings and the Vikings help spoil the playoff hopes of Andy Dalton and the Bengals?
The
Minnesota Vikings
and
Cincinnati Bengals
are two teams headed in completely opposite directions.
For the Vikings, the 2013 season has been a difficult one, defined mostly by a quarterbacking carousel and the lack of wins because of it. As for the Bengals, the year has been a mostly good one. With home wins over the Packers and Patriots, and road victories against the Lions and Chargers, the Bengals have looked for much of the year like a team poised for a longer postseason run than the past two years. Cincinnati's 2011 and 2012 seasons ended with first-round playoff losses.
If the 9-5 Bengals are even going to get to this postseason this year, though, they first have to bounce back from a Sunday night loss at Pittsburgh and beat the four-win Vikings. Such a win isn't a guarantee. Minnesota has embraced the role of postseason spoiler, rolling NFC East-leading Philadelphia last weekend.
To break down the contest, ESPN.com Vikings reporter Ben Goessling and Bengals reporter Coley Harvey teamed up for this edition of Double Coverage. As this week's visitor, we'll start with Ben:
Ben Goessling:
Andy Dalton
was one of the Vikings' options at QB when they drafted
Christian Ponder
in 2011. The Vikings seem to have given up on Ponder, and while Dalton has been better, it's hard to tell whether he's going to be the answer in Cincinnati long-term. How do the Bengals feel about his progress?
Coley Harvey:
It certainly appears that for now the Bengals feel comfortable with Dalton moving forward. Despite calls at times this season from some groups of angry fans, the Bengals have remained firm in their support of him. No matter how poorly Dalton played, they weren't shopping for another quarterback, and they weren't trying to give backup
Josh Johnson
any shared playing time. In short, they were committed to seeing Dalton through the year. And why not? Although he has had some struggles this season, Dalton has still shown that he can handle the duties of being a starting quarterback. He was the AFC's offensive player of the month for October, and had three consecutive 300-yard passing games during one stretch. If Dalton can't get the Bengals past the first round of the playoffs, it will be interesting to see whether the sides discuss a contract extension, with the 2014 season his last on his current contract.
To your broader point, Ben, that 2011 quarterback class certainly hasn't been all that amazing.
Speaking of progressing quarterbacks, it seems like
Matt Cassel
has given the Vikings some semblance of offensive success in games he's appeared in this season. Why didn't Minnesota stick with him sooner?
Goessling:
That's been the big question all season here, and on Sunday, coach Leslie Frazier finally gave those of us in the media a hint of what we'd expected all along. He said the Vikings always liked Cassel, but had to go through the "process" a little bit, and unfortunately weren't able to win games in the meantime. The "process" I believe he's referring to is the act of evaluating Christian Ponder to a point where the Vikings could be absolutely sure he wasn't the answer at the position. When
Josh Freeman
got inserted into the mix -- and both Frazier and general manager Rick Spielman said the Vikings planned to play Freeman soon -- that complicated things even more. The biggest thing Cassel had working against him was his age (31), and the Vikings didn't necessarily see him as the long-term guy. The question will be whether the quarterback tryouts wind up costing Frazier his job, but now that Cassel's starting, maybe Frazier will be able to make a case to keep his job by showing he can win when he has a competent quarterback.
The Vikings have struggled all year with small, shifty running backs. How do you expect
Giovani Bernard
to fare against them Sunday?
Harvey:
If the Vikings have struggled with those types of backs, then they could be in serious trouble Sunday, Ben. Bernard has been the five-tool player the Bengals thought they were drafting earlier this year and more. Not only can he hit the edge hard on pitches and outside runs, but he has enough power in his smaller body to hit the middle of a defensive line hard and keep going. His most important trait, though, may be what he's able to do as a receiver. You'll see the Bengals use him fairly regularly in the screen game. If the blocking sets up right on those plays, he won't just go for 5 or 6 additional yards. He typically will break off another 10, 15, 20 or more yards after the catch. Once the rookie gets in space, it's like he hits a fourth and fifth gear.
Having said all of that, I do believe he and the more between-the-tackles running
BenJarvus Green-Ellis
will be keys to the game. If they get going, the Bengals have a chance to showcase the balanced offense that has been coming on of late.
Minnesota has obviously had one of the NFL's best rushing attacks the past seven seasons because of
Adrian Peterson
.
Matt Asiata
did a great job of getting to the end zone last week. What kind of challenge do you think he poses the Bengals if he ends up playing in place of Peterson?
Goessling:
Not much of one, based on what we saw last week. Asiata averaged less than 2 yards a carry, and while he runs hard between the tackles, he doesn't offer much else; he doesn't break tackles the way
Toby Gerhart
can, and Peterson's gifts are obviously on a different level from either of those guys. I think Peterson will play, though; he wanted it known last week that he could have gone, and Frazier said after the game that he expected Peterson would be back. The guy prides himself on his pain tolerance, and as hard as he pushed to play last week, I'd be really surprised if he's not in there Sunday.
Assuming he plays, how tough a matchup is this for Peterson? The Bengals have been one of the NFL's best teams against the run this year. What's made them so effective there?
Harvey:
It won't be an easy one for Peterson. This Bengals' defense prides itself on playing physically, emotionally and flowing quickly to the football, particularly when it's on the ground. If this were a normal week, I might contend that as good as Cincinnati's run defense has been that Peterson might still end up surprising them and have a big day. This isn't a normal week, though. The Bengals are coming off a loss that had many questioning their heart and attitude, and they also happen to be playing this game at home. There's something about Paul Brown Stadium this season. Opponents have struggled, and the Bengals have fed off the crowd's energy. Cincinnati is 6-0 at home this season, and the defense is a big reason. If linebacker
James Harrison
(concussion) doesn't play, that could take away a key piece of the Bengals' run defense.
Cincinnati lost punter
Kevin Huber
to a season-ending injury last week and is bringing along his replacement,
Shawn Powell
, this week. He'll be kicking to Minnesota's
Marcus Sherels
. How dynamic is Sherels, Ben? His numbers seem so-so for most of the season, but he does have a return for touchdown.
Goessling:
I think you summed it up nicely there, Coley. Sherels did have the punt return touchdown, but his numbers otherwise have been just OK. The thing the Vikings like about him is that he doesn't make mistakes. He fumbled a punt earlier this year, but he's typically very sure-handed and makes good decisions about when to call for a fair catch. He doesn't get them in trouble by taking unnecessary chances, and special-teams coordinator Mike Priefer is a big fan of his partly because of his decision-making skills. But watch out, though. The Vikings are trying to find ways to get
Cordarrelle Patterson
the ball now that teams have stopped kicking to him, and Frazier mentioned they could give him a look on punt returns. If that happens, the Vikings will have a completely different kind of threat back there on punts.
March, 19, 2013
3/19/13
6:15
PM ET
PHOENIX -- So the main media attraction Tuesday at the NFL owners meeting was the AFC coaches' breakfast. There isn't much to be gleaned about NFC North teams from that group, so I decided to circulate among the AFC North coaches -- whose teams are on our collective 2013 schedules -- to check in on their offseason progress. A few snippets:
Baltimore Ravens
Issue:
The team has been gutted by free-agent departures and is awaiting word on a decision from free agent safety
Ed Reed
. As a result, this team belongs to quarterback
Joe Flacco
like never before.
Coach John Harbaugh:
"Joe's going to do a great job of just continuing to get better in everything that he does and rallying the guys around him. He's going to take those young guys under his wing and he's going to push those guys forward. He's going to be a big part of building our offense. We're going to build it around Joe, but you also build it around your offensive line. You've got to have a great offensive line. You've got to have playmakers outside who can make plays for Joe and you've got to have a great running back, so it's still a team game."
Cincinnati Bengals
Issue:
The team is in a contract stalemate with offensive lineman
Andre Smith
, leaving the Bengals in a precarious spot with an important player.
Coach Marvin Lewis:
"I'm not in charge of contracts. I don't think it's unsettling for me. It'll happen when it happens. If not, we'll move on and get another guy. I think Andre would have preferred to have this done by now, most importantly."
Cleveland Browns
Issue:
The Browns have yet to follow through on plans to add a competitor for the starting quarterback job currently held by
Brandon Weeden
.
Coach Rob Chudzinski:
"I see it as creating competition. That can be from a number of different places that you create competition. We have some guys there and we're going to coach them all and coach them all hard. We're going to give them all opportunities to show what they can do. … Competition comes from within, too. As coaches, we have to bring that out in them. I have no doubt we'll be able to bring that out."
Pittsburgh Steelers
Issue:
Safety
Troy Polamalu
missed nine games because of a calf injury last season, a year after the team encouraged him to participate in all of its offseason program.
Coach Mike Tomlin
[In response to a question on whether the team wants Polamalu to change his offseason regimen]: "I want him to be ready, and I think he wants to be ready, like everyone. I'm not going to make more out of that than what it is."
August, 24, 2012
8/24/12
11:00
AM ET
For a number of reasons, but mostly because of the sheer volume of news during training camps, the state of NFL officiating hasn't spurred widespread alarm. I imagine that will change as soon as we're done with this third week of the preseason, after which teams usually look beyond the fourth and final week and set their focus squarely on the regular season.
As you know, replacements have been working preseason games because the NFL has locked out its permanent officials in a labor dispute. Major mistakes have occurred weekly, and both games Thursday night featured fundamental problems with rule interpretation.
[+] Enlarge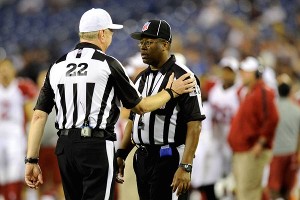 Joe Howell/AP PhotoSubstitute officials Robert Dalton (22) and Anthony Stroman confer in the fourth quarter of Thursday's Cardinals-Titans preseason game.
At least one NFC North player began speaking out as a result. After watching the
Arizona Cardinals
-
Tennessee Titans
game on ESPN,
Chicago Bears
place-kicker
Robbie Gould
-- who is also the team's player representative --
tweeted
: "Watching the coaches get upset on @espn because the refs [are] clueless @nfl when did you stop caring about the integrity of the game. …I understand there is a fine line in negotiations To get the refs back on the field. But I hope both sides can reach a deal soon."
Among the calls Gould was referring to: Referees mistakenly believed that a holding penalty against the Cardinals should offset a penalty for 12 men on the field against the Titans. According to NFL rules, the 12-man penalty should override a holding penalty, meaning only the Titans should have been penalized on the play. Afterwards, Cardinals coach Ken Whisenhunt ranted on the sideline to whomever would listen.
In addition, Titans coach Mike Munchak said after the game that there had been "some confusion" on timeouts before halftime. According to my AFC South colleague Paul Kuharsky, Titans defensive coordinator Jerry Gray walked away from an argument with replacement officials and called them "The Three Stooges" on the field.
Meanwhile,
Cincinnati Bengals
coach Marvin Lewis said replacement officials didn't fully understand the rule protecting defenseless receivers when they called safety
Taylor Mays
for a 15-yard penalty after hitting
Green Bay Packers
tight end
Tom Crabtree
.
Here's what Lewis
told reporters
: "It was exactly shoulder-to-shoulder. Unfortunately, the guy that made the call's explanation was not correct. It's one of those things. They are getting better. Hopefully, it will get closer and closer to what we need. His understanding was that the player was a defenseless receiver. He was, but you are allowed to hit a defenseless receiver shoulder-to-shoulder. There is no such thing as a defenseless player unless he is hit in the head with your head. It was a misinterpretation of the rule. I know they are working hard. The league is working hard to get this stuff corrected. They are working overtime on it actually. It'll get better and better."
The concern, however, is that these officials don't have much time to improve before the start of the regular season. Most of us have assumed that the NFL and its permanent officials will, under the pressure of the regular-season deadline, come to an agreement soon. If not, however, there is a strong likelihood that a regular-season game in Week 1 will be impacted not by a judgment call -- which happens every week of every season -- but by an official who either doesn't know all of the NFL's rules or misapplies them.
We have come to accept debatable calls for, say, pass interference or whether a player had two feet in bounds after making a catch. But losing track of timeouts? Not knowing how to apply the 12-men-on-the-field rule? Not demonstrating full knowledge of what constitutes a defenseless receiver? That's scary.
December, 28, 2011
12/28/11
10:30
AM ET
When ESPN.com assigned
2011 preseason predictions last summer
, I chose the
Green Bay Packers
to win the NFC North and Super Bowl XLVI, the
Detroit Lions
to clinch a wild-card playoff berth and Jim Schwartz as the NFL's coach of the year.
I now place that latter designation before you as our final debate of the regular season.
There is no arguing with the job Schwartz has done, having directed the Lions to a 10-5 record and their first postseason since 1999. On the other hand, as
we discussed earlier this month
, Packers coach Mike McCarthy has presided over a record-breaking period in Green Bay, and at 14-1 his team remains the favorite to win the Super Bowl.
The odds-on favorite for the league-wide award is probably San Francisco 49ers coach Jim Harbaugh, but I'm curious who you think deserves the NFC North coach of the year: Schwartz for reversing the Lions' fortunes quicker than most people expected? Or McCarthy for fielding the NFL's top team throughout the regular season?
I don't expect there to be a landslide opinion. There might not even be a consensus among you, considering how Packers and Lions readers have been going at it here in recent weeks. I myself am wavering even though I chose Schwartz in the preseason under the circumstances that ultimately played out: The Packers finishing with a better record than the Lions with both teams making the playoffs.
More often than not, the league-wide award goes to the coach who engineered the most unlikely turnaround. Marvin Lewis won it in 2009 after leading the
Cincinnati Bengals
to a 10-6 record one year after they finished 4-12. Mike Smith was the winner in 2008 when the
Atlanta Falcons
flipped a 4-12 record to 11-5. And Sean Payton won it in 2006 after the
New Orleans Saints
went 10-6 in his first season after going 3-13 in 2005.
Schwartz would fall in line with that trend, having improved the Lions to no worse than 10-6 after they finished 6-10 in 2010 and 2-14 in 2009. But voters have occasionally nodded toward exceptional performances, most recently when naming future Hall of Fame coach Bill Belichick the winner after the
New England Patriots
went 14-2 in 2010 and 16-0 in 2007.
So does McCarthy's record with the Packers this season, which includes the majority of a 19-game winning streak, qualify under the Belichick "exception?" Remember, if the Packers beat the Lions on Sunday at Lambeau Field, they'll be one of only six teams in NFL history to finish the regular season with at least 15 victories.
I'm curious what you think. Give me your thoughts in the comments section below. I'll publish a representative sample, as well as my own take, by the end of the week. Have at It.
February, 25, 2011
2/25/11
9:28
AM ET
INDIANAPOLIS -- We start the news cycle early here at the NFL scouting combine. At about 9 a.m. ET, the
Chicago Bears
announced they have completed contract discussions with coach Lovie Smith by agreeing to a two-year extension. Smith is now signed through the 2013 season.
General manager Jerry Angelo said last month that the Bears' run to the NFC Championship Game had solidified Smith's future with the team. It would have been an upset had he not received an extension, and Friday was a soft deadline given Smith's previously scheduled 10 a.m. appearance in the combine media center.
I'll have more after Smith addresses the news, but for now we can note that Smith is now tied for the fifth-longest tenure among NFL coaches. Hired in 2004, Smith has been in his job longer than every coach but Andy Reid (
Philadelphia Eagles
), Bill Belichick (
New England Patriots
), Marvin Lewis (
Cincinnati Bengals
), Jack Del Rio (
Jacksonville Jaguars
) and Tom Coughlin (
New York Giants
).
From a long-term perspective, this extension reconciles Smith's future with Angelo's. Both men are now signed through 2013. More in a bit.
February, 2, 2011
2/02/11
3:48
PM ET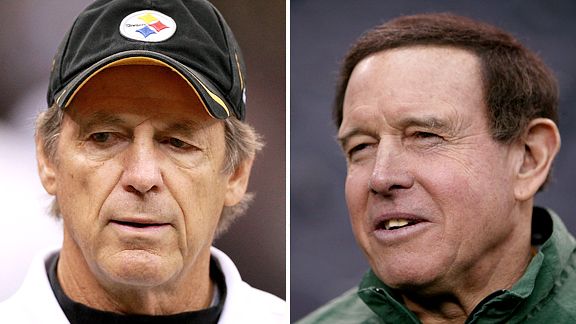 US Presswire/Getty ImagesTwo of the NFL's most-experienced defensive coordinators -- Pittsburgh's Dick LeBeau, left, and Green Bay's Dom Capers -- will square off Sunday in Super Bowl XLV.
IRVING, Texas -- On a bitterly cold day two years ago, Mike McCarthy pulled up to Green Bay's Austin Straubel Airport to meet a candidate for his open defensive coordinator job. Dom Capers stood waiting with two bags. One was an overnight suitcase. The other, in McCarthy's words, was "a humongous bag of books."
"Let's just say he's old school," McCarthy said.
Within those spiral-bound books were Capers' football life and the symbol of everything he's about. Some were nearly 20 years old, including the original 3-4 defensive scheme that he and longtime collaborator Dick LeBeau wrote in longhand when both were with the
Pittsburgh Steelers
in 1992. They contain philosophical tomes, terminology and as many as 21 diagrams per page. Those who have original copies say the margins are littered with edits in LeBeau's or Capers' handwriting.
Super Bowl XLV will feature two of the most innovative defensive coordinators in NFL history. Neither uses a computer for much more than ambient light in a dark office. In a victory for old-schoolers everywhere, they have surrounded themselves with technology-savvy assistants who, in Capers words, "take care of the computer stuff for me" while they handle the important and irreplaceable tasks of critical thinking and planning.
"It's kind of funny," Capers said. "The young guys now are computer gurus, so they come to a job interview with a computer. But Dom still comes in with a bag full of notebooks. You do something a certain way and you know how you like to do it, and that's the way I learn and prepare to call a game. I need it in terms I understand."
(For clarity's sake, yes, Capers referred to himself in the third person in the preceding quote.)
You might expect such reluctance from LeBeau, who at 73 is the NFL's oldest defensive coordinator. Capers, on the other hand, is still spry at 60. But he long ago passed on the computer age that has overtaken the NFL, and to this day still hand-writes every game plan and compiles his own postgame statistics by manual arithmetic.
Technologically stuck sometime in 1982, Capers refers to "computer printouts" and doesn't care to distinguish the difference between a USB card -- which players now store their playbooks and game film on -- and what he calls a "computer chip."
"I'm always teasing him," Packers defensive line coach Mike Trgovac said. "He works up these stats and everything after the game. He's hand-drawing them himself and working them all out. I always tell him, 'Hey, the computer can figure that all out in two minutes.' But he's just got his way to do it. You can punch that into the computer in one second. But he's not going to do it. He's not going to change the way he does it, because it works."
Capers' current "computer guy" is Packers quality control coach Scott McCurley, 30. Every Monday, McCurley walks into Capers' office and sets up a series folders on his computer desktop. One might contain files of game video, another might have a practice schedule.
"Then he can double-click on whatever he wants and is off and going," McCurley said.
To be clear, we aren't attempting to paint Capers as a bumbling or washed-up figurehead. In speaking to people about him this week, it was a joy to discover the value of a timeless scheme that had enough staying power that it drove two teams to the Super Bowl 18 years after it was devised.
Yes, in 1992, new Steelers coach Bill Cowher hired Capers as his defensive coordinator and LeBeau as his secondary coach. Marvin Lewis was the linebackers coach. Together, they literally wrote the scheme that both teams will play in Sunday's game.
"I think history has proven that we had some good ideas," LeBeau said.
Depending on who you ask, the notebooks that comprise the scheme add up to anywhere from 750-900 pages. Packers safeties coach Darren Perry, whom the Steelers drafted in 1992, has an original copy.
"It's my bible," Perry said. "You know you have an original when you see their handwriting. Nothing in it is typed out. ... If it's a new book you can tell it's typed. If you get an original, it's handwritten."
There have been revisions and tweaks, most of which are based on the reports Capers hand-writes after every game. But at the same time, Capers gives his assistants the latitude to present and teach the scheme on their own terms.
"We've had numerous talks about updating our installation schedules," Trgovac said. "You have to know your players, and these guys grew up playing Madden football. They're not used to 'X' and 'O's' on a sheet of paper. They need those kinds of graphics to understand. As coaches, you have to keep up with these players, what they do and how they learn. Dom does a good job of surrounding himself with guys to do that."
When you see the Packers' defense jog onto the field Sunday, rest assured they will be guided neither by statistical tendencies nor computer "readouts." Their game plan will be the work of a man who literally wrote the book on this system, a man who sat at a desk last week with a pen and an bag of multicolored highlighters and wrote down his plan to help win a Super Bowl championship. Based solely on his own knowledge, instincts and a file of reports from every game he has coached, Capers will almost certainly make a call or two that the NFL has never seen.
Occasionally, he'll pull linebacker
Desmond Bishop
aside with an idea.
"He'll write down something in what looks like chicken scratch," Bishop said. "But it's amazing how he can point to something that you never, ever would have seen on your own. That's how locked in he is with this defense."
It's all there for the reading, quite literally in black and white. No readouts. No computer chips. Just a man, his brain a pen and paper. How novel.
January, 26, 2010
1/26/10
7:39
AM ET
Chicago's search for an offensive coordinator will continue Tuesday when it interviews Baltimore assistant Hue Jackson for the job. At this point, however, Jackson has no competition for the position.

Cincinnati quarterbacks coach Ken Zampese, who interviewed earlier this month, is no longer a candidate. Bengals coach Marvin Lewis told the
Chicago Tribune
he has closed the window on Zampese's availability. The Bears have said they plan to cast a wide net in replacing the fired Ron Turner, but it's relatively common for other teams to expect quick decisions so they can hire replacements in a timely fashion.
Jackson will become the third candidate to interview for the job. ESPN analyst Tim Hasselbeck said in an interview with
ESPN Chicago's Jeff Dickerson
that Jackson "relates to players well and does an excellent job of keeping things fairly simple." It continues to appear the Bears aren't seriously considering former St. Louis coach Mike Martz, writes
Neil Hayes of the Chicago Sun-Times
.
I'm all for a thorough search, and it's possible the Bears have Martz as a backup plan knowing he isn't likely to be hired elsewhere. It's hard for fans and media members to be patient at this point, but it appears the Bears are doing just that.
Continuing around the NFC North: