August, 19, 2010
8/19/10
5:23
PM ET
During my time at the
Detroit Lions
' training camp, I couldn't find much reason for alarm about the state of safety
Louis Delmas
' groin injury. I would say I'm close to having a change of heart.
More than two months after suffering the injury, Delmas remains on a limited practice schedule and isn't sure if he'll appear in Saturday's preseason game against Denver. Thursday,
he told reporters
he is "very" frustrated with the injury, and coach Jim Schwartz said Delmas isn't at a point where he can participate in back-to-back practices at full strength.
Schwartz has maintained throughout the summer that the Lions are following a long-term plan to allow the injury to heal fully before the regular season begins. But at some point, you would like to see Delmas go through a full week of practice. That's the only way to know for sure if the groin can withstand a regular-season routine.
In case you hadn't noticed, the Lions started undrafted rookie
Randy Phillips
in Delmas' position on Saturday in Pittsburgh. When I was at Lions camp, Phillips wasn't even on the roster. The starter at that time was
Marvin White
, who has since been released.
August, 7, 2010
8/07/10
11:30
AM ET
ESPN.com NFL Power Ranking
(pre-camp): 29
ALLEN PARK, Mich. -- If the measure of a good team is roster stability, then, well, we know where the
Detroit Lions
stand. General manager Martin Mayhew and coach Jim Schwartz spent most of their first year together operating like an expansion franchise, using their roster to sift through dozens of nomadic no-names and aging veterans while effecting a near-weekly rotation at a half-dozen positions -- left guard, defensive end, cornerback and safety chief among them.
So as they reported to training camp this summer, the Lions were hoping to slow that train and accelerate the installation of permanent building blocks in their lineup. Schwartz remains realistic about the job ahead of him but is certain the Lions are pointing in the right direction.
"Hope isn't a strategy," Schwartz said. "You need good players. I think what we proved last year is that we weren't ready to accept sub-par performance. We were willing to make changes and things like that. I think that was an important statement to make. In a perfect world, all of our positions would be solidified and you would feel good about it every week. Probably 32 NFL teams are going to be dissatisfied with a couple positions ... but I think the sign of a good team is having less spots that you look at and say, wow, what are they going to do there?"
After a few days at Lions training camp, it was evident the Lions are not there yet. But they're closer than they were last year, having upgraded at receiver, running back, tight end, left guard and along the entire defensive line. Questions remain at linebacker and in the secondary, but the Lions are working methodically to narrow that gap.
"We have a big sense of urgency," Schwartz said. "I don't want to say we've been patient. We just haven't deviated from our plan and we haven't gone too much for immediate gratification."
THREE HOT ISSUES
[+] Enlarge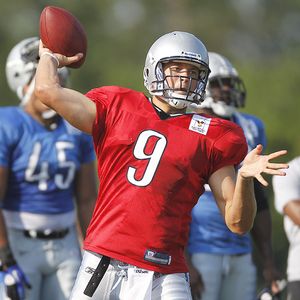 Gregory Shamus/Getty ImagesThe Lions are counting on Matthew Stafford to make progress from his rookie season.
1. Can Matthew Stafford make the jump the Lions need?
Stafford's rookie season wasn't unusual for a highly drafted quarterback. Playing on a bad team, he threw 20 interceptions in 10 games. Injuries cost him six starts. But after surrounding him with receiver
Nate Burleson
, tight end
Tony Scheffler
and running back
Jahvid Best
, the Lions are expecting a much more positive second-year experience.
Stafford spent the early part of the offseason studying the causes of each interception, concluding that the majority of them were "trying to make a play when it wasn't there," he said. He added: "A lot of them were on third-and-long. I've got to be better on third-and-long to trust our backs, to throw a checkdown and let him run and go get it. I have to know that the best teams in this league are 35 percent [conversion rate] on third-and-long. Not everybody's making it every time. The goal this year is to stay out of those as much as possible."
The potential is there. Stafford has spent the entire offseason working with receivers, putting a special emphasis on developing chemistry with
Calvin Johnson
. He has taken every first-team snap in practice and has a set of skill players that can rival other NFC North offenses.
"We have a lot of weapons this year," he said. "It's up to us to get some rhythm and get it going."
2. Can an overhauled defensive line compensate for uncertainty at linebacker and safety?
I like to compare the Lions' defense to an episode of "Hoarders." When Mayhew and Schwartz opened the front door, they found a mass of junk. So they picked one corner, the defensive line, and starting digging their way out.
As training camp opened, the Lions had NFL-caliber starters at right end (
Kyle Vanden Bosch
) and nose tackle (
Corey Williams
), along with a potential superstar in defensive tackle
Ndamukong Suh
. But remember, the Lions are the only team since the 1970 merger to finish with the NFL's worst defense in three consecutive years. In order to move up significantly in those standings, they'll need their line to be so good that it overshadows inexperience at linebacker and another year of patchwork in the secondary.
"If this defense is going to be good, it's going to be on us up front, and we're just going to have to wreak havoc," Vanden Bosch said. "We're going to have to bring energy to every practice and we're just going to have to keep on pushing each other and make improvements."
As we
discussed earlier this week
, it's schematically possible for an elite pass rush and strong run-stoppers to reduce the strain placed on other positions. Based on how the rest of the Lions' defense is shaping up, they'll need nothing less.
[+] Enlarge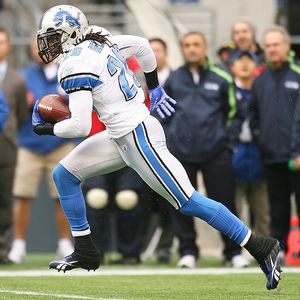 Otto Greule Jr/Getty ImagesLouis Delmas has noticed a change in attitude with this year's team.
3. Can the Lions expunge what safety Louis Delmas referred to as a "ho-hum attitude?"
If you're keeping track, the Lions have lost 31 of their past 33 games and 37 of their past 40. You often hear about new attitudes in training camp, so take this for what it's worth. After jettisoning a number of veteran players this offseason, Delmas said that now "everyone wants to be here and they want to learn." He added: "That's something I don't think we had last year. Guys were just here. The coaches are motivating us to go out there and get better. We've got a great attitude."
As for low expectations among national observers, Stafford said: "I don't think anyone here believes that. They play the games for a reason. The season hasn't started yet. Everybody is 0-0. Come the first Sunday, it's go out there and prove it and see what we can do."
BIGGEST SURPRISE
Tight end
Brandon Pettigrew
tore an anterior cruciate ligament on Thanksgiving Day 2009. A little more than eight months later, Pettigrew was back on the field doing much more than at least I would have expected. He's practicing at least once per day and participating in some contact drills, even while wearing a brace on his knee.
If he has a hitch in his gait, it's barely noticeable. And on at least one play this week, Pettigrew displayed enough speed to get past linebacker
Julian Peterson
and catch a nice seam pass from Stafford. "He's had a really good rehab and we don't want to set him back by trying to do too much too soon," Schwartz said. At this rate, it seems quite reasonable to expect Pettigrew to be ready for a significant role in the season-opening game at Soldier Field. That has to be the best-case scenario the Lions could have imagined when the injury first occurred.
BIGGEST DISAPPOINTMENT
Two key parts of any defensive improvement the Lions will have this season weren't on the field for any part of the five practices I watched. Delmas hasn't practiced since the spring because of a groin injury that Schwartz said has healed but impacted his conditioning. But Delmas is an "established" player who probably could get away with missing a portion of training camp after starting 15 games last season. Linebacker
DeAndre Levy
, however, needs every practice rep he can get while making the permanent transition from the outside to the middle. Levy reported to training camp with tightness in his back, and he was pulled from practice this week. There is no long-term concern at this point, and the Lions must hope nothing develops. At this point, there are no viable internal options to turn to. Levy's backup is veteran
Vinny Ciurciu
, an undersized career special-teams player.
[+] Enlarge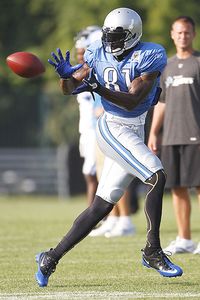 Gregory Shamus/Getty ImagesAdditional weapons on offense should open things up for Calvin Johnson.
OBSERVATION DECK
Burleson signed a five-year, $25 million contract in the offseason that included $11 million in guaranteed money. Then, in one of the first meetings of the Lions' reconfigured receiver position, Burleson stood up to speak. "There's a lot of things that can get between players when new guys come along, especially when money's involved," he said. "So I made an announcement that I've been in the league long enough to know, as a guy who just got paid, I'm going to play a lot. So my goal is to prove I'm worth more than what they paid me. I'm here for the team, not to pat myself on the back." In part because No. 1 receiver Calvin Johnson is so quiet, Burleson has taken on the leadership role of this group.

Johnson is hopeful that coverages will loosen on him this season, but it will require players like Burleson making big plays to do it. Burleson doesn't think it will be a problem. "My goal is to come in and make enough plays to where Calvin will get more single coverage and Bryant [Johnson] will make plays," he said. "You hear about [Terrell Owens] and Chad [Ochocinco] in Cincinnati. I'm going to say firsthand that we will be the most-respected receiving corps after it's all said and done." Wow.

Suh is one serious man. During a news conference to announce his arrival to camp, a reporter asked a pretty standard first-day question for a top draft pick: "What are you going to treat yourself to after becoming a millionaire?" Most players bite and say they bought a new car, or a house for their mother or some such splurge. Suh? Here's what he said: "I'm treating myself to getting on this field and getting ready." OK then.

Vanden Bosch makes it a point to touch the ball on every practice play from scrimmage. Sometimes that happens at the line of scrimmage. But whether the play comes directly toward him or goes 30 yards downfield, he chases without fail. If that means sprinting 40 yards, so be it. Although the Lions didn't necessarily sign Vanden Bosch for that reason, he sets an excellent example for a historically moribund defense. "You don't get any points for that," Schwartz said. "But if I was a professional football player, I would hope that I would practice and I would play the way Kyle Vanden Bosch does. I think it is contagious for sure and I think that it's tremendous leadership. I think it makes the running backs better. The running backs are now finishing their runs deeper down the field because they don't want him catching them."

Right tackle Gosder Cherilus, the Lions' No. 1 draft pick in 2008, might be down to his final chance to lock down a permanent starting job. He's sharing repetitions with veteran Jon Jansen, and a decision might not come until the end of the preseason.

Linebacker Zack Follett is on his way to locking down the weakside linebacker job a year after he nearly cost himself his career with a poor showing in training camp. "I was running around like a chicken with my head cut off," Follett said. "This year, it's 100 percent different."

Poor Chris Houston. As the Lions' erstwhile No. 1 cornerback, Houston finds himself lined up against Johnson in 1-on-1 drills more often than not. That's not even fair. I saw Houston make some decent plays against other receivers, suggesting he deserves to be on the field as a starter. But few teams have a true No. 1 cornerback, and the Lions aren't one of them.

With Delmas injured, the same four players made up the first-team secondary during my visit: Houston and Jonathan Wade at cornerback, with C.C. Brown and Marvin White at safety. One thing I'll say is that Wade is feisty, even if he is a bit undersized. Delmas noticed the same thing. "He gave up a big play on Calvin," Delmas said. "And then he came back to us as a group and said, 'We can't do that! I can't do that!' Then he went out and didn't give up another big play. In order to be one of the best secondaries in the NFL, we have to start with that."

In an earlier post, I suggested that rookie receiver Tim Toone had looked sharp and ranked him no worse than No. 4 among the Lions' receivers. In the comments section, some of you suggested that second-year receiver Derrick Williams was having a better camp than I gave him credit for. All I can say is that every time I looked, Williams was dropping a pass while Toone was catching one. Regardless, there is a long way to go for both players.

One beneficiary of Suh's holdout was second-year defensive tackle Sammie Hill. Schwartz said Hill "has taken the biggest step that I've seen him take." Assuming those weren't just kind words for a player destined to cede his first-team status to Suh, this development offers the Lions a level of depth they didn't have last season.
August, 4, 2010
8/04/10
3:00
PM ET
ALLEN PARK, Mich. -- Now that we've put the latest
Brett Favre
news cycle to bed (I think), we're going to be all about the
Detroit Lions
' defensive line here Wednesday afternoon. Rookie
Ndamukong Suh
arrived at the facility at 1:40 p.m. ET and is expected to practice at 3:15 p.m. I'll have some first impressions for you afterwards.
[+] Enlarge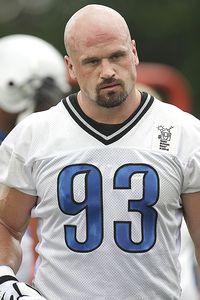 AP Photo/Paul SancyaKyle Vanden Bosch and the defensive line will have to make up for the weaknesses in other areas of Detroit's defense.
But first, I wanted to delve into the larger topic of the Lions' defensive line overhaul. After four practices over the past three days, I feel comfortable that this an NFL-caliber and potentially havoc-wreaking defensive line. (You couldn't make either statement a year ago.) But the way the Lions are structured, this can't be just an NFL-caliber defensive line -- not if the Lions want to effect a significant climb from the bottom of the league's defensive rankings.
Or, as defensive end
Kyle Vanden Bosch
said: "If this defense is going to be good, it's going to be on us up front, and we're just going to have to wreak havoc. We're going to have to bring energy to every practice and we're just going to have to keep on pushing each other and make improvements."
That's going to be the key to unlocking the Lions' defensive mystery this season: Can a strong defensive line cover for shortcomings -- or at least significant uncertainty -- elsewhere? No matter what you say about the potential of the Lions' linebackers and secondary, you can't claim that many of them are established players.
I posed that topic to coach Jim Schwartz, who was gracious enough to give me some time Wednesday afternoon. Schwartz has said that he wants to reserve judgment about the line until he sees it perform under game conditions, not to mention with Suh in the mix. But Schwartz believes in the theory of some positions covering for others.
"We've always thought that you want to be strong upfront, particularly on defense," Schwartz said. "If you are, you can cover for a lot of other things. If you're strong up front, you might not need the extra man in the box. If you're strong up front, you don't need to blitz to get to the quarterback. You can have an effect on a lot of other positions."
The Lions didn't necessarily pursue this particular structure as much as they just accepted the opportunity. Suh was their highest-rated player in the draft, and so they picked him.
Corey Williams
was available from Cleveland for a song. Vanden Bosch was the rare commodity of an available pass rusher, one with who Schwartz had a long history.
But it will be up to that group to provide regular instances of what happened during Tuesday morning's live-contact running drill. Williams stuffed the run on one play and Vanden Bosch did the same on another, accounting for two-thirds of the plays the first team saw in the drill.
"Until you see it in a real game you never really know," Schwartz said. "But I think we have some seen some good signs. ... They had an outstanding period in a way that affected the rest of the group."
Players have noticed their energy, even if production is difficult to judge in practice.
"What stands out to me is the D-line," safety
Louis Delmas
said. "Those are dogs up there. There's nothing like having a bunch of guys that want to play football and want to get to the quarterback. It's like they think the quarterback has money pouches on him. The way I see it, the second is going to have three or four seconds at most to cover guys."
In truth, the secondary is going to need that type of support for this defense to improve. Delmas hasn't practiced yet while nursing a groin injury, and I would consider him the only established defensive back the Lions have. The first-team secondary has remained consistent during the time I've been here --
Chris Houston
and
Jonathan Wade
at cornerback, with
Marvin White
and
C.C. Brown
at safety -- and I haven't seen anything to suggest there are any diamonds in the rough here. The Lions' offense has gotten the best of them more often than not.
OK, I'm headed out to Suh-a-palooza. Check back in a bit.
August, 2, 2010
8/02/10
6:09
PM ET
ALLEN PARK, Mich. -- I took in most of the
Detroit Lions
' two training camp practices Monday, surpassing my 2009 total and matching what I saw in 2008. And the best news yet: I'm back for more on Tuesday!
My official Lions "Camp Confidential" report isn't scheduled to post until Saturday, but the blog will feature heavy Lions emphasis through my Wednesday departure. If there's something you want me to check out, just let me know. Otherwise, you're left to my whims and personal biases.
Ok, enough chit-chat. Here are some first-day impressions from Allen Park:
[+] Enlarge

AP Photo/Carlos OsorioQuarterback Matthew Stafford led the Lions through two training camp practices on Monday.
July, 2, 2010
7/02/10
10:59
AM ET
By
ESPN.com staff
| ESPN.com
May, 26, 2010
5/26/10
1:15
PM ET
Our friends over at
Football Outsiders
have put together an interesting report on broken tackles during the 2009 season -- both from an offensive and defensive perspective. Thankfully, FO president Aaron Schatz has been kind enough to streamline the information for an NFC North audience.
First, a bit of an explanation: Schatz and his staff evaluated every attempted tackle of the 2009 season. Quoting from
this Insider piece
, here's how they defined broken tackles: "Either the ball carrier escapes from the grasp of the defender, or the defender is in good position for a tackle but the ball carrier jukes him out of his shoes. If the ball carrier sped by a slow defender who dived and missed, that didn't count as a broken tackle."
Given those criteria, let's look first at the team rankings for highest percentage of broken tackles on offense, and lowest percentage of defensive players missing a tackle they should have made. They're to your right.
A couple of interesting points stood out to me:
The Vikings, Bears and Packers all played versions of the West Coast offense last season -- a scheme that relies on open-field running after receptions. We don't have a breakdown of broken tackles on running plays versus passing plays, but we can see that the Vikings overall were among the NFL's best and that the rest of the teams in the division were relative non-factors in gaining extra yardage after contact.
On the other hand, the Packers had one of the league's best tackling teams based on this evaluation. The analysis also confirmed a general sense that Minnesota's defense missed far too many tackles during the second half of the season.
The Lions finished last among all NFL teams, so it's not surprising to see their players holding six of the top 10 spots on the chart below -- which lists the NFC North players with the 10 most missed tackles in 2009. Middle linebacker DeAndre Levy's appearance on that list, despite starting only 10 games, confirms what some of us saw last season and provides at least a reason for pause amid the general optimism surrounding his future.
Finally, here is a list of the NFC North players with the most broken tackles in 2009:
Some highlights:
Peterson ranked No. 3 among all NFL players, behind Tennessee Titans running back Chris Johnson and Baltimore Ravens running back Ray Rice. Combined with Percy Harvin's 25 missed tackles, tops among all NFL receivers, you can see why the Vikings ranked so highly as a team.
Before looking at this chart, I wouldn't have guessed Matt Forte had more broken tackles than Ryan Grant. But if Forte averaged 3.6 yards per carry even after breaking more tackles than all but one NFC North player, maybe we need to shift more accountability to the Bears' scheme and blocking performance last season.
Grant's number is lower than I would have guessed. Gaining 1,253 yards by breaking almost the same number of tackles as Kevin Smith? That speaks highly of the Packers' play calling and blocking, which gave Grant more favorable opportunities than, say, Forte had last season.
December, 2, 2009
12/02/09
12:45
PM ET
We've had a number of conversations in this space about the horsecollar rule,
most recently
as it was applied during the Nov. 15 game between Minnesota and Detroit. In that instance, you might recall, officials did not flag Lions cornerback
Phillip Buchanon
even though he rode Peterson for 15 yards -- with his left hand inside Peterson's shoulder pads -- before finally bringing him down.
Last Thursday, we saw the Lions penalized for a similar play. In the second quarter of Green Bay's 34-12 victory, safety
Marvin White
grabbed the collar of Packers tight end
Jermichael Finley
with his right hand and made the tackle over a 2-yard distance. Referee Bill Leavy whistled White for a horsecollar, and while Lions coach Jim Schwartz protested, White accepted the penalty by patting his chest as if to say, "My bad."
The only difference between the Buchanon play and the White play was that in the former, Peterson wasn't immediately tackled. And yes, as you probably know by now, the NFL rule includes the word "immediately." Here, again, is the official definition of the horsecollar penalty:
Grabbing the inside collar of the back of the shoulder pads or jersey, or the inside collar of the side of the shoulder pads or jersey, and immediately pulling down the runner. This does not apply to a runner who is in the tackle box or to a quarterback who is in the pocket.
I originally suggested that Buchanon shouldn't be exonerated simply because Peterson didn't fall to the ground right away, a stance many of you protested with a strict reading of the rule. But to me, the penalty was created to prevent injuries when players are forcefully pulled backwards from the top. If we're going to start meting out penalties based on the result of the play, then we might as well wipe out holding calls when the player still pushes through the hold to make a tackle.
The NFL doesn't comment on subjective penalties, so I can't tell you for sure that Buchanon escaped penalty because he couldn't immediately pull Peterson to the ground. But if that is the case, I think we have a flawed rule on our hands. Peterson could have been injured 15 yards downfield just as easily as Finley could have been injured after 2 yards.
OK, thus ends my rant for this week. Moving on to our updated Challenge Tracker:
November, 25, 2009
11/25/09
4:47
PM ET
Some final tidbits as the countdown continues to Packers-Lions II:
Detroit Lions:
What a mess the Lions have at safety. They placed starter
Ko Simpson
(knee) on injured reserve and declared
Kalvin Pearson
(hamstring) out of the game. Fellow starter
Louis Delmas
(ankle) is questionable but likely to play. Still, that leaves
Marvin White
as the only other safety available on the active roster. White was claimed off waivers from Dallas last month. … Linebacker
Ernie Sims
(hamstring) has also been declared out for the game, while quarterback
Matthew Stafford
(shoulder) and defensive end
Dwayne White
(toe) are doubtful and unlikely to play. … Receiver
Calvin Johnson
(knee, hand) is questionable but will be limited at best if he plays.
Green Bay Packers:
An MRI showed no damage on center
Scott Wells
' knee, so it appears he will start Thursday. Wells told
Wisconsin reporters
that "nothing's torn" and that the swelling has receded. He's officially listed as probable. Tailback
Ahman Green
(groin) and tackle
Allen Barbre
(ankle) are the only two players the Packers likely won't have available to them.