November, 7, 2013
Nov 7
12:00
PM ET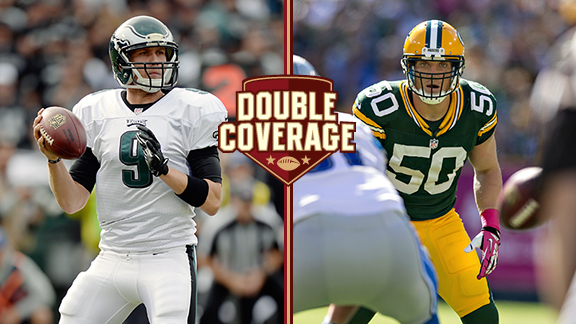 Getty ImagesNick Foles and A.J. Hawk meet Sunday in Green Bay in a game that's turned in the Eagles' favor.
If you expected the
Philadelphia Eagles
to have the edge at quarterback for their Week 10 meeting against the
Green Bay Packers
at Lambeau Field, go to the head of the class.
The teams play Sunday, a week after their quarterbacks made headline news. The Pack's
Aaron Rodgers
broke his collarbone in Monday night's loss to the
Chicago Bears
, a day after the Eagles'
Nick Foles
tied the NFL record with seven touchdown passes against the
Oakland Raiders
.
A game that looked to be safely in the Packers' column is suddenly wide open. NFC North aficionado and all-around NFL expert Kevin Seifert breaks down the game with ESPN.com Eagles reporter Phil Sheridan.
Phil Sheridan:
I'll start with the obvious one: Can the Packers win without Rodgers? Did they take his durability for granted in not having a better backup in place?
Kevin Seifert:
On a local level, the backup quarterback has been an annual source of controversy for the Packers throughout Rodgers' career as a starter. Nationally, most people didn't find out about it until Monday night.
Seneca Wallace
is the backup only because he was available when they realized none of the players they took to training camp was up to the job. He is 6-15 in his career as a starter, and his career seemed over in August 2012 when the
Cleveland Browns
released him.
The Packers' entire scheme is built around Rodgers doing things that only Rodgers can do. Think of what happened when the
Indianapolis Colts
played without
Peyton Manning
in 2011. The Packers will need to make fundamental changes to their offense -- and expect substantial elevation in other areas of their team -- to make it through this wilderness.
I have to imagine the Eagles can't believe their luck to be facing Wallace instead of Rodgers, huh?
Sheridan:
They are saying all the right things about wanting to face the best and never wanting to see anyone get hurt, but they aren't oblivious. This game looked like a double-digit loss the day the schedule came out, and it still looked like an easy Packers home win until Rodgers' collarbone broke Monday night. So it not only becomes a winnable game for the Eagles, it comes when a win, combined with a Dallas loss (the Boys are in New Orleans), would move them even with the Cowboys at 5-5.
And it's not like the Eagles owe anybody an apology when it comes to luck. They haven't had a quarterback start and finish two games in a row since September, and they've been down to
Matt Barkley
twice.
They may not have a starter as good as Rodgers, but their backup isn't half bad. Foles threw for seven touchdowns Sunday against an Oakland defense that didn't blitz or, at times, even cover receivers. Given Dom Capers' background, how would you expect him to respond to a challenge like this?
Seifert:
Capers is known for major scheme changes from week to week, depending on matchups. But as usual, the Packers are dealing with injuries that will limit his options. They are down four linebackers at the moment, although the Packers are hopeful that
Clay Matthews
can return soon -- if not Sunday -- and play with a club to protect his broken thumb.
In short, I'm not sure how many options Capers will have. He does have a group of talented cornerbacks --
Tramon Williams
,
Sam Shields
,
Casey Hayward
and
Davon House
. Capers will have to hope that they can stick with the Eagles' group of perennial All-Pros and future Hall of Famers better than the Raiders did.
Are the Eagles' receivers really that good?
Sheridan:
If they are, they have managed to keep that greatness a secret until Sunday in Oakland.
DeSean Jackson
is a dynamic player, no question about that, but he has been taken out of games in the past when cornerbacks get physical with him. The Raiders did not, and Jackson went off.
As for
Riley Cooper
and
Jason Avant
, they have not made up for the loss of
Jeremy Maclin
to a torn ACL during training camp. Cooper had great numbers Sunday -- five catches, three touchdowns, 139 yards -- but he has been neutralized more often than not during the season.
Tight ends
Brent Celek
and
Zach Ertz
had big numbers at Oakland too. So either the Eagles offense really turned a corner or the Raiders just didn't have anyone playing corner. Maybe a bit of both.
The Packers have added a more robust running game to their offense this season. Now that Rodgers is hurt, can
Eddie Lacy
& Co. carry the team until the quarterback is back? Is that even possible in this pass-happy league?
Seifert:
I tend to doubt it. Up until Monday night's game against the Bears, much of the Packers' success in the run game came against light boxes (six men or fewer) designed to focus first on the pass, according to the charting we get from ESPN Stats & Information. The Bears brought a safety into the box Monday night and the Packers still rushed for 199 yards, but we should note that the Bears have the NFL's fourth-worst rush defense this year.
And even when you run successfully, it usually takes longer to score and thus your total points can drive down. The Packers were averaging 30 points per game before scoring 20 Monday night against the Bears.
How do you think the Eagles will approach it? Eight men in the box? Nine? How about 11?
Sheridan:
This sets up a bit like the Tampa Bay game, I guess.
Mike Glennon
was making his second start, and the Bucs' passing game was not expected to be a big threat. The Eagles focused on shutting down
Doug Martin
, and they did, holding him to 67 yards on 16 carries. It helps, of course, to get a lead and force the opponent to throw the ball more.
All season, the Eagles' focus has been to stop the run while limiting big pass plays downfield. That made them vulnerable to intermediate passing and runs after the catch. Tampa Bay's
Vincent Jackson
, for instance, had nine catches for 114 yards and two touchdowns while the Eagles were focused on Martin.
That has to be the Packers' blueprint for success. If Wallace can get the ball out quickly and catch
Jordy Nelson
and
Andrew Quarless
in stride, the Packers can move the ball. The Eagles are better at tackling and covering underneath than they were, but there's opportunity there.
December, 20, 2012
12/20/12
7:10
AM ET
We're Black and Blue All Over:
Inside Slant partner Mike Sando and I spent
this week's podcast

hashing through the bleak pool of quarterback replacements available this offseason for teams that want to make a change. A few hours later, ESPN draft analyst Todd McShay
released an updated set of rankings

that added more context to the discussion.
There are only two quarterbacks ranked among McShay's 32 best players in the draft, and both are near the bottom of the list. West Virginia's Geno Smith is No. 23 and USC's Matt Barkley is No. 31. And that's it.
Quarterbacks tend to rise in value as the draft approaches considering the importance of the position. But this is yet another sign that it's a bad year to need a new quarterback for NFL teams.
Continuing around the NFC North:
November, 29, 2012
11/29/12
10:00
AM ET
The NFL draft is a year-round enterprise, and so I'm sure plenty of you will eat up every word in
this week's Hot Read.
ESPN draft analysts Mel Kiper and Todd McShay addressed 10 key questions about the 2013 draft, and here are some NFC North-related nuggets with my comments:
McShay:
"It's not a good 'TV draft.' NFL teams want great talent at every single position, but a vast majority of teams are not in dire straits and looking for a quarterback, and would rather see the depth where it is in this class: on the offensive and defensive lines."
Seifert comment:
I could see that sentiment applying to all of our teams except perhaps the
Minnesota Vikings
. We have some deep groups of receivers and three ultra-established quarterbacks, the positions McShay is referring to by 'TV draft.' The
Chicago Bears
in particular should be on the lookout for offensive tackles.
Kiper:
"For just 'pure sleeper' in the sense of a guy nobody has seen, I'll go with
Eric Fisher
of Central Michigan, who could be starting for someone at tackle next season.
Seifert comment:
NFC North fans can also be MAC fans, so I'm guessing a few of you have heard of Fisher. He is a 6-foot-8 tackle who might end up on the radar of, say, the Bears or even the
Green Bay Packers
. Are we sure that
Marshall Newhouse
is the Packers' long-term left tackle? And can we trust that 2011 first-round pick
Derek Sherrod
will ever play again? Sherrod isn't ready to play now, nearly a year after suffering a gruesome broken leg.
McShay:
"This [quarterback] class better resembles the 2011 class than the 2012 class."
Kiper:
"Right now, I don't have a QB rated among my top 20 overall players... ."
Seifert comment:
A relatively weak group of blue-chippers, led by USC's
Matt Barkley
and West Virginia's
Geno Smith
, could factor in for the Vikings. If you assume that quarterback value is artificially inflated, Barkley and Smith will be drafted higher than where they should be based on pure potential. That would leave even fewer options for the Vikings if they decide to give
Christian Ponder
some legitimate long-term competition.
McShay:
"If you talk to front office personnel, they would agree that the defensive linemen in this draft are really an impressive group. You have the elite guys, but you have guys late in the first round, early in the second who can become a centerpiece on your defensive line for many years."
Seifert comment:
I wouldn't consider defensive line an area of need for any particular NFC North team, but some key players are at least in the second half of their careers. Among them: the Bears'
Julius Peppers
(32), the Vikings'
Kevin Williams
(32) and
Jared Allen
(30), the
Detroit Lions
'
Kyle Vanden Bosch
(34) and the Packers'
Ryan Pickett
(33). The best way to look at this aspect of the draft is that NFC North teams will have an opportunity to fortify their strengths.
September, 12, 2012
9/12/12
5:00
PM ET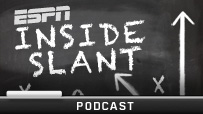 The Green Bay Packers are 0-1. So are the New Orleans Saints. So who has a better chance to land USC quarterback Matt Barkley at the top of the 2013 draft?
That question highlighted the discussion Mike Sando and I had about post-Week 1 overreaction in
this week's edition of the Inside Slant podcast

. We also wondered how highly the San Francisco 49ers should be regarded after taking it to the Packers last Sunday at Lambeau Field.
We agreed to end it after my voice went into John Clayton mode. There's a teaser to stick around until the end. (Or just toggle to minute 37).
May, 3, 2012
5/03/12
4:00
PM ET
Earlier this week
, we brought you a quick look at Mel Kiper Jr.'s top 2013 draft prospects. Taking it to another level, ESPN analyst
Todd McShay has posted the first official 2013 mock draft

.
McShay acknowledges one of many obvious pitfalls here: We have no clue what the 2013 draft order will be. So to me, the best way to look at this exercise is to consider it an early rendering of McShay's top 2013 prospects now that schools have wrapped up spring practices.
You need an Insider subscription to see the complete file. I'll give you a glimpse at McShay's top five prospects based on their appearance in this draft, a list that is especially helpful because it doesn't include any of the quarterbacks -- USC
Matt Barkley
, Virginia Tech's
Logan Thomas
and Oklahoma's
Landry Jones
-- who figure to push their way up this list in the coming months.
So consider this list the best five non-quarterback prospects with 11 months remaining before they could be drafted:
*Underclassman who would need to declare for the draft
May, 1, 2012
5/01/12
5:00
PM ET
Now that we've looked at the 2012 NFL draft from every possible angle, I can't think of a better time to start looking ahead to 2013. The video includes Mel Kiper Jr.'s top five prospects for '13 and foreshadows the first draftnik brawl: Is USC quarterback
Matt Barkley
tall enough? He is listed at 6-foot-2, but anything below that would -- no lie -- raise questions. Hopefully
his arms are long enough
to compensate.
December, 22, 2011
12/22/11
5:45
PM ET
December, 1, 2011
12/01/11
10:55
AM ET
The
Minnesota Vikings
' 2-9 record is tied for the second worst in the NFL, and
as we noted earlier this week
, they currently hold the tiebreaker over the 2-9
St. Louis Rams
and for now are positioned to be assigned the No. 2 overall pick in the 2012 draft.
It's worth noting that three teams are 3-8 and eight others are 4-7. Plenty could change in the next five weeks. Regardless, I think it's time to start familiarizing ourselves with some players the Vikings might consider at the top of the draft.
ESPN draft analyst Todd McShay has updated
his top 32 players in the draft

, including underclassmen who haven't yet had the opportunity to declare for the draft. The entire list is available to Insider subscribers, but I can bring you the top five as a way of getting an idea of the players who will receive early scrutiny in the draft season.
1. Stanford quarterback Andrew Luck
Seifert comment:
Luck seems destined to go No. 1 overall if the
Indianapolis Colts
hold that position.
2. USC offensive tackle Matt Kalil
Seifert comment:
The early consensus is that Kalil, 6-foot-7 and 295 pounds, will be ready to start at left tackle on the first day of training camp.
3. LSU cornerback Morris Claiborne
Seifert comment:
Cornerback might be the Vikings' top need. Claiborne is big (6-foot-1) and is said to have elite coverage skills.
4. Alabama running back Trent Richardson
Seifert comment:
Running back might be the only position the Vikings absolutely don't need to address this offseason.
5. USC quarterback Matt Barkley
Seifert comment:
If Barkley, Oklahoma's Landry Jones or Baylor's Robert Griffin III prove to be a legitimate top-five talent, the Vikings could have an opportunity to trade down and accumulate a pile of extra draft picks.
ESPN's Mel Kiper Jr. has been updating
his Big Board

throughout the fall, and for the most part it matches McShay's latest offering. Kiper does rank Oklahoma State receiver Justin Blackmon in his top five instead of Barkley. Stay tuned. I'm guessing we'll hit this topic once or twice more before April 26, 2012.