NFC North:

Matt Blanchard
August, 30, 2013
8/30/13
10:25
AM ET
CHICAGO -- The
Chicago Bears
have informed veteran quarterback
Jordan Palmer
that he will be released prior to the deadline for NFL teams to establish their 53-man roster, Palmer announced Friday morning on his official Twitter account (@JwPalms).

"I really appreciate all the kind words from the #Bears fans but I'm headed home today," Palmer wrote. "Crazy biz but appreciative."
Palmer had a strong first-half performance Thursday against Cleveland when he completed 11-of-17 passes for 111 yards and one touchdown, for a passer rating of 102.8. Chicago receivers also dropped at least three throws that would have otherwise resulted in completions.
Bears head coach Marc Trestman praised Palmer following the game. The Bears signed both Palmer and fellow quarterback
Trent Edwards
after second-year QB Matt Blanchard fractured his left hand in the club's second preseason game. The Bears and Blanchard later reached an injury settlement.
"It says a lot about his preparation," Trestman said. "He came in here; he dug in; he has learned a lot of the offense and spent a lot of time, on his own, trying to assimilate all of it. I'm happy for him that he came out and played very efficiently for us."
It's possible the Bears could turn to Palmer later in the regular season if the team suffers an injury to either starting quarterback
Jay Cutler
or No. 2
Josh McCown
.
Edwards replaced Palmer in the second half and went 10-of-17 for 135 yards and tossed an interception that went through the hands of tight end
Fendi Onobun
and returned for a touchdown by the Cleveland defense.
The Bears could be leaning toward keeping just two quarterbacks on the Week 1 active roster and signing a quarterback to its practice squad.
In other news, the Bears also informed wide receivers Britton Golden and
Josh Lenz
of their release Friday.
NFL teams have until 3 p.m. CT on Saturday to trim the roster to 53, but the Bears are expected to make the majority of their roster moves on Friday.
August, 27, 2013
8/27/13
4:35
PM ET
LAKE FOREST, Ill. -- The
Chicago Bears
whittled to the 75-man roster limit Tuesday by finalizing an injury settlement with quarterback
Matt Blanchard
.
A second-year veteran, Blanchard fractured a knuckle on his left hand during the team's win over the
San Diego Chargers
. Prior to the injury, it appeared likely the Bears would try to keep Blanchard on the 53-man roster or waive him in final cuts with the expectation of adding him to the practice squad.
The problem is there's no way a team can release an injured player without reaching a settlement.
"I'm just disappointed he was injured. I really liked his progress. I think we resonated that through the times we've talked here," Bears coach Marc Trestman said. "I think everybody has an idea how we felt about Matt while he was here."
Blanchard's settlement makes him ineligible to return to the Bears until after Week 10. After the timeframe for the settlement expires, Blanchard can sign with another team. So it's likely the quarterback would sign with another club after the length of the settlement -- which is commensurate with the time a player is expected to be out due to the injury -- has expired because he can't rejoin the Bears until 2 1/2 months into the season.
In making the decision, Trestman said he hasn't "even thought about" the timeframe for Blanchard's recovery, adding that "we'll just see how it goes as we move forward."
When the team hit the practice field for the portion of Monday's workout that the media is allowed to view, Blanchard wasn't out on the field with the rest of his teammates. With the team going into the final exhibition game Thursday not expecting to play any of its starters, it's likely the team would have played Blanchard for a significant amount of repetitions.
Instead, the Bears will divvy up the snaps to recently-signed quarterbacks
Jordan Palmer
and
Trent Edwards
, with the former set to start.
"They're both really smart guys and knowledgeable. They've practiced well," Trestman said. "I expect that they're gonna do well."
Blanchard spent the majority of the 2012 season on the practice squad.
August, 27, 2013
8/27/13
8:00
AM ET
First off, shoutouts to all the good folks that sent in emails and tweets suggesting a name for our new feature that, every morning, will take a quick trip through the most pertinent Chicago Bears headlines.
After spending the day reading all the emails and tweets, I decided on Bear Essentials as the name of this feature. Why? Because it's so simple, and I sort of dig the brevity of the acronym BE. While I know Bear Essentials might sound like a shampoo, lotion or other cosmetic, hey, we're all about cleanliness and grooming. So thanks everyone for all the great suggestions. Let's also give props to the Packers fan that sent an email wanting the feature to be called Bear Droppings. That was kind of funny.
Anyway, let's get to it.
-- Brad Biggs of the Chicago Tribune
examines the possibility of the Bears parting ways with quarterback Matt Blanchard
by the NFL's 3 p.m. deadline to cut the roster down to 75 players. With the current roster sitting at 76, it's a definite possibility given that the broken knuckle on Blanchard's left hand is expected to keep him out approximately a month. So the Bears might look to clear the quarterback's spot by giving him an injury settlement.
If Blanchard takes an injury settlement, he won't be able to come back to the team until after Week 10, which Biggs points out could also create the possibility of the quarterback signing with another team after he regains health and the time frame (which is commensurate to the time he's expected to miss) for the settlement has passed.
For Blanchard to have stuck around as long as he has, the coaching staff and personnel department definitely sees something worth developing. Given Blanchard's likely recovery timeframe, he could possibly be healthy enough to return by Week 3. And I'm not convinced the team has seen enough from new signees Jordan Palmer, who will start Thursday night, and Trent Edwards to give up so soon on Blanchard.
Going back to my former life covering a different NFL team, I remember a head coach telling me that once a player took an injury settlement, "he could never play for me again." Hopefully this isn't the case with Blanchard and the Bears. We'll see soon enough though.
-- Adam Jahns of the Sun-Times takes a look at
Marc Trestman's staff of head coaches in waiting
.
-- Tom Musick of Shaw Media relieves the baseball
past of Bears rookie Kyle Long
. Man, it's hard to imagine a dude as big as Long hurling a fastball at you.
-- Rick Morrissey has an interesting take on former Bear Brian Urlacher's
new career in the media
. For the record, Urlacher was pretty decent to me during our interactions. In fact, during one our first conversations, he sat down with me for about 20 minutes for an interview for a
story on his return from a pretty significant wrist injury suffered in 2009
. Then, we spent the other 20 minutes or so getting to know one another, and this was right in the midst of training camp in 2010. Urlacher seemed thoughtful, funny and engaging, not to mention genuinely interested in the conversation (which wasn't about football) at hand.
Once Urlacher would get in front of a large group of reporters, though, everything would change. I don't think Urlacher truly disliked all of the media. He seemed to like some more than others, sure. I just don't think he was ever comfortable speaking in those big news conference settings.
That's true of lots of players around the NFL.
August, 26, 2013
8/26/13
2:49
PM ET
LAKE FOREST, Ill. -- The
Chicago Bears
returned to the field to resume workouts Monday, but continued to hold out defensive tackle
Henry Melton
and receiver
Earl Bennett
as the duo works through the steps of the concussion protocol to return to the field.
Melton and Bennett attended the session inside the Walter Payton Center during the portion of practice open to the media, but it appears neither has been cleared to return to activity. Considering the starters aren't likely to play much, if any, during the preseason finale against Cleveland on Thursday, there's no rush for Melton and Bennett to return to the field.
"Henry is into (the) running (phase of the concussion protocol). Earl is day-to-day," coach Marc Trestman said. "I know he was with some of the medical people this morning, I haven't checked. Henry ran today. He's going to run tomorrow and Wednesday and pick up that running significantly. That's where he is at this point."
However, the Bears have already begun preparations for the regular-season opener against the
Cincinnati Bengals
on Sept. 8, and the week leading into that outing would seem to be the target date for Melton and Bennett to rejoin the team for workouts.
As the club's franchise player, Melton has already solidified his status as a starter. Bennett, meanwhile, is competing with
Joe Anderson
,
Eric Weems
,
Terrence Toliver
and rookie
Marquess Wilson
for one of the receiver spots behind
Brandon Marshall
and
Alshon Jeffery
. Bennett hasn't practiced with the team since suffering the concussion on Aug. 3 at Soldier Field after a hard hit from safety
Chris Conte
.
Melton suffered his concussion in the first game of the preseason at Carolina.
In other injury news, the team held out quarterback
Matt Blanchard
(hand), linebacker
D.J. Williams
(calf), offensive tackle
Jonathan Scott
(knee), defensive tackle (
Corvey Irvin
) (ankle) and cornerback
Zack Bowman
(hamstring).
Fullback
Harvey Unga
(ribs), defensive end
Cheta Ozougwu
(hamstring), and long snapper
Patrick Mannelly
returned to the practice field Monday after missing last week's game at Oakland.
August, 20, 2013
8/20/13
5:20
PM ET
LAKE FOREST, Ill. -- Defensive tackle
Henry Melton
and wide receiver
Earl Bennett
remained sidelined on Tuesday due to concussions, but both players watched practice from the sidelines for the first time since the
Chicago Bears
concluded the Bourbonnais portion of their training camp on Aug. 13.
However, Melton and Bennett have still not passed the NFL concussion protocol to return to action, and therefore both continue to be off-limits to the media, per league rules.
While veteran
Nate Collins
has elevated his game filling in for Melton at defensive tackle, the picture at the No. 3 wide receiver spot is cloudier with Bennett out. Wideouts
Joe Anderson
,
Marquess Wilson
,
Eric Weems
,
Terrence Toliver
and
Devin Aromashodu
have all been given an opportunity to run with the first and second teams in recent weeks, but quarterback
Jay Cutler
said on Tuesday that he has no input on which specific player would fill the void left by Bennett if his absence continues to drag on.
"They don't give me an opinion so we'll see who they throw in there," Cutler said. "We'll see who Marc (Trestman), Phil (Emery) and those guys like. Whoever is out there I trust that they can get the job done."
In other injury news, quarterback
Matt Blanchard
(hand), fullback
Harvey Unga
(rib), defensive end
Cheta Ozougwu
(hamstring), linebacker
D.J. Williams
(calf), long snapper
Patrick Mannelly
(rib), offensive tackle
Jonathan Scott
(knee) and defensive tackle
Corvey Irvin
(ankle) were all held out of Tuesday's practice.
The news on Blanchard is encouraging. The second-year quarterback is expected to miss about a month, but could still have a role on the team in 2013 in some capacity. Blanchard also remains eligible for the practice squad.
August, 19, 2013
8/19/13
7:57
PM ET
LAKE FOREST, Ill. --
Chicago Bears
head coach Marc Trestman revealed on Monday that starting quarterback
Jay Cutler
and his primary backup,
Josh McCown
, will not see the field in the team's preseason finale Aug. 29 versus the
Cleveland Browns
.
[+] Enlarge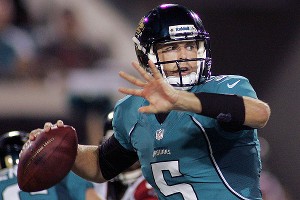 Phil Sears/USA TODAY Sports
"This is a great opportunity," Jordan Palmer said of being named to split reps with Trent Edwards during the Bears preseason finale against the Browns on Aug. 29. "I'm at the point in my career where I just want to play football."
Instead, newcomers
Jordan Palmer
and
Trent Edwards
will lead the Bears offense against the Browns as both try to earn a spot on the team's 53-man roster in the aftermath of
Matt Blanchard
's hand injury, which could keep him out a month.
"The reason, obviously, why we got them both in is we worked them out, we liked them both," Trestman said. "We'll get them a chance to play and get on tape. I think they'll be pretty familiar with the offense once they get out there, and we'll do the best we can.
"If something would happen to Jordan as the third [QB on the depth chart], we still would have wanted to protect Josh. So that's the reason why we've got two quarterbacks coming in."
Palmer said on Monday he relishes the chance to showcase himself in the preseason after working in sports marketing as recently as late last week. Palmer appeared in four games for the
Cincinnati Bengals
from 2008 to 2010 and spent time last season with the
Jacksonville Jaguars
.
August, 19, 2013
8/19/13
7:51
PM ET
LAKE FOREST, Ill. -- Second-year quarterback
Matt Blanchard
watched practice on Monday with a soft cast on his fractured left hand, but
Chicago Bears
coach Marc Trestman acknowledged that a final decision on Blanchard's roster status has not been made after the club acquired veteran quarterbacks
Jordan Palmer
and
Trent Edwards
.
Blanchard broke a knuckle in his left hand in the third quarter of the Bears' 33-28 preseason victory over the
San Diego Chargers
.
[+] Enlarge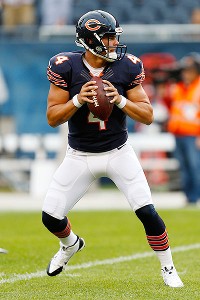 AP Photo/Scott Boehm
A broken knuckle has the roster status of Bears quarterback Matt Blanchard in jeopardy.
"We've got to see how this injury unfolds and how it relates to the roster," Trestman said. "So we're just giving that some time, but it's a relevant question. We just are not in position to make that decision yet, so we're just going to see how this injury unfolds and what the length of it would be."
Blanchard could not put a timetable on a return.
"I really don't know yet," Blanchard said. "We're still talking and I still have to see some doctors. I still have to talk to our trainers and figure that stuff out."
Based on Trestman's comments throughout training camp, Blanchard had performed well in the preseason and appeared to be a strong candidate to earn a spot on the final 53-man roster as the Bears' No. 3 quarterback before the injury. Blanchard completed 15 of 18 passes for 194 yards in the Bears' opening preseason game against the
Carolina Panthers
.
"I feel good about my progress [in the offense]," Blanchard said. "I feel good about moving forward and a lot of the stuff's out of my hands at this point.
"I just have to help the new quarterbacks coming in to get them ready for Oakland and get them ready for the last preseason game and be the best teammate possible."
August, 16, 2013
8/16/13
12:42
AM ET
CHICAGO -- The
Chicago Bears
plan to add another quarterback to the roster in the coming days after losing third-stringer
Matt Blanchard
for an unspecified period when he fractured a knuckle on his left hand Thursday during the club's 33-28 preseason win over the
San Diego Chargers
.
Blanchard suffered the injury when he was sacked with 8:03 left in the third quarter for a 10-yard loss by
Jarius Wynn
.
"I'm not sure about the time that he'll be out, but we're sitting here with two quarterbacks going into next week," Bears coach Marc Trestman said. "Certainly that's something that we're gonna have to repair fairly quickly to get a third quarterback on the roster."
Former
Oakland Raiders
No. 1 overall pick Jamarcus Russell worked out for the Bears in June, and drew positive reviews from those in attendance, who raved about the quarterback's arm strength. The club also worked out
Trent Edwards
and
Jordan Palmer
the same day as it attempted to cull together up-to-date evaluations on those players so it could gather a short list of veterans it could call upon in the event of an injury.
"We've got to get another quarterback in here, and I'm sure we'll look to do that as we move forward," Trestman said.
An undrafted free agent in 2012, Blanchard, a native of Lake Zurich, Ill., spent 12 weeks last year on the practice squad. Blanchard had drawn praise from Trestman and offensive coordinator Aaron Kromer for his quick grasp of the offense, decision-making skills and his confidence.
Blanchard completed 16 of 19 in two preseason games for 193 yards and an interception. Against the Panthers in the exhibition opener at Carolina, Blanchard scrambled four times for 26 yards.
August, 13, 2013
8/13/13
4:12
PM ET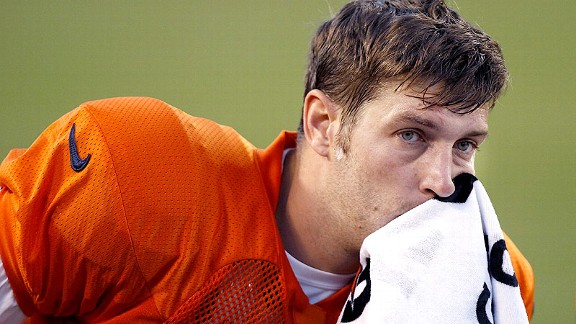 AP Photo/Andrew A. NellesJay Cutler figures to play at least a quarter against the Chargers on Thursday.
BOURBONNAIS, Ill. --
Chicago Bears
coach Marc Trestman has a simple goal for the offense heading into the second preseason contest Thursday against the
San Diego Chargers
.
"You always want to see points," Trestman said. "That would be No. 1. We want to score."
Quarterback
Jay Cutler
and the Bears' starting offense played just 10 snaps last week at Carolina, and although the unit failed to put the ball in the end zone, Cutler did finish 6-of-8 passing for 56 yards after tossing an interception on their first offensive snap of the game.
With the starter expected to be on the field for at least one quarter against the Chargers, Cutler is hopeful the Bears will be permitted to show a tad more on offense.
"I hope so," Cutler said. "We're going to get some game-planning this afternoon, but still it's the preseason and we're still figuring out exactly what plays we like and what we're good at so we're not going to be game-planning like your regular week. We'll do a little bit tonight, some tomorrow, then we'll strap it up and play and hopefully some of that stuff pairs up nicely for us. If not, then we'll just have to work around it and figure it out and watch it on tape."
August, 9, 2013
8/09/13
8:55
AM ET
We're Black and Blue All Over:
We've made it! (Sort of.)
The entire NFC North will open its 2013 preseason schedule Friday evening, affairs that will be most notable for their impact on second-level job competitions and evaluations of previously untested players. We'll have a few preview details to post later in the day, and by Saturday morning we'll corral our vast network of resources to provide observations of all four games.
For now, let's take our morning tour -- one that by your request will continue through our current transition:
June, 7, 2013
6/07/13
9:18
PM ET
By
ESPN.com staff
| ESPN.com
Quarterback
JaMarcus Russell
, the top pick in the 2007 draft who's been out of the league for three years, showed up at the expected weight and displayed a "big arm" and "good, positive demeanor" during a Friday workout for the
Chicago Bears
, sources told ESPNChicago.com, but the team is unlikely to offer him a contract.
Russell looked a bit rusty but was solid overall, the source said, but with three quarterbacks already on the roster --
Jay Cutler
,
Josh McCown
and
Matt Blanchard
-- it appears Chicago won't be moving on Russell or the other two signal-callers who participated in the session at team headquarters --
Jordan Palmer
and
Trent Edwards
-- anytime soon.
For Michael C. Wright's full report, click
here
.
May, 13, 2013
5/13/13
8:05
AM ET
We're Black and Blue All Over:
Mike McCarthy is going to wish he thought of this one. The Green Bay Packers' coach often unveils some sort of new technology or practice approach in his efforts to improve over the previous year, but the newest thingamabob in rookie minicamps belonged to the Chicago Bears.

New Bears coach Marc Trestman
had a small video camera installed
on the helmet of quarterback Matt Blanchard, who participated in the three-day camp over the weekend as a first-year player. (You can see the camera on the left side of his helmet
in the photo accompanying this post
from Jeff Dickerson of ESPNChicago.com.)
The idea is to record where the quarterback looks, his progressions and what he sees as a play develops. It provides another set of tape to grind through, but in the case of quarterback development, I'm sure it's worth it.
I doubt the Bears are the first team in the country to use this approach, and I can't say for sure that no other NFL team has tried it. I just thought it was a cool and potentially useful addition to rookie minicamps that are difficult to draw many conclusions from.
Continuing around the NFC North:
November, 13, 2012
11/13/12
5:41
PM ET
The
Chicago Bears
were off Tuesday and aren't scheduled to resume practicing until Thursday in preparation for next Monday's game at the
San Francisco 49ers
. That's a roundabout way of saying there isn't much of an update on the status of quarterback
Jay Cutler
, and we might not know much more until we find out who will take the first-team repetitions Thursday in practice.
What we do know: The Bears finalized a contract agreement with veteran quarterback
Josh McCown
, giving them two healthy quarterbacks on their 53-man roster along with
Jason Campbell
. (Rookie Matt Blanchard remains on the practice squad.)
Cutler suffered a concussion Sunday night against the
Houston Texans
, the third of his NFL career and perhaps the sixth of his football career. Plenty of outside observers,
most recently
former NFL quarterback
Kurt Warner
, are urging caution in his return. But none of us know the details or severity of his injury, so at this moment it would be no less surprising if he practices Thursday than it would be if he misses a week or more of practice.
We'll update you when we, uh, have an update.