October, 28, 2013
10/28/13
7:15
PM ET
DETROIT --
Calvin Johnson
was stopped again. The Cowboys couldn't do much against the
Detroit Lions
wide receiver Sunday except for one thing -- keep him out of the end zone.
Dallas allowed Johnson to wriggle free one final time Sunday afternoon with 33 seconds left for a 22-yard reception that came real close to a touchdown. How close? Left tackle
Riley Reiff
-- and this would come into play a few seconds later -- ended up at midfield celebrating instead of running to the 1-yard line.
See, Reiff had thought Johnson had scored, capping an unbelievable 31-30 comeback win for Detroit over Dallas. Except for one problem. Johnson was stopped. So everyone, from the sidelines to Stafford, had to yell at Reiff to get moving toward the line.
[+] Enlarge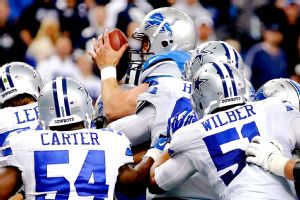 AP Photo/Rick OsentoskiMatthew Stafford fooled the Cowboys and his Lions' teammates with this 1-yard touchdown dive.
Hence the Lions left tackle, playing with an injured hamstring all day, sprinting to the line of scrimmage to set up the final play.
"I know," center
Dominic Raiola
said. "He's getting fined for that."
As Stafford and his entire team ran toward the goal line for one final play, Stafford furiously flicked his right wrist downward over and over again, yelling "clock it, clock it" and "clock, clock."
He was planning on spiking the ball with 14 seconds left to give Detroit at least one, maybe two chances to score. That is, until he got to the line of scrimmage.
Everyone was lined up ready to go except for the fast-sprinting Reiff, and Reiff's celebration from behind might have actually given Stafford the second or so he needed to make what ended up being a gutsy, incredible read.
"Honestly, I'm looking down and I see feet in the end zone and light in the stance and I just said, '(expletive), here we go.' " Stafford said.
Stafford snapped the ball. Raiola, right guard
Larry Warford
and the rest of the Lions thought he was going to spike the ball.
He didn't. Stafford jumped just to the left of Raiola -- Raiola said later he never saw Stafford essentially jump over him -- to try and score the touchdown.
"I was lined up on the ball," receiver
Kris Durham
said. "I'm expecting him to spike it and I'm looking down the line and I can see that he got over. I was telling everybody, 'He got over.'
"I probably had a better view than the ref."
When Stafford jumped, Durham raised his arms to celebrate. But just in case there was any question, Stafford landed and took off to the left, darting into the end zone and finishing off with an actual spike.
That was when Raiola and Warford realized what happened.
[+] Enlarge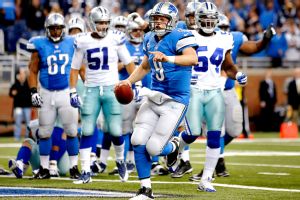 AP Foto/Rick Osentoski"I was like, 'What the hell is he doing over there?'" asked guard Larry Warford of Stafford's celebration. "Like 'How could he mess up spiking the ball?'"
"The only thing I saw was him running the other way," Warford said. "I was like 'Why haven't the whistles blown?' And I saw him running to my left and I was like, 'What the hell is he doing over there? Like 'How could he mess up spiking the ball?'
"Lo and behold."
Running back
Reggie Bush
saw it immediately. And it was eerily reminiscent to another game he had -- the legendary Bush Push Notre Dame-USC game in 2005. In that game, then-USC quarterback
Matt Leinart
tried to score on a quarterback dive over the top with three seconds left to beat the Irish.
Leinart didn't get in the first time, so Bush came behind him to push him in over the left side.
On Sunday, Stafford got in on the first try with 12 seconds left, but then when he darted left, Bush, who had already jumped in the air to celebrate just like he did during the USC-Notre Dame game once Leinart scored, pushed Stafford in the back as he crossed the goal line for the Lions.
"It was deja vu, exactly," Bush said.
So why did Stafford do this? Why take the chance?
The play was somewhat similar to Dan Marino's decision in 1994, when he ran toward the line of scrimmage yelling "clock, clock, clock," late in a game against the
New York Jets
, according to a New York Times report of the game, before Marino chose to fake the spike and throw a touchdown pass instead.
This, though, did not cross Stafford's mind as he ran down the field or took his own fake spike into NFL lore.
"Sometimes you get a feel and you just go with it," Stafford would say at his locker later. "If we don't get in there, we probably lose the game."
Not an issue for Stafford. He did get in on a play in which only he knew what he was doing, completing yet another fourth-quarter comeback in his career.
"It gets us to 5-3, man," Stafford said. "It's a big win, don't get me wrong. It's a great comeback, it's all that, but shoot, we have a lot of work left to do."
July, 26, 2011
7/26/11
10:55
PM ET
One final free agent update before we call it a night. (Probably.) ESPN's Adam Schefter reports the
Minnesota Vikings
and
Seattle Seahawks
are in a bidding war for free agent
Sidney Rice
.

Rice
As we've discussed all along, Rice was intent on testing his value on the open market. It's interesting that he's talking to a pair of teams whose quarterback situation is far from unsettled.
The Seahawks won't bring back
Matt Hasselbeck
and instead will have a competition between
Charlie Whitehurst
,
Tarvaris Jackson
and
Matt Leinart
. The Vikings drafted rookie
Christian Ponder
, but are attempting to acquire veteran
Donovan McNabb
from the
Washington Redskins
.
It's not clear if other teams will get involved or if Rice has narrowed his options to the Vikings and Seahawks. From an NFC North perspective, this news tells us that the Vikings at the very least have not given up the possibility of bringing Rice back even though they couldn't re-sign him before the lockout began.
July, 26, 2011
7/26/11
9:57
PM ET
I'm continuing to get my head around the
Minnesota Vikings
'
reported pursuit
of quarterback
Donovan McNabb
, which to this point qualifies as the biggest NFC North development on Day 1 of the 2011 free-agent market. We've also discussed issues from
Matthew Stafford
's
swagger
to
Aaron Rodgers
'
free-agent wish list,
and I'm sure there will be much more to come.
McNabb
For now, let's review in rapid-fire fashion a number of other developments that merit comment but maybe not their own blog post:
Item:
Former Vikings quarterback
Tarvaris Jackson
agreed to terms
with the
Seattle Seahawks
, where he will reunite with offensive coordinator Darrell Bevell.
Comment:
Someone in the Seahawks' building clearly wants someone else to win the starting job, be it
Charlie Whitehurst
or
Matt Leinart
. As much as I respect Jackson as a person, I don't see him as an NFL starter -- and neither do many other people in the league.
Item:
The Vikings
agreed to terms
receiver
Devin Aromashodu
, formerly of the
Chicago Bears
, to a one-year contract.
Comment:
Aromashodu isn't a possible replacement for
Sidney Rice
or even
Bernard Berrian
, should he be released. Aromashodu remains an intriguing big target who had a career game against the Vikings in 2009, catching seven passes for 150 yards and a game-winning touchdown. Opponents don't forget games like that.
Item:
Free agent receiver
Santana Moss
agreed to terms
with the
Washington Redskins
.
Comment:
Send your condolences to Bears receiver
Devin Hester
, who
publicly lobbied
the team to sign Moss.
Item:
The Bears have interest in free-agent receiver
Brad Smith
, according to a report by
ESPNChicago.com's Michael C. Wright
.
Comment:
Smith offers a bigger look than the rest of the Bears' receivers and could also return kickoffs following the expected departure of
Danieal Manning
. Bring him on.
Item:
The Bears want free-agent linebacker
Nick Roach
to return as a backup, according to a report by
ESPNChicago.com's Jeff Dickerson
.
Comment:
That means the Bears still need a starter at strong-side linebacker. They are interested in
Jacksonville Jaguars
linebacker
Justin Durant
, according to a
ESPNChicago.com
report.
Item:
The
Detroit Lions
will release
receiver
Bryant Johnson
, according to report by Dave Birkett of the Detroit Free Press.
Comment:
It wouldn't have made sense to bring Johnson to training camp after drafting
Titus Young
as the likely No. 3 receiver. That gives a player many of you have asked about,
Derrick Williams
, a fighting chance to make the team as a No. 4 receiver.
Item:
The Vikings have told defensive tackle
Jimmy Kennedy
he won't return in 2011, according to
Kennedy's Twitter feed
.
Comment:
Cross off another candidate to start at defensive tackle if free agent
Pat Williams
signs elsewhere and during
Kevin Williams
' expected four-game suspension.
Item:
The Bears are the only NFC North team to release a list of undrafted free agents they have signed.
Comment:
All 26 names are
published over at ESPNChicago.com
for your enjoyment.
Item:
And today will be better than yesterday.
Comment:
That's my friend Buster Olney's
signature blog sign-off
. I like it.
December, 4, 2009
12/04/09
4:00
PM ET
<!-inline1-->
Five nuggets of knowledge about Week 13:
We should have a better picture of the NFC wild-card picture
by the time Green Bay takes the field Monday night against Baltimore. At 7-4, the Packers and Philadelphia are leading the conference's wild-card standings. But the Eagles will travel Sunday to face at Atlanta, which is one game back at 6-5. The conference's other 6-5 team, the
New York Giants
, face a tough matchup at home Sunday against Dallas. So one way or the other, it's very possible the Packers will have an opportunity to put some distance between themselves and the rest of the wild-card field with a victory over the Ravens.
[+] Enlarge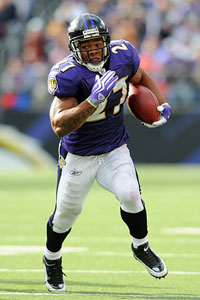 James Lang/US PresswireRay Rice has become one of the Ravens' top weapon in the passing game.
Baltimore running back Ray Rice will test Green Bay's tackling skills Monday night.
Rice leads the NFL with 593 yards after the catch, according to ESPN Stats & Information, and has become arguably the Ravens' top weapon in the passing game. Although the Packers miss the veteran leadership of linebacker
Aaron Kampman
, his replacements might have a better chance to contain Rice. Rookie
Brad Jones
and veteran
Brady Poppinga
are more comfortable making open-field tackles. On the other side, we'll find out how far rookie
Clay Matthews
has come. This is one of the primary reasons the Packers traded up in the draft for Matthews: To combine speed and tackling ability on the outside.
Minnesota is expecting a heavy dose of three-step drops and max protection Sunday night from Arizona's offense,
whether or not
Kurt Warner
starts at quarterback. Warner and backup
Matt Leinart
were hammered in last season's matchup between the teams, a 35-14 Vikings victory, taking four sacks and being hit on six other occasions. This season, the Vikings enter the game with an NFL-high 40 sacks, and teams are starting to make adjustments. "We ended up getting a lot of three-step drops from the team we just played [Chicago]," said defensive coordinator Leslie Frazier. "I wouldn't doubt that will be the case this week."
It will be a doozy of a matchup Sunday at Soldier Field,
where the Bears will try to avoid the embarrassment of a home loss to St. Louis (1-10). There's nothing on paper to suggest the Rams have the capacity to win Sunday, but the Bears haven't shown much of that themselves lately. If you want an in-game focus, watch where the Rams line up pass rusher
Leonard Little
. He's technically listed as the Rams' left end, meaning he would line up over the right tackle. Normally, that would be 2008 first-round pick
Chris Williams
. But it's likely that Williams will make his first career start at left tackle. Will the Rams move Little to that side to take advantage of Williams? Or will they like the matchup better against new right tackle
Kevin Shaffer
? Tune in to find out. Or not.
To say that Cincinnati receiver Chad Ochocinco is licking his chops is an understatement.
Ochocinco couldn't even bring himself to talk his usual trash about Detroit's pass defense. During a conference call with Detroit-area reporters, Ochocinco said the Lions' secondary is "beautiful." Presumably, he's referring to its capacity to give up a monster game. The Bengals have relied on their running game this season, but that could change when they realize that opponents are completing an incredible 70.5 percent of their passes against the Lions this season. Opposing quarterbacks also have a 111.8 passer rating against them, having thrown 27 touchdowns against only six interceptions.
March, 15, 2009
3/15/09
12:00
PM ET
Posted by ESPN.com's Kevin Seifert
As promised, Part II of the weekend mailbag will focus exclusively on last week's debate on Georgia quarterback Matthew Stafford.
Ethan of Monroe, La., writes: I'd be interested to see how Sanchez and Stafford compare if you isolate the calculations based upon their last season.
Kevin Seifert: If you base it only their senior seasons, Mark Sanchez maintains his spot in the "Strong likelihood of success" category with a score of 47. Stafford moves into "hit or miss" with a score of 15.5. I agree that Stafford is dragged down in this formula to some extent by his freshman year, but even his senior year doesn't elevate him to the status you would hope to see from a No. 1 overall pick.
---
Steve of Troy, Mich., writes: Kevin, I did the formula that you applied to Matt Stafford to decide if he would be a bust. I know that it is for 1st rounders, but the Lions 2007 2nd round pick was Drew Stanton. He has sat the bench, and been placed on IR his rookie season. According to your formula he comes out as a 29.6665. Do you think that this matters at all? It seemed to be a great indicator for 1st round talent.
Kevin Seifert: There are some instances where players rating in the top group didn't work out, Tim Couch and David Carr among them. I think this formula is best viewed as a check and balance on players whose evaluations otherwise place them in the first round. Are there any flags? In many cases, this formula identifies them. In the case of Stanton, he never rose to the level of first-round evaluation in the first place.
---
Gino in Denver rants: Are u retarded? Do You see who is at the top of your so called rankings? Thats right Matt frickin Leinart/ U are a two bit hack who should consider another career! Thank ur "fans" all u want, but ur formula is lacking as well as your input! I wish i could get paid to write phony articles just like u Mrs. Seifert!
Kevin Seifert: Eloquently put, Gino. One point I should address: We made clear in the story that the only point of the scores was to put the players into their broader categories, not to rank them 1-31. That Leinart scored into the top group is the only relevant factor. It's true that he hasn't succeeded yet, but I don't think we close the book on him yet, either.
---
Jay of Lake Geneva writes: It seems to me that the formulas are backwards. A BCS quarterback is going to have a higher score than a non-BCS quarterback. Shouldn't it be harder for a BCS quarterback to get a good score? For BCS quarterbacks (Career Starts x 0.5) + [(Career completion pct. - 60)x5] +[(Career touchdown-INT ratio - 2.25)x10] For non-BCS quarterbacks (Career Starts x 0.5) + [(Career completion pct. - 60)x2.5] + [(Career touchdown-INT Ratio - 2.25)x5]
Kevin Seifert: Ryan McCrystal, who developed the formula, said the idea was that if you have a non-BCS quarterback who is NFL-caliber, he's going to be heads and shoulders above the competition. His statistics would reflect that disparity, the theory goes, and would have to be compensated for. That's the explanation Ryan gave.
---
Kris of Maconga writes: Michael Vick cannot be considered a "bust" by the traditional definition. His second contract made him the highest paid player in the league. By definition, a bust is a pure failure, and his rookie contract is always his best. Vick was too deep into his career and performed too well for the Atlanta Falcons on the field, and at the ticket booth.
Kevin Seifert: Fair point. Vick's off-field flameout had nothing to do with his playing ability. Although for the purposes of this formula, I'll say his success relied heavily on his unique running ability. He would not have made it on his passing skills.
---
Kirt of Grand Rapids, Mich., writes: I just wanted to say impressive work with the numbers, quarterbacks and looking at Stafford's chances in the NFL. I watched the Lions all 16 losses and their biggest need is at linebacker. Look at what Urlacher did for Chicago's D- If I'm GM I'm drafting Aaron Curry!
Kevin Seifert: Thanks, Kirt. I like your thinking.
---
Ben of Philadelphia writes: Your formula is bs. Stafford is not a good fit for the Lions (no qb is) but in making a formula you can't start with the numbers first and then see how well it fits. You have to start with the real world situations. Peyton Manning, Tom Brady, these are the best quarterbacks in the league. Your formula has to put them at the top of the list (and if not Brady, certainly Peyton Manning, his body of work is large enough.
Kevin Seifert: Again, this wasn't intended to be a 1-31 ranking. Don't pay attention to the actual figures, just the categories those figures put them in.
---
Diane writes: I am not a fan of any of the QB prospects this year, but (if I was a person that believed in suing people) I would sue you & ESPN for writing a story like this before the draft ~ if I was Matthew S. or the other 2 QBs you mentioned. It is terrible for you to write a story like this before the draft. There are a number of QB in your likely to succeed group that appear to be a bust. You guys are wrong so many times about the draft prospects but you would write an article that might ruin someone's prospect at being drafted by a team. I do not believe in suing, but if I was these guys or their parents & I did believe in it I would 100% sue.
Kevin Seifert: I appreciate your sentiments but I don't think any team is going to base its draft decision on this formula or any other work produced by the media. They'll use the information they gather on their own.
---
Jay writes: Question regarding the Stafford article and the formula: Did it account for whether the other quarterbacks started their freshman year? If Stafford did not start in the SEC in his freshman year, would the rating be significantly different? I have doubts about Stafford and especially his ability to through the deep ball with touch. In his defense I will say that as a UGA fan, his receivers in his sophomore year dropped about every other pass (seemed that way at least) I think Stafford will be great -- but I'm hesitant as well.
Kevin Seifert: The formula accounted for each year played by each quarterback. Had Stafford not played as a freshman, his score would have been about 12, which would have placed him in the "hit or miss" category. Of course, it's a bit of a leap to assume he would have had the exact same statistics as a sophomore had he not played as a freshman. You would think the experience factor helped him at least somewhat as a sophomore.
---
Brandon of D.C writes: Seifert thanks for singling out a guy who is more than worthy of the #1 pick. This article hopefully is more about saving him from the Detroit stupidity of a football team. But I hope Stafford writes you himself when he is more successful
than your pitiful writing career and shoves this article in your face and then proceeds to slap you with a hundred dollar bill from all the money he's gonna make. Thanks, have a great day!
Kevin Seifert: Have a great day yourself!
March, 11, 2009
3/11/09
1:00
PM ET
Posted by ESPN.com's Kevin Seifert
I'll say this much about Tuesday's post on evaluating Georgia quarterback Matthew Stafford's aptitude for the NFL: It drew your interest.
Reasonable people can debate the merits of the formula developed by Ryan McCrystal of ESPN Research. The point was always to provide some context for the ongoing public discussion about whether Detroit should take Stafford with the No. 1 overall pick of next month's draft. Why are there so many mixed opinions? This formula helps identify some of Stafford's perceived shortcomings.
I did my best to sift through the comments and mailbag. So here are a few follow-up notes:
I should have included an important caveat that was originally part of Ryan's study. The specific scores for each quarterback proved relevant only to put them into broader categories. Never did we suggest, for example, that Matt Leinart was deemed most ready for NFL success because he rated the highest of any first-round pick over the past 12 years. There was no intent to rank the quarterbacks 1-31. Ryan only used the scores to place them in groups: Ratings of 20 or higher, 1-19 and 0 or below.
The titles of each category were important. The first was "Strong likelihood of success." The second was "Hit or Miss." The third was "Busts." You can argue whether Atlanta's Michael Vick was a bust, but otherwise I think the titles adequately account for the variances within each group.
I alluded to the fact that Stafford's score was dragged down by his struggles as a freshman, when he completed 52.7 percent of his passes while throwing seven touchdowns against 13 interceptions. Many readers thought this unfairly dragged him down when compared to a quarterback like USC's Mark Sanchez, who didn't play as a freshman. So here you go: If you only use Stafford's sophomore and junior numbers, he comes out with a 4.5, which places him in the "Hit or Miss" category.
With that said, I don't think you can simply dismiss Stafford's freshman year. Doing so would negate whatever benefit he derived from playing as a freshman rather than debuting as a sophomore. Did his freshman experience help make him a better player as a sophomore? Or would he have produced the exact same performance if he had never played as a freshman? I don't think you can automatically come to the latter conclusion. Even if we concede on that point, is "Hit or Miss" the kind of label you want on the No. 1 overall pick of the draft?
Many people asked why the only draft-eligible quarterbacks included were Stafford, Sanchez and Kansas State's Josh Freeman. That's an easy one. The study focused only on quarterbacks taken in the first round. At this point, that trio are the only projected first-rounders for 2009.

I should note that the guys at Football Outsiders pioneered this type of statistical analysis. David Lewin, in fact, evaluates quarterbacks based primarily on completion percentage and career starts.

March, 7, 2009
3/07/09
12:00
PM ET
Posted by ESPN.com's Kevin Seifert
After a two-week hiatus, the weekend mailbag returneth. Let's get to it.
Anton of Fayetteville, Ark., writes: Kevin, What's your good advice for Bears fans now? Should we just give up and stop watching the news of free agency? Is there any chance we will sign or even talk to a player of value soon?
Kevin Seifert: As I'm sure you know by now, the Bears did re-sign running back Kevin Jones on Friday afternoon. Of course, I have no idea why. Jones was inactive for five of the last seven games in 2008, and the Bears have been talking about using Garrett Wolfe as Matt Forte's backup. But I digress. As for your question, I would assume the Bears will get John St. Clair locked up in the next week or so, allowing him to slide over to right tackle in time for their mandatory minicamp next weekend.
---
Kurt of Chicago writes: Comparing ESPN's plausible destinations for Terrell Owens, and the teams that have come forward and said NO. We have Oakland, KC, TB, Bears, and Seattle. How likely do you think the Bears are to entertain adding TO?
Kevin Seifert: I would be absolutely, positively stunned if the Bears sign Owens. It just wouldn't fit the approach they've taken this offseason. They balked at approaching T.J. Houshmandzadeh once they found out what his financial demands were. Owens won't get Houshmandzadeh money, but I don't see the Bears wanting to make any kind of short-term investment in the position.
---
JZ of Bloomington, Ind., writes: I understand that T.O. and the Bears getting brought up is inevitable. But everyone is talking about the wrong former Dallas player going to Chicago. Is it just me, or should the Bears be jumping on Roy Williams to fill the hole that Mike Brown's departure leaves. At 28, Roy gives us an experienced guy that will more than likely play for quite a few more years at a high caliber. Why is no one talking about this?
Kevin Seifert: It's an interesting question. One semi-educated theorist suggests that the Bears are looking for a safety with strong coverage skills to replace Brown. The theory goes that Kevin Payne can be the physical, line-of-scrimmage type of safety -- as can Danieal Manning -- but neither of them is great in coverage. Unfortunately, Williams is the same kind of safety. This might be a position the Bears need to address in the draft. But I wouldn't rule out Williams at some point.
---
Joseph of Toledo writes: I know the Lions can't get any worse, but my question is during the offseason are they finally filling the voids the need most for some positive results? I'm not saying playoffs but a step in the right direction for once.
Kevin Seifert: I think the Lions have done what they needed to do: Spread out their salary-cap money over multiple positions. The way I put it earlier this week is that they are trying to improve their roster from depleted to functional. None of the players they signed are likely to make the Pro Bowl, but they should give the Lions at least some short-term improvement while they take on the task of re-stocking through the draft. Given the way things were last year, this is the only approach the Lions could have taken.
---
Scott of Burlington, Vermont, writes: Do you think the Vikings should get either or both Roy Williams and Terrell Owens? I really think they could use both, but TO scares me. For one season, however, it could be worth a shot. Now, can you please get the Broncos to trade Cutler to us?
Kevin Seifert: No way on Owens. Let's just say neither he nor Brad Childress are fans of one another. As for Williams, I think the Vikings want to give Tyrell Johnson a chance at the safety position opposite of Madieu Williams. They moved up in the draft last year to get Johnson for that role. As for Cutler, it's not up to me. I have no idea if the Broncos will make him available. But the Vikings should make every effort to find out.
---
Regan of Milwaukee writes: Almost every story I have read about the Packers in free agency says they are not being anywhere near aggressive in actually signing anyone. Why is it that the Packers act like a little kid dipping his foot into the water too afraid to jump into the pool when it comes to this years free agency and almost every other year?
Kevin Seifert: The Packers did sign safety Anthony Smith on Friday, but in general I understand what you're saying. I think it's fair to say at this point that Ted Thompson just isn't a big fan of competing on the free-agency market. He's had enough opportunities over the years to make us believe otherwise, and he hasn't. He prefers to build through the draft, plain and simple.
---
Mike of Robbinsdale, Minn., writes: From your vantage point, what exactly are the Vikings trying to do this offseason? To me, there are several positions that they need to address, the first and most obvious being QB (and no, Sage Rosenfels doesn't count). However, the Vikes also need a C, RT, and, in my opinion, they should also heavily invest in a CB and more depth at DT. Given all of those needs, how do you see the Vikings trying to fill them? Will they try to go mainly through the draft or are there any FA still on the market they might be interested in?
Kevin Seifert: At this point, anyone they sign on the free-agent market would be a secondary-type player with limited impact. Barring Jay Cutler or Donovan McNabb being made available, I don't see the Vikings making any more additions at quarterback. They're going to go with Tarvaris Jackson and Rosenfels. Right tackle will probably be a focus in the draft, and at center I believe they'll ultimately plug in John Sullivan -- a sixth-round pick last year -- to replace Matt Birk.
---
Jason of Lincoln, Neb., writes: Kevin, let's move past T.O. and consider a wideout that the Black and Blue might look at: Torry Holt, who just asked for his release. I would think that, given their pursuit
of Houshmandzadeh, the Vikings would have to kick the tires on Holt, right? He'd be cheaper, coming off a down year, but he's the same age as Houshmandzadeh and probably still has some gas left in the tank.
Kevin Seifert: I wouldn't rule it out, but it's hard to know for sure if they would be interested until Holt is in fact available. He's a great receiver but different from Houshmandzadeh, who is a classic complementary No. 2 receiver. Holt's style is more similar to Bernard Berrian's. I'm not ruling it out, but I think Houshmandzadeh might have fit a very specific profile as the type of receiver the Vikings were looking for.
---
Nick of Sydney writes: Hi Kevin, hope you're well Any chance that now Kurt Warner is locked in at the Cards for two more years, that the Lions or Bears (or anyone else) thinking QB in the first round call Arizona and trade their pick for a Heisman winning, National Championship winner with 3 years of training in an NFL scheme and 15 odd starts? I know he hasn't lit the place up yet but he hasn't stunk it out either and he must be a safer bet than the college juniors who would all have been ranked way behind him had they come out in the same year? Am I missing something? The guy is behind a Hall of Famer and was line ball to start over him this year. Surely that's worth more than what Stafford and Sanchez have shown.
Kevin Seifert: Interesting question, Nick. I've wondered if Matt Leinart was going to sit patiently through the Warner years or if he'll try to find another home. I think it's worth a call, especially for the Lions. As a rookie, Leinart played well in an offense that is similar to what the Lions are expected to run under offensive coordinator Scott Linehan.
---
Glenn of Bellingham, Wash., writes: Is there any evidence that the Vikes are trying to trade for Jay Cutler ... or are you just trying to spur them on?!?!
realistic odds at this point that we will land Cutler and at what price?
Kevin Seifert: I think the Vikings talked about it internally. What we don't know is if the Broncos ever considered trading Cutler after the Matt Cassel discussions fell through.
February, 23, 2009
2/23/09
11:00
AM ET
Posted by ESPN.com's Kevin Seifert
As you might recall, Minnesota coach Brad Childress indicated last week that he would like for Tarvaris Jackson and Gus Frerotte to compete for the Vikings' starting quarterback job in training camp. Childress noted that it can take four years for a quarterback to develop into a bona-fide starter, suggesting he believes Jackson is ready to make the final step in 2009.
Armed with that news and context, Ryan McCrystal of ESPN Stats & Information went searching for similar scenarios in recent years to help determine Jackson's chances for success. One way to measure that likelihood is to look for trends among highly-drafted quarterbacks with performances similar to Jackson's in their first three seasons.
Jackson, a second-round pick in 2006, has a 10-9 career record as a starter. Ryan found eight quarterbacks drafted who had 10 or less victories in their first three seasons as a starter after being drafted in the first or second rounds between 1997-2006. Two of them, New Orleans' Drew Brees and Washington's Jason Campbell, have gone on to become permanent starters. Here's the full list:
Player
Team
Record as a starter in first three seasons
Tarvaris Jackson
Minnesota
10-9
Matt Leinart
Arizona
7-9
Jason Campbell
Washington
8-12
Drew Brees
San Diego
10-19*
J.P Losman
Buffalo
8-16
Patrick Ramsey
Washington
9-14
Akili Smith
Cincinnati
3-13
Ryan Leaf
San Diego
4-14
*Signed with New Orleans in 2006.
If you were judging strictly by this list, in which two of the other seven quarterbacks experienced success, you would say Jackson has a 29 percent chance of making it work in 2009. It's not nearly that simple, of course. But if you're someone who likes to know how things have happened in recent history, Ryan has given you an interesting interpretation.
July, 17, 2008
7/17/08
12:57
AM ET
Aaron Rodgers, A.J. Hawk, and Matt Leinart talk about Brett Favre from the ESPYs.
NFC NORTH SCOREBOARD
Thursday, 9/4
Sunday, 9/7
Monday, 9/8