NFC North:

Maurice Jones-Drew
September, 5, 2012
9/05/12
3:30
PM ET
By one measure, the
Green Bay Packers
' game Sunday against the
San Francisco 49ers
ranks as one of the best Week 1 matchups in NFL history.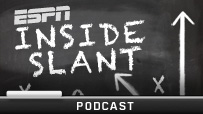 My math tells me that the Packers and 49ers combined for 28 regular-season victories last season. According to Elias Sports Bureau, there has only been one other occasion -- ever -- when season opener pitted teams with more combined victories in the previous year. That came in the 1999 season opener between the
Minnesota Vikings
(15 victories in 1998) and
Atlanta Falcons
(14).
A discussion of Sunday's matchup leads off
this week's Inside Slant podcast

, hosted by NFC West blogger Mike Sando and me. We also discussed an original viewpoint on replacement officials from Packers quarterback
Aaron Rodgers
, plugged Mike's "
MVP Watch" post
and noted how symbolic it would be if neither
Adrian Peterson
nor
Maurice Jones-Drew
play significant roles in Sunday's matchup at the Metrodome.
August, 22, 2012
8/22/12
3:30
PM ET
This week's Inside Slant podcast

is up and ready for your download. It includes discussion on the evolving ways NFL teams are using preseason games, a failed attempt by
Jacksonville Jaguars
running back
Maurice Jones-Drew
to shake down his team's new owner and the difference between being hurt and injured.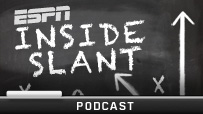 We also welcomed our first-ever guests to the podcast: Brothers John and Mike Trupiano will spend the 2012 season in an RV, traveling to all 32 NFL stadiums in 17 weeks to experience and document tailgating in each locale. Consider it a modern-day "On the Road." You can learn more about the trip on their web site,
Tailgate32.com
.
Of course, they'll be at both
Chicago Bears
-
Green Bay Packers
games. I'll try to track them down when I make my way to Lambeau Field in Week 2.
November, 22, 2011
11/22/11
3:30
PM ET
With a few days to assess the situation after the Chicago Bears' 31-20 victory over the San Diego Chargers, here are three issues that merit further examination:
Kevin SeifertFollowing their win over the Chargers, the Bears take a seat in the examination room.

More than anything, my initial reaction to Sunday night's news on quarterback Jay Cutler was surprise. Cutler gets knocked around as much as any quarterback in the NFL, but Sunday will mark only the second missed start in his career since becoming the Denver Broncos' full-time starter in 2007. (The other was the result of a concussion suffered last season.) The 2010 NFC Championship Game notwithstanding, some of us might have taken his availability for granted. The acquisition of Cutler in 2009 brought stability to a position that had been a revolving door. The last quarterback to be the Bears' unquestioned starter for three consecutive seasons was Jim Harbaugh. Of all things with the potential to derail the Bears' playoff push, I'm not sure any of us considered a prolonged absence from their starting quarterback. That's a credit to Cutler's durability and toughness.

A natural way to get quarterback Caleb Hanie into the flow is the screen game, which Cutler was running as often as any quarterback in the NFL. According to ESPN Stats & Information, Cutler has thrown 33 screen passes this season, the sixth-most in the league. The Bears have gained 244 yards on screens, good for No. 5 in the NFL. Some early screens would also help neutralize the Oakland Raiders' hard-charging defensive line this Sunday, an important factor in the debut of any quarterback.

For most of last Sunday's game, the Bears couldn't cause many problems with their four-man pass rush. During the first three quarters, Chargers quarterback Philip Rivers completed 17 of 22 passes against the Bears' standard rush, according to ESPN Stats & Information, including two touchdowns. Rivers did throw two fourth-quarter interceptions against a four-man rush, but you also have to consider his increased desperation given the score of the game. Like most defenses, the Bears are much better when they can count on their front four and leave their extra pass-rushers in coverage.
And here is one issue I still don't get:
While Cutler is away, it's natural to assume the Bears will shift their offense even further toward tailback Matt Forte. But as ESPN Stats & Information points out, Forte is already one of the busiest (and most productive) players in the NFL. Even with Cutler in the lineup, Forte has accounted for 41.8 percent of the Bears' offense. The Jacksonville Jaguars' Maurice Jones-Drew (43.3 percent) is the only player who has accounted for more. Increasing Forte's role sounds good in theory, but putting it into practice might be more difficult than it sounds. If we thought of the idea, don't you think opposing defenses would realize it as well and adjust accordingly?
August, 26, 2011
8/26/11
7:30
AM ET
We're Black and Blue All Over:
A national eye will be on the Detroit Lions during Saturday night's preseason game against the New England Patriots, scheduled to be televised by CBS. Will the country see the debut of the first high Lions draft choice to get on the field?

It appears possible, at least, that rookie receiver Titus Young will get an opportunity to play. He has made it through most of this week of practice while coming back from a hamstring injury. It's still possible the Lions will deactivate him for precautionary reasons, but Young has shown enough progress this week to make it possible to play.
Here's how coach Jim Schwartz put it, via
Philip Zaroo of Mlive.com
: "I don't know if he's over the hump yet, but he's close to it. He was able to put a week of practice together and was able to finish practices. We have done a lot ... doing individual, adding a little bit more, doing some 7-on-7, doing a little bit more here and there. But I think he's at the point where he can go out and get through a whole practice and be able to play in a game."
Young has spent most of the summer on the sideline. Whether he plays Saturday night, this week has provided significant encouragement that he will be ready to contribute on some level when the regular season begins.
Continuing around the NFC North:
June, 10, 2011
6/10/11
12:00
PM ET
»
NFC Underrated Players
:
East
|
West
|
North
|
South
»
AFC
:
East
|
West
|
North
|
South
A team-by-team look at the most underrated players in the division.
Chicago Bears
[+] Enlarge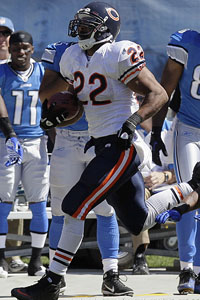 AP Photo/Charles Rex ArbogastMatt Forte has quietly compiled almost 5,000 combined rushing and receiving yards in his three NFL seasons.
Matt Forte, tailback
: You have to wonder how many people outside the NFC North realize that in his first three NFL seasons Forte has accumulated nearly 5,000 combined rushing and receiving yards. Forte's quiet personality and smooth style tend to deflect attention rather than attract it, but the fact remains he has been one of the NFL's most productive running backs over the past three seasons. In fact, he is one of six NFL players to record at least 3,000 rushing yards and 1,000 receiving yards since 2008. The other names on that list --
Frank Gore
,
Steven Jackson
,
Chris Johnson
,
Maurice Jones-Drew
and
Ray Rice
-- tell you what kind of company Forte should be considered in.
Detroit Lions
Cliff Avril, defensive end
: It's hard to go a minute without hearing about the Lions' now-vaunted defensive line. The discussion starts with All-Pro defensive tackle
Ndamukong Suh
, continues with new partner
Nick Fairley
, then shifts over to veterans
Corey Williams
and
Kyle Vanden Bosch
. If he's lucky, someone will mention Avril, who has more sacks over the past three seasons than any of them. (Granted, he has a two-year head start on Suh and three on Fairley, but you get the point.) Avril has recorded 19 sacks in 41 games since joining the Lions in 2008,
one of 29 NFL players to do so over that stretch
.
Green Bay Packers
Josh Sitton, guard
: Packers veteran
Chad Clifton
was named to the 2010 Pro Bowl team, but most football people will tell you Sitton long has been the team's best offensive lineman. He hasn't missed a snap since the start of the 2009 season, the only Packers player on offense or defense to accomplish that feat. Sitton is without question the Packers' most powerful run-blocker, helping the Packers average 4.48 yards per carry up the middle in 2010, according to NFL statistics. He has elevated his pass-blocking to a near-equal status. Recognition outside of Green Bay has been fleeting, but he was a Pro Bowl alternate in 2010 and was named the
league's best offensive lineman by NFL Alumni
.
Minnesota Vikings
Ben Leber, linebacker
: Some players stand out as superstars. Others fill in behind. Leber falls into the latter category, and that is by no means an insult. In five seasons with the Vikings, Leber displayed a deep, if not spectacular, skill set that is critical to any good team defense. He called defensive signals when middle linebacker
E.J. Henderson
was injured. He finished 2007 with five sacks, had seven pass breakups in 2008 and led the NFL with four fumble recoveries in '08 -- all while playing 79 of a possible 80 regular-season games. Leber might depart via free agency, but close observers know how good he is.
March, 22, 2011
3/22/11
1:30
PM ET
NEW ORLEANS -- Two months later,
Chicago Bears
coach Lovie Smith has finally arrived at the technical core of why so many people buried quarterback
Jay Cutler
with real-time criticism
when he sat out most of the second half of the NFC Championship Game.
The Bears officially declared Cutler "questionable" to return after a sprained knee forced him to the sideline. Although that is nothing but a technical term required by NFL rules, it means a player has a 50 percent chance of re-entering. My opinion: It dramatically influenced immediate perception of the injury's severity for television analysts and viewers.
[+] Enlarge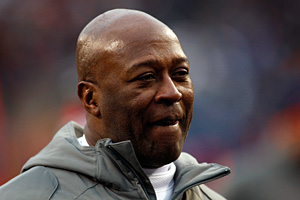 Jerry Lai/US PresswireResponding to the flap over Jay Cutler's injury designation in the NFC title game, Lovie Smith said, "You can't worry about the criticism. We're trying to win a football game."
We now know that Cutler suffered a Grade II sprain of his medial collateral ligament, an injury that routinely sidelines NFL players. But that information didn't trickle out until the following day. On game day, the Bears' designation suggested a much less serious injury.
Would something that simple have mitigated the criticism Cutler received during and immediately afterward?
Speaking to reporters Tuesday
at the NFL owners meeting, Smith acknowledged it probably played a role. He made clear that injury designations were not among his highest priorities at the moment, but I think he, Cutler and the Bears fell victim in this instance.
"You can't worry about the criticism," Smith said. "We're trying to win a football game."
I would be worried if Smith had taken the time during the game to consider whether the public was questioning Cutler's willingness to play. But most of the initial criticism was based on the (erroneous) belief that the Bears' medical staff believed he had a reasonable chance to get back into the game. In that light, it appeared as though Cutler chose not to play as opposed to doctors telling him he was done for the day.
The criticism largely stopped when the Bears revealed the severity of the injury a day later. Jones-Drew, among others, has said he
reacted in the moment
and would have had a different opinion if he knew how badly Cutler was hurt. That doesn't necessarily excuse his rush to judgment, but it does help explain it.
I'm sure there would have been some questions even if the Bears had immediately declared him out for the game, but I'm willing to bet
the volume and ferocity
would have been dialed way back. It would have been similar to where we stand now: Only the most ardent Cutler critics really think he was dogging it.
"... A lot of times, we let a small minority supposedly dictate and talk for what everyone is thinking," Smith said. "I don't think everyone thinks that. I think a few guys came out. A few guys took a shot. A few reporters took a shot. You don't see [
Green Bay Packers
quarterback]
Aaron Rodgers
questioning Jay Cutler. You have to look at the source a lot of the time. We can't spend much time with those sources. They're out there. I never spend time on those guys out there."
Cutler's decision to stand on the sideline scowling in full uniform for the rest of the game probably didn't help matters. And Cutler clearly isn't a popular figure among his peers. But I really think much of this issue generated from the mistaken belief that Cutler could have returned to the game. We know now that, medically speaking, he could not have.
If nothing else, this episode was an exercise in the importance of real-time information. The Bears didn't provide enough. They understandably had better things to do. The cost, however, was steep: Twenty-four hours of brutal criticism until the facts finally came to light.
March, 15, 2011
3/15/11
1:48
PM ET
Minnesota Vikings
tailback
Adrian Peterson
received four of the eight first-place votes in ESPN.com's latest positional power ranking.
Tennessee Titans
tailback
Chris Johnson
got the same.
The verdict? Johnson was the winner -- based on a one-point advantage in total points, not
Peterson's questionable cultural observations
.
I'm not sure if we'll solve such a pressing issue today. If you had to pick Peterson or Johnson for your 2011 season, who would it be? I don't think you'll go wrong either way. Last season, Johnson produced 1,609 all-purpose yards and 12 touchdowns in 16 games. Peterson countered with 1,639 all-purpose yards and 13 touchdowns in 15 games.
Full disclosure: I voted Peterson first and Johnson second, in keeping with my well-established bias against invisible AFC South players and teams. For that reason, and because he had the
audacity to rip one of our players
as he watched us in the NFC Championship Game, I sentenced
Jacksonville Jaguars
tailback
Maurice Jones-Drew
to No. 8 overall.
(For my actual explanation, you'll have to read
AFC South colleague Paul Kuharsky's post
on the voting.) Here's how I voted:
Adrian Peterson
Chris Johnson
Maurice Jones-Drew
February, 2, 2011
2/02/11
5:23
PM ET
Jacksonville Jaguars
running back
Maurice Jones-Drew
-- the man who kicked off the Twitter avalanche against
Chicago Bears
quarterback
Jay Cutler
two weeks ago -- made a number of ESPN appearances Wednesday to explain and provide context for his statements.
If you recall, Jones-Drew was the first to question Cutler's departure from the NFC Championship Game, tweeting: "All I'm saying is that he can finish the game on a hurt knee ... I played the whole season on one ..."
Appearing on ESPN 1000's "The Waddle & Silvy Show," Jones-Drew said he didn't feel compelled to apologized but said: "Don't get me wrong, what I said was wrong, and I shouldn't have said it but I did. It was my opinion at the time, and I stated it so I'm not going to back off."
Feel free to listen to the entire interview.

In the "First Take" video below, Jones-Drew acknowledged the irony of an NFL player stating an opinion without facts to support it, an accusation they commonly make toward media members.
January, 24, 2011
1/24/11
10:00
AM ET
CHICAGO -- It's not surprising that
Chicago Bears
fans
are lashing out
over the knee injury that prevented quarterback
Jay Cutler
from returning to Sunday's NFC Championship Game. As would be expected, fans are angry and frustrated and found an easy target. It happens.
What has been stunning to me, however, is the volume of NFL players who joined the chorus. This might not have happened even two years ago, but the advent of Twitter has given players a voice at a time when they used to be out of the public eye and, like us, are caught up in the emotion of watching a game on television.
[+] Enlarge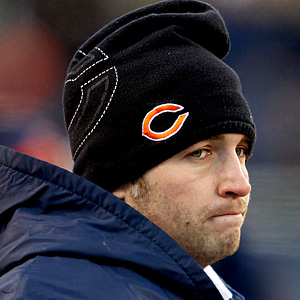 Jonathan Daniel/Getty ImagesJay Cutler spent the majority of the second half Sunday on the sideline.
As we noted Sunday
, Jacksonville Jaguars running back
Maurice Jones-Drew
said he thought Cutler should have finished the game. Colleague Mike Sando put together an item just of
NFC West players
who ripped him, from
Arizona Cardinals
defensive tackle
Darnell Dockett
to
Seattle Seahawks
linebacker
Aaron Curry
to Seahawks defensive end
Raheem Brock
-- who called him a "sissy."
Philadelphia Eagles
cornerback
Asante Samuel
wrote
Bears players should look at Cutler "sideways
." Jaguars linebacker
Kirk Morrison
wrote
: "If my knee was hurt or acl/mcl/pcl sprain, I would not be standing up on the sideline."
The criticism aimed at Cutler wasn't limited to current players. Former Tampa Bay linebacker
Derrick Brooks tweeted
:
BEARS fans I am so SORRY, I have to be crawling and cant get up to come off field,Josh Freeman would not come out, MEDS ARE AVAILABLE
Brooks followed-up that tweet with
the following
:
HEY there is no medicine for a guy with no guts and heart
Future Hall of Famer
Deion Sanders echoed
Brooks' remarks.
Folks i never question a players injury but i do question a players heart. Truth
It should be noted that no NFC North players have jumped into the fray; they have played Cutler more often than any other group. And Bears players were ruthless in defending him. We noted the angry responses from center
Olin Kreutz
and linebacker
Brian Urlacher
on Sunday.
Via Twitter
, safety
Chris Harris
wrote:
I will defend my QB all day. He was injured and he couldn't go. No one on our team questions his toughness POINT BLANK! He's a tough SOB

To all of u assaulting Jay's toughness. Are we 11-5 and NFC North Div Champs without him? No I think not. Please think before tweeting!
Thanks to social media, this really is an unprecedented situation. To have a wide swath of players criticizing another in real time, without the benefit of first-hand knowledge of the situation, is both dangerous and fascinating. What did Jones-Drew or Dockett or Brock base their opinions on? I'm guessing it was the mentality that players share of playing through injuries when at all possible.
So what do we make of the conclusions so many of them drew? Did they observe some kind of sideline activity that suggested Cutler wasn't injured enough to leave the game? Did the circumstances of the game mandate a different set of injury standards? Would Cutler have been better off flopping to the turf and then being been helped off the field?
If there were simply one or two players speaking out, maybe you could write them off as extremists. But the cross-section that we've already heard from suggests Cutler's departure struck a true nerve not just among fans but among his peers as well. Part of me wonders if it was more an indictment of Cutler's standing with his peers than it was a serious questioning of his toughness. If you don't like someone, you're going to be much less likely to give him the benefit of the doubt.
As we
discussed Sunday
, I'm not sure it's fair to Cutler. But this thing has gotten too big for rational thought and cooler heads to prevail. Time will tell whether the sting fades or if Cutler's reputation will take a permanent hit.