NFC North:

Metrodome roof collapse
December, 12, 2010
12/12/10
1:19
PM ET
It's not often that you see the kind of video that FOX cameras captured early Sunday morning.
Follow this link
to watch the Metrodome roof collapse as it happened.
December, 12, 2010
12/12/10
12:48
PM ET

OK. As promised, we have ticket information for you on Monday night's game at Ford Field.

According to the Vikings, anyone with tickets to the original game at the Metrodome will be admitted to the game and given preferential seating near the 50-yard line. Otherwise, general admission tickets will be free and available at the Ford Field ticket office starting 9 a.m. ET Monday.

That should make for a fun, unique atmosphere. Come on NFC North readers in the Detroit area. No excuses. I'm expecting to see you there.
December, 12, 2010
12/12/10
12:02
PM ET
OK, it's official. The
Minnesota Vikings
and
New York Giants
will play Monday night at Detroit's Ford Field. Kickoff will be at 7:20 ET.
In the end, there was no way the game could be moved outdoors and to the University of Minnesota's TCF Bank Stadium on such short notice. Instead, we'll see the first Monday night game in the history of Ford Field.
For those of you in the Detroit area, or anyone who thinks they might travel to Detroit for the game, I'll post ticket information as soon as I get it.
December, 12, 2010
12/12/10
11:40
AM ET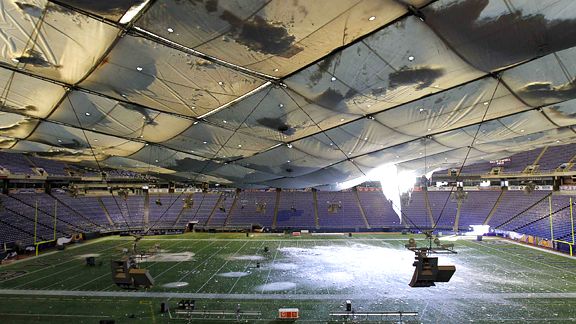 AP Photo/Ann HeisenfeltThe Metrodome's Teflon roof collapsed under the weight of snow from a heavy storm that passed through Saturday.
My friend and 1500 ESPN teammate Cory Roufs just
posted a wild photograph
of the scene inside the Metrodome. There is snow on the field and more appears to be pouring in. Wild stuff. Check it out.
And now, 1500ESPN.com
has posted a full photo gallery
of the damage.
December, 12, 2010
12/12/10
11:18
AM ET
Will an extra day of recovery be enough for
Minnesota Vikings
quarterback
Brett Favre
to extend his consecutive starts streak? We'll soon find out.
Favre, who has a sprained SC joint near his right shoulder, told ESPN's Ed Werder that he could not have played if the Vikings' game against the
New York Giants
had kicked off Sunday as scheduled. (Perhaps he hasn't had a
bionic SC joint inserted yet
.) The game location is now in limbo because of the collapse of the Metrodome roof, but we're assuming it will still take place Monday night -- somewhere.
At some point, we'll step back and take a look at what a bizarre capper this has been to one of the wildest seasons in the history of this franchise. But for now, we'll just track whether the collapse of a stadium roof will enter into the lexicon of FavreLegend.
December, 12, 2010
12/12/10
10:40
AM ET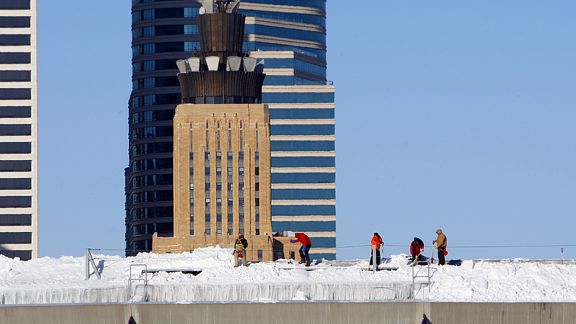 AP Photo/Ann HeisenfeltWorkers attempt to clear snow Sunday morning from the collapsed Metrodome roof.
We've got an answer to the question posted in our previous post. The Metrodome roof is indeed torn -- in three places,
according to the Star Tribune
. That means the
Minnesota Vikings
and
New York Giants
will have to find another place to play their scheduled matchup Monday night.
From what I understand, the two options are the University of Minnesota's TCF Bank Stadium -- an outdoor facility with seating capacity of about 50,000 -- and Ford Field in Detroit. (
*Update:
Indianapolis and St. Louis are also options.) The latter options would be neutral sites but are much better equipped to handle this type of transition.
I would be surprised if the game is played at TCF Bank Stadium, but assuming always gets us in trouble. The big question is whether the Metrodome will be ready for the Dec. 20 game between the Vikings and
Chicago Bears
. We'll keep you updated.
December, 12, 2010
12/12/10
8:56
AM ET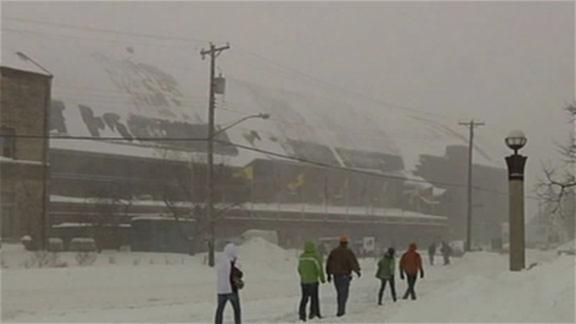 By now, you've probably heard that the
Metrodome's Teflon roof collapsed overnight
. Multiple local media outlets have posted video and photographs, but as
you can see here on kare11.com
, the roof is completely invisible at eye level and is probably hanging close to the field as we speak.
We don't know yet how this episode will impact Monday night's scheduled game between the
Minnesota Vikings
and
New York Giants
. The roof has collapsed at least three times before, and the key will be whether the roof is torn or whether the weight of the snow simply caused it to collapse. The former is a more difficult fix than the latter.
For those who are interested, the roof is kept inflated by fans at the top of the structure. When it snows, Metrodome operators heat the building to more than 80 degrees to melt away any accumulation. In extreme situations, workers are stationed on the roof to remove snow with fire hoses and hot water. (I'm not making this up.)
That process was halted Saturday night due to high winds and concerns for the safety of the workers. A little after 6 a.m. ET, the roof collapsed.
This is going to take a while to sort out. When tears were found after a 1982 collapse,
four days were needed to repair it
. NFL spokesman Greg Aiello
said Sunday morning
that the league will address the issue "ASAP." Options include moving the game to the New Meadowlands Stadium. For those of you asking, I don't think baseball's Target Field could be retrofitted for football. But I guess the University of Minnesota's TCF Bank Stadium could be an option. Stay tuned.