November, 7, 2010
11/07/10
2:51
PM ET
MINNEAPOLIS -- The
Arizona Cardinals
just opened the second half with their second special-teams touchdown of the game, giving them a 21-10 lead at the still-silent Metrodome just 12 seconds into the half.
Cornerback
Michael Adams
picked up a
Percy Harvin
fumble on the opening kickoff and returned it 30 yards for a touchdown. Replays offered no angle to overturn the call, and
Minnesota Vikings
coach Brad Childress' ensuing challenge failed.
At the risk of repeating myself, I'll note one more time that it's been a while since I've heard the Metrodome this quiet. Is this Week 17 or Week 9?
January, 13, 2010
1/13/10
8:39
PM ET
So after getting
all fired up
about the NFL's chief official appearing Wednesday evening on the NFL Network, I totally whiffed and forgot to watch it. Luckily,
Greg A. Bedard of the Milwaukee Journal Sentinel
and
Tom Pelissero of the Green Bay Press-Gazette
saw it and have expanded quotes on their respective blogs.
The basic message from Mike Pereira, the NFL's vice president of officiating: No face mask penalty should have been called on the final play of Green Bay's wild-card playoff loss at Arizona. As the league hinted Monday in its
rule explanation
, the play apparently falls into the "incidental" version that was removed from the NFL rule book in 2008.
Pereira also noted that referee Scott Green's job was to follow the ball after it left quarterback
Aaron Rodgers
' hand to determine possession and whether it should have been a fumble or interception. That explains why Green didn't see cornerback
Michael Adams
pull
Rodgers' face mask with his finger
.
Said Pereira: "This is the really the one that fell into that category of being in the incidental grab. Because he takes him down but there's no real pull, no twist."
I'm not sure whether that satisfied you or not, but it's probably going to be the last word on the subject. Ultimately, I agree with what Packers coach Mike McCarthy
said
earlier Wednesday: "[A]nytime you're sitting around waiting on calls to win football games, you're in a mode of excuses."
January, 13, 2010
1/13/10
10:30
AM ET
I'll throw as many caveats as I can into this, because we've been
burned before
. But as of Wednesday morning, the NFL's vice president of officiating is scheduled to make his regular appearance on
NFL Network's "Total Access" show
this evening.
One potential topic for discussion is the final play of Green Bay's wild-card playoff game Sunday at Arizona. Specifically: Should Cardinals cornerback
Michael Adams
have been penalized for grabbing the face mask of Packers quarterback
Aaron Rodgers
?
The NFL issued a
rules explanation
Monday, noting it was a judgment call for referee Scott Green and pointing out the league no longer enforces incidental contact with the face mask. Still, it would be interesting to hear from Mike Pereira himself on the issue. If he addresses it Wednesday night, we'll report what he says.
January, 11, 2010
1/11/10
3:04
PM ET
I returned to NFC North headquarters Monday to find the brawl still taking place over Green Bay's final play of the season.
As we
visually noted
Sunday, Arizona cornerback
Michael Adams
caught his right index finger on Packers quarterback Aaron Rodgers' facemask. Had a penalty been called,
Karlos Dansby
's game-winning touchdown would have been nullified.
A picture is worth a thousand words, but it also captures a split-second in time. The potential for penalty is far less obvious when watching the play in live speed.
The NFL issued a rules explanation Monday in response to questions about the play. I got my hands on it this afternoon, and its general tone suggests that no illegal act occurred because Adams -- in the judgment of officials -- did not twist, turn or pull Rodgers' face mask. An inadvertent grab is legal in part because of a 2008 rule revision.
Before 2008? The play probably would have been a penalty. For those of you who want to read the entire explanation, I've included it at the bottom of this post.
You know how I feel about officiating. I think calls even out over time. But they still can make a huge impact in individual games, and that's why they're fair game for discussion in setting like these. We spent at least one post every week hashing through some of the more interesting ones during the regular season.
If I were a Packers fan, I would probably be more upset about the non-call of an apparent helmet-to-helmet hit on Rodgers two plays before it. Rodgers, for his part, told reporters in Green Bay on Monday that he spent most of his time thinking about his overthrow of receiver
Greg Jennings
on the first play of overtime.
"There's always going to be one or two plays in the game where you wonder should there be a call, shouldn't there be a call, but those are out of my control," Rodgers said, according to the
Milwaukee Journal Sentinel
. "The things I worry about are the things I can control. I made some mistakes in the game. Those are the ones I'm thinking about. Not a potential face mask on that.
"The one play I was thinking about laying in bed was the first play of overtime. Unfortunately, just missed Greg on that one that could have ended the game. But [the Cardinals] made a play in overtime, you have to give them credit for that."
OK then. Here is the full explanation from the NFL:
A "facemask" penalty is a judgment call that is not reviewable by replay.
Rule 12, Section 2, Article 5 of the NFL Rule Book (page 81) states that "no player shall twist, turn, or pull the facemask of an opponent in any direction."
The Rule Book describes the penalty as follows:
"Penalty: For twisting, turning or pulling the mask: loss of 15 yards. A personal foul. The player may be disqualified if the action is judged by the official(s) to be of a flagrant nature."
The Rule Book describes an approved ruling as it relates to facemask penalties (page 81).
"A.R. 12.12 - Third-and-10 on A30. Runner A1 runs to the A33, where he is tackled by B1, who incidentally grasps A1's facemask on the tackle, but it is not a twist, turn or pull. Ruling: A's ball, fourth-and-seven, on A33. No foul."
Prior to the 2008 season, a rule change was approved that eliminated the foul for the incidental grasp of the facemask.
The language of the rule as it relates to a facemask penalty through the 2007 season:
"Penalty: Incidental grasping of the mask -- five yards. Not a personal foul (if by the defense there is no automatic first down). Twisting, turning, or pulling the mask -- 15 yards. A personal foul. The player may be disqualified if the action is judged by the official(s) to be of a flagrant nature."
December, 10, 2009
12/10/09
11:02
AM ET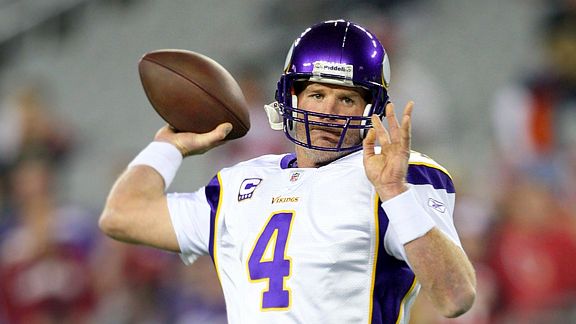 Christian Petersen/Getty ImagesBrett Favre's two interceptions against Arizona were his first since a Week 7 loss to Pittsburgh.
EDEN PRAIRIE, Minn. -- Hearts were heavy and minds were burdened late Sunday night as the
Minnesota Vikings
made their way home after a debacle in the desert. Where to start?
They had been whipped for the first time this season, a
30-17 loss to Arizona
that wasn't as close as the score indicated.
Their middle linebacker was in a Phoenix hospital, preparing for surgery after a gruesome fracture of his left femur.
Their veteran quarterback had panicked and lost his composure.
Their All-Pro tailback had stumbled to the second-worst performance of his career.
One of their starting safeties couldn't remember the game because of a concussion.
Their right tackle had played through what was apparently a dislocated shoulder.
The entire nation had watched the crushing letdown, and already the countdown was on for Sunday's matchup against an equally tough Cincinnati team.
Is this where the Vikings' bubble will burst? Did the Cardinals expose Minnesota as a flawed team for all of the NFL to see? Or was it simply a horrid night compounded by freak injuries and a particularly bad matchup?
Is it possible that a 10-2 team has reached the crossroads of its season?
"I hope we respond well, but heck, we got beat," said quarterback
Brett Favre
, who threw two interceptions and had two others dropped. "We got outplayed, I felt like by a good football team that hadn't been playing very well or consistent. We caught them when they were consistent and we got beat and it's as plain and simple as that.
"This is where you make it or break it from a team standpoint. We've done well up to this point. Like to have done a little bit better. But if we want to get in [to the playoffs] and see what happens, this is where we make our push."
Minnesota will have to push on without middle linebacker
E.J. Henderson
, who had surgery Monday and returned Wednesday to the Twin Cities. The Vikings will have to do it as tailback
Adrian Peterson
navigates an extended downturn in his production; Peterson has one 100-yard game in the Vikings' past six games. They'll probably start rookie safety
Jamarca Sanford
against the Bengals while starter
Tyrell Johnson
recovers from a concussion. And it's not yet clear if right tackle
Phil Loadholt
(shoulder) will be ready for the game either.
The Vikings, of course, have taken their cues all season from Favre. Many of us have credited their quiet precision to the confident -- and collected -- way he has carried himself. But for the first time, Favre left his comfort zone against the Cardinals and displayed many of the negative tendencies he had previously kept in stasis. Favre, in fact, freely admitted this week that he succumbed to "a sense that if we didn't score, we definitely were going to lose."
Favre and most of his teammates played in an unhealthy frenetic style that only perpetuated mistakes and elevated tension. Even after 19 NFL seasons, Favre said that reaction is "what I have to fight against."
[+] Enlarge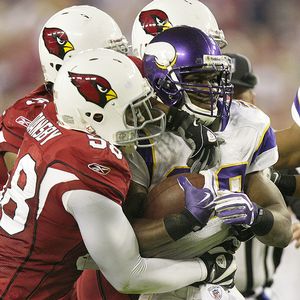 AP Photo/Paul ConnorsThe Cardinals held Adrian Peterson to a season-low 19 yards rushing Sunday night.
"They were hitting on all cylinders and I kept thinking about that," he said. "True or not, it's OK to acknowledge that we're having a tough time stopping them. But you can't make it any worse."
There was no better illustration of Favre's near-panicked performance than in the third quarter, when he threw both interceptions in a span of seven minutes. On the second, Favre acknowledged he was so enraged by a rough sack on the previous play that he simply gunned the ball downfield with no regard to the coverage.
The sequence began when Cardinals defensive lineman
Calais Campbell
sacked Favre for a 9-yard loss on second down, slamming him to the turf after Favre said he heard a whistle. Favre momentarily got in Campbell's face and then, on the next play, threw deep toward receiver
Percy Harvin
. Cardinals cornerback
Michael Adams
, one of four Cardinals players in coverage, made an easy interception.
"I heard a whistle, stopped and I got slung down," Favre said. "I'm not sitting here begging for late hits or something, but you even just blow on a quarterback nowadays, you get flags. So that didn't happen. I was kind of frustrated. I'm not making excuses. So the next play, I was thinking more about that than anything else.
"I let my temper get the best of me. Next play, instead of thinking within the moment, I was kind of thinking outside the box and not thinking, period. It wasn't like I was surprised by the coverage. … I just didn't make good decisions, from my end."
I appreciate Favre's honesty. But no matter how many ways he has elevated the Vikings this season, that kind of ill-timed brain lock could ultimately push the Vikings' season toward a premature end. It's the latter portion of the yin-and-yang package the Vikings signed in August, one they hoped would remain bottled up but knew could emerge at any time.
To be clear, Favre's momentary lapse was not the only reason the Vikings are suddenly in this predicament. Their NFL-leading pass rush, for one, disappeared against the Cardinals and left their coverage exposed. The failure had roots across the board, so much so that coach Brad Childress felt compelled to reiterate the big picture during a team meeting Wednesday morning.
"I just reminded them that we are a 10-2 football team," Childress said. "When all the 'woe is me' gets going, it's no different than wanting to put a win behind you. You put a loss behind you and you've got to look forward. It's a forward-thinking business. … I don't see any lingering effects."
Indeed, a strong argument could be made that the Vikings simply ran into a team particularly well-built to give them trouble. Football Outsiders' Vince Verhei spelled out that contention in
this ESPN Insider piece
. You'll need a subscription to read all of it, but in essence, Verhei notes the Cardinals' defense is well-equipped to stop Peterson and its offense doesn't need to establish a running game to pass effectively.
Aberration or trend? The Vikings are hoping it's the former -- and dreading the latter.
March, 4, 2009
3/04/09
6:54
AM ET
Posted by ESPN.com's Kevin Seifert
We haven't posted much on the search for former Detroit defensive end Corey Smith because something just didn't seem right about mixing the increasingly tragic story with daily news about free agent comings and goings. But with the U.S. Coast Guard's decision to call off the search for Smith and two other boaters who went missing over the weekend in the Gulf of Mexico, it's time to share some thoughts and words from some of the people who knew Smith well in Detroit.

Tom Kowalski of Mlive.com recalls how committed former Lions coach Rod Marinelli was to keeping Smith on the roster, even if it meant overloading at the defensive line position. Marinelli told ChicagoBears.com that Smith was "as tough as any guy I ever coached."
Former Lions receiver Roy Williams recalled how Marinelli repeatedly showed a tape of Smith blocking two men during a kickoff return in 2007.
Smith had a sweet tooth and once told Brian Van Ochten of Mlive.com that his favorite dessert was brownies and ice cream:
"If I see it in front of me, I've got to eat it -- that combination," Smith once told Van Ochten. "I put fudge on it. I just love that hot and cold combination, plus the [hot] fudge."
Smith was a free agent and it was uncertain whether the Lions had plans to bring him back, but it's clear he made a lasting legacy in Detroit.
Continuing around the NFC North:
March, 3, 2009
3/03/09
6:58
AM ET
Posted by ESPN.com's Kevin Seifert
One of the more interesting questions entering free agency was whether Green Bay general manager Ted Thompson would accelerate his usual plodding approach in order to re-stock the Packers' roster for its transition to a 3-4 defense. The answer has been a resounding no.

Tom Silverstein of the Milwaukee Journal Sentinel offers a good overview of what the Packers have -- and haven't done -- in the first four days of the market. Here it is in a nutshell: "Their strategy appears to be to take their time and make sure they don't overbid for players who would have to compete to become starters."
This has led the Packers to have casual conversations with the agents for defensive ends Igor Olshansky (San Diego), Marques Douglas (Baltimore) and Mike Wright (New England). But no visits are scheduled. It's possible the Packers will schedule a visit soon with free agent safety Michael Adams (Cleveland). None of these players are game-changers but could contribute to a winning team.
Like it or not, that's the approach Thompson has taken once again in 2009.
Continuing around the NFC North on a Tuesday morning:
Two Packers free agents, defensive end Mike Montgomery and fullback John Kuhn, are beginning to take visits, according to Pete Dougherty of the Green Bay Press-Gazette. Montgomery is in Atlanta and Kuhn was in Arizona.
Judd Zulgad and Chip Scoggins of the Star Tribune examine the situation around Denver quarterback Jay Cutler, who would like to be traded.
Minnesota special teams ace Heath Farwell has scheduled a visit with New England, according to Zulgad.

Vikings defensive end Jared Allen will participate in a USO trip to U.S. bases in the Persian Gulf this week. Allen's younger brother recently joined the Marines, according to

Sean Jensen of the St. Paul Pioneer Press

.

Detroit has scheduled a visit with free agent offensive lineman Daniel Loper, according to Nicholas J. Cotsonika of the Detroit Free Press. Meanwhile, the Lions lost fullback Moran Norris to San Francisco.

Bob Wojnowksi of the Detroit News

would like to see the Lions pursue Cutler: "It's such a no-brainer, I shouldn't even waste your time on it. It's also probably a complete pipe dream, a nasty little tease, an unrealistic notion."




David Haugh of the Chicago Tribune offers a similar sentiment for the Bears: "At some point [returning to the Super Bowl] will require bigger and bolder moves, and prying Cutler away from Denver would be one that could cement [Jerry] Angelo's legacy in Chicago."