July, 28, 2014
Jul 28
5:17
PM ET
BOURBONNAIS, Ill. -- Churning up a toboggan hill as part of his offseason conditioning program in a suburban Chicago park,
Matt Forte
apparently stopped long enough only to urge on and, yes, ride his workout partner.
"He killed me," said
Michael Ford
, one of several Bears running backs vying for the No. 2 spot behind Forte this training camp.
[+] Enlarge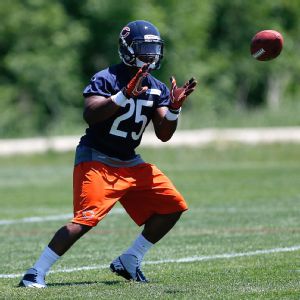 AP Photo/Scott BoehmFourth-round draft pick Ka'Deem Carey is one of four backs with no NFL experience competing for a backup job with the Bears.
"His work ethic is amazing and the things he does in the offseason to get himself ready are brutal. ... But the tradition set before him and with him, we have to hold to the same standards."
Ford and the others are well aware what they are up against -- not just the No. 2 job, which to a large extent, is up for grabs, or in the words of GM Phil Emery just last week, "very unsettled."
But with four of the five backs behind Forte having not had a single NFL carry, they must also be prepared to step into a position that may be de-valued throughout the league but remains a central part of the Bears offense.
Forte's production in 2013 amounted to almost one-third of the Bears' total offense; his career highs in rushing (1,339 yards) and receiving (74 catches for 594 yards) both setting a standard and a making a statement that first-year coach and offensive innovator Marc Trestman was not about to abandon his running back.
"It's important to this offense," said rookie
Ka'Deem Carey
. "You get out in bursts, you catch some passes, you run, you pass block. They love the running back here, so I landed in the perfect spot."
Carey, selected in the fourth found, will get plenty of competition from Ford,
Shaun Draughn
, who signed a one-year free agent contract and undrafted rookies
Senorise Perry
and
Jordan Lynch
, who might end up with a spot on the practice squad in his first year of transitioning from college quarterback to NFL running back.
"You can tell the way the reps are going, they want to see everybody at their best, so they give you chances out there to make plays and it's up to you to learn the playbook and do it," Carey said Monday, the second day in pads for the Bears.
"With everyone out there, it just makes you better. But we're not selfish. If someone messes up, we'll tell him what he did wrong and we'll learn off his mistakes and we just get better off each other's mistakes."
Carey's speed has been questioned, but more importantly for the former Arizona standout and the others will be their protection skills. Ford, who played in 12 games last season on special teams, likely will contribute the most in the return game.
"It's definitely not nerve-wracking," Ford said of the competition, "because it's always going to bring out the best. If you want to be the best, you have to play the best and you want the best competition at your camp. At least then you know you're going to be battle-tested."
Ford said he prefers not to look at the position as his.
"Even Matt told me he doesn't look at it like that," he said. "He just goes to practice everyday and tries to separate himself from everybody and he tells me to do that, too. ... Just try to get better each and every day."
April, 23, 2014
Apr 23
2:59
PM ET
The
Chicago Bears
signed running back
Shaun Draughn
to a one-year contract, the team announced.
Draughn
Draughn played in 20 games for the
Kansas City Chiefs
and
Baltimore Ravens
from 2011-13. His best season came in 2012 when he carried the ball 59 times for 233 yards and two touchdowns and caught 24 passes for 158 yards for the Chiefs.
Draughn also returned 23 kickoffs for 537 yards that same year in Kansas City.
Bears general manager Phil Emery served as the Chiefs' director of college scouting when Draughn entered the league in 2011 as an undrafted rookie free agent out of North Carolina. Draughn originally signed with the
Washington Redskins
before eventually making his way to Kansas City.
The 6-foot, 205 pound tailback appeared in just three games and ran the ball only four times for two yards for the Ravens last season.
The Bears were looking to add depth in the backfield in the offseason after the club released veteran running back
Michael Bush
on the eve of NFL free agency in March. The team could still decide to draft a running back in the late rounds to compete with the likes of Draughn and
Michael Ford
for the reserve roster spots behind two-time Pro Bowl starter
Matt Forte
.
April, 14, 2014
Apr 14
1:53
PM ET
The release of veteran running back
Michael Bush
on March 10 left a hole in the
Chicago Bears
' backfield the team must eventually fill.
While the Bears do currently have second-year tailback/return man
Michael Ford
slotted behind two-time Pro Bowler
Matt Forte
on the depth chart, the team could use more depth and competition at the position.
That help could arrive next month if the Bears select a running back somewhere between the fourth and sixth rounds of the upcoming NFL draft, a reasonable target area given the priority in the early rounds will likely be safety, cornerback, defensive tackle and inside linebacker, in no particular order.
One backfield prospect to keep tabs on is former Wisconsin running back
James White
, who led all rushers with 11 carries for 62 yards and one touchdown at the 2014 Senior Bowl.
The Bears recently traveled to Wisconsin's campus in Madison to put White through a private pre-draft workout, according to a source with direct knowledge of the situation.
Although listed at 5-foot-9, 204 pounds, White finished his four-year career at Wisconsin as the Badgers' No. 4 all-time leading rusher with 4,015 yards and ranks No. 3 in school history with 45 rushing touchdowns.
White ran for 1,444 yards and 13 touchdowns and caught 39 passes for 300 yards and two scores for Wisconsin last season. He also returned kickoffs his first two years in Madison.
Keep in mind, the Bears require a versatile running back that is capable of not only picking up yards on the ground if called upon, but also a player that can catch the ball out of the backfield. Utilizing the tailback in the passing game is a key component of Marc Trestman's offense, and one of Forte's greatest strengths since entering the league in 2008.
In addition to White, there should be an ample supply of running backs for the Bears to choose from in the later rounds if the organization decides to fill that need via the draft.
Other names to consider are Alabama State's
Isaiah Crowell
, Oregon's De'
Anthony Thomas
(the Bears reportedly hosted Thomas on a top-30 pre-draft visit at Halas Hall), Tennessee's
Rajion Neal
, Stanford's
Tyler Gaffney
, Louisville's
Senorise Perry
, Arizona State's
Marion Grice
and Florida State's
James Wilder, Jr.
, among others.
Grice suffered a lower leg injury last year and had to wait until last week to work out in front of scouts at his personal Pro Bowl. Representatives from 17 NFL teams were in attendance. The Bears were not present, but the 6-foot, 207 pound Grice did catch 91 passes out of the backfield for the Sun Devils over the last two seasons.
The Bears also worked out a handful of veteran free agent running backs last week at Halas Hall.
December, 12, 2013
12/12/13
3:35
PM ET
EDEN PRAIRIE, Minn. -- Since Sunday's 29-26 loss to the
Baltimore Ravens
,
Minnesota Vikings
special-teams coordinator Mike Priefer has thought about
Jacoby Jones
' 77-yard fourth-quarter kick return touchdown "a thousand times."
What he's come to, he said Thursday, is that the Vikings won't use their coverage scheme from the "mortar kick" to Jones again.
[+] Enlarge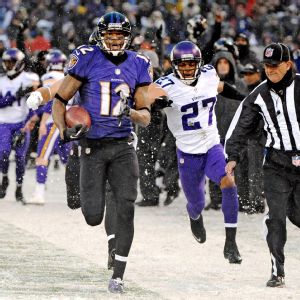 Kenneth K. Lam/Baltimore Sun/MCT via Getty ImagesThe Ravens' Jacoby Jones burned the Vikings with a 77-yard kickoff return for a TD late in the fourth quarter last Sunday.
The Vikings had contained Jones all day when
Blair Walsh
lined up to kick off after
Toby Gerhart
's touchdown run with 1:27 left. But they had done the same thing with
Devin Hester
the week before, and Hester returned a kickoff 57 yards in the fourth quarter, setting up the
Chicago Bears
' 66-yard field goal try as time expired in regulation. The kick missed, and Priefer ordered a mortar kick in overtime, which
Michael Ford
-- not Hester -- fielded at the Bears 22.
"The one thing I was concerned about is that we had kicked one out of bounds the play before, the kickoff before," Priefer said. "We could've put it on the ground again, but I wasn't sure. I got a little nervous. I didn't want to give them the ball at the 40-yard line. So that was going through my head, and I figured that we had been covering them well, but I flashed back to the week before -- we had covered Hester well the entire game until the one kick. I thought the best course of action would be to kick the mortar kick. That's what I recommended to our head coach, and that's what he went with. Obviously, it didn't work out for us."
The problem, Priefer said, was that the Ravens diagnosed the mortar kick when they saw Walsh's short approach, and told Jones to start inching up to field a short kickoff. Walsh needed to see that and go to a different plan, Priefer said, and on the return, the Ravens sealed off an alley for Jones to race down the left sideline.
"They read it perfectly. They did a good job. I got outcoached on that play, unfortunately," Priefer said. "We didn't execute it well enough. We had guys over there. We had, I think, two of them got pinned inside. He hit that seam full-speed. It was not a very good call on my part, and it was not schemed up well on my part. I've got to give credit to them. They did a nice job, and got the ball in their best playmaker's hands."
If there was an encouraging development on Sunday for Priefer, it was how well Walsh and punter
Jeff Locke
performed in the snowy weather. Walsh hit two field goals, and Locke averaged 44.1 yards on nine punts. That kind of a performance could come in handy with the Vikings moving outdoors to the University of Minnesota's TCF Bank Stadium the next two seasons.
"I knew pregame we had a chance to be real successful on punts and kickoffs because the way our young guys, those two young kids, approached the game," Priefer said. "They were, like, 'This is going to be fun.' I mean, I have a kid from Arizona that went to UCLA and a kid from Florida that went to Georgia. They went out there and did a fantastic job for us, and I was real proud of them. There were a lot of positives for us in that game, but it came down to one play. Again, that's the one that hurt us."
August, 30, 2013
8/30/13
9:03
AM ET
CHICAGO -- The scene in the locker room minutes after the Bears concluded the preseason finale against Cleveland included several handshakes, pats on the back and man hugs saying goodbye.
Apparently the Bears don't plan to waste time in cutting the 22 players needed to get down to the mandatory 53-man roster limit before Saturday's 3 p.m. CST deadline.

"We'll be at it bright and early tomorrow," Bears coach Marc Trestman said. "(General manager) Phil (Emery) and I will sit down early in the morning, (and make decisions) based on the information we gathered from the tape and from the other coaches. It will be a collective process to make those decisions that work out to be the final 53."
Several players made strong cases during Thursday night's 18-16 loss to the
Cleveland Browns
. Others only reinforced decisions the club had already planned on making. Trestman mentioned that he didn't think "anyone played themselves out of the roster tonight," but the truth is quite a few didn't exactly play themselves onto it, either. Over the next several hours, there's a good chance the team will start bringing players into Halas Hall to begin cuts.
Here's a sampling of what some of the on-the-bubble players had to say in pleading their respective cases.
RB Armando Allen:
"To me, the reality is you don't have control over the decision being made. So for me, it's just I've just got to stay positive and keep my mind focused and in the right mindset for whatever comes next. Did I feel like I did enough? I'm probably one of my biggest critics. I feel like there's a lot of things that I could have done better. If I was pitching myself, for me, it's just simple. I come to work hard every day; great individual. I know the plays, (and) I'm a great special teams player. So, that's about all I can say. My work speaks for itself."
RB Michael Ford:
"You can't get into the coaches' head. You've got to let the coaches coach and do what they do. The only thing we can go out there and do is play and play hard. I gave it my all. I went into practice and gave it my all, and went into the games and gave it my all. I really can't worry about it. When you give it your all and did everything you could, you can't worry about it, because you know you gave 100 percent at what you did."
WR Joe Anderson:
"I've always felt confident. I believe in myself regardless of who else does. When you believe in yourself, you win. I believe in me. If you ask me, I believe I made this team. But you never know what someone else is thinking. So I just come to work every day and do my job. I control what I can control, (and) that's what I do on the field. So upstairs, that's their job. I'm gonna let them do their job, and I'll do my job."
OL Eben Britton:
"I feel good about it. I feel really good about it. Yeah, I feel like (I made this team). I'm not the type of guy to beat my chest too much, but I was really proud of myself just about how I approached the whole camp, and what I got out of it. I feel the best I've felt in years. It was a great training camp for me, and I feel really good about the future. Now, I feel like I do things without even thinking about it anymore. It's just starting to become natural because that's what (offensive coordinator Aaron) Kromer has taught us every day. Even since back in April, I just kept working on the techniques we were taught in the run game and the pass game, stayed focused, and I just feel really good about how far I've come since getting here."
August, 29, 2013
8/29/13
11:30
PM ET
CHICAGO --
J'Marcus Webb
's fortunes seemingly turned as quickly as the defensive ends in recent years rounding the corner past him for sacks.
Having started 32 consecutive games at left tackle, Webb entered training camp as the first-team right tackle. In a matter of days, though, Webb could be among the team's cuts as it whittles down to 53 players.
After taking a demotion and a pay cut recently, Webb was among the bottom-of-the-roster types featured Thursday night in Chicago's
18-16 loss
to the Browns, struggling in a last gasp to make the team. With the starters sitting to prevent injury, Webb started at right tackle, and played every snap.
His performance seemed underwhelming. Officials called Webb for false start on third and 6 in the opening quarter. That moved the Bears from the Cleveland 33 to the 38, and after a failed third-down conversion,
Robbie Gould
kicked a 52-yard field goal.
Webb later gave up a pressure when he and right guard
Derek Dennis
were bull-rushed into
Jordan Palmer
.
The performance wasn't all bad, but it likely didn't convince the Bears to keep Webb.
Here's a look at a couple other performances by on-the-bubble players battling for some of the final roster spots:
TE Fendi Onobun:
After a training camp filled with drops and inconsistency, Onobun seemed poised for a rebound. Onobun caught the first pass thrown his way, but was later called for holding with eight minutes left in the second quarter. Onobun caught a 4-yarder the very next play. But in the second quarter, he dropped a slightly underthrown ball from Palmer. In the third quarter, a catchable
Trent Edwards
pass skipped off Onobun's hands, resulting in an interception by
James-Michael Johnson
. Onobun did pull in a 20-yard reception in the third quarter. But the negatives outweighed the positives. It would be a surprise if Onobun makes the roster.
Allen vs. Ford:
In this battle of the running backs,
Michael Ford
, an undrafted rookie out of LSU, seemed to emerge the victor. Ford ran for 48 yards on nine attempts, while
Armando Allen
, his main competition for the No. 3 running back job, gained 39 yards on 10 attempts. Allen was at a disadvantage coming into Thursday because he had missed time due to a hamstring injury.
S Brandon Hardin:
Perhaps the long layoff was too much to overcome. Going into last season, Hardin hadn't played in a football game since 2010. Then, last preseason, he suffered a neck injury on Aug. 26 that landed him on the injured reserve.
Hardin played the entire game Thursday, and didn't make enough plays to turn heads. Hardin also gave up a 14-yard touchdown in the fourth quarter.
August, 29, 2013
8/29/13
11:38
AM ET
Here are three positional battles to monitor heading into the Chicago Bears' preseason finale versus the Cleveland Browns:


1. Running back: Undrafted rookie
Michael Ford
is making a strong push to grab one of the final spots on the 53-man roster after returning a kickoff 100 yards in the second preseason game against San Diego, then following up that performance with 58 rushing yards and a touchdown on nine carries last week in Oakland. If the Bears decide to keep just three tailbacks, it means either Ford or veteran
Armando Allen
has to go. Allen played well last season for the Bears, appearing in 15 games and recording seven special-teams tackles. But Allen has been working his way back from an injury the past couple weeks, which has opened the door for the less expensive rookie out of LSU to showcase himself in these preseason games. Both figure to receive ample playing time tonight at Soldier Field.
2. Quarterback: The Bears' offense is entirely in the hands of veteran quarterbacks
Jordan Palmer
and
Trent Edwards
after Bears head coach Marc Trestman announced last week that starter
Jay Cutler
and No. 2
Josh McCown
would not see the field in the final preseason contest. If the Bears open the season with three quarterbacks, and that is still an if, the final spot could be determined by which of the two reserves has a better game against the Browns, plus what each accomplished on the practice field the past two weeks. The Bears got a brief look at just Palmer last week in the fourth quarter (1-for-1, five yards), but both quarterbacks will get an extended look tonight. Even if the Bears decide to go with just two quarterbacks to start the year, the team might still find themselves in need of another QB later in the season -- that's why this is still an important game for Palmer and Edwards, regardless.
3. Offensive line: If the Bears retain eight offensive linemen, as offensive coordinator Aaron Kromer hinted earlier in training camp, then two spots might still be available. That means
Jonathan Scott
,
Eben Britton
,
J'Marcus Webb
and
Taylor Boggs
are probably the guys still alive to make the team, although sometimes these calls are already made before the final preseason game. Scott has actually pulled off the rare feat of improving his position on the team despite missing the past several weeks with a knee injury that required a procedure to clean it out. That's because Webb has continued to struggle ever since being demoted to second-team left tackle. Webb is a mystery. He has all the physical gifts, but his inconsistency coupled with his strange behavior and apparent lack of passion toward the game, makes him a strong candidate to get cut. If Scott's knee is OK for Week 1, then it might make sense to just keep him and Britton, try and sneak Boggs on the practice squad, and send Webb on his merry way. But if Webb wants to make one final stand, he better make the most his opportunities tonight.
August, 20, 2013
8/20/13
2:24
PM ET
LAKE FOREST, Ill. -- The early returns on
Devin Hester
's transition to full-time special teamer have been encouraging.
[+] Enlarge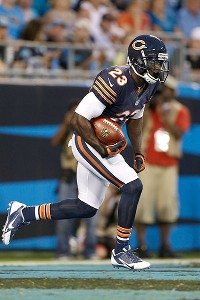 AP Photo/Bob LeveroneDevin Hester has two kick returns for 68 yards during the preseason.
Without the responsibility of having to take a single rep at wide receiver, Hester has looked fresh and re-energized when given the opportunity to return kickoffs during the preseason. The NFL record holder for combined kick-return touchdowns with 17, Hester almost broke the opening kickoff last week against the
San Diego Chargers
, but he was tripped up after a 45-yard return.
"He was pretty close," Bears special teams coordinator Joe DeCamillis said. "The kicker made a nice play and then also the safety from the back side. It was just good to get him some action, some real action. It was good to see those guys blocking the way they did, too, because there was definitely some holes out there, which was nice to see."
Hester also was credited with a 23-yard kickoff return in the Bears' preseason opener in Carolina when he decided to run the ball out after fielding it in the back of the end zone. The Bears have given Hester the green light on kickoff returns in both exhibition games. That aggressive style doesn't just help Hester, it allows the rest of the return team members to practice setting up their blocks.
"Even when Devin was having those big years, Devin had some big holes to go through," DeCamillis said. "We just got to do a better job of getting some holes for him at the start, and then, you know, he's gotta go and play better also. So it's a combination of all of those. I've got to help him schematically with what we're doing. Guys gotta block better, and he's gotta return better. That's what we've been working on all camp, and hopefully it starts to show up."
DeCamillis also has taken notice of undrafted rookie
Michael Ford
, who is fighting to earn a roster spot at running back. With
Armando Allen
sidelined last week due to a hamstring injury, Ford helped his cause with a 100-yard kickoff return against the Chargers. He finished the game with three returns for 160 yards.
"It would be tough not to like what you saw in a Michael Ford," DeCamillis said. "He did a great job. On his long one, that wasn't one of the better blocked returns that we had all night. He made a guy miss right in the hole. So that was a great run by him, and he did a better job on coverage, too. So he's making it tough. He's doing a good job of what we need to see from him, that's for sure."