December, 22, 2012
12/22/12
11:18
PM ET
We should have known. Two games to get 182 receiving yards? Too easy for
Calvin Johnson
.
He did it in one.
Johnson just broke Jerry Rice's NFL record for receiving yards in a season with a 26-yard reception late in the fourth quarter of the
Detroit Lions
' game against the
Atlanta Falcons
. As of this posting, he has 10 receptions for 204 yards. (Update: He finished with 11 catches for 225 yards, giving him 1,892 on the year.)
Johnson has actually
broken three NFL records
: Rice's season yardage mark, along with his 11th 100-yard game of the season and his eighth consecutive 100-yard game.
We'll have much more on Johnson's achievement in the hours to come. For now, we'll leave you with Rice's words from a telephone interview he conducted during the ESPN broadcast.
"The thing about this," Rice said, "is I believe records are meant to be broken. I'll be the first one to really congratulate this guy because I know what he stands for. He's a hard worker. He got the major contract and he's still hungry, and he wants to get out there and prove to everybody that [he is] the best receiver to ever play the game."
December, 17, 2012
12/17/12
11:00
AM ET
Calvin Johnson
's pursuit of the NFL record for receiving yards in a season is turning into a rout.
Johnson added another 121 yards on 10 receptions Sunday in the
Detroit Lions
' 38-10 loss to the
Arizona Cardinals
, leaving him 182 yards short of breaking
Jerry Rice
's record. Johnson has two home games, against the
Atlanta Falcons
and
Chicago Bears
, to make up the difference. At his current pace, he'll finish with more than 1,900 receiving yards.
The Lions are giving Johnson every opportunity they can to break the record. Sunday, they targeted him on 17 passes to bring his season total to 172 targets.
In the meantime, Johnson has already put his name in the history book. His seventh consecutive 100-yard game tied the NFL record set by
Michael Irvin
(1995) and Charley Hennigan (1961), and he is the first receiver in league history to register back-to-back 1,600-yard seasons. As amazing as Johnson's 2011 season was, he has almost matched his 16-game total for yardage (1,681) in 14 games this season.
March, 19, 2012
3/19/12
12:45
PM ET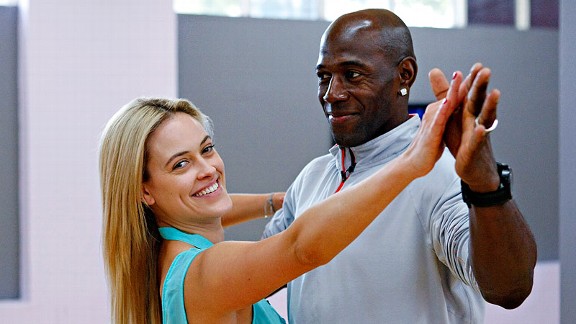 Rick Rowell/Getty ImagesDonald Driver is the fifth current or former NFL receiver to compete on "Dancing With The Stars."
If
stadium news
doesn't get your blood pumping, then perhaps ballroom dancing will float your boat on this fine Monday afternoon.
After years of begging, the NFC North finally has representation on
ABC's "Dancing With the Stars."
We in the business call it "DWTS" for short. You will soon, because
Green Bay Packers
receiver
Donald Driver
is one of 12 celebrities paired with a dancing professional to compete in an elimination-style competition.
(For now, we'll skip over the possibility that Driver, 37, will not be a part of the Packers' roster in 2012. He's ours for now.)
Season 14 debuts Monday night at 8 p.m. ET on, yes, ABC. Tuesday night brings us the first results show of the season, from what I understand.
A total of 10 current or former NFL players have participated in DWTS, and Driver will be the fifth wide receiver after Jerry Rice,
Hines Ward
, Michael Irvin and
Chad Ochocinco
.
He is paired with Peta Murgatroyd
, a native of New Zealand whose previous celebrity dance credits include Ron Artest before he re-named himself Metta World Peace.
I haven't decided whether we'll actually do a DriverWatch, or perhaps a DWTSWatch, as this exciting drama unfolds. I do think it will be fun to see how Driver's personality plays on a national level, and we've seen enough fancy footwork from him to think he has a reasonable chance to, uh, dance well over the next few weeks. (Sorry, I don't know how the kids these days describe good dancing. "Getting down?" "Gettin' jiggy with it?" "Busting a move?" I'm a big
"Breakin' 2: Electric Boogaloo"
guy, but otherwise, I have no idea.)
For now, at least, consider this a public service announcement as you look for ways to fill your Monday (and Tuesday) nights until Monday Night Football returns in just a few short months.
May, 15, 2009
5/15/09
6:56
AM ET
Posted by ESPN.com's Kevin Seifert
I thought former Dallas receiver Michael Irvin made a good point Thursday on Sirius NFL Radio when asked about Brett Favre's interest in playing for Minnesota this season. (The latest: Favre consulted this week with renowned orthopedist Dr. James Andrews about his partially torn biceps tendon.)
Essentially, Irvin said that one of Favre's greatest gifts -- his unwillingness to consider conventional wisdom -- is now working against him.
Irvin: "I can't understand this for the life of me. I love Brett and I appreciate his competitiveness and I appreciate the times he didn't listen to anyone. Because I remember the Monday Night [game] after he lost his father and everybody said, 'Brett, don't play. Just don't play, Brett. It's too tough for you.' He didn't listen. It was one of his greatest assets. He didn't listen and he showed up and he played great and we have a memorable moment to remember on that Monday night, watching Brett Favre play that game because he did not listen to anyone. But the reality is now it's time for him to start listening. His greatest asset is becoming his greatest liability..."
We'll keep you updated. For now, let's take a spin around the NFC North:

NFC NORTH SCOREBOARD
Thursday, 9/4
Sunday, 9/7
Monday, 9/8