NFC North:

Michael Johnson
June, 30, 2014
Jun 30
8:00
AM ET
In the last few weeks before the
Minnesota Vikings
begin training camp, we're going to take a look at a number of players on their roster with something to prove this season, excluding rookies. We will focus primarily on veterans or players being asked to assume a larger role this season. We'll kick things off today with defensive end
Everson Griffen
.
Griffen
Why he has something to prove:
Griffen signed a five-year, $42.5 million contract in March, effectively becoming the successor to
Jared Allen
at the left end spot, despite starting just one game in his first four years with the Vikings. He found enough snaps in a rotational role, lining up as an inside rusher in the Vikings' nickel package and spelling both Allen and
Brian Robison
, that the Vikings were willing to spend big money to keep Griffen off the free-agent market. He has the quickness and athletic ability to cause serious matchup problems at defensive end, and he had eight sacks in a part-time role in 2012. But Griffen disappeared too many times early last season, and the Vikings need to see him take the next step toward becoming a consistent force on the defensive line.
What he must do:
Griffen's performance this year shouldn't be solely measured by his sack numbers, since he won't have the benefit of lining up in a wide alignment and charging upfield toward the passer as often as Allen did. In
Mike Zimmer
's system, defensive ends are often asked to line up directly over a defensive tackle and engage blockers before heading into the backfield, so Griffen should be evaluated on how he sets the edge against the run almost as much as how he pursues the quarterback. Griffen also has to prove he can be effective as his workload likely increases; he's never played more than 717 snaps in a season, and he could be asked to log 200 or 250 more than that in 2014, based on how much Zimmer used right end
Michael Johnson
in Cincinnati. Griffen looked noticeably bigger this spring after staying in the Twin Cities to work out in the offseason, and he'll have to hold up under what will likely be a more taxing workload this season.
Projection:
Griffen's sack totals won't be extravagant -- pencil him in for six or seven this season -- but he'll be solid enough against the run to help the Vikings improve there this season under Zimmer. He seemed energized by his new contract and the Vikings' coaching change, and he'll get his chance to take off in 2014.
March, 10, 2014
Mar 10
10:27
PM ET
Disappointment over a potential deal that never materialized with
Seattle Seahawks
defensive end
Michael Bennett
on Monday didn't prevent the
Chicago Bears
from making a couple of cap-saving moves, in addition to shopping
Julius Peppers
around the league in advance of Tuesday's start to free agency.

The Bears whiffed -- but not for lack of trying hard -- on Plan A with Bennett, offering more money than the Seahawks, who eventually retained Bennett with somewhat of a hometown discount. But the Bears under the direction of general manager Phil Emery typically devise alternate strategies for adding the players they want in free agency. So while Plan B, C and the other options aren't fully known at this point, it's likely Chicago expects to make a flurry of moves in the first wave of free agency and be active all the way through the process.
That's why the team cut running back
Michael Bush
-- freeing up $1.85 million in cap space -- released tight end
Dante Rosario
, and put out calls around the league, according to ESPN NFL Insider Adam Schefter, for a potential trade for Peppers, which likely won't ever take place. With Peppers counting $18.183 million against Chicago's cap in 2014, no team wants to take in that salary via a trade. So when a team starts shopping a player, it often results in the club eventually cutting him.
Cutting Peppers with the post-June 1 designation would result in $4.183 million worth of dead money in 2014 and $4.183 million in 2015, but given his astronomical cap figures over the next two years, that would still represent respective savings of $14 million and $16.5 million.
But at this point cutting Peppers doesn't appear to be imminent.
What does seem to be on the way is the re-signing of middle linebacker
D.J. Williams
. The sides had been in discussion since last week, and negotiations were expected to continue through the weekend. As of Monday evening, the sides -- although still talking -- hadn't come to an agreement, according to a league source who expected a deal to take place late Monday night or early Tuesday.
Chicago also remains interested in re-signing other free agents such as cornerback
Charles Tillman
, defensive tackle
Henry Melton
and backup quarterback
Josh McCown
. Little information has emerged regarding Tillman's situation, although he's been linked to Tampa Bay because of his history with former Bears head coach Lovie Smith. The Bears have worked diligently to bring back Tillman, and it's likely the effort will continue as the cornerback's prospects with other teams could be limited by his age.
Melton, meanwhile, has generated interest from multiple teams, including the
Dallas Cowboys
, according to a league source, which would make sense given the defensive tackle's familiarity with defensive coordinator Rod Marinelli. That doesn't mean the Bears won't be able to re-sign Melton. After all, the Cowboys are tight against their cap, and it's unknown what kind of money another team might offer Melton, whose value could be diminished since he is coming off an ACL surgery.
As for McCown, as of right now, the Buccaneers appear to be the front-runner to land the quarterback, according to multiple sources, unless another one of the interested teams steps up with a more enticing offer, as the career backup may receive an opportunity to compete for a starting job. According to ESPNChicago's Jeff Dickerson, McCown's camp has been in contact with the Bucs, Bears,
New York Jets
and
Houston Texans
.
Dickerson also reported the Bears reached out to
Cincinnati Bengals
defensive end
Michael Johnson
on Saturday, ostensibly as a secondary option to Bennett, when the negotiation window for unrestricted free agents opened around the league. Although the sides engaged in preliminary talks, as of Monday evening it was believed the Bears weren't at the top of the list for Johnson, who is widely considered the best available defensive end remaining on the market.
The Bears are also targeting defensive end
Lamarr Houston
of the Raiders according to a report on the NFL Network.
It's unknown at this point where that leaves the Bears in terms of addressing needs along the defensive line, but several potential lower-priced options exist, and the salary demands could drop depending on how the first wave of free agency goes.
Safety is another area of need the Bears hope to address in free agency. The San Francisco Chronicle reported Chicago has expressed interest in San Francisco's
Donte Whitner
, who would give the Bears an intimidating presence on the back end. A source also confirmed the club's interest in
New York Giants
safety
Ryan Mundy
, who finds Chicago an intriguing opportunity because he'd receive a chance to compete for a starting job.
The Bears ended the day Monday with nearly $10.2 million in cap space, and it's worth noting the club spent $5.775 million during free agency for the 2013 season on three starters in
Jermon Bushrod
,
Matt Slauson
and
Martellus Bennett
.
So as the initial sting of losing out on Bennett wears off, Emery said back in January the Bears will still be plenty competitive in terms of putting together a solid team once free agency opens on Tuesday.
We all just have to wait and see.
March, 10, 2014
Mar 10
8:50
PM ET
MINNEAPOLIS -- It appears the
Minnesota Vikings
won't be bringing one of new coach Mike Zimmer's former defensive pupils to the Twin Cities.
Johnson
According to a league source, the team is out of the running for former
Cincinnati Bengals
defensive end
Michael Johnson
, who posted 11 ½ sacks in Zimmer's defense in 2012 and figures to be one of the hottest targets when free agency opens on Tuesday. The source said the Vikings didn't turn down Johnson; rather, things just didn't pan out between the two sides.
The Vikings had expressed interest in Johnson shortly after the start of the free-agency negotiating period on Saturday afternoon, but finished a five-year, $42.5 million deal with
Everson Griffen
on Sunday morning. That seemed to reduce the chances of Johnson coming to Minnesota, since the Vikings had committed $33.15 million in guaranteed money to Griffen and
Brian Robison
in a pair of contracts over the past five months. The Vikings would still have the cap room to pursue Johnson and possibly use Griffen in a variety of roles, but for whatever reason, Johnson won't be coming to Minnesota.
At this point, the Vikings might be better served spending a good chunk of their remaining money on their leaky secondary. They had expressed interest in
Tennessee Titans
cornerback
Alterraun Verner
, who is believed to have a number of suitors and could sign shortly after the start of free agency on Tuesday. The Vikings also could use a nose tackle, and brought in former
Baltimore Ravens
linebacker
D'Qwell Jackson
for a visit on Monday.
However they plan to stock their defense, they won't be doing it by bringing Johnson to Minnesota. We'll see how the rest of the Vikings' plan unfolds once free agency starts on Tuesday afternoon.
March, 9, 2014
Mar 9
7:00
PM ET
MINNEAPOLIS -- Lost in the flurry of the
Minnesota Vikings
' activity over the past several days is the fact that
Jared Allen
's time with the team is all but officially over. The team agreed to part ways with the free-agent defensive end after talking to his agent, Ken Harris, on Saturday night, and Allen will hit the open market at the start of free agency on Tuesday knowing he's headed to another team.
Allen
The realization about Allen, though, has probably been in the minds of many Vikings fans for some time. The team didn't pursue a contract extension with Allen before the 2013 season, instead giving one to
Brian Robison
in November and opening conversations with
Everson Griffen
's agent about a new deal, which came to fruition on Sunday in the form of a five-year, $42.5 million contract.
On top of that, the Vikings expressed interest
in
Cincinnati Bengals
defensive end
Michael Johnson
shortly after the start of the free agency negotiating period on Saturday. He's played Allen's right end spot in coach Mike Zimmer's defense, which asks ends to line up over a tackle and play the run before heading upfield to rush the passer.
Allen had been asked to perform a markedly different role in Minnesota before, and even though Zimmer had said there was a way Allen could return to Minnesota, it shouldn't be much of a surprise to see the Vikings headed in a different direction from their five-time Pro Bowler.
But the inevitability of Allen's exit shouldn't diminish the poignancy of it. He arrived in Minnesota a year after his third DUI, which got him suspended for the first four games of the
Kansas City Chiefs
' 2007 season. He grew into a team leader under the tutelage of defensive coordinator-turned-head coach Leslie Frazier. Allen's mischievous on-field demeanor and his devotion to charity work made him one of the most popular players in Vikings history. He was one of the most prolific, too, on a team that counts Alan Page, Carl Eller, Jim Marshall, Chris Doleman and John Randle among its best defensive linemen. Four of those five men are enshrined in the Hall of Fame, and Allen's work with the Vikings -- most notably his 22-sack season in 2011 -- could go a long way toward landing him there, too.
It was apparent even last season that the Vikings and Allen were headed in different directions, and it became even more likely when Zimmer replaced Frazier as head coach. With Allen turning 32 next month, a change probably makes sense, too. But in the Vikings' final, rowdy years in the Metrodome, Allen was as much an emblem of the team as anyone else in the organization. Maybe it's fitting that he won't be with them when they begin their two-year residency at TCF Bank Stadium this fall; the scent of change will be even more fragrant.
March, 9, 2014
Mar 9
4:05
PM ET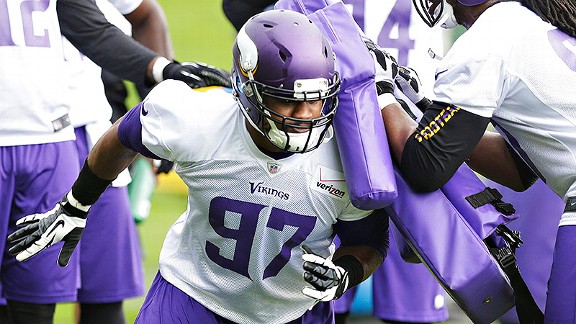 AP Photo/Jim MoneEverson Griffen's new contract could be followed by several more big moves by the Vikings.
MINNEAPOLIS -- The Vikings retained another one of their free agents on Sunday, giving defensive lineman
Everson Griffen
a
whopping $42.5 million over the next five years
, including $20 million guaranteed, according to a league source.
Now what?
In the past five months, they have signed
Brian Robison
and Griffen to contract extensions, committing a combined $33.15 million in guaranteed money to the players. That would seemingly set their defensive end tandem up for the next few years, with Griffen replacing
Jared Allen
on the line. But wait, there's more!
Once the NFL's three-day negotiating window opened on Saturday, the Vikings made it one of their first priorities to
express interest
in former
Cincinnati Bengals
defensive end
Michael Johnson
, and put themselves in the middle of what will likely be a heated race for Johnson. The 27-year-old stood out at right end for new Vikings coach Mike Zimmer in Cincinnati, and the Vikings would have been working on Griffen's deal while calling about Johnson. But wait, there's more!
They also called about former
Tennessee Titans
cornerback
Alterraun Verner
, who played for new defensive backs coach Jerry Gray while he was the defensive coordinator in Tennessee and who has to be feeling emboldened today after news that
Sam Shields
signed a four-year, $39 million deal to stay with the
Green Bay Packers
. While the Vikings had more than $41 million in cap space last week, they have since signed Griffen and quarterback
Matt Cassel
, not to mention restricted free agent cornerback
Marcus Sherels
. They also reportedly brought back linebacker
Jasper Brinkley
for his second stint with the team, and according to a league source, they will host former
Baltimore Ravens
linebacker
Jameel McClain
for a visit on Monday.
While the pertinent question might be, "Who can the Vikings afford?" a better one might be, "On what does it make sense for them to spend their money?"
Without having seen the full breakdowns of the new deals yet, let's assume they account for about $16 million of cap space. That would still leave the Vikings with about $25 million of room for next season, with the cap likely to go up over the next few years. Paying both Johnson and Verner would be doable, but it could also chew up another $16-20 million in cap space for 2014, meaning the Vikings wouldn't have much leeway to sign tight end
Kyle Rudolph
to an extension, pursue other needs like a big-bodied nose tackle, or pay their draft picks. And in the case of Johnson, there is also the question of where the Vikings would use all their toys if they signed him.
Let's say Johnson came to Minnesota, filling the right end spot he played for Zimmer in Cincinnati. If Robison stayed at left end, the Vikings would be looking to move Griffen around again. He played 60.1 percent of their defensive snaps without starting a game last season, according to Pro Football Focus, but the Vikings aren't giving him $20 million guaranteed to use him in a part-time role. I think it's possible they could experiment with him at linebacker -- Zimmer likes his linemen to occupy blockers and allow his linebackers to run free, which isn't that different from a 3-4 scheme and could actually utilize Griffen's talents well -- but the previous regime tried a similar experiment, and the Vikings would have to see if Griffen could hold up in pass coverage. And with cornerback being a bigger need at this point, the Vikings might be better-served using their money to ensure they get an upgrade there.
It's also worth considering what Zimmer said last week, arguing for a reasoned approach to free agency while stating his preference for something with the dependability of a Ford F-150 over the flashiness of a Maserati. To this point, all the Vikings have done -- in fact, all they have been allowed to do by NFL rules -- is retain their in-house free agents. While they have expressed interest in two of the top defensive players on the market, that hasn't cost them anything yet. They could always clear more room by restructuring the contract of 31-year-old linebacker
Chad Greenway
, who is to make $8.7 million next season, and the Vikings still have enough room to do some contract gymnastics and sign a couple free agents while staying well under the cap, but for a team that has gone back to a draft-and-develop philosophy after years of shelling out for free agents, it might make sense not to get too carried away.
Could the Vikings still sign both Johnson and Verner? Yes. Would they have checked in with both of them so early, knowing Griffen's deal might get done, if they didn't have a scenario where they could land them? Probably not. But the size of Griffen's deal does mean the Vikings would have some pieces to fit in place if they were to get aggressive on the open market, particularly at defensive end.
March, 8, 2014
Mar 8
6:50
PM ET
MINNEAPOLIS -- Before the start of free agency,
Cincinnati Bengals
defensive end
Michael Johnson
seemed like one of the
Minnesota Vikings
' most likely targets, due to his history with new Vikings coach Mike Zimmer and his familiarity with Zimmer's defense. The Vikings made their interest in Johnson somewhat official on Saturday.
According to a league source, they called Johnson's agents to express interest in him, putting themselves in the middle of what is expected to be a heated competition for the 27-year-old. Johnson had received interest from seven teams as of Saturday afternoon, according to a league source, and that list includes several teams who run a 3-4 defense. The Bengals, however, are not expected to be in the running to retain Johnson, according to the source.
The Vikings, though, have the money to pay Johnson and a connection with him through Zimmer, who helped the former third-round pick turn into a fixture at right end for the Bengals. The 6-foot-7 Johnson is a prototypical fit in Zimmer's defense, which asks linemen to engage blockers and respect the run before they shoot upfield to chase the quarterback. Johnson had success as a six-technique end for the Bengals, and would slide into the same role in Minnesota.
As we discussed earlier this week,
he'd seem to be more compatible with Zimmer's defense than
Jared Allen
, who spent most of his career in Minnesota chasing the quarterback from a wide stance, rather than lining up directly over a tackle. Allen is set to hit the open market for the first time in his career, and said in a Sirius XM Radio interview earlier this week he is looking for "a chance to win" and a "fair contract."
If the Vikings can win a heated race for Johnson, they'd plug him into Allen's old position, which would make official the seemingly likely end of Allen's time in Minnesota.
February, 22, 2014
Feb 22
2:15
PM ET
INDIANAPOLIS -- As the
Minnesota Vikings
started preparations for the 2014 league year, they always did so knowing they would have money to work with. The Vikings have just over $100 million in cap commitments heading into 2014, which is currently the sixth-smallest cap figure in the league. With
Jared Allen
's $17 million cap hit coming off the books, the Vikings could plan to have money to spend.
Allen
Now, it appears they might be able to plan on having a little more.
According to ESPN's John Clayton, the 2014 NFL salary cap is projected to rise to $132 million, up $9 million from 2013's cap figure. That would give the Vikings nearly $32 million to spend before 2014, putting them in position to improve their defense through a major free agent signing if they choose to do so.
Cincinnati Bengals
defensive end
Michael Johnson
(who played for coach Mike Zimmer) and
Tennessee Titans
cornerback
Alterraun Verner
(who played for new defensive backs coach Jerry Gray) could be candidates to join the Vikings. But the infusion of new cash, coming partially from the league's new TV deals, could also mean a more robust bidding war for free agents.
Assuming the cap figure is $132 million, 14 teams would have at least $20 million in cap room at the start of the new league year. There could be plenty of teams who would decide not to spend to the cap, but a $9 million spike in the cap certainly would provide players and agents with more leverage. The Vikings, though, are well-positioned for the 2014 market, and would be in even better shape if the cap figure winds up at $132 million.
The Vikings currently have just $1.78 million in dead money, which is the ninth-least in the league. They could clear more cap space by restructuring the deals of players like tight end
John Carlson
or linebacker
Chad Greenway
, but a cap figure that high might prevent the Vikings from having to redo many contracts.
September, 27, 2013
9/27/13
5:10
PM ET
GREEN BAY, Wis. -- When players are fined for hits that were not penalized during the game, it's essentially an admission of an officiating error.
For the second straight week, that applied to a
Green Bay Packers
' opponent.
Finley
On Friday, the NFL announced it fined
Cincinnati Bengals
safety
George Iloka
$15,000 for his unpenalized hit during the first quarter of Sunday's game that left Packers tight end
Jermichael Finley
with a concussion.
A league spokesman said Iloka was fined for "unnecessarily striking a defenseless player in the head and neck area."
Finley could not return to the game, and his status is unknown for the Packers' next game, following their bye, against Detroit on Oct. 6.
That fine came a week after
Washington Redskins
safety
Brandon Meriweather
was
fined $42,000 for a helmet-to-helmet hit
on Packers running back
Eddie Lacy
, who also was forced to leave the game with a concussion. Lacy did not play against the Bengals. Like in the case with Iloka, the game officials did not call a penalty on Meriweather.
Also on Friday, the league announced that Bengals linebacker
Vontaze Burfict
was fined a total of $31,000 for two infractions against the Packers -- one that was called a penalty and one that was not. He was docked $21,000 for "unnecessarily striking a defenseless player (Packers receiver
James Jones
) in the head and neck area" and another $10,000 for "striking" Packers tight end
Ryan Taylor
in the groin area. Burfict was not flagged for striking Taylor, who was penalized but not fined after he retaliated against Burfict.
Two other Packers players who were called for personal fouls -- linebacker
Nick Perry
and cornerback
Tramon Williams
-- were not fined. Neither was Bengals safety
Reggie Nelson
for his roughing the passer penalty against
Aaron Rodgers
, nor defensive end
Michael Johnson
for hitting Rodgers low, which also wasn't penalized.
September, 22, 2013
9/22/13
8:15
PM ET
CINCINNATI -- The question perhaps shouldn't be about
Green Bay Packers
coach Mike McCarthy's decision to go for it on fourth-and-1 from the Cincinnati Bengals' 30-yard line late in the fourth quarter of Sunday's game at Paul Brown Stadium.
Rather, it might be about the play he selected.
McCarthy's decision was an aggressive one. Pick up the first down, and the Packers might have been able to melt away the final four minutes of the clock and escape with a 30-27 victory.
But calling running back
Johnathan Franklin
's number was a risk that blew up on McCarthy. Without trusted fullback
John Kuhn
(inactive with a hamstring injury) to block, the 5-foot-10, 205-pound Franklin did not have a lead blocker to follow. And when he tried to leap for the first down, Franklin fumbled, setting off a wild play that ultimately decided the game.
Bengals defensive end
Michael Johnson
forced Franklin's fumble, which was recovered by safety
Reggie Nelson
. Packers receiver
Randall Cobb
nearly prevented a disaster when he knocked the ball away from Nelson, but Bengals cornerback
Terence Newman
picked it up and ran 58 yards for the game-winning touchdown with 3:47 to play.
"Obviously, I thought that we could convert it; that's why we called the play," McCarthy said. "We didn't get it done. That's the profession of play-calling. When it works, it's excellent execution by your players and when it doesn't, it's the play-caller."
McCarthy said his first thought was to attempt a field goal. But with time to think about it after the Bengals successfully challenged the spot on the previous play in which Cobb was initially ruled to have gotten a first down on a third-and-12 reception, McCarthy went for the kill shot.
"Probably over-thought it because my initial thought was to kick the field goal," McCarthy said. "I'm paid to make those decisions. When they go wrong, I'm responsible."
The problem was Franklin, being a small back, couldn't power his way through the line. When a player leaves his feet, the ball often becomes more exposed. Perhaps an outside run or a toss play – or even a sneak by quarterback
Aaron Rodgers
– might have worked.
Franklin's inexperience also may have played a role in his fumble. The rookie had not played a snap on offense the first two weeks but was forced into duty because
James Starks
, who started in place of the inactive
Eddie Lacy
(concussion), was lost to a knee injury late in the second quarter.
Until his fumble, Franklin was working on an heroic debut. He rushed for 103 yards on 13 carries -- all in the second half -- and scored his first NFL touchdown on a 2-yard run in the third quarter.
"I've just got to keep it high and tight," Franklin said. "It's no excuse for what I was doing or how I was doing it. It's all about technique. It's a big play, a big down, and I've got to make a play for my team regardless of whether it's my first game or not. If they call on me, I've got to do my job."
Combined with Starks' 132-yard rushing performance in Week 2 against the
Washington Redskins
, Franklin gave the Packers back-to-back 100-yard games by running backs since Weeks 16-17 of the 2007 season with
Ryan Grant
and
Brandon Jackson
.
September, 8, 2013
9/08/13
6:00
AM ET
LAKE FOREST, Ill. -- Finally, it's time for the Bears to kick off the regular season Sunday, when they host the
Cincinnati Bengals
at Soldier Field.
Let's take a look at five things to keep an eye on in this matchup:
Rookies on right side of OL:
The debuts of rookies
Kyle Long
and
Jordan Mills
at right guard and right tackle, respectively, seems to have been one of the most widely debated topics all offseason. Well, now it becomes real.
Long is set to be the first rookie to start at right guard for the Bears in the Super Bowl era. In fact, the Bears haven't started multiple rookies on opening day since 1998.
"That's a cool trivia question," Long joked. "I try not to focus on that type of stuff. It's a good tidbit to know. But right now, I'm so focused on who to block on inside zone right and that kind of stuff. That stuff is far more important to me at this point."
[+] Enlarge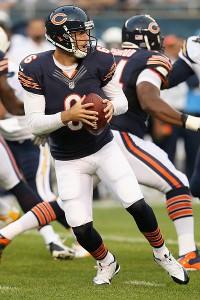 Jonathan Daniel/Getty ImagesProtecting Jay Cutler remains a top priority for Chicago's offensive line.
It definitely should be. Long and Mills face a Bengals defensive line that accounted for 43 of the team's record 51 sacks in 2012, and led by defensive tackle
Geno Atkins
, who led all NFL interior linemen last season with 12 sacks.
"Just having another rookie [in Long] to go through it with you is priceless," Mills said. "They have a great front seven with Geno Atkins,
Carlos Dunlap
,
Michael Johnson
,
Rey Maualuga
and the rest of the guys. But we're trying to be a great offense. We're going to come in there with a great game plan and we're going to be fine."
The new offense:
In terms of diversity with formations and play calling, this will be the most extensive look at the Bears' offense we've seen since the Aug. 23 preseason game at Oakland. Look for tons of shifts, formations and plays that get the ball out of
Jay Cutler
's hands quickly, not to mention some plays designed to move the pocket.
"The game plan is put together relative to how much we get practiced, how we want to spread the ball around," Bears coach Marc Trestman said. "Certainly it all starts with how we want to attack running and throwing the football. It's just a process you go through every Monday and Tuesday so to speak, during the course of a normal week; who you want to feature, how you want to use personnel groupings, how you want to use formations to be able to create advantages and working toward the strengths and weaknesses of the teams you'll be playing."
Trestman sounds as if Chicago's playbook is much deeper than what the team will select to execute against the Bengals. That's definitely a positive the Bears haven't had in the years before Trestman.
D.J. Williams at middle linebacker:
Trestman said Williams will play, but wouldn't give an indication of what degree, whether he'll be starting or how much he'll contribute. It's expected that Williams will start in the middle alongside
Lance Briggs
and
James Anderson
. But when you consider how much time Williams missed (virtually the entire training camp and preseason), it's reasonable to question whether the linebacker's conditioning level will be up to par to where he can play an entire four quarters.
It's also worth noting that Williams has missed the preseason the past two years, which means Sunday might not be as difficult for him as we think.
"I don't what to say I'm used to it, but I've been through this before," Williams said. "Being a veteran guy, you kind of know what you need to do to get yourself prepared for the game. I know coming into the first game there's going to be a little gas, a little winded. But the first game of the season, everybody is going to be kind of like that."
If Williams can't play the entire game, the Bears are confident they can go to
Jonathan Bostic
, who put together a strong enough preseason to inspire confidence in his ability to be a starter.
"I'm preparing like I'm a starter," Bostic said. "You never know what's going to happen."
Julius Peppers vs. Anthony Collins:
The Bengals might be thinking "uh-oh" when looking at this matchup on paper. Cincinnati Pro Bowl left tackle
Andrew Whitworth
is listed as doubtful heading into the game, which means the Bengals will line up Collins at the position, where he'll take on Peppers.
Look for the Bears to try to exploit the loss of Whitworth with Peppers, who is coming off a 2012 campaign in which he posted 11.5 sacks.
Former Bengals offensive lineman Dave Lapham, who is not a radio analyst told ESPN 1000's "Chicago Gamenight" on Thursday how he expected Cincinnati to handle Peppers without Whitworth in the fold.
ESPNChicago.com's Jeff Dickerson
takes you deeper
.
"I don't think he'll have movement issues with respect to Julius Peppers, but Peppers can bull rush you now, too," Lapham said. "He's a strong dude. So I'll be interested to see if Collins can hang in there against that bull rush that Peppers can employ to complement that quickness that he's got."
Devin Hester exclusively as a return man:
Hester worked all offseason exclusively as a return man, with the team stripping away his duties as a receiver. Now it's time to see if the extra focus on returns will pay off for Hester, who didn't receive much action in the preseason. Hester took part in just five returns (three kickoffs and two punts) and gained a combined 94 yards, with his longest runback being a 45-yard kickoff return.
Given that Hester is in a contract year, expect him to put together one of the best return seasons of his career. Hester needs only one more return touchdown to tie Hall of Famer Deion Sanders for the most career return touchdowns. My guess is Hester winds up breaking the record by Week 9.
September, 5, 2013
9/05/13
1:00
PM ET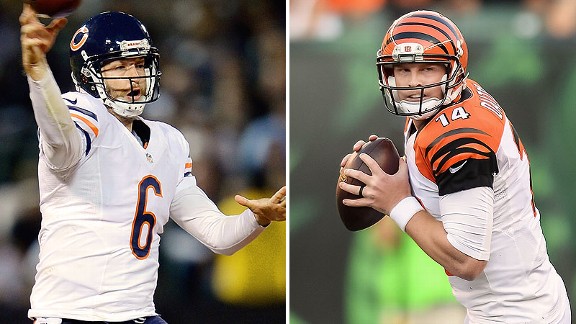 Getty ImagesChicago's Jay Cutler, left, and Cincinnati's Andy Dalton lead their respective offenses against very stingy defenses.
Two strong defensive teams led by highly scrutinized quarterbacks in
Jay Cutler
and
Andy Dalton
set the scene for what should be a hotly-contested matchup between what are expected to be ascending clubs.
Marc Trestman makes his debut as an NFL head coach at Soldier Field on Sunday, leading a Bears team with plenty of roster turnover on offense, including a totally revamped line expected to better protect Cutler as he operates the club's new scheme. That group will be tested by a Bengals defensive line, led by
Geno Atkins
, that accounted for 43 of the team's franchise-record 51 sacks in 2012, and also paved the way for the defense to finish the season ranked No. 6 for fewest yards allowed.
Chicago's defense in 2012 was even better, finishing fifth in net defense, third in scoring defense (17.3 points per game) and No. 2 in turnover differential while leading the NFL in interceptions (24) and total takeaways (44).
While home-field advantage can be key for teams, it's certainly been a factor in this series. The Bengals hold a 4-1 road record against the Bears and own a 6-3 series lead, which includes victories in their last outings (2005 and 2009).
Chicago hasn't beaten the Bengals since 2001.
ESPN.com's Matt Williamson and Bears team reporter Michael C. Wright discuss the matchup.
Wright:
The Bears hope they fixed the offensive line with a combination of scheme (shorter drops for Cutler), beefed up protection with
Jermon Bushrod
at left tackle and a pair of draft picks in
Kyle Long
(first round) and
Jordan Mills
(fifth) at right guard and right tackle, and another weapon for Cutler to find down the middle of the field when he's in trouble. But the inexperience of Long and Mills will be question marks against Cincinnati's active defensive line.
It seems Cincinnati's defense is built around Atkins, but how much of a factor are guys like
Carlos Dunlap
and
Michael Johnson
?
Williamson:
Atkins is the foundation of the defense for sure and everyone thrives off his presence, but the Bengals have a lot invested in the defensive line now in terms of finances and draft picks. This is an extremely deep and talented group that makes the entire defense go. Dunlap might be a little underrated and Johnson a little overrated, but they form an impressive pair of defensive end. These three players, along with the rest of Cincinnati's defensive front, will prove a very steep challenge for Chicago's rebuilt offensive line in Week 1.
What can the Bengals' defense expect from this new Trestman offense?
Wright:
The Bears will utilize zone blocking in the running game, which should allow
Matt Forte
to pick his own holes. That should open up the passing game, where the Bears will use West Coast philosophies such as shorter routes and drops for Cutler so he can get rid of the ball quickly. Look for the Bears to also try to use
Earl Bennett
down the seams to exploit potential matchup problems, especially on traditional running downs where the Bengals might be using base personnel.
Speaking of the Bengals, they've made the playoffs in three of the last four years, but really haven't made much noise. What are the expectations for this team now?
Williamson:
Expectations must go up. They had yet another high-quality offseason and this team has an exceptional young core of players on both sides of the ball. They clearly play in a tough division, but going one-and-done in the playoffs yet again will not be considered a successful season in Cincinnati. I fear they will only go as far as their quarterback will take them. But Bengals fans have a lot to be excited about.
Do you think this Bears defense can defend
A.J. Green
?
Wright:
They should be able to keep him from dominating the game. It's likely the Bears match
Charles Tillman
up against Green, but if the receiver winds up in front of
Tim Jennings
, the team is confident he can get the job done, too. The Bears typically don't double or shade coverage against players such as Detroit's
Calvin Johnson
, so don't count on seeing the Bears try that against Green. Cincinnati's tight ends could be an issue now that they've got two good ones in
Jermaine Gresham
and
Tyler Eifert
.
With such a talented supporting cast, do you see Dalton as just a guy surrounded by weapons, or a blossoming young quarterback?
Williamson:
He shows signs of blossoming into a solid young quarterback, and has been especially adept in the red zone, which is very noteworthy for a young quarterback. But I think he is more of the former. He is a limited passer who lacks great tools, and isn't as accurate or on time with his throws as you would like for someone with his limitations. The Bengals knew this and landed two very "Dalton-friendly" receivers for him in Eifert and
Giovani Bernard
. Eifert should develop into an exceptional target in the middle of the field as well as the red zone, while Bernard provides an easy dump-off option for Dalton. With all the Bengals' resources over the past two offseasons, it really surprises me that Cincinnati didn't do more to challenge Dalton or greatly improve its backup quarterback spot.
NFC NORTH SCOREBOARD
Thursday, 9/4
Sunday, 9/7
Monday, 9/8