NFC North:

Michael Jordan
December, 31, 2012
12/31/12
12:12
AM ET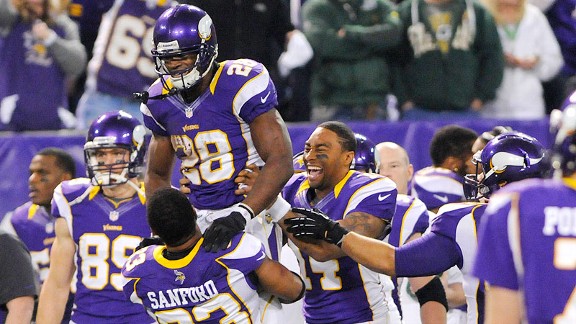 AP Photo/Jim MoneAdrian Peterson, who came within nine yards of the single-season rushing record Sunday, exemplifies the unexpected season the Vikings have had.
MINNEAPOLIS --
Antoine Winfield
started down the road so many professional athletes take.
"I'm sure none of you guys thought we had a chance to do this," Winfield said to a group of reporters after the Vikings completed an improbable run to the 2012 playoffs. Their
37-34 victory
over the
Green Bay Packers
was the Vikings' 10th win of the season, or about four more than any media prognosticator deemed possible when the season began.
What about you?
I asked Winfield.
Did you think this could be a playoff team?
Winfield smiled and held his thumb and forefinger about an inch apart.
"Small chance, really," he said. "This just shows you that you never know. You really never know. Coming from 3-13 last year, we really didn't make too many moves in the offseason and just brought in a bunch of young guys. You don't know what you're going to get there. You're playing in a tough division, and we knew we would have to capitalize on every opportunity we had. And guess what? We did. Who would have thought?"
Not me, not you and -- truth be told -- not even some of the smartest players in the Vikings' locker room. Winfield admitted he has "absolutely" never been more surprised about a season in his 14-year career. Defensive end
Jared Allen
, a nine-year veteran, echoed Winfield's sentiments.
"I really had no clue this was coming," Allen said. "But it was kind of cool at the same time. There were no expectations to live up to. Whatever we put on the field, that's what we were going to be. As we grew and the season went on, we kind of said, 'Hey, we've got something here.'"
Let us be clear: The Vikings earned this playoff bid without the slightest degree of doubt. They won their final four regular-season games, knowing that a loss in any of them would almost certainly scuttle their chances, and Sunday they took the best shot of an excellent Packers team that has lost only twice in 12 weeks and remains a strong Super Bowl contender.
Packers quarterback
Aaron Rodgers
called the Vikings "a good team" and said there was "nothing to be ashamed of" in losing to them. The Packers tied the game twice on Sunday, once at 27 early in the fourth quarter and once at 34 with two minutes, 54 seconds remaining. On both occasions, the Vikings came back to regain the lead. They demonstrated the championship mettle against a team with similar aspirations.
"The truth is we've been playing one-game seasons for a month already," linebacker
Chad Greenway
said. "Basically we've been in a playoff mentality for a month."
At the same time, you won't find many people inside or outside the organization who envisioned the Vikings emerging as a late-season force.
Yes, it was healthy and honest to express surprise at where the Vikings found themselves Sunday. Did anyone besides
Adrian Peterson
think he would
roar back from major knee surgery with a career year?
Of course not. And as recently as a month ago,
it was fair to suggest
that quarterback
Christian Ponder
had flopped. On Sunday, Ponder threw his longest pass of the season -- a pretty 65-yarder to receiver
Jarius Wright
-- and tied a season-high by completing four (!!) passes that traveled at least 15 yards past the line of scrimmage. (
Small moves, Ellie. Small moves
.)
Afterwards, Ponder quoted Michael Jordan (!!!) to explain why he was calm during a game-winning drive that required a 25-yard pass to receiver
Michael Jenkins
on third down to extend.
"For me," Ponder said without a touch of irony, "one thing that has stuck in my mind throughout this whole season was something that Michael Jordan always said. When it came down to the last minutes of the game, when the pressure was on, someone asked him what he did differently. He said, 'I stay the same. It's everyone else that changed.'"
Raise your hand if you thought you thought you would hear Christian Ponder referencing Michael Jordan in Week 17 of the 2012 season.
Right. That's what I thought.
I don't mind admitting that I'm surprised to see the Vikings in the playoffs. What's interesting, however, is that they are right back where they started. Few outsiders expect the Vikings to go to Lambeau Field on Saturday and repeat Sunday's performance. But here's the difference: No one in the locker room would be surprised, not any longer.
"I'll tell you this," Greenway said, "We didn't get into the playoffs just to say we got to the playoffs. We want to go up there and fight and try to get into the next round."
The Vikings have been surprising us all season. Who is to doubt them now?
February, 8, 2012
2/08/12
10:00
AM ET
Could the "
Discount Double Check
" lead to national television stardom for
Green Bay Packers
quarterback
Aaron Rodgers
? I guess it depends on what you consider "national television stardom," but Rodgers took last weekend's television opportunity at Super Bowl XLVI to network for an appearance on NBC's "Saturday Night Live."
Rodgers has mentioned that possibility several times on his
ESPN 540 radio show in Milwaukee
, and Tuesday he said he met a couple cast members last weekend in Indianapolis, where he worked as part of NBC's pregame show. "I'm hopeful that we can figure something out there," Rodgers said.
I'm trying to make an "SNL"-related joke, but I'm a little dated in my reference points. Hasn't been the same since Matt Foley left permanently for his van down by the river. (#ChrisFarleyRIP.)
In all seriousness, hosting "SNL" is an elite stepping stone for athletes who have crossed into celebrity status. The success of Rodgers' State Farm television commercials, as well as his MVP and his well-received work for NBC on Sunday, might have vaulted him into relatively rare advertising and publicity air. Athletes who have hosted "SNL" include Fran Tarkenton,
Peyton Manning
,
Tom Brady
,
Joe Montana
, Charles Barkley, Michael Jordan, LeBron James, Nancy Kerrigan and Walter Payton.
July, 15, 2011
7/15/11
11:48
AM ET
It's official. We've found something that
Green Bay Packers
quarterback
Aaron Rodgers
isn't good at.
The video below shows Rodgers, Michael Jordan and
Tony Romo
attempting a trick golf shot at the American Century Championship.
It isn't easy, and only the greatest pro athlete in history could do it. Cue the video.