NFC North:

Michael McCaskey
May, 24, 2013
5/24/13
10:30
AM ET
Mike Ditka's final season as a player for the
Chicago Bears
was in 1966. His last season as their coach was 1992. So why did it take 47 years after his departure as a player, and 21 years after his final season as the coach, to retire the number of one of the most recognizable figures in team history?
A small part of the explanation could be the sheer size and breadth of the Bears' history. Before retiring Ditka's No. 89,
a move the team announced Friday
, the Bears already had the most retired numbers in the NFL (Ditka's is the team's 14th). I chuckled
Friday morning
when punter
Adam Podlesh
tweeted: "BREAKING: The NFL finally gives Bears the nod to use fractions and decimal points on jerseys after the last whole number is retired #iwantpi"
If you retired every deserving number in Bears history, there wouldn't be many left over for the current team.
But I think we all know that more than numbers were in play here. Ditka alluded to it during a morning appearance on ESPN Radio, noting the efforts of Bears chairman George McCaskey to reach out after succeeding his brother, Michael, in 2011. Michael McCaskey, of course, was running the Bears when Ditka was fired as coach.
"I never left" the Bears organization, Ditka said, but added: "I think what happened is they made a decision based on what they wanted to do. They had a right to make that decision. It hurts. It always hurts when there is a separation or divorce.
"But when George took over running the Bears and he called me, him and [team president] Ted Phillips and I met with him. I think [the meeting] was so cordial. George is a special guy. He probably had a little bit more vision than somebody else. But that didn't matter. That's not important to me. Whatever it is, it is. … I am very, very honored. That's the bottom line."
The ceremony will take place Dec. 9 at Soldier Field, when the Bears will host a "Monday Night Football" game (on ESPN!) against the
Dallas Cowboys
. It should be a great night.
Note:
The video of Ditka's radio appearance is at the top of this post. Here is the link to
the audio version
if you prefer that.
January, 3, 2012
1/03/12
10:36
AM ET
A week or two ago, I was discussing the future of the
Chicago Bears
with a friend. We started with the obvious -- whether offensive coordinator Mike Martz would return -- then moved up the ladder a bit. Was there any chance of a bigger shake-up after the Bears missed the playoffs in four of the five seasons since appearing in Super Bowl XLI?
[+] Enlarge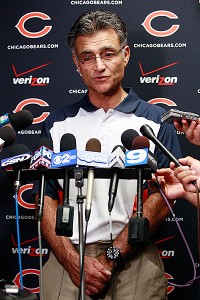 AP Photo/Nam Y. HuhJerry Angelo had run the Bears' football operations since 2001.
Under the McCaskey family, we agreed, the Bears have been a methodical and slow-moving organization that wasn't prone to emotional reactions. But in a development that didn't register with enough people this past year, a new McCaskey assumed leadership in the summer. George McCaskey, the younger and more involved brother of former chairman Michael McCaskey, is now ultimately responsible for the team.
We'll find out soon whether it was George McCaskey
who fired Jerry Angelo on Tuesday
or whether the parting was mutual. But make no mistake: One of the NFL's most stable franchises has jumped into uncertain waters for the first time in a decade. The move is a surprise mostly because it came from the Bears. Angelo's 11 seasons are more than most NFL franchises give their general managers.
Angelo has run the Bears' football operations since 2001. He hired coach Lovie Smith in 2004, and together they have one of the longest tenures of any football leadership structure in the NFL. Angelo's departure leaves every aspect of the Bears' program under review, including Smith, and there is no telling where that might lead. Smith signed a contract extension last winter through the 2013 season, but after today he won't be working for the person who hired him. That situation rarely bodes well for a head coach, at least in the long term.
We'll get more into Angelo's time with the Bears as the day progresses. Suffice it to say, it will go down as a mix of on-the-field success and front-office missteps, including a series over the past calendar year that suggested Angelo's regime was lively but disorganized. A botched draft-day trade with the
Baltimore Ravens
, the failure of free-agent signings
Chester Taylor
and
Brandon Manumaleuna
, (which cost the McCaskey family about $12 million for nearly no production) and the arrest of receiver
Sam Hurd
on federal drug distribution suspicion were the latest examples. Eventually, those things pile up.
More to come.
March, 23, 2011
3/23/11
8:00
AM ET
We're Black and Blue All Over:
NEW ORLEANS -- How will the Green Bay Packers deal with the ultimate success they achieved in 2010? That's a topic coach Mike McCarthy has spent some time addressing this offseason, writes
Rob Demovsky of the Green Bay Press-Gazette
.

McCarthy: "We've achieved team success at the highest level, and I'm a big believer that every level you hit brings new devils. Definitely, there will be some new challenges that come with winning the Super Bowl. We're anticipating it. It's something we'll talk about and keep in the forefront as a football team because to me, that's where I've seen failure. Whether it's a guy getting a new contract or a guy getting a new opportunity or a coach that's now getting more attention, it touches everybody.

"It's not just the players. We've got to handle success as an organization. It's a responsibility that we have to be in tune with. One thing about our organization is we have a little experience handling world championships, so I'm not as concerned about that. I'll be watching for it for sure, but I'm not going to overreact to it, either."
NFL offseason rules have left McCarthy watching his players from afar. Truth be told, we won't know how they -- or his coaching staff -- have been impacted by winning Super Bowl XLV until they re-convene for training camp.
Continuing around the NFC North:
March, 22, 2011
3/22/11
7:55
AM ET
We're Black and Blue All Over:
NEW ORLEANS -- When the Chicago Bears benched defensive tackle Tommie Harris last season, they replaced him with third-year player Matt Toeaina. But are the Bears targeting another third-year player as Harris' permanent replacement?

Bears general manager Jerry Angelo seemed to give that impression during a
wide-ranging interview with Michael C. Wright of ESPN Chicago
. Angelo suggested that Henry Melton, who technically has been listed as a defensive end, could make the conversion to defensive tackle.
Angelo: "... Obviously, the plan is for him to play more, and hopefully be the starter. He's still a work in progress. But everything we saw this past year, in particular during the season, we liked. He just kept getting a little better, a little better. The arrow's going up. We feel, physically speaking, he's got everything you want in terms of size, speed, toughness. That's not any question. Now it's just a matter of learning the position and that will come with the repetition of more play. We feel real good. No guarantees, but everything we look for, he has. That's the good thing. He has shown that at some point or another."
I still think the Bears need to consider defensive tackle one of their top offseason priorities. But with such uncertainty about the timing of offseason acquisitions this year, there could be some weight behind Angelo's suggestion. If there were ever a year to rely on an internal replacement, it's this one.
Continuing around the NFC North:
May, 26, 2010
5/26/10
7:10
AM ET
Even as NFL owners
awarded the 2014 Super Bowl to New York/New Jersey
, by far the most-discussed league-wide story Wednesday was the shocking and emotional decision of Minnesota Vikings defensive end Jared Allen to shave the mullet that has come to define his personality.

I thought it was funny enough to
mention through Twitter
, but far be it from me to hold back what's clearly become a lightning rod for the nation. Mike Wobschall of Vikings.com
included a photograph of Allen's new banker look
, one prompted by his upcoming wedding.
"The things men do for love," Allen said.
Over on our
Facebook page
,
Kristina
mentioned the dreaded "S" word: Samson. I'm sure Vikings fans are shuddering at possibility of Allen suffering a
similar fate
.
Via his
own Twitter account
, Allen sought to stem the tidal wave of confusion, shock and tears:
JaredAllen69inc

The mullet was trimmed for the wedding but the Moolay is more than just some hair, its a lifestyle! You gotta keep a positive Mullitude....
Yes. In this difficult time, let's all focus on the Moolay.
Continuing around the NFC North:
April, 21, 2010
4/21/10
4:49
PM ET
Wednesday marked the NFC North's final pre-draft news conference, and in Chicago the festivities also included some context for a surprising ownership announcement. We'll start with what I thought was the most critical statement of the day from
Chicago Bears
general manager Jerry Angelo and then move on to the pending ascension of George McCaskey.
(So no one feels jilted, here are links to our take of the news conferences in
Detroit
,
Green Bay
and
Minnesota
.)
After several weeks of discussion, someone finally put the question to Angelo: Would you really consider robbing the 2011 (or 2012) draft to move up this week? My corporate cousin
Jeff Dickerson of ESPNChicago.com
passed along Angelo's response. It's pretty definitive:
"We're out of that business," Angelo said. "I don't want to get cute and keep borrowing in the future with picks, because the one thing you know, it's very difficult to guarantee the present. Unless something happens that we really haven't created a scenario for, I doubt that we would do that."
As I've written many times this month, you're a fool to believe everything you hear during draft time. So I'm not ruling out the possibility that the Bears move higher than their current spot at No. 75 overall. But as a franchise, I don't think the Bears can afford to give up another first- or second-round pick to do it. If I had to guess, I'd say any upward movement on Friday will be minor.
Meanwhile, the Bears laid out a relatively benign explanation for why George McCaskey
will replace
older brother Michael as the team's chairman of the board. Family matriarch Virginia McCaskey is 87, Michael McCaskey is 66 and it was time to start the process of an orderly transition. The family has no plan to sell the team and instead wanted to give George McCaskey a full year to get situated before officially taking over.
"The Halas/McCaskey family intends to be running the Bears well into the future," Michael McCaskey said, according to the
team's website
, "so you need to have a good succession plan and a good way to carry it out. This will give George a transition year and leave the Bears in position to do what we've always tried to do, which is to pursue championships."
April, 21, 2010
4/21/10
11:49
AM ET
I'm not yet sure what to make of Wednesday's announcement that George McCaskey will succeed older brother Michael McCaskey as Chicago's chairman of the board after the 2010 season. Both men are scheduled to speak at a news conference in a few hours.
President/CEO Ted Phillps runs the franchise, and the Bears
said on their Twitter page
that he "will remain firmly in control of day-to-day operations." But the McCaskey family is the primary owner, and you wonder if this change relates to a long-term succession plan for matriarch Virginia McCaskey.
Stay tuned.
April, 1, 2010
4/01/10
7:28
AM ET
Tom Kowalski of Mlive.com
makes an important point about the impact of Notre Dame quarterback Jimmy Clausen on Detroit's draft status.

No, the Lions aren't interested in drafting Clausen a year after selecting Matthew Stafford at No. 1 overall. But Clausen represents the Lions' best chance to trade down out of the No. 2 overall pick, allowing them to accumulate additional picks to re-stock their roster.
It would be much more likely for a team to trade up for a quarterback than it would be for any of the elite defensive tackles that will be available at No. 2 overall. That's the nature of the game. So it's in the Lions' best interest to hope that at least one team -- Washington? Seattle? Cleveland? -- falls in love with Clausen and decides it can't leave the draft without him. With St. Louis apparently poised to select Oklahoma quarterback Sam Bradford, the Lions' No. 2 overall pick is the first place to guarantee Clausen's availability.
Continuing around the NFC North:
January, 5, 2010
1/05/10
4:25
PM ET
Thanks to the miracle of the Internet, I had the opportunity to watch all of Chicago's nearly-hour long news conference Tuesday afternoon. I heard some interesting answers, a few ridiculous statements and got the impression that coach Lovie Smith will be fired next year unless he produces a winning season. Here are my random thoughts:
[+] Enlarge

AP Photo/M. Spencer GreenLovie Smith likely has to produce a winning season in 2010 to keep his job.

Let's get the basics out of the way. Smith and general manager Jerry Angelo have kept their jobs. The Bears will hire new offensive and defensive coordinators from outside the organization. Assistant head coach/defensive line coach Rod Marinelli will remain in his role and is not a candidate to be defensive coordinator, Smith said.

Team president Ted Phillips produced a tortured and semantic argument for why the return of Angelo and Smith shouldn't be considered a commitment to the status quo. At one point, Phillips said that "status quo was not an option and changes were necessary" after a third consecutive season without making the playoffs. A few minutes later, he added: "I know some may disagree, but I believe the fastest way to improve is to keep the continuity that we've had with Jerry Angelo and Lovie Smith." Huh? Phillips later said that adding two new coordinators "are not insignificant" changes.

In order for those changes to be significant, however, they will have to be just that: A change. But Smith testily defended his Tampa 2 defensive scheme and made clear he would prefer a defensive coordinator who shares his philosophies. Many of us thought we witnessed a fundamental breakdown of the Bears' defense in 2009, but Smith characterized the problems as fixable and said the new coordinator would just need to "tighten up a few bows." Wow. Rather than change the scheme, Smith said: "These are things that we can correct. It doesn't need a total overhaul of what we believe in."

Offensively, Smith said he is "open" to any approach as long as it is balanced. In trying to suggest the team is better equipped to throw than it once was, Smith somewhat bizarrely said: "We realize that we have some of maybe our best weapons at the receiver position." I don't know if everyone in the NFL would agree with that. He said he will talk to young minds and old minds before hiring someone. One heavily speculated candidate is Jeremy Bates, currently the offensive coordinator at Southern California and once Jay Cutler's quarterbacks coach in Denver. Another is former St. Louis coach Mike Martz, who has already told the Chicago Tribune he is interested in the job.

Phillips said he arrived at the decision to keep Angelo and Smith in consultation with two members of the McCaskey family, Virginia and Michael. He said the 2009 season "tested" his confidence level in his top football men and said he had the "financial wherewithal" to pay both of their buyouts if he wanted to fire them.

It was interesting that Phillips noted several times that Smith has never had back-to-back losing seasons. That would suggest Smith needs a winning season next year to keep his job. Here was a key quote from Phillips: "We don't think the cupboard is bare. We don't feel that we have to put up with another losing year."

Angelo said he didn't think that making Devin Hester a full-time receiver was a mistake, despite his concurrent falloff as a kickoff and punt returner. "What we tried to do is get the ball more into Devin's hands," Angelo said. "It's hard to be a prolific returner for a career. It's a very difficult job to do." I think Angelo was trying to say that Hester wouldn't have maintained his return pace even if he hadn't become a receiver. I suppose we'll never know.

NFC NORTH SCOREBOARD
Thursday, 9/4
Sunday, 9/7
Monday, 9/8