August, 26, 2010
8/26/10
11:18
PM ET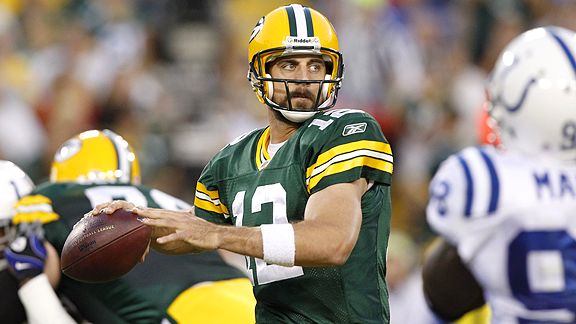 AP Photo/Jeffrey PhelpsAaron Rodgers completed 21 of 29 passes for 195 yards, three touchdowns and a 124.9 passer rating.
The worst opening sentences of any sports story I've ever read went this way:
Somebody call 911.
[Random player] is on fire.
But for whatever reason, those sentences keep running through my head after watching the first half of the
Green Bay Packers
' preseason game against
Indianapolis Colts
. So here goes:
Somebody call 911.
AARON RODGERS IS ON FIRE AND THERE ARE FLAMES COMING OUT OF HIS ARM AND OH MY GOD IT CAN'T BE STOPPED!
OK, that's out of my system now.
If anyone has any doubts about what Rodgers and the Packers could do this season, I hope you at least watched the first half of Thursday night's
59-24 romp over the Colts
. Rodgers overcame some early inaccuracy to lead a surgical two-minute drill just before halftime, a 78-yard procession over 1 minute and 22 seconds that reinforced his near-elite status in this league.
I know it was only a preseason game, but if you were watching, you saw the Colts' first-team defense getting in his face and knocking him down multiple times. But Rodgers completed all seven of his passes on the drive, including three ropes to tight end
Jermichael Finley
that covered 40 yards and a 3-yard flip to receiver
James Jones
for a touchdown.
After missing on eight of his first 22 passes, Rodgers finished 21 of 29 for 195 yards. The effort actually lowered his preseason passer rating to a still-sick 142.3. In just over four quarters of play this preseason, Rodgers has completed 41 of 53 passes for 470 yards, six touchdowns and no interceptions.
Yeesh.
The Packers led the Colts 28-17 at halftime, after which both teams began sitting their starters. All in all, it was a pretty impressive night for a team with Super Bowl aspirations. You can see a winning formula developing before your eyes: An offense that averages 56 points per game and a defense that gives up some yards but also makes some big plays.
(Joking on the 56 points. For the most part.)
Let's hit five random observations before calling it a night. You have to read until the end to find out the last time the Packers scored so many points in a preseason game.
[+] Enlarge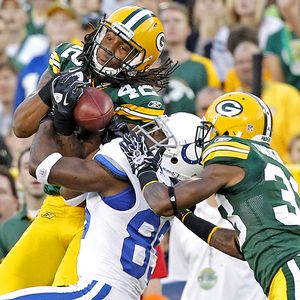 AP Photo/Jeffrey PhelpsMorgan Burnett (42) is making a strong case to be the Packers' Week 1 starting strong safety.
1. You are excused for getting jittery after the Colts ran up 17 points on their first four possessions.
Their first two plays were
Joseph Addai
's 49-yard run and an 18-yard touchdown pass from
Peyton Manning
to
Pierre Garcon
. On the former, defensive tackle
B.J. Raji
got moved way out of position, and on the latter, safety
Nick Collins
appeared to be barking instructions to rookie
Morgan Burnett
when Manning quick-snapped the ball.
Thereafter, however, the defense settled down as coordinator Dom Capers appeared to go exclusively with nickel and dime packages. The Colts' next three possessions ended in two punts and an interception by Burnett, who surprised Manning with a veteran decision to jump a short route. I don't see how Burnett is not the Packers' Week 1 starter at strong safety.
Playing without linebackers
Clay Matthews
,
Brad Jones
and defensive end
Cullen Jenkins
, I considered it an acceptable preseason performance by the Packers defense. You?
2. I've picked on Raji a bit lately, but he did make a nice play to tackle receiver Reggie Wayne on a screen for a 4-yard loss.
Because of Capers' scheme choices, Raji spent almost the entire night as a defensive tackle rather than playing on the nose. That alignment also led to extensive first-team playing time for rookie defensive lineman Michael Neal, who started in Jenkins' place.
3. Running back Brandon Jackson ran hard after replacing Ryan Grant in the second quarter,
but Jackson's red-zone fumble in the second quarter isn't going to motivate coaches to give him similar opportunities during the regular season. Grant was removed after eight carries but no injury was reported.
4. When evaluating Rodgers' night, keep in mind that receiver Greg Jennings was deactivated as precautionary measure because of back spasms.
In his place,
Donald Driver
caught five passes, including a touchdown. Jones, meanwhile, had four receptions and the touchdown.
5a. The Packers scored two special teams touchdowns.
Consider it a confidence booster, if nothing else, for a group that had spent the summer trying to get its footing.
Korey Hall
recovered a muffed punt return in the end zone during the second quarter, and
Jason Chery
returned a punt 75 yards for a score in the fourth quarter.
5. Trivia answer:
The 59 points were the Packers' highest preseason total since defeating your Cedar Rapids Crush 75-0 in 1938.
July, 26, 2010
7/26/10
5:22
PM ET
July, 26, 2010
7/26/10
3:14
PM ET
Over on our
fast-paced Twitter feed
, we've had a nice little back-and-forth on the refusal of
Dallas Cowboys
rookie
Dez Bryant
to carry the helmet
of veteran receiver (and former Detroit Lion) Roy Williams in training camp.

Rodgers
My own feeling is that Bryant needs to lighten up and understand that carrying a helmet is less about hazing and more about showing respect for established teammates who are welcoming you to their circle.
Green Bay Packers
quarterback
Aaron Rodgers
(
@AaronRodgers12
), responding to a follower's question about Bryant, was more blunt: "I'd tell him he needs to pay his dues n fall in line."
Rodgers also tweeted: "Every rookie gets hazed. There should be a rite of passage" and added:
AaronRodgers12

Picking up some dinner bills, having a few pranks pulled on u n, doing some odd jobs for the vets is a small price to pay to gain respect

AaronRodgers12

No ones gonna get taped to a goalpost in gb or beat up but young guys should show some respect to the older guys and being a good rookie...

AaronRodgers12

Means keeping quiet n being in the right place at the right time n showing respect to the vets as long as it's appropriate
--
this quote
was brought to you by
quoteurl
And in case you're wondering, at least two Packers rookies were listening. Here's what defensive lineman Micheal Neal (
@mneal96
), Green Bay's No. 2 draft choice,
tweeted
: "yes sir!"
Offensive lineman
Bryan Bulaga
(
@Bbulaga
), the Packers' first-round pick,
added
: "agreed... words of wisdom right there."
July, 22, 2010
7/22/10
10:00
AM ET
NFC North teams made steady progress in signing their draft choices in my absence, and by my count, 10 of 27 rookies remain unsigned. (I'm including
Chicago Bears
running back
Harvey Unga
in that group after he was taken in last week's supplemental draft.)
Below are the players who hadn't agreed to terms by Thursday morning. There really is no reason to panic about any of their situations yet. Depending upon a team's philosophy and the agent's time management, many of these negotiations could continue until the eve of training camp next week.
*Update:
Detroit Lions receiver Tim Toone and cornerback Amari Spievey
agreed to terms
while I was sleeping ... er ... taking time away. I've fixed the chart below.
Detroit Lions
Round 1(a) defensive tackle Ndamukong Suh
Round 1(b) running back Jahvid Best
Green Bay Packers
Round 1 offensive tackle Bryan Bulaga
Round 2 defensive lineman Michael Neal
Minnesota Vikings
Round 2(a) cornerback Chris Cook
Round 2(b) running back Toby Gerhart
Round 4 defensive end Everson Griffen
Round 5(a) offensive lineman Chris DeGeare
Round 6 quarterback Joe Webb
Round 7(a) tight end Mickey Shuler
June, 29, 2010
6/29/10
5:00
PM ET
May, 17, 2010
5/17/10
5:15
PM ET
May, 3, 2010
5/03/10
1:35
PM ET
The NFC North mailbag filled up this weekend with questions, rants and general accusations. Why didn't I offer more coverage of the four rookie minicamps? Why didn't I write more about the one I attended in Minnesota? Why didn't I write less about it? Why didn't I break down
Michael Neal
's first step?
Jahvid Best
's eye-hand coordination?
Major Wright
's backpedal?
Consider it a lesson learned for me. I'm still not sure how I could have dealt better with four camps going on at once, but I do know you shattered my belief that rookie minicamps carry little appeal to the mass audience. (Although I wonder how many of you would change your mind after you saw how basic most of the drills and plays are. Just because you crave conclusions doesn't mean we should draw them if they don't exist.)
Anyway, I'll put down this revelation in my book for next year. For now, I'd like to leave you with a lasting impression from the local reporters who attended minicamps -- using our ESPN network of bloggers where possible.
The Vikings don't make this post because they closed all but about 30 minutes of their camp. While they did institute the first pool report in modern-day rookie minicamp history for Friday's practice, the efforts of said pool reporter were hampered by the limited roster he was provided. The Vikings wouldn't identify the nearly 30 players who participated on a tryout basis. This isn't punishment. It's just an acknowledgement of too little information to write anything useful.
Chicago Bears
(via
Jeff Dickerson of ESPNChicago.com
)
In addition to all the rookies and tryout players, a few second-year guys participated in the minicamp, one of the most notable being cornerback
Woodny Turenne
. Turenne flashed some impressive skills during training camp last summer, and has continued to improve this offseason according to those present at the voluntary workouts. It's a crowded group after the Bears signed
Tim Jennings
and drafted [Joshua] Moore, but Turenne has potential to make a contribution in this league at some point in his career.
Detroit Lions
(via
Nicholas J. Cotsonika of the Detroit Free Press
)
Perhaps no one needs to go home and study his playbook more than Best.
The Lions traded up to nab Best No. 30 overall because they think they can use him in several ways to make an immediate impact. ... "We threw just about everything we have at him, didn't spoon-feed it, didn't do just a little bit," [coach Jim] Schwartz said. "We did just about everything because he's a guy that when he does come back, he needs to assimilate right away into the offense. We can't slow the offense down for where he is. So we moved him around a lot, exposed him to a lot of different things."
How did Best handle it? "He sort of got his feet under him as the weekend went on," Schwartz said. "He started off maybe a little bit lethargic, then all of a sudden just exploded, and you can see what you saw on film with him. He obviously has speed. He obviously has instincts and quickness and those kind of things."
Green Bay Packers
(via Jason Wilde of
ESPNMilwaukee.com
)
While the Packers could still add a veteran [linebacker] via trade or the waiver wire later this summer or during training camp, for now, [Tim] Knicky, [Frank] Zombo and [John] Russell are in prime position to earn a roster spot as an undrafted free agent. "We're definitely looking at that position," Packers coach Mike McCarthy said after Sunday's final practice. "I like all their attitudes and their energy, and I like the way they competed in the one-on-one drills. Every one of them flashed in some of the team drills. You can see why they were productive football players in college. I think all three of those guys have a chance." The 6-foot-4, 251-pound Knicky started his college career as a walk-on at Stephen F. Austin but developed into an effective pass-rushing defensive end, registering 12.5 sacks as a senior last season despite a sprained ankle. At his pro day, he ran a solid 4.63-second 40-yard dash. ... "That's a strong suit of my game -- speed off the edge," Knicky said. "I can get back in coverage fine and do all that, it's just getting the concepts down and knowing where to go and when to do it, that's the hardest part coming from just being a D-lineman and now you're a linebacker. You've got to do all that stuff."
April, 23, 2010
4/23/10
11:35
PM ET
EDEN PRAIRIE, Minn. -- Sorry about the choppy posting this evening. This draft format is new for all of us, and I decided to slow down a bit and wait until I had decent information on each draft pick before writing anything. So with that said, let's make a thorough rundown of Friday's second and third rounds from an NFC North perspective.
Green Bay general manager Ted Thompson executed a significant trade upwards for the third consecutive year,
perhaps permanently altering his reputation as a conservative collector of surplus picks. "I know," Thompson
joked to Wisconsin reporters
. "I'm going to have to stop this."
This year, Thompson moved up in the third round to select Georgia Tech safety Morgan Burnett, a playmaker who had 14 interceptions in three seasons with the Yellow Jackets. The Packers don't have an immediate need at safety, but at the very least Burnett gives them an option should starter
Nick Collins
or
Atari Bigby
suffer an injury. It also gives the Packers flexibility as Bigby's unrestricted free agent year approaches.
"I think he's got all of the ingredients we look for to play safety," Thompson said. "I think he has the ability to be a dual guy and be the kind of guy that you are looking for that is athletic enough to cover down and can still come up and make tackles."
In
this report

, Scouts Inc. suggests Burnett has above-average ball skills but marginal run-support ability.
Chicago also nabbed a third-round safety that could be playing a prominent role within the next year.
In fact, coach Lovie Smith told Chicago reporters "it is safe to say" that Florida's Major Wright will be in the mix for a starting job at free safety in 2010.
"Being our first pick, I would say that he assumes he is going to come in and play quick," Smith said. "There is a long ways to go before you put a rookie in the starting lineup. We feel good about some of our players that we have here right now, but we don't have the depth here that we need."
Smith suggested that Wright could eventually provide the back-end leadership once supplied by former Bears safety
Mike Brown
.
"Tim Tebow did an awful lot for Florida on the offensive side of the ball," Smith said, "and I think [Florida coach] Urban Meyer would talk about Major doing some of those same things as far as being the fighter, the guy that is vocal, the guy that players look to for a bit of that leadership. That's what we are looking for a little bit, we are looking for a guy -- we have had a great guy in the past in Mike Brown, a big hitter, played the pass well and was a quarterback back there -- Major has done some of those things."
How happy is Wright to be with the Bears, a team where he could play almost right away? Check out what he told Chicago reporters: "I literally ran down the street and just lay in the middle of the road and started crying."
Wow.
Detroit addressed arguably its more glaring need with the No. 66 overall pick,
selecting Iowa cornerback Amari Spievey. As of now, Spievey conceivably has a chance to start right away. That could change if the Lions sign veteran Adam "Pacman" Jones, but to this point
Chris Houston
is the only surefire starter Detroit has at cornerback.
General manager Martin Mayhew said the Lions were attracted mostly to Spievey's toughness and sound tackling skills.
"It's hard nowadays to find corners who are really solid tacklers, who are really physical players and this guy plays the game that way," Mayhew said. "I think he'll fit into our defense very well. He'll come in, I think, from day one and be a good player on special teams and compete for a chance to get a lot of playing time."
The Packers project Purdue defensive lineman Michael Neal as an end in their 3-4 scheme,
based on what line coach Mike Trgovac
told Wisconsin reporters
. Neal gives the Packers some flexibility as they wait out
Johnny Jolly
's much-delayed trial on federal drug possession charges in Houston, but he'll also be an upgrade from the end rotation the Packers used last year.
New Minnesota cornerback Chris Cook was suspended from school in 2008 because of poor grades.
He spent the year working at a Sears warehouse, he said, "putting refrigerators and stoves and washing machines and dryers on the back of trucks and unloading trucks, taking trash out to the dump and everything."
Virginia allowed him back in school last year, and he was determined not to let the opportunity pass by.
"It killed me that I had to sit out for a year," he said. "I won't say it benefited me, but I feel like it made me a smarter person and a stronger person, having to deal with that situation."