NFC North:

Micheal Spurlock
December, 13, 2013
12/13/13
7:30
PM ET
ALLEN PARK, Mich. --
Don Carey
lined up on special teams in training camp his rookie season. This, he knew, was how he was going to make an NFL roster. The Cleveland coaches were giving him a chance during training camp as a gunner.
He lined up. Got ready. The ball was snapped. It didn't go well.
"A couple of the vets took me to the Gatorades," Carey said. "Took me to the Gatorades."
[+] Enlarge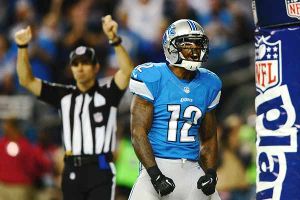 Andrew Weber/USA TODAY SportsWhen Jeremy Ross isn't catching TD passes, he's usually fighting his way downfield to cover a punt.
As in pushed him so far out of bounds he was thrown into the tubs of Gatorade on the sidelines. After that, Carey went to
Josh Cribbs
to learn the intricacies of playing one of the most important spots on special teams.
Every gunner has this type of story, the welcome to the world of special teams moment that makes them realize both what it takes to be a gunner in the NFL, and also whether or not they can handle it.
And for many players, it is a way onto a roster.
It's a position often overlooked, and many times fans have no idea who the gunners are. But to NFL teams, they are extremely important. They are the ones who keep big returns from happening. They are the ones who make punters look good.
And it is something that takes time, strategy and a certain type of mentality to perfect.
"You have to have a combination of mental toughness and physical toughness," said assistant special teams coach Evan Rothstein, who coaches the gunners. "The speed to get downfield in about four-and-a-half seconds to go and make a play. You have to be mentally and physically tough ... it's a want-to type of position.
"You have to want to go make a big play."
They also have to understand there will be points, especially early on, where being a gunner will likely end in failure in a big way. Every gunner has that type of story, especially early on in their career.
Micheal Spurlock
, the former Lions returner and gunner, remembers being tossed aside into the bench by Shawn Springs when he was with Tampa Bay facing Washington.
Jeremy Ross
, who replaced Spurlock at both spots, was with New England his rookie year when he was thrown out there in the preseason.
And promptly tossed to the ground.
"Both guys were on top of me," Ross said. "And I couldn't do nothing."
Eventually, they learned, and now, with some years of experience in the NFL, have become a good gunner tandem for Detroit. For most of the season, Carey and Spurlock were handling the duties. Once Spurlock was cut, Ross took his place.
Both Ross and Carey have similar size and speed to be effective against single press (one defender) and double press (two defenders) coverages that are trying to keep them from the punt returner.
So what, actually, is a successful play for a gunner?
"A gunner has done his job if he makes a tackle or forces a fair catch," Rothstein said. "So if you're making a tackle or forcing a fair catch, that's a job well done for a gunner."
The Lions have the third-best opponent punt return average in the league, holding returners to 5.04 yards a return. The Lions have also forced 11 fair catches this season.
Most of the actual strategy for gunners, especially for a dome team like Detroit, comes during the week studying how punt return teams block for their returner and how they try to jam the gunners at the line. That's the biggest key. In order for any gunner to have any success, he must learn to beat the initial jam coverage.
The planning that happens during the week, besides studying the jammers, is understanding where punter
Sam Martin
will likely try to place his punts during the game based off tendencies and potentially anticipated weather and wind.
There are times during games, though, that strategy becomes useless and becomes all about beating your man -- somewhat akin to how a receiver tries to beat a cornerback. Spurlock compares it to a fight. Every time.
"Your job is to get down to the returner as fast as you can," Ross said. "And cause havoc, you know."
Being thrown to the Gatorade tubs or to the ground, that's something every good gunner eventually learns how to do. Create chaos in five seconds or less.
December, 9, 2013
12/09/13
8:00
AM ET
PHILADELPHIA -- Four hot issues from the
Detroit Lions
' 34-20
loss
to the
Philadelphia Eagles
.
Fourth-quarter follies:
This is Detroit's third straight loss in which it had a lead in the fourth quarter, and while Sunday could be viewed as more of an aberration due to the weather conditions, the way the Lions have lost these games is certainly a cause for concern. Two of those losses -- at Pittsburgh and at Philadelphia -- ended up being by double digits. Against Pittsburgh, three of the Steelers' last four drives ended in points -- a field goal in the third quarter and two touchdowns in the fourth quarter.
On Sunday in Philadelphia, the Eagles scored touchdowns on five of their final six drives and could have scored on the game's final drive except they chose to run the clock out instead. Considering how close most playoff games are and how little room for mistakes Detroit has to even make the playoffs, this is a big concern.
[+] Enlarge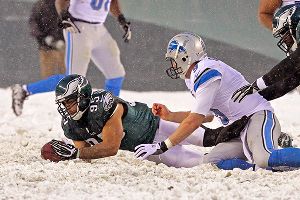 Elsa/Getty ImagesThe Lions lost three fumbles and the turnover battle to the Eagles, 3-1.
Turnovers:
Again, this game is probably an anomaly for judging statistics, but with three turnovers Sunday -- all of them fumbles -- the Lions now have three or more turnovers in four straight games and five of their past six. It isn't a coincidence Detroit has struggled in these games, now losing three of their last four. The Lions haven't won the turnover margin -- a statistic that most consider a good barometer of team success -- since Week 6 against Cleveland.
Jeremy Ross:
The Lions made some good free-agent signings during the offseason, including starting running back
Reggie Bush
and starting cornerback
Rashean Mathis
. Returner Jeremy Ross is making Detroit look very good again as an in-season signing. The Lions picked him up after division rival Green Bay discarded him, and he has been an impact special teams player. He had two returns for touchdowns Sunday (one kick, one punt) but has consistently been giving the Lions good field position since he won the job from
Micheal Spurlock
. The job is his for the immediate future, too, since Detroit released Spurlock on Saturday to make room for cornerback
Chris Greenwood
.
Run defense issues:
There is a bit of a skewed look here because of the weather, but
LeSean McCoy
shredded Detroit in the second half and that he was able to do it in a game in which few players were able to get any true footing is a concern. The best the Lions can do, especially defensively, is wash away this game because they can't let this loss linger from a run-defense perspective. Detroit has been good against the run all season, particularly with how the defensive line has played to open up lanes for linebackers
DeAndre Levy
and
Stephen Tulloch
, but they need to remember how they played for the past two months instead of just on Sunday.
November, 30, 2013
11/30/13
12:00
PM ET
Since
Jeremy Ross
has arrived in Detroit, a castoff from Green Bay who was first signed to the practice squad and then promoted to the regular roster, he has insisted there were no ill feelings toward the
Green Bay Packers
.
He had friends on the team, in the wide receiver room he once inhabited. He understood why he was let go, a combination of production and injuries and pure numbers that left him the odd player out.
[+] Enlarge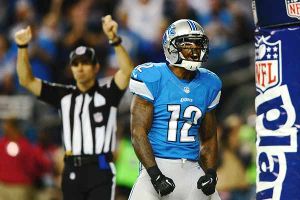 Andrew Weber/USA TODAY SportsReceiver Jeremy Ross reacts after scoring a touchdown during the second quarter against Green Bay.
So Thanksgiving, where he would see old friends and former teammates, would not provide any extra emotion or motivation for him. At least that's what he said.
The way he played said something completely different.
"It sucked to be cut," Ross said. "But I was just more upset that I was leaving relationships there. It was unfortunate.
"First thing I looked at was myself, see which ways I could prevent it, but, you know, try to bounce back."
Against his former team, he had no issues doing that. He put together his most productive day as a Lion on Thursday, contributing on offense, on special teams and solidifying a future role with the team for at least the rest of the season.
Ross played three offensive snaps. He got the ball on two of them, running a 24-yard reverse in the second quarter that was essentially all him. He made a Green Bay player miss in the backfield and then cut upfield for a big gain.
Then he caught a 5-yard touchdown on a slant route later in the second quarter to tie the game at 10-10 for his first career touchdown reception.
"It's like, man, given the circumstances, it did feel good," Ross said. "Like man, this is cool, you know. I got some boys I know over there. It just felt good to play against some people you know and score against them.
"It was good, man. Just scoring a touchdown, period, was big. It could have been against the Jaguars, Tampa, whoever, it doesn't matter. It just felt good to score a touchdown."
His role on the offense, though, didn't change much from a week ago other than he saw the ball on his limited snaps.
Where he was going to make his impact with Detroit, especially with the return of
Nate Burleson
to the lineup, was on special teams as a returner. He has replaced
Micheal Spurlock
there the past two games and has done what he could to make sure he doesn't lose the job.
He had 70 yards on kick returns and 46 yards on punt returns. The punt-return yardage could have been even more, but a 60-yard punt return in the fourth quarter was nullified by a penalty on
Jonte Green
.
But the way Ross handled the return duties -- by making smart decisions, showing good instincts to find holes and having speed to break away from defenders -- gave the Lions something they have been missing there the majority of the season.
"I felt good out there," Ross said. "I was motivated [Thursday] just to get out there and make big plays for my team. I thought it was about that time, to step out there and just get in there.
"My team did a great job blocking for me."
And he did enough on his own returning to probably hold on to that job from now on.
November, 8, 2013
11/08/13
11:35
AM ET
ALLEN PARK, Mich. -- Detroit is back after a week off and so is the
Detroit Lions
mailbag.
A little bit shorter mailbag this week as we head into the second half of the season. Detroit heads to Chicago for a massive divisional game to everyone -- well, everyone except
Brandon Marshall
, who said this is like every other game -- and a game that could determine a wild-card slot or possibly the NFC North title.
Remember, the mailbag is only as good as your questions. To contribute to future mailbags, drop an email to michael.rothstein@espn.com and include your first name and hometown, or shoot me a note on Twitter
@mikerothstein
.
On to your questions.
.
October, 30, 2013
10/30/13
2:40
PM ET
Each week, we'll look at who or what might be rising or falling with the
Detroit Lions
.
STOCK UP:
Johnson
WR Calvin Johnson:
329 yards? In a single game? Your already ridiculously high stock is still rising, Calvin Johnson. Not that there was much question, but Johnson solidified his spot as the top receiver in the NFL. He leads the league in yards despite missing a game. The better question now is where he fits in among the best receivers of all time. It's a pretty interesting debate.
WR Nate Burleson:
He isn't back on the field yet, but Burleson is inching closer to returning to the Lions and his reappearance will come at a good time. Detroit needs wide receiver help to complement Johnson and the emerging
Kris Durham
. Burleson is more than a nice complement. If he can return to game shape quickly, he'll be a much-needed addition with the season-ending injury to
Ryan Broyles
.
Detroit's playoff chances:
So often, the cliche goes, the difference between a successful season and not, between making the playoffs and not, comes down to five or six plays during the season. Almost assuredly, if Detroit makes the playoffs, the final drive against Dallas will be a massive marker as to why. With one of the league's easiest schedules down the stretch (only Green Bay and Chicago are currently above .500 of the teams the Lions will play), the Lions are in a good position right now.
RT LaAdrian Waddle:
The undrafted rookie played every snap Sunday but one -- he had to replace his shoe, which was falling off -- and did remarkably well considering his lack of experience. According to Pro Football Focus, Waddle
graded out at a plus-1.1 rating in his pass blocking against the Cowboys and a plus-2.1 run blocking
. Considering the average grade is zero, that should tell you how well he played.
STOCK DOWN:
Broyles
WR Ryan Broyles:
For whatever reason, Broyles just can't stay healthy long enough to contribute. He comes back from his first ACL tear last season, starts to make plays and tears his other ACL. Works his way back into the rotation this season and ruptures his Achilles on a fluke play. He is one of the nicest guys in a fairly friendly Detroit locker room, but right now he is either the victim of terrible luck, a body starting to fail him on an elite level or a combination of the two.
Returner Micheal Spurlock:
Detroit coach Jim Schwartz said Monday the decision not to keep Spurlock active for the Dallas game was not a benching but more due to the Lions' offensive tackle issues. It may not matter in the end, as his replacement,
Jeremy Ross
, had a 44-yard kick return. Where Spurlock is potentially hurt, though, is Ross is a capable option for Detroit as a receiver, where Spurlock is not as much of one and is more of a return specialist, so Ross can just do more. As a fifth receiver, that's important.
TE Joseph Fauria:
It is pretty clear that for now, Fauria's output is going to depend on the game. If offensive coordinator Scott Linehan feels better about three wide receiver sets in a game -- and with the return of Burleson, that's a pretty decent possibility going forward -- Fauria might have an inconsistent role the rest of the way. He has a ton of potential and is still a gigantic red zone threat, but Detroit didn't use him in the red zone against Dallas. His production might be the most volatile on the Lions roster.
October, 27, 2013
10/27/13
12:17
PM ET
DETROIT -- Of all of the
Detroit Lions
' inactives, the one that was unexpected was return specialist
Micheal Spurlock
not playing.
Spurlock
Spurlock has had his issues this season, but was healthy all week, so unless he suffered a late injury, this is a healthy scratch. Look for a combination of receiver
Jeremy Ross
and running back
Theo Riddick
to work kick returns and
Ryan Broyles
to possibly work in punt returns in place of Spurlock.
Detroit's other inactives are wide receiver
Nate Burleson
, quarterback
Kellen Moore
; running back
Mikel Leshoure
; cornerback
Jonte Green
and offensive linemen
Leroy Harris
and
Corey Hilliard
.
Also, and this isn't a surprise,
LaAdrian Waddle
is starting in place of
Jason Fox
at right tackle.
October, 24, 2013
10/24/13
4:00
PM ET
ALLEN PARK, Mich. -- The
Detroit Lions
are headed to London next season to face the
Atlanta Falcons
, but their interest in talking about a game a year away is nil.
The message throughout the Lions' locker room Thursday about heading to Europe next season was decidedly that they did not want to talk about it. They instead wanted to stay focused on Dallas. That started from the head coach, Jim Schwartz, on down.
"You know it's hard to get me to comment on next week, much less next year," Schwartz said. "We have the Cowboys this week. That [London] really has nothing to do with the Cowboys."
[+] Enlarge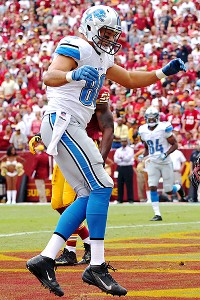 Geoff Burke/USA TODAY SportsTight end Joseph Fauria says life in the NFL is too volatile to worry about next season's schedule.
It doesn't, but the Lions will be one of six teams headed overseas for a week next season. Detroit will be the away team, which means the Lions will likely leave after practice Thursday, fly over and practice in England on Friday. They'll play Sunday and then return to the United States.
Some of the current group of Lions have played in London before. Defensive end
Israel Idonije
and wide receiver
Micheal Spurlock
played for Chicago and Tampa Bay, respectively, when the teams faced each other in 2011. Backup quarterback
Shaun Hill
played with Amsterdam in NFL Europe in 2003, but the London franchise no longer existed then.
Others have visited there. Safety
Louis Delmas
took a vacation there three years ago, but didn't want to talk about his experiences there, instead focusing on this season.
Others, though, haven't been over there at all.
"Never left the country," defensive end
Willie Young
said. "Never."
"No, never been out of the country," rookie punter
Sam Martin
said. "So yeah, it'll be cool. But I don't know anything about it. I still think it's awesome to play in the United States."
"Never been to London," receiver
Calvin Johnson
said. "Like I said, it'll be interesting."
Then there is the harsh reality of the NFL. Even if a player is planning on being with the Lions next season and planning on making the trip, you just never know what could happen in the league.
"Undrafted guys, even the fact that I am whatever, No. 2 or the starter, whatever you want to call it, doesn't mean my future here is in stone," said rookie tight end
Joseph Fauria
, who has a three-year contract. "Especially a young guy with not a lot invested in me when it comes to money, anything could happen.
"That's cool, but I'm mostly worried about the Cowboys."
The one person in the organization who would talk about it -- team president Tom Lewand. For the Lions, it was important to not give up a potential home game, which was why they agreed to play in the game against the Falcons. It is Atlanta's home game.
Part of the allure of going overseas to play, though, is the increased marketing opportunities for the franchise, along with giving Detroit's fan base a different place to travel.
"There's clearly some potential with existing partners and some potential future partners to do some activation internationally that is just different than the opportunities we have here," Lewand said. "But the real focus is on the challenge that it presents for our team.
"It's a different setting, a different experience, and that can only build skills and build experience as you have an opportunity to meet those challenges."
The last time Detroit played in England was during the 1993 preseason, when the Lions tied Dallas, 13-13.
October, 7, 2013
10/07/13
12:30
PM ET
GREEN BAY, Wis. -- A review of four hot issues from the
Detroit Lions
'
22-9 loss
to the
Green Bay Packers
.
[+] Enlarge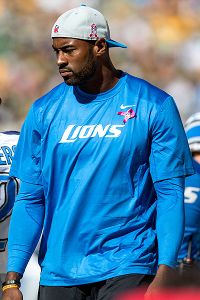 Tom Lynn /Getty ImagesLions coach Jim Schwartz said the team planned for a game either with or without Calvin Johnson.
No Calvin Johnson:
It doesn't sound like Detroit's superstar receiver will be out for long, but the Lions learned exactly how important he is to the scheme of their offense. Even more concerning, perhaps, is that coach Jim Schwartz insisted they planned for a game either with him or without him. Unlike against Arizona, when Detroit lost
Reggie Bush
in-game, the Lions should have been better prepared for life without Johnson, as dreary as the outcome may be.
With a healthy Johnson and Bush -- or at least both of them on the field simultaneously -- Detroit's offense is among the most explosive in the NFL. When one is missing, it is severely hampered. The other issue with Johnson's absence, and this is compounded by
Nate Burleson
's injury, is Detroit's other receivers are not going to be game-changers, at least not with consistency. Detroit desperately needs Johnson to return against Cleveland.
Chris Houston's health:
The Lions were fairly decent on defense Sunday, something that was somewhat missed in the final score. But
Aaron Rodgers
picked on Houston at points, and after the loss Houston himself admitted he wasn't fully back yet. He should get credit for trying to go, and he made some nice plays, but deeper routes were an issue for him. Luckily for Houston and Detroit, Cleveland quarterback
Brandon Weeden
is no Rodgers. Yet hamstrings can be fickle when it comes to healing, so Houston needs to make sure he's as rested as possible.
Rashean Mathis
and
Bill Bentley
played well opposite Houston on Sunday.
The NFC North will be close:
The Lions are halfway through divisional play now and are, frankly, where they probably belong at 2-1. This is going to be something to watch every week now as the Lions, Packers and Bears are all within a half-game of each other and could end up fighting for two playoff berths (the division title and one wild-card spot). There is still a ton of season left for every team and a lot can happen, but this division race might be one of the tightest in the NFL. The good news for Detroit: it is clearly in it. The bad news: it still has to go to Chicago and could have a tough stretch approaching with a game at surprising Cleveland followed by home games with Cincinnati and Dallas.
Returns still lacking:
Detroit is still searching for some impact in its kick- and punt-return game.
Micheal Spurlock
has broken only one return this season (on a punt) and has taken kick returns out of the end zone more and more the past two weeks. Be it the blocking or Spurlock's reads, the returns are just not an effective part of Detroit's game right now. Detroit didn't start at better than its 20-yard line on any drive Sunday.
September, 16, 2013
9/16/13
3:15
PM ET
ALLEN PARK, Mich. --
Detroit Lions
coach Jim Schwartz finished up his big weekly news conference Monday. Here are the highlights.

September, 15, 2013
9/15/13
7:27
PM ET
GLENDALE, Ariz. --
A few thoughts on the Detroit Lions' 25-21 loss to the Arizona Cardinals.

What it means:
This is a rough loss for Detroit. The Lions didn't play particularly well in any facet -- more on that below -- and still led the game late in the fourth quarter. But penalties -- eight of them for 101 yards -- proved critical.
Bill Bentley
was called for pass interference to set up Arizona's game-winning touchdown, and if he had turned around, it would have been fourth down instead of Arizona's ball on the 1-yard line. Two penalties in the third quarter extended a drive that led to a Cardinals field goal. Just tough mistakes.
Stock watch:
Stock up:
Detroit's front seven.
DeAndre Levy
had an interception return for a touchdown and the Lions were able to play well on third downs and in the red zone. They could challenge to be among the top groups in the NFL by the end of the season. Also up:
Calvin Johnson
. The best receiver in the NFL had two touchdowns in the first half and set two franchise records.
Stock down:
Rookie cornerback
Darius Slay
, who won the starting job out of training camp, was replaced for the second straight week by
Rashean Mathis
. Keep an eye on this during this week.
Special teams a mess:
Just a horrific day on special teams for Detroit.
David Akers
, who is usually reliable, missed a field goal, had another one blocked and another field goal attempt, which he missed, was nullified by a running into the kicker penalty. Returner
Micheal Spurlock
struggled returning kicks -- almost causing a safety on a kick return -- and punts, losing yardage on one return after essentially running the width of the field. This is the second straight week there have been some special teams issues for Detroit. Last week, punter
Sam Martin
muffed a field goal hold and struggled with his kicks.
Offense not the same without Reggie Bush
: Detroit's offense stalled without Bush for the majority of the second half. It gained 90 second-half yards, most of them without Bush.
What's next:
Detroit has its second road game in a row next week, heading to Washington to face
Robert Griffin III
and the 0-2
Redskins
.
June, 7, 2013
6/07/13
8:45
AM ET
By
ESPN.com staff
| ESPN.com
Chicago Bears
What can the Bears expect out of second-year wideout Alshon Jeffery? The Chicago Tribune's Dan Pompei says Jeffery should take "
a significant step forward
."
Defensive backs Tim Jennings and Charles Tillman
talked with NBC Chicago about managing expectations
coming off career years. Tillman: "I wouldn't say pressure's the word. You always want to outdo yourself. That was last year. Each year, you have to create an identity for yourself. Every year, I think about having a career year."
Detroit Lions
The Lions had the league's third-ranked offense last season, but that didn't always translate to points scored and at least
some of the blame lies with the defense
, according to Mlive.com's Justin Rogers. "The unit lacked big plays in 2012, finished 27th with just 17 takeaways. Even worse, Detroit scored just two points -- on a meaningless safety late in a Week 16 loss to Atlanta -- on defense and special teams," Rogers writes.
Offensive lineman Bill Nagy is
still working his way back
from a severe ankle injury he suffered in Cowboys training camp that cost him the entire 2012 season, reports Rogers.
Micheal Spurlock is the latest free agent the Lions have brought in to
shore up a special-teams unit that struggled last season
, writes Dave Birkett of the Detroit Free Press.
Green Bay Packers
Brett Favre took the blame
for his rift with the Packers during an interview with WGR 550 AM, reports Weston Hodkiewicz of the Green Bay Press-Gazette. Favre: "It's over and done with. I was at fault. I feel that both sides had a part in it. If you can go back would I or them have done things differently? I'm sure both sides would have, but you can't."
During a team physical Monday, running back DuJuan Harris found out he had a fist-sized cyst on his lung, the AP reports. The cyst, which was not cancerous, was removed Tuesday morning, and
Harris should be fully recovered before training camp opens next month
. "Thank God for team physicals!!!" Harris tweeted.
The contract of second-round draft pick Eddie Lacy
is worth $3.392 million, including $1,402,208 in guaranteed money, reports Rob Demovsky of the Green Bay Press-Gazette.
Minnesota Vikings
Tight end Kyle Rudolph was
energized by his performance in last season's Pro Bowl
, when he caught five passes for 122 yards and a touchdown, writes the Pioneer Press' Ben Goessling. Rudolph: "Just to be over there was an honor with all the great players in our game, and then to be named MVP was not in my wildest dreams; would not have expected it. To go out there and perform the way I did, it was a lot of fun and definitely a big confidence boost."
John Carlson's first season with the Vikings was derailed by injuries, but the tight end says
he's 100 percent healthy now
, writes the Star Tribune's Sid Hartman. Carlson: "My focus right now is to own a role in this offense. I'm going to try and improve every day and develop a rapport with Christian [Ponder] and Matt [Cassel] and the other quarterbacks. I can't change the past, so I'm looking forward."