April, 23, 2012
4/23/12
4:01
PM ET
By now you might have heard the latest blockbuster story relating to the
New Orleans Saints
. If not, here's the synopsis:
ESPN's Outside the Lines
is reporting that Saints general manager Mickey Loomis had the ability to eavesdrop on opposing coaches during games at the Superdome in part of the 2002 season, as well as all of the 2003 and 2004 seasons.
The entire report is here, including an on-the-record confirmation of allegations from the U.S. attorney for the Eastern District of Louisiana. If true, Loomis would have violated NFL rules and possibly federal law as well.
The NFC North played a central role in the most recent Saints story; quarterbacks
Brett Favre
and
Aaron Rodgers
were two of four quarterbacks the Saints took out bounties on, according to the NFL. It's not yet clear if the division will be affected by the latest story, but it's worth noting the Saints' performance against our teams at the Superdome in those seasons.
2002
Week 2:
Saints 35,
Green Bay Packers
20
Week 15:
Minnesota Vikings
32, Saints 31
2003
Week 6:
Saints 20,
Chicago Bears
13
2004
Week 6:
Vikings 38, Saints 31
More to come, I'm sure.
March, 22, 2012
3/22/12
6:46
PM ET
Minnesota Vikings
punter
Chris Kluwe
has never been afraid to speak his mind, and on Thursday
he went on ESPN 1500 radio
in the Twin Cities and called for a lifetime ban of
New Orleans Saints
linebacker
Jonathan Vilma
.
Kluwe
Vilma
According to the NFL, Vilma offered $10,000 to any player who knocked Vikings quarterback
Brett Favre
out of the 2009 NFC Championship Game. Commissioner Roger Goodell has punished the Saints, general manager Mickey Loomis and coach Sean Payton, but he hasn't announced specific discipline for players involved in the Saints' bounty program and is awaiting a recommendation from the NFL Players Association.
"I think this is a spot," Kluwe said, "where the [NFLPA] definitely has to take a stand and say, 'Look, you put other guys' livelihoods in danger. You're jeopardizing other guys' chances to play.' Football is violent enough as it is. It's hard enough to stay healthy in the league and so by maliciously trying to hurt people they need to show, we need to show, that there's no place in the game for that kind of behavior."
Based on the Saints' abuse of Favre, Kluwe said he spoke with Vikings place-kicker
Ryan Longwell
during the game about the possibility of a bounty.
"But you don't want to believe that something like that is happening because you think better of the other players."
Kluwe's point is well taken, and Goodell has already surprised most observers with the harshness of his initial penalties. A lifetime ban might be unrealistic, but we've already learned our lesson about projecting Goodell's plans in this instance.
March, 21, 2012
3/21/12
1:48
PM ET
From the beginning,
Minnesota Vikings
fans have taken the NFL's bounty investigation personally. The league, after all, found that the
New Orleans Saints
had given players a financial incentive to knock quarterback
Brett Favre
out of the 2009 NFC Championship Game. Although Favre did not leave the game, he was pummeled throughout and threw two interceptions -- one after an illegal hit -- that had a direct outcome on the game. Even if indirectly, many Vikings fans insist the bounty program impacted the outcome of a contest that decided the NFC's Super Bowl participant.
So shortly
after the NFL announced
its unprecedented sanctions against the Saints and its leadership, I threw out a question on Twitter: Was it enough for you? Has justice been served in the form of the following penalties?
Indefinite suspension of former defensive coordinator Gregg Williams
One-year suspension of coach Sean Payton
Eight-game suspension of general manager Mickey Loomis
Six-game suspension of assistant head coach Joe Vitt
A $500,000 franchise fine
Forfeiture of second-round draft picks in 2012 and 2013
Future discipline of individual players to be determined
With varying levels of anger, most of you said no.
"Nothing will ever be enough," tweeted
@missjackson75.
@KimSherayko
: "no bc what's done is done we can't replay the game."
@Shea_Carr:
"I would have like to see at least 1 first rd pick gone."
@JeremyAnderson:
"no, I think they should lose the trophy."
And in the end,
@PaulFerence
had the most thought-provoking response: "I'd take a year suspension for the coach, an 8 game suspension for the GM, and the loss of two 2nd rd picks for a title here."
I don't know if we'll ever settle whether the bounty program squashed the Vikings' Super Bowl hopes that year. Favre's second interception, as well as an inexcusable 12-men-in-the-huddle penalty, both played huge roles in a close game. I do, however, think you're entitled to eternal anger at losing to a team found to have competed above the ethical rules of the game and then lying repeatedly about it when confronted by the league. Often our natural (if immature) reaction is to assume that a victorious opponent cheated. In this case, that's exactly what happened, according to the league.
But in the same breath, I think you're underestimating how much turmoil this punishment will throw the Saints' entire franchise into. Say what you want about Payton, but he is one of the league's best coaches. The Saints won't have him in 2012 and can't promote Vitt, his logical replacement. Whoever coaches the Saints this season will be underqualified for the job, and it's easy to see a disastrous 2012 campaign that could reverberate for years to come. Removing a head coach from the mix for a year is unprecedented, and it would be wrong to assume Payton would seamlessly restore the Saints' championship-caliber play upon returning in 2013. On a personal note, Payton will lose his 2012 salary of $7 million.
And let's not forget that these sanctions could end the career of the man who masterminded the program and has been the first target of your ire. Gregg Williams' suspension is technically indefinite, but will he ever be hired as a defensive coordinator again?
In the end, I'm not sure if there were a set of penalties -- short of reversing the outcome of the game -- that could have distilled your anger in this case. If it makes you feel any better, the bounty program led to the steepest discipline in NFL history. That will have to do.
March, 5, 2012
3/05/12
1:00
PM ET
Judging by your comments, some of you are neither surprised nor particularly upset to learn that the
New Orleans Saints
had
a bounty
on then-
Minnesota Vikings
quarterback
Brett Favre
in the 2009 NFC Championship Game. Over
on our Facebook page
, for example,
Ace
wrote: "Wait a second. Does anybody actually care that NFL players are actively trying to hurt each other? I thought that's why we watch the game?"
Fair point. There is absolutely a segment of football fans drawn to the game by its physical brutality. For you, players incentivized to hurt one another ultimately enhance the violence and elevate the game to a modern-day gladiator scene, where combatants win by disabling their opponent. If you like that sort of thing, you loved seeing Favre pummeled during that game and probably should remove yourself from this conversation.
[+] Enlarge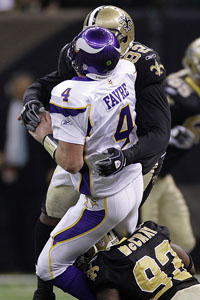 AP Photo/Mark HumphreyThe Saints put a beating on Brett Favre in the 2009 NFC title game.
The rest of you are wondering why it took the NFL two years to document what seemed painfully obvious (pardon the pun) in the days that followed: Regardless of their motivation or incentive, the Saints seemed determined to batter Favre, inside or outside the rules.
It was clear early on, when defensive end
Bobby McCray
drilled Favre in the chin after a handoff, and continued through a game that included two personal fouls and
a third the NFL later said should have been called
. Favre's ankle was
heavily bruised
after McCray grabbed it as part of a high-low hit in the third quarter, and in all it was one of the most brutal beatings we've seen a veteran quarterback take.
McCray was fined $20,000, and looking back, there were plenty of clues and suspicions circulating that suggested this was more than just a physical game. The Vikings were incensed by the Saints' approach and complained to the league the next day. A few months later,
then-coach Brad Childress said
: "What I hate to see are late hits or attempts to hurt anybody. I don't think there's a place for that in the game."
Asked if he thought that happened in the NFC Championship Game, Childress said: "Yes, I would have to say that, yes."
It's even worth taking a second look at the
Twitter "feud
" between then-Saints safety
Darren Sharper
and Vikings tight end
Visanthe Shiancoe
in the spring of 2010. What most of us thought was fun self-promotion takes on a different meaning with what we know now. The exchange began when Sharper, noting Favre's subsequent ankle surgery, tweeted: "Well y'all seen Brett had surgery on that ankle we got after in the championship game. Come Thursday night 1st game. X marks the spot."
We even
discussed the issue of deliberate attempts to injure
that spring. Did anyone know the Saints had a bounty on Favre in that game? Would it have mattered?
To me, not really. Whether there was a bounty or not, the Saints did everything they could to remove Favre from the game. In some cases, what they did violated NFL game rules. We've known that for two years. The only thing that's changed for me is that I no longer blame McCray or any other individual for playing out of control. Clearly, they were acting as part of a larger mentality conceived by defensive coordinator Gregg Williams and endorsed, at least tacitly, by coach Sean Payton and general manager Mickey Loomis.
Not to get all preachy here, but indulge me for a moment. Competition spurs some people to high achievement, but it puts others on a mission to limit the achievement of their opponents. Are you trying to win? Or are you trying to make the other guy lose? It's a subtle difference and doesn't necessarily correlate to win-loss records, but in the end, the Saints succeeded in making the Vikings worse than them on that day.
Under duress and in pain, Favre threw two interceptions, one of which came after an illegal hit by McCray. The Saints won in part by disabling their opponent. But at what price? The NFL will soon provide an answer to that question.
February, 4, 2010
2/04/10
12:00
PM ET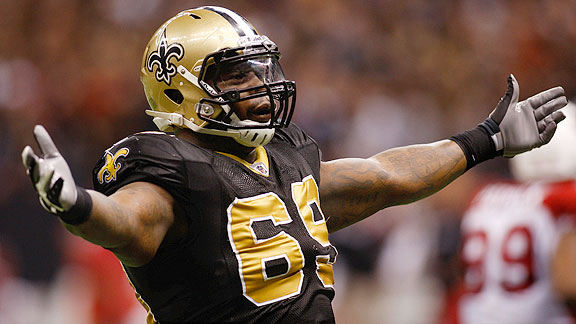 Chris Graythen/Getty ImagesAnthony Hargrove has taken advantage of the opportunity the Saints gave him entering this season.
MIAMI --
I was at a friend's house and I walked past a mirror. The person I saw, I didn't recognize. Dark eyes. Looking bad. I realized I had to do something different. Everybody has their moment when they say, "Man, I have to do something different."
For
Anthony Hargrove
, that moment came on April 4, 2008. A promising but troubled defensive end in St. Louis and Buffalo from 2004-07, he had been suspended from the NFL for multiple violations of its substance abuse program. It was time to get help.
What happened between that moment and today is one of the most compelling storylines of Super Bowl XLIV. Hargrove is now an important part of the
New Orleans Saints
, the only team willing to sign him last summer. He's a havoc-wreaking defensive tackle and a 300-pound cover man on special teams. He has spoken openly and eloquently about his journey, and so it seems appropriate to let him tell most of this story himself.
When you have the kinds of problems I did, you feel like you're locked in a closet. You're hoping someone will come by and let you out. Finally, somebody did.
Hargrove lost his mother to AIDS at age 9 and spent his childhood bouncing between family members and foster care. He believes God compelled him to see the ravages of drugs and alcohol when he looked in the mirror on that day almost two years ago. It directed him toward the Miami-based Transitions Recovery center for what turned out to be 10 months of rehabilitation.
When you go through a period like that in treatment, you see so much. I saw a lot of different things. I saw death. I saw people just giving up on life.
So you switch. You turn over. You say to yourself, I don't want to get to that point where I just give up on life, or I just throw in my cards and say, "I'm done with this." I'm always telling people, we can always do stuff with time. It's not over until we see 0:00 on the clock.
He watched the Super Bowl last year from Transitions.
It's quieter, I can tell you that. It's a lot quieter to watch a Super Bowl from rehab.
It was hard to watch the game because I wanted to be there. I was coming in and out of the room, doing laundry and whatever else. I really didn't want to watch it because I hadn't played that season. You get caught up thinking about all the stuff I did wrong to keep me out of the game.
While that game was going on, it was a reminder of all the stuff I did wrong to keep me out of the season and a reminder that I might not get back to it.
Days later, he met with NFL officials about reinstatement. His indefinite suspension was lifted after one year.
But now the hard part: How to convince a team to sign him? Playmaking defensive linemen are rare and valuable commodities. But who would want a player that two organizations already had given up on?