August, 6, 2012
8/06/12
10:00
AM ET
MANKATO, Minn. -- The
Minnesota Vikings
carry absolutely zero national expectations with them to training camp this summer. They parted ways with a half-dozen key members of the 2008 and 2009 NFC North champion teams, shifting into a transition period that will make it difficult to compete in a division filled with elite quarterbacks and playoff contenders.

As it turns out, the Vikings are devoid of internal expectations as well. They have in no way conceded a last-place finish in the division, but they appear realistic about their situation. Three days at Minnesota State University, Mankato, revealed an emphasis on the process rather than bottom-line results.
"This is the most focused and probably unassuming camp I've been a part of," linebacker
Chad Greenway
said. "And that's great. The last three or four years, we've been surrounded by hype, whether it be right or wrong or good or bad. There's been a lot of media fanfare, sometimes for good reasons but sometimes for bad. "
Greenway paused to choose his words carefully.
"There's no good way to say this, but we've sort of regained the youthful focus of having so many guys that are trying to make the team and make an impression. When you have that, you have guys just coming to work. … It's just about our work, less about what's going on outside of us and more about how we can try to get better. We haven't had perfect practices. We have maybe had some exceptional periods here and there. But we're grinding it out and having fun doing it."
"The only thing we're trying to do," cornerback
Antoine Winfield
said, "is come out each day and work to get better at something, whether it's technique or studying film. We're just trying to get better."
It's obvious the Vikings are more organized and have a clearer vision after a full offseason under general manager Rick Spielman and coach Leslie Frazier. Their camp is less hectic than the one they put together after the 2011 lockout, and as a result, Frazier said, "We've hit the ground running."
That's a good thing, because everyone agrees they have some catching up to do.
"Nobody is going to sit here from the inside and say we're going to be 10-6 and make the playoffs," Greenway said. "No one is going to talk like that, because we know it's about nothing but grinding it out every day. We just want to stack good days on top of each other."
THREE HOT ISSUES
[+] Enlarge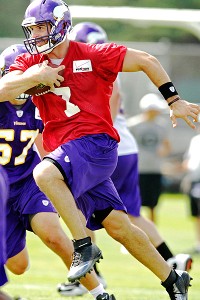 Bruce Kluckhohn-US PRESSWIREVikings quarterback Christian Ponder seems more comfortable with his teammates in his second season.
1. Quarterback Christian Ponder's progress:
By all accounts, including the amateur naked eye, Ponder has made strides since the end of an uneven rookie year. His throws in team drills came more often from the pocket than on the run. They were decisive and more accurate than what we saw last year, and Ponder has convinced most everyone surrounding the team that he will be better in his second season.
"He's much, much improved," Frazier said. "I was telling him the other day that we and his teammates all recognize how much more confidence he seems to have. He's communicating more as far as talking to players, telling them where to be and where to line up. He's in his second year. There is still some growth yet and some progress to be made, but he's come along."
During practice, Ponder circulates among veterans and young players with ease, discussing previous plays and keeping the mood light with a goofy but ever-present grin. After overthrowing receiver
Jerome Simpson
, Ponder stood next to him on the sideline, put his arm around him and said with a smile: "Well, I put it high and outside, just like you wanted it!"
Speaking later with reporters, Ponder said: "This is my team. I'm able to perform so much better and feel so much more comfortable knowing that, and knowing the situation I'm going to be in. I can play and I can prepare, and it's a good feeling."
2. Tailback Adrian Peterson's recovery:
Aside from a one-day setback following an allergic reaction, Peterson continued to demonstrate a fanatical determination to rejoin the team in time for its Week 1 game against the
Jacksonville Jaguars
. During the first day of my visit, Peterson spent more than 30 minutes trying to beat prescribed times in a 50-yard dash. The next day, he ran stairs at Blakeslee Stadium.
Although no one has an exact date in mind, the sense at camp is that Peterson's off-field recovery is nearing its end. Soon it will be time to be activated from the physically unable to perform (PUP) list and add football drills to his routine.
3. Changes up the middle:
An overhaul of the middle of the defense remains a work in progress. The Vikings debuted new starters at nose tackle (
Letroy Guion
) and middle linebacker (
Jasper Brinkley
), and it's expected that rookie
Harrison Smith
will soon take over one of the safety spots. "We knew we needed to get better up the middle," Frazier said.
Brinkley has allayed any short-term fear about his availability after injuries limited him during offseason practices. "We missed him this offseason and that was a little scary," Frazier said. "But he's come back this training camp and he's looked good. He hasn't missed a practice. Hasn't missed any drills. You can see that thump he had before his injuries, so we feel good about where he is right now."
Brinkley figures to have limited reps during the season because he has been coming off the field in nickel situations, and Guion probably will serve as a placeholder until the Vikings find a longer-term solution at nose tackle. But Smith projects as a cornerstone player whose ascension to the first team appears imminent. "Drafting Harrison is going to be a good move for us," Frazier said. "He has some range, the athleticism to really help us."
Mistral Raymond
appears to be the likeliest option to start alongside Smith.
REASON FOR OPTIMISM
[+] Enlarge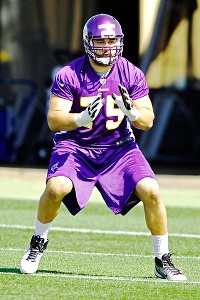 Bruce Kluckhohn-US PRESSWIRE Minnesota tackle Matt Kalil is a leader in a core of young players for the Vikings.
A favorable early schedule (at home against the Jaguars in Week 1 and at the
Indianapolis Colts
in Week 2) provides an opportunity for a 2-0 start, a confidence boost that could propel the Vikings to a more successful season than most have projected.
But from a big-picture perspective, the best thing you can say about the Vikings is they are following a clear long-term vision for the first time in years. They have rid themselves of players they believe no longer can contribute, pushed forward a core of young players -- a group that includes Ponder, Smith, tight end
Kyle Rudolph
and left tackle
Matt Kalil
-- and refused to overstep in their search for replacements at other positions.
What we've seen this summer isn't a finished product, but it can be viewed as a clearly identifiable step in building a winning program.
REASON FOR PESSIMISSM
No matter how much progress the Vikings make, they are in a tough division and will compete against teams whose program-building began years ago. The
Green Bay Packers
, under general manager Ted Thompson, have been at it for eight years. The
Chicago Bears
' core has been together since the mid-2000s, in most cases, and the
Detroit Lions
are in Year 4 under general manager Martin Mayhew and coach Jim Schwartz.
Meanwhile, it's important to view Ponder's progress in the context of division foes. Even if he is much better in 2012, Ponder likely still will be the fourth-best quarterback in the NFC North.
OBSERVATION DECK
New defensive coordinator Alan Williams isn't expected to make many schematic changes to the Vikings' Tampa 2 structure. "We're just going to try to take the things we've been good at in the past and do them better," Frazier said. With that said, Winfield said he has been encouraged by some minor tweaks that will allow corners "to play more aggressive and have a few more blitzes."

Winfield is healthy at 35 but the Vikings are protecting him with limited reps in camp. He has gotten some work as an outside cornerback, but it's expected he will serve mostly as a slot defender. "Who knows how much I'll be outside,'" he said, "but I'll definitely be inside. That's my home position."

It appears second-year player Brandon Fusco has won the right guard spot, even if by default. Veteran Geoff Schwartz was set to compete with Fusco for the job, but a sports hernia has put Schwartz behind and brought his availability for the start of the season into question.

Placekicker Blair Walsh, drafted to replace veteran Ryan Longwell, demonstrated an accurate and powerful leg early in camp. Unofficially, he missed only two of 26 kicks in team drills in the first nine days of practice, based on full-camp tracking from Tom Pelissero of 1500ESPN.com.

Tight end John Carlson's knee sprain provided extra practice repetitions for young tight ends Allen Reisner, Mickey Shuler and Rhett Ellison. It appears that Ellison, a fourth-round draft choice from USC, has quickly captured the imagination of his teammates. "We all love that kid," Ponder said. "He's got a little bit of [retired Vikings fullback] Jim Kleinsasser in him. He's tough. We watch his blocks, some of his one-on-one drills against linebackers. He's tough, man. He's got a little crazy in him. Great kid, too, and he's doing really good. ... He's got a little angry side to him. It's pretty cool."

Kalil's matchups with defensive end Jared Allen generated plenty of attention. But Kalil's early-camp performance was also notable for the energy with which he chased downfield blocks. "It's definitely an emphasis for me to finish downfield," Kalil said. "[Offensive line coach Jeff] Davidson makes a good point. You never know what can happen. You can grab a fumble or be there if something bad happens. It's always good to get downfield to be there or try to make that last block. Basically, the more effort, the better."

Greenway is among those who are trying to recalibrate the Vikings' locker room mentality to accommodate the influx of youth. "I think the biggest difference from years past," he said, "is that the veterans are trying to do a better job of embracing the rookies and help them. We need their help now, and we need their help to win now. We need them to come along as fast as possible."

The loss of receiver Greg Childs (knees) on Saturday night was a blow for the team's long-term plans, but in 2012 it's been expected that Simpson, Rudolph and Percy Harvin will be Ponder's top targets. Simpson has worked hard to earn Ponder's trust, while Rudolph's huge catch radius is a comfort for any young quarterback.
December, 3, 2010
12/03/10
12:42
PM ET
We
started tracking
the Jahvid Best-Toby Gerhart rivalry in Week 2 after Best broke out with 232 all-purpose yards in the Detroit Lions' near-upset of the Philadelphia Eagles. Not much happened for either tailback over the next two months, at least not until Gerhart replaced an injured Adrian Peterson and carried 22 times last Sunday in the Minnesota Vikings' 17-13 victory over the Washington Redskins.
So now is as good of a time as any to bring the numbers up to date. Here you go:
To review, the Lions and Vikings both entered the April draft in need of a running back. In a rare intra-division trade, the Vikings sent their No. 30 overall pick to the Lions in exchange for the No. 34 overall pick and a seventh-rounder (No. 214 overall). The teams also swapped fourth-round picks, with the Vikings moving up to No. 100 overall and the Lions moving back to No. 128 overall.
The Lions took Best at No. 30, while the Vikings drafted Gerhart at No. 51 overall. It's in some ways an apples-to-oranges comparison because Gerhart wasn't a part of the deal. But I thought it was worth tracking how each running back performed and if the Vikings got enough out of the rest of the deal to justify passing on the most explosive Best.
As it's turned out, Best has been a relative non-factor because of multiple turf toe injuries. He hasn't had a run longer than 20 yards, a reception longer than 22 yards or a touchdown of any distance since the Eagles game.
Gerhart hadn't received much playing time until Peterson's injury, but it's possible he'll be on the field more often Sunday against the Buffalo Bills. As for the rest of the Vikings' loot: Cornerback Chris Cook has been limited because of multiple knee injuries and has struggled in most of the six games he has played. Defensive end Everson Griffen has played as a reserve in six games, while tight end Mickey Shuler was lost via waivers when the Vikings tried to sneak him on to their practice squad.
September, 22, 2010
9/22/10
1:32
PM ET
EDEN PRAIRIE, Minn. -- We don't have any updates on the
Vincent Jackson
saga as we enter the final hours of his current trade window. But I can report that the
Minnesota Vikings
have added another receiver.
Someone looking a lot like veteran
Hank Baskett
arrived on the practice field a few minutes after stretching Wednesday afternoon. Rookie tight end
Mickey Shuler
wasn't on the field. The team hasn't confirmed anything, but you can reasonably guess what the transaction was.
Receiver
Percy Harvin
(hip) also wasn't practicing. As we
discussed Wednesday morning
, Baskett is probably here because of uncertainty on Harvin -- not because the Vikings have given up on acquiring Jackson.
As always, stay tuned.
September, 20, 2010
9/20/10
10:00
AM ET
On the occasion of
Jahvid Best
's breakout game Sunday against the
Philadelphia Eagles
-- he became the first rookie in NFL history to finish a game with at least 75 rushing yards, 150 receiving yards and three touchdowns in one game -- I think it's time to start formally tracking the intra-division trade that brought him to the
Detroit Lions
.
As you recall, the Lions traded into the first round to select Best. In exchange for the No. 30 overall pick, they gave the
Minnesota Vikings
the No. 34 overall pick and a seventh-rounder (No. 214 overall). The teams also swapped fourth-round picks, with the Vikings moving up to No. 100 overall and the Lions moving back to No. 128 overall.
Like the Lions, the Vikings had a definite need at running back. The Lions sought out Best, and the Vikings tacitly passed him up. Instead, they filled that hole by trading up in the second round to draft
Toby Gerhart
at No. 51 overall.
I realize some of this is an apples-to-oranges comparison because Gerhart technically wasn't a part of this trade. But in the end, both teams needed a running back. One landed Best and the other ended up with Gerhart and some better/extra picks.
Regardless, I still think it's worth watching whether Gerhart proves to be a productive consolation and if the other pieces the Vikings landed -- most notably cornerback
Chris Cook
(No. 34) and defensive end
Everson Griffen
(No. 100) make the trade worthwhile.
The charts below show what the five players involved in this trade, along with Gerhart, have done in the first two games of the season. We'll keep an eye on this dynamic throughout the year and update when appropriate.
September, 4, 2010
9/04/10
6:13
PM ET
Check
here
for a full list of Minnesota's roster moves.

Biggest surprise:
Veteran receiver
Javon Walker
had a difficult task: proving he was back to his playmaking self after three years of relative inactivity. Two touchdowns in two preseason games suggested he was on his way, but ultimately the Vikings weren't willing to risk a roster spot -- and, because he is a vested veteran, guarantee his base salary for the season. If nothing else, Walker seemed likely to make the team as a No. 5 receiver. But the move leaves the Vikings with four receivers on their 53-man roster. For me, it was also a minor surprise that the Vikings apparently will keep cornerback
Cedric Griffin
on the active roster, rather than place him on the physically unable to perform list. Griffin hasn't practiced since the end of last season because of a knee injury, but he must be close to returning. For now, he counts against their 53-man limit. Finally, the Vikings kept rookie
Mickey Shuler
among four tight ends. But that could be an attempt to pass him through waivers on a delayed basis for the purposes of getting him on the practice squad.
No-brainers:
Kickoff specialist
Rhys Lloyd
didn't have a touchback until the fourth preseason game, and his roster spot was simply too valuable. The only reason to keep a kickoff specialist is if he consistently puts the ball into the end zone. Lloyd didn't do that, and give some credit to the Vikings for eating the $200,000 bonus they gave him this spring. No sense throwing good money after bad.
Ryan Longwell
isn't the NFL's leading kickoff man, but he is good enough to prevent the Vikings from forcing this issue.
What's next:
You have to assume the Vikings will add a cornerback, either through waivers or via trade. Cutting
DeAndre Wright
and
Marcus Sherels
leaves the team with three healthy cornerbacks. It's almost mandatory that the Vikings find at least one more. Walker's departure makes you wonder if the Vikings
have another receiver targeted
, but it's also possible they will keep four until
Sidney Rice
returns at midseason. Finally, Friday's trade of
Darius Reynaud
to the
New York Giants
means the Vikings need to identify a punt returner.
July, 26, 2010
7/26/10
5:22
PM ET
July, 22, 2010
7/22/10
10:00
AM ET
NFC North teams made steady progress in signing their draft choices in my absence, and by my count, 10 of 27 rookies remain unsigned. (I'm including
Chicago Bears
running back
Harvey Unga
in that group after he was taken in last week's supplemental draft.)
Below are the players who hadn't agreed to terms by Thursday morning. There really is no reason to panic about any of their situations yet. Depending upon a team's philosophy and the agent's time management, many of these negotiations could continue until the eve of training camp next week.
*Update:
Detroit Lions receiver Tim Toone and cornerback Amari Spievey
agreed to terms
while I was sleeping ... er ... taking time away. I've fixed the chart below.
Detroit Lions
Round 1(a) defensive tackle Ndamukong Suh
Round 1(b) running back Jahvid Best
Green Bay Packers
Round 1 offensive tackle Bryan Bulaga
Round 2 defensive lineman Michael Neal
Minnesota Vikings
Round 2(a) cornerback Chris Cook
Round 2(b) running back Toby Gerhart
Round 4 defensive end Everson Griffen
Round 5(a) offensive lineman Chris DeGeare
Round 6 quarterback Joe Webb
Round 7(a) tight end Mickey Shuler
June, 29, 2010
6/29/10
5:00
PM ET
May, 21, 2010
5/21/10
7:15
AM ET
For a Friday in May, today is shaping up to be pretty busy in the NFC North.
For starters, the Chicago Bears will kick off their veteran minicamp with the first of five practices at 9:30 a.m. ET. About 90 minutes later, a Minnesota judge is expected to
release a key ruling
in the Williams Wall legal case. If the suspensions of Minnesota Vikings defensive tackles Kevin Williams and Pat Williams are upheld, I think we can start having a serious conversation about their looming absence for the first time since this saga started in December 2008.
Meanwhile, we'll have an army of
ESPNChicago.com reporters
on the ground at Halas Hall to bring you the micro details of every Bears practice. I'll pass along their information when I can and then come back early next week with some perspective on where the Bears stand.
In the meantime, let's preview the minicamp and see what else is happening around the division:
May, 17, 2010
5/17/10
5:15
PM ET
April, 27, 2010
4/27/10
1:00
PM ET
»
NFC Big Question
:
East
|
West
|
North
|
South
»
AFC
:
East
|
West
|
North
|
South
Who got the better end of the intra-division draft swap between Minnesota and Detroit?
There are several elements to consider here. First is the raw exchange. Minnesota gave Detroit two picks: No. 30 and No. 128 overall. The Lions sent the No. 34, the No. 100 and the No. 214.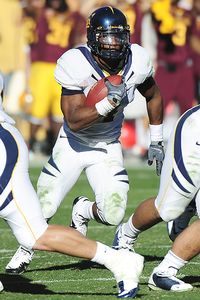 Nick Doan/Icon SMIIn their intra-division trade with the Vikings, the Lions were able to draft running back Jahvid Best.
Based on this trade value chart
, which has its flaws, the exchange was almost identical: The Lions received 664 total points in exchange for 666.8 points.
Second: the players taken in those slots. Detroit used No. 30 on tailback
Jahvid Best
and No. 128 on offensive tackle
Jason Fox
. Minnesota drafted cornerback
Chris Cook
at No. 34, defensive end
Everson Griffen
at No. 100 and tight end
Mickey Shuler
at No. 214. I would suggest Detroit got the best player of that group. Best is most likely to make immediate and long-term impact.
The third element is the big picture. Both the Vikings and Lions entered the draft with needs at running back. Minnesota wanted someone to replace
Chester Taylor
as
Adrian Peterson
's backup and the primary third-down back. The Lions needed depth with starter
Kevin Smith
rehabilitating a serious knee injury. The Vikings addressed their need by trading their third-round pick to move up 11 spots in the second round and draft tailback
Toby Gerhart
.
So at the end of the draft, the Vikings used two draft picks to acquire Gerhart as their backup running back, just as the Lions gave up an additional pick and fourth-round positioning to get Best. Minnesota also added one player it probably wouldn't have otherwise drafted had the trade not occurred: Griffen, who was considered a high fourth-round value. The Lions, meanwhile, had one player they likely wouldn't have had the opportunity to draft in Best.
(For now, I'm considering Shuler's spot to be marginal given its location.)
Some of you have objected to this line of thinking, but I believe this is one of the ways you have to consider this trade. Would you rather have Gerhart and Griffen or Best alone?
The Vikings gained a bit more volume in this trade, but the Lions got the "Best" player. That leaves me siding with the Lions.