August, 30, 2011
8/30/11
6:00
PM ET
As you know, NFL teams were required to reduce their rosters to 80 players by Tuesday. That high figure allowed most teams to save difficult decisions for Saturday's final cut down deadline for 53-man rosters. We'll take a look at some of the NFC North's top looming questions over the coming days, but for now let's get you up to date on how each team got to 80 players.
Chicago Bears
: Released
five players Monday
, including defensive end
Vernon Gholston
. Running back
Chester Taylor
was not among those released and told reporters he expects to play in Thursday's preseason finale.
Detroit Lions
: Released
eight players Monday
, including running back
Mike Bell
and place-kicker
Dave Rayner
, and released fullback
Jerome Felton
on Tuesday. The Lions appear to be moving away from the fullback position. Running back
Mikel Leshoure
, on injured reserve, no longer counts against the Lions' roster limit.
Green Bay Packers:
Released
three players Sunday
, including tight end
Spencer Havner
and receiver
Brett Swain
, and
three more
Tuesday
.
Minnesota Vikings
: Released
10 players Monday
, including quarterback Rhett Bomar.
August, 29, 2011
8/29/11
10:59
AM ET
The
Detroit Lions
are next up to the roster reduction plate. Among eight players released Monday morning were place-kicker
Dave Rayner
and running back
Mike Bell
.
Rayner's departure presumably returns the job to veteran
Jason Hanson
, who missed the second half of last season due to a knee injury. Hanson reported to training camp healthy and has converted both of his field goal attempts this preseason. And any concerns about his kickoffs at age 41 are mitigated by the NFL's offseason adjustment to the 35-yard line.
Rayner made some big kicks for the Lions last season and had converted two of three field goals during the preseason. But the Lions know that as long as Hanson is healthy, he is one of the NFL's top place-kickers.
In addition to Rayner and Bell, the Lions also released a fan favorite in receiver
Demario Ballard
. The full list is available
on the team's website
. The Lions must make two more cuts to comply with NFL guidelines by Tuesday.
August, 26, 2011
8/26/11
12:00
PM ET
In which we look ahead to NFC North preseason football over the next two days.
Green Bay Packers
Opponent:
Indianapolis Colts
Location:
Lucas Oil Stadium
Day/Time:
Friday/8 p.m. ET

Personnel notes:
Coach Mike McCarthy estimated that starters will play midway through the second quarter. Although they could see extra time, it's not expected that McCarthy will bring them out for the third quarter. ... Receiver/returner
Randall Cobb
(knees) and defensive end
Mike Neal
(knee)
aren't expected to play
. Receiver
Greg Jennings
(knee) could join them on the sideline. Running back
James Starks
(ankle) and linebacker
Clay Matthews
(hamstring) should return from a week off.
Focal point:
I'm curious to track how the Packers' offense performs when it is not in the no-huddle. That alignment has given them most of their success in the preseason, but I'm assuming they won't be running it every play during the regular season. From a competition standpoint, it's worth keeping a close eye on how tailback
Ryan Grant
performs and if Starks picks up where he left off before the ankle injury. Could Starks lay claim to the starting job with a strong showing?
Chicago Bears
Opponent:
Tennessee Titans
Location:
LP Field
Day/Time:
Saturday/8 p.m. ET

Personnel notes:
Most starters will play at least a half. ... Receiver
Sam Hurd
(ankle), linebacker
Lance Briggs
(knee) and defensive tackle
Anthony Adams
(calf)
have been ruled out
. Tight end
Kellen Davis
(back) could miss the game, while cornerback
Zack Bowman
(concussion) appears likely to resume playing.
Focal point:
The Bears' current offensive line configuration could lock itself into a Week 1 assignment with a solid outing that builds off last week's performance against the
New York Giants
. On the other hand, receiver
Roy Williams
needs to make a few catches in order to assure the Bears he is worthy of the starting job they handed him in training camp. Like most NFL teams, the Bears would like to see their offense produce a few touchdown drives before the preseason is over. Finally, I would like to see the Bears' defensive line rotation start shaking itself out. It's not clear at this point if they have a legitimate backup defensive end or if any of their two reclamation projects,
Vernon Gholston
and
Amobi Okoye
, will provide any help.
Detroit Lions
Opponent:
New England Patriots
Location:
Ford Field
Day/Time:
Saturday/8 p.m. ET

Personnel notes:
Starters will play around half of the game... Running back
Jahvid Best
(concussion) and
Maurice Morris
(hand)
aren't expected to play
, so the Lions are likely to start
Jerome Harrison
.
Mike Bell
,
Aaron Brown
and
Stefan Logan
will be available to rotate in. Defensive end
Kyle Vanden Bosch
(shoulder) is a strong candidate to sit out as well.
Focal point:
The Lions' uncertain depth at running back will be on full display. By the end of the night, we should have an idea if they have someone capable of carrying a significant load while sharing the job with Best. On the other hand, fans might get their first look at rookie receiver
Titus Young
. Meanwhile, the countdown continues for the first preseason hit on quarterback
Matthew Stafford
. He
told reporters this week
: "You guys can ask all you want. I don't think about it. I just play football and whatever happens, happens."
Minnesota Vikings
Opponent:
Dallas Cowboys

Location:
Metrodome
Day/Time:
Saturday/8 p.m. ET

Personnel notes:
Some starters are expected to play into the third quarter. ... The Vikings have a long injury list. Tight end
Visanthe Shiancoe
(hamstring), linebacker
Heath Farwell
(hamstring), linebacker
Jasper Brinkley
(hip), tailback
Toby Gerhart
(ankle), defensive tackle
Kevin Williams
(foot) and cornerback
Asher Allen
(toe) are among those who won't play.
Focal point:
The Vikings' first-team offense has produced three points this preseason and isn't likely to be on the field much in the preseason finale. So Saturday night is their best and last chance to build some momentum for the regular season. The offense hasn't appeared disorganized or confused. It just hasn't had much punch yet and its personality is far from defined. It would also be helpful if rookie
Christian Ponder
can establish himself as the No. 2 quarterback so the Vikings can free up
Joe Webb
to focus on the Wildcat and other unique packages.
August, 25, 2011
8/25/11
4:25
PM ET
One of the first reactions I got to
Wednesday's brawl
on the future of tailback
Ryan Grant
was both informative and entertaining: Would he be a fit for the
Detroit Lions
?
We now know that Grant has a guaranteed contract for 2011, making it pretty unlikely (but not impossible) that he'll be changing teams anytime soon. Still, the Lions-centric reaction evoked an important question: Where are the Lions going with their running game and is it reasonable to trust
Jahvid Best
in the primary role?
[+] Enlarge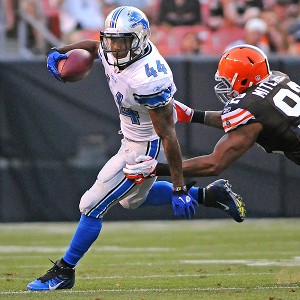 Eric P. Mull/US PresswireJahvid Best suffered a concussion against the Browns, raising fresh questions about his durability.
Best suffered a concussion in last week's preseason game against the
Cleveland Browns
and won't play Saturday night against the
New England Patriots
. All concussions are to be taken seriously, but with Best it's only fair
to note the one that ended his college career
in 2009.
When you combine the most recent concussion with his double turf toe injuries from a year ago, you realize there have been only a few windows in Best's pro career when he hasn't been limited by a significant injury. Obviously the Lions worked hard to fortify themselves by drafting Illinois running back Mikel LeShoure, but his ruptured Achilles tendon returned the Lions backfield to an unsettled state.
To me, the Lions have three questions they need to answer:
Is Best going to be healthy enough to take, say, 250 carries this season?

Does he have the kind of running style that makes sense for that kind of assignment?

Are there any reasonable alternatives?
From the top, there really is no way to know if Best will get hurt in the future. Fortune tellers, we're not. The Lions studied his concussion case thoroughly before the draft, so presumably they're not encountering any surprises in that regard.
On the second point, all we can say at this point is that Best didn't produce last season the way you would hope a feature back would. The toe injuries limited him to some extent, and the fact that he appeared in all 16 games at least speaks to his toughness.
But let's look a little beyond the numbers of a rookie season that saw him average 3.2 yards on 171 carries, courtesy of KC Joyner's
annual fantasy football draft guide
. (
Earlier:
The
Chicago Bears
'
short-range passing success
.)
Joyner tracks two metrics that, through film study, determine the extent to which running backs capitalize on good blocking and whether they can make up for bad blocking. Obviously, blocking success is a subjective measure, but Joyner loosely defines it as plays when no blockers allow a defense to disrupt the play.
Last season, Best had 98 carries where he received good blocking under that measure. In them, he produced the seventh-lowest ranking (5.6 yards per good blocking attempt) among running backs with at least 100 or more carries.
And on the 73 plays in which Joyner judged him to have received poor blocking, Best averaged a net total of 0.0 yards. Most runners average 1-2 yards in similar situations.
Again, this is but one way to evaluate running backs. And I'm not discounting the role the turf toe injuries played. But generally speaking, you want to see a feature back maximize well-blocked plays and at least occasionally get some yards on his own when his blockers get beat.
On the third point: The Lions signed veteran running backs
Jerome Harrison
and
Mike Bell
immediately after LeShoure's injury. They've gotten veteran
Maurice Morris
(hand) back on the practice field as well. Obviously they're not intrigued with any of the bigger-name running backs still on the market, a list that includes
Clinton Portis
and
Tiki Barber
, but I think it's fair to say they'll have their eyes on the waiver wire early next month when teams make final cuts to their 53-man rosters.
The Lions figure to be a pass-first team no matter who is in the backfield. Still, Best remains a key figure here. At the very least we can agree that no one knows for sure what he can do -- and what he can't -- over a long period of time.
August, 20, 2011
8/20/11
7:15
AM ET
Reviewing Friday's action at Cleveland Browns Stadium:
Detroit Lions 30, Cleveland Browns 28
Preseason record:
2-0

Of interest:
Quarterback
Matthew Stafford
had another sharp night, completing
six of 10 passes for 85 yards
in four series. He now has a 138.7 passer rating in two preseason games. He threw two beautiful downfield passes, a 30-yard go route to receiver
Nate Burleson
and a 27-yard pass down the seam to tight end
Brandon Pettigrew
. Under modest rush on back-to-back plays, Stafford scrambled to the left sideline and flipped the ball out of bounds twice. Unusual but effective, I guess. ... Burleson's 4-yard touchdown reception, on his 30th birthday, was an elite display of footwork at the back line. ... Tailback
Jahvid Best
took a hit on the first play that left him woozy, he said, and he didn't return after the first series, which ended with his fumble. The implication is that he suffered a concussion, but there was no confirmation Friday night. ... The first-team defense allowed two touchdowns but both were on short-field drives following a turnover and a long return. The drives started at the Lions' 34- and 21-yard lines, respectively. ... Receiver
Calvin Johnson
didn't play as a precaution against re-injuring his bruised left shoulder. ... I thought safety
Amari Spievey
again made a few nice tackles, including a 3-yard loss in the backfield against
Brandon Jackson
.
Local coverage:
Lions coach Jim Schwartz was pleased with how backup running backs
Mike Bell
and
Jerome Harrison
played after Best's injury, according to
Dave Birkett of the Detroit Free Press
. In the end, the Lions rushed for 176 yards on 45 carries. The Lions committed "way too many" penalties, noted defensive end
Kyle Vanden Bosch
, via
Chris McCosky of the Detroit News
. Best on his injury, via
Tom Kowalski of Mlive.com
: "It was nothing bad, but I just wasn't feeling right so they told me to sit down. I'm not concerned at all."
Up next:
Next Saturday vs. the
New England Patriots
August, 9, 2011
8/09/11
1:15
PM ET
ALLEN PARK, Mich. -- The
Detroit Lions
are once again navigating the loss of a significant player, and the dark irony is that their greatest asset in such pursuits is experience.
Quarterback
Matthew Stafford
was lost before halftime in Week 1 last season to a shoulder injury. The same thing happened to cornerback
Aaron Berry
, a surprise starter as a nickelback. In the wake of tailback Mikel LeShoure's torn Achilles tendon, receiver
Nate Burleson
reminded teammates that he tore his anterior cruciate ligament in Week 1 of the 2008 season while playing for the
Seattle Seahawks
. Defensive end
Kyle Vanden Bosch
missed 13 games of his rookie season with the
Arizona Cardinals
and all of his third season because of injuries.

So coach Jim Schwartz had an easy answer on Tuesday when I asked how he would combat the kind of "woe is us" response that could naturally result from LeShoure's injury.
"We've been though that with a lot of different players," Schwartz said, "and we have a lot of players on our team who have been through stuff like that."
If there was a silver lining to the timing of LeShoure's injury, it's that it came during the experimentation of the Lions' offensive scheme. We have all assumed the Lions planned some sort of one-two combination between LeShoure and starter
Jahvid Best
, but Schwartz said: "I don't know that we had mapped it out that much, anyway."
No doubt repeating the message he gave his team, Schwartz emphasized what we discussed Monday: While the loss will impact the offense, it's not as if the team has been left barren.
"That's one of the reasons you go through the preseason," Schwartz said. "It's to find things that guys can do and how you're going to use them and the best way to utilize that talent. It's not like we don't have other good players on offense and it's not like our plans have been dashed because of this.
"[LeShoure] was going to be an important part. He was doing very, very well, not just physically but mentally for a rookie. But we still have a lot of time and we still have a lot of good players."
At the same time, I think the Lions really missed out by not convincing free agent tailback
Ricky Williams
to sign Tuesday. Schwartz acknowledged the Lions had interest and said "there were other names, too," but in the end the Lions had veterans
Mike Bell
and
Jerome Harrison
on the field for practice.
Williams' hard-charging style would have complemented Best much in the way LeShoure was going to, but he chose to sign with the
Baltimore Ravens
instead. I wouldn't be surprised if the Lions continue to scan the market for other possibilities as the preseason rolls on.
A couple of notes from the Lions' indoor practice in helmets and shorts:
August, 9, 2011
8/09/11
9:36
AM ET

ALLEN PARK, Mich. -- Greetings from
Detroit Lions
training camp, where I arrived to find the team has responded aggressively to running back
Mikel Leshoure
's season-ending injury. The Lions signed free agent running backs
Jerome Harrison
and
Mike Bell
, and I believe both of them will be at the facility Tuesday.
At 225 pounds, Bell fits the profile of the type of back the Lions hoped to get from Leshoure this season. He has played for four other NFL teams, most recently the
Cleveland Browns
last season. Harrison, meanwhile, is a Kalamazoo, Mich., native who spent parts of five seasons with the Browns before he was traded to the
Philadelphia Eagles
-- in return for Bell, as serendipity turns out.
Both players are 28 and have been looking for a job since the end of the lockout. Some of you might have hoped the Lions would seek out a higher-profile name, perhaps
Clinton Portis
or
Tiki Barber
. But I wouldn't necessarily think the Lions are done looking for replacements. It could be a month-long process before they find the player they want to pair with
Jahvid Best
.
And that, in all reality, is the key point to take from these moves. The Lions aren't prepared to move forward with Best as their sole running back, especially with
Maurice Morris
recovering from a fractured hand. This Lions built their offense around the idea of a 1-2 backfield punch, and I think they're going to spend at least some time this summer finding out if they can still do that. More in a bit.
April, 16, 2010
4/16/10
10:55
AM ET
The restricted free agent portion of the offseason ended Thursday evening with exactly one player --
in the entire NFL
-- changing teams. New Orleans running back
Mike Bell
moved on to Philadelphia via a one-year contract.
To my knowledge, none of the NFC North's RFAs received serious interest from other teams.. Green Bay safety
Nick Collins
is the only one who parlayed his status into a
long-term deal
. That trend falls in line with the league-wide trend, and also means no Black and Blue team made a serious mistake in determining the appropriate tenders for its players.
In retrospect, a number of "new" RFAs -- those who would have been unrestricted free agents under the NFL's old offseason rules -- were absolutely victims of the uncapped year. Minnesota defensive end
Ray Edwards
, Green Bay safety
Atari Bigby
and perhaps Chicago defensive end
Mark Anderson
would have been in position to consider long-term offers from either their original team or elsewhere. Under the new rules, original teams had no incentive to offer long-term contracts. It's no surprise that none of that trio have signed their tenders yet.
Lists of un-signed RFAs are not yet public, but my records show at least nine NFC North players have yet to sign. That decision is mildly relevant at this point; they can't change teams and have until June 15 to sign or face a reduction in salary.
Unsigned RFAs can participate in voluntary offseason workouts if they sign an injury waiver. For that reason, unsigned RFAs really aren't newsworthy items unless they decide to skip the June 15 deadline and hold out from training camp. Stay tuned.
*Update: Cooterificus02
makes a solid point in the comment section: Several high-profile RFAs signed their tenders in order to be traded for alternate compensation. That list includes new Detroit guard Rob Sims. But obviously, those players didn't have the same role in determining their future team as a free agent would have.