February, 11, 2014
Feb 11
1:00
PM ET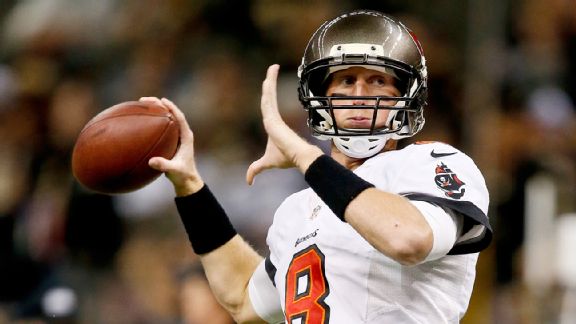 Derick E. Hingle/USA TODAY SportsMike Glennon, a third-round pick in 2013, started 13 games as a rookie.
Every time I start to think the
Tampa Bay Buccaneers
need to do something dramatic at quarterback, the same thought pops to mind:
Lovie Smith got to the Super Bowl with
Rex Grossman
. If he can do that, he can do the same with
Mike Glennon
.
I'm not saying Glennon's the next Joe Montana. But I am saying he's as good as Grossman was in the 2006 season for the
Chicago Bears
. In fact, Glennon has more upside than Grossman ever did, and that might be enough to get the Bucs out of a drought in which they haven't won a playoff game since their Super Bowl victory more than a decade ago.
Let's turn to the numbers. In Grossman's Super Bowl season, he completed 54.6 percent of his passes for 3,193 yards with 23 touchdowns and 20 interceptions. In Glennon's rookie year, during which he was surrounded by a diminished supporting cast and started the final 13 games, he completed 59.4 percent of his passes for 2,608 yards, 19 touchdowns and nine interceptions.
More important, in a crazy 4-12 season that featured the benching and release of
Josh Freeman
, Glennon showed promise. He showed poise, a strong arm and some savvy.
That's why I don't think the Bucs need to sign a high-profile free agent or use a first-round pick on a replacement for Glennon. Sure, bring in someone to push Glennon because a little competition can't hurt. But give Glennon every shot at being the starting quarterback for 2014 because that just might be enough for the Bucs.
In this day and age when everyone talks so much about the NFL being a quarterback-driven league, maybe the Bucs can break from the mold of luxury models and win big with a quarterback who's dependable and economical. If Glennon can be the guy, the Bucs will have three more years where they don't have to pay a quarterback big money.
As Smith takes over as the coach of the Buccaneers, he might already have the quarterback he needs. Let's look back at that Super Bowl season Smith had in Chicago. Grossman was ordinary. The Bears got as far as they did because they had a great defense, good special teams and a solid running game.
History has a way of repeating itself, so use your imagination a little bit and you can see a similar blueprint taking shape for the Bucs. They already have a very good defense that could become great if they use their free-agent or draft currency on a pass-rushing defensive end instead of a glitzy quarterback. Combine that defense with running back
Doug Martin
, who should be healthy after missing much of last season with an injury, and it's not too difficult to picture the Bucs having a winning season.
Glennon might not be
Drew Brees
,
Matt Ryan
or
Cam Newton
-- the three other quarterbacks in the NFC South -- but in Tampa Bay's situation, maybe moving counterclockwise is the right way to go. Upon his hiring, Smith even hinted he might view the position a little differently than most.
"Do I believe in a franchise quarterback? You'd have to explain [what] 'franchise' [means]," Smith said. "I believe you need to have a very good player at that position. Do I think you need a Hall of Fame guy to be able to win in the NFL? No. I think you can still win with a good quarterback."
Glennon can be a good quarterback. He did some good things last year even when the Bucs were without Martin and wide receiver
Mike Williams
and were down to their fourth tight end because of injuries. Glennon looked like he could be a legitimate NFL quarterback even as the offensive line was struggling and the play calling was questionable.
Glennon is a smart kid and a hard worker. He's only going to get better in his second season. I'd take Glennon ahead of draft prospects
Johnny Manziel
,
Blake Bortles
,
Teddy Bridgewater
and
Derek Carr
in the short term. I'd take Glennon over
Michael Vick
,
Matt Schaub
or any other veteran who might become available in the long term.
Glennon isn't a remarkable talent, but I think he's the right quarterback for Smith's system and for the Buccaneers and who they want to be.
We've covered Smith's history in Chicago. There's one other thing we need to touch on: Smith was the Buccaneers' linebackers coach under Tony Dungy from 1996 through 2001. Since Smith's hiring everyone has been pointing to the past as a possible sampling of the future.
Under Dungy, the Bucs were winning with a dominant defense and nothing special from their offense. Smith left to become defensive coordinator in St. Louis before moving on to Chicago, and Jon Gruden came in to replace Dungy and finally led the Bucs to a championship.
Although Smith was gone from Tampa Bay by the time the Bucs won their Super Bowl, he saw firsthand how the Bucs were built. He saw a team with Brad Johnson at quarterback winning a championship.
Glennon probably never will be compared to Brees,
Peyton Manning
,
Tom Brady
or
Aaron Rodgers
. But I think he can compare quite nicely with what Grossman and Johnson were.
They weren't super quarterbacks, but they were good enough to get to the Super Bowl. In the right system -- the kind of system the Bucs are trying to build -- Glennon could be a Super Bowl quarterback.
December, 18, 2013
12/18/13
7:10
PM ET
GREEN BAY, Wis. --
Eddie Lacy
's case for the NFL's offensive rookie of the year award keeps getting stronger.
And wouldn't it be fitting if he helped solidify it on Sunday against the
Pittsburgh Steelers
?
[+] Enlarge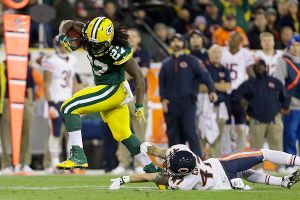 Mike McGinnis/Getty ImagesIt has been more than 40 years since Green Bay had a rookie running back top 1,000 yards rushing.
It was the Steelers who reportedly "
would not touch
" Lacy because of toe fusion surgery he had before his final year at Alabama. If Lacy needed any extra motivation,
which he said he did not
, Steelers coach Mike Tomlin said this week that picking running back
Le'Veon Bell
in the second round ahead of Lacy was "
an easy decision
."
"I mean, you can use it for motivation," Lacy said Wednesday. "But I'm not one to use external factors for motivation."
It was a rocky start for Lacy, who was the 61st overall pick in the draft.
He was criticized for being out of shape, something that wasn't helped by
an unflattering picture
that appeared to catch him in an awkward position during training camp. He fumbled in the season opener against the
San Francisco 49ers
and then was knocked out of the Week 2 game against the
Washington Redskins
because of a concussion that also sidelined him the next week against the
Cincinnati Bengals
(another team that picked a different running back ahead of Lacy).
Since then, Lacy's conditioning has not been an issue, he has not missed another game despite battling a sprained right ankle the past two weeks and he has been the most productive running back in the NFL since he returned in Week 5. In that stretch, he has an NFL-best 977 yards rushing. With 141 yards on 21 carries in Sunday's win over the
Dallas Cowboys
, Lacy was named the
NFC's offensive player of the week
and became the first Packers running back to rush for 1,000 yards as a rookie since John Brockington in 1971.
With 1,028 yards, Lacy ranks seventh in the NFL in rushing. The next-best rookie is
Zac Stacy
, a fifth-round pick of the
St. Louis Rams
, who ranks 10th with 854 yards. Bell, the second running back taken in the draft behind
Giovani Bernard
, ranks 24th in the league with 646 yards rushing.
"They picked the guy they wanted, and I landed here," Lacy said. "And I'm very happy here, and I'm doing good."
Bernard, who was taken 37th overall, is one spot ahead of Bell in the rankings with 653 rushing yards.
Montee Ball
, the only other back taken ahead of Lacy, ranks 42nd with 455 yards for the
Denver Broncos
.
More so than his statistics, Lacy has impressed with his running style. The 5-foot-11, 230-pounder has shown a penchant for breaking tackles and carrying the pile.
"He'll rush for a 10-yard gain and be mad at himself because he didn't make another guy miss," Packers right guard
T.J. Lang
said. "That's the attitude that you love to see, man. He's never satisfied. He's always looking for more."
Last week, ESPN Stats & Information provided some insight on a few of the
top candidates for the rookie of the year
award.
None of the rookies at any position ranks as high in their respective statistical categories as Lacy does in the rushing yardage. The top rookie receiver,
Keenan Allen
of the
San Diego Chargers
, ranks 36th in the NFL in receptions (63) and 21st in receiving yards (931).
Minnesota Vikings
rookie receiver
Cordarrelle Patterson
has made his biggest impact on special teams, with two kickoff returns for touchdowns. None of the rookie quarterbacks playing --
Mike Glennon
in Tampa Bay,
EJ Manuel
in Buffalo and
Geno Smith
with the Jets -- have done enough to warrant serious consideration.
November, 24, 2013
11/24/13
2:29
PM ET
DETROIT -- Some thoughts from the first half of the
Detroit Lions
-
Tampa Bay Buccaneers
game, which the Bucs lead
17-14 at the half
.
Return of Burleson:
Nate Burleson
has said for a couple of weeks that he planned on coming back and trying to pick up right where he left off, which was a 116-yard game against Washington in Week 3. He's well on his way to proving that right after a massive first half.
Burleson was Detroit's most-targeted receiver in the first half, catching five passes for 67 yards and his first touchdown of the season, one that resulted in a pizza delivery touchdown celebration. Burleson was targeted one more time than
Calvin Johnson
, who had six attempts.
A little more pressure:
Detroit has two first-half sacks, one from
Ziggy Ansah
, who is in his first game back after suffering an ankle injury against Dallas in October. The other came on a rare blitz from the Lions, where
Glover Quin
sacked
Mike Glennon
for a 13-yard loss.
Otherwise, there hasn't been much pressure on Tampa Bay quarterback
Mike Glennon
, a continuation of the same issues the Lions have had throughout much of the season with their four-man rush. There has been limited rushing success today but nothing really strong.
Cornerback conundrum:
In part due to the issues with pressure on the defensive line, Detroit's cornerbacks have struggled throughout the day.
Rashean Mathis
had an awful drive in the second quarter, being beat in coverage on a 47-yard pass to
Vincent Jackson
and then again on a touchdown pass from Glennon to
Tiquan Underwood
. The Lions have had cornerback issues for a good portion of the season as well and it showed again against Tampa Bay.
Consider this -- Glennon finished the first half 9 of 11 for 132 yards, a touchdown, no interceptions and a 147.0 quarterback rating. That's just not good for Detroit's defense.
November, 23, 2013
11/23/13
12:00
PM ET
ALLEN PARK, Mich. -- Over the past three weeks, the
Detroit Lions
' schedule became a little bit more difficult.
The
Tampa Bay Buccaneers
, at the time winless and apparently flailing, have played like a different team over the past three weeks. The Bucs played well in a loss to Seattle and then beat Miami and Atlanta in back-to-back weeks in Tampa Bay.
Now, Tampa Bay has to go on the road again, this time to Detroit, a former divisional rival that the Lions have beaten three of the last four times they have played. But this Buccaneers team is one with belief now.
"Guys are just excited," Tampa Bay cornerback
Darrelle Revis
said. "I think that during the time when we were 0-8, it wasn't really, you know, the atmosphere wasn't positive. Guys were moping around and things like that.
"I think we kind of forgot how to win."
[+] Enlarge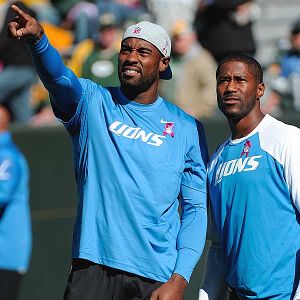 Benny Sieu/USA TODAY SportsCalvin Johnson (left) should be happy to have Nate Burleson back on the field this week as the Detroit Lions receiver will help in double coverages.
Now, though, there isn't as much of a winning issue in Tampa Bay. How does Detroit stop that from becoming a three-game winning streak? Here are four keys.
Burleson being back:
Detroit has done a better-than-serviceable job in the absence of No. 2 receiver
Nate Burleson
with a variety of players making plays with him out with an broken forearm.
Joseph Fauria
had a massive game against Cleveland.
Kris Durham
has become a reliable option on the outside opposite
Calvin Johnson
.
Brandon Pettigrew
has seen more targets and production.
But the Lions' offense with the veteran is a much different operation. Burleson offers a reliable option in the slot who can help force teams from focusing too much on Johnson or running back
Reggie Bush
. And if teams do continue to pay the same attention to those two players, the middle of the field should be wide open for Burleson. Sunday begins the new proving ground for Burleson, who was playing well before the injury.
Rattle Glennon:
At this time last week, it seemed an inevitable that the Detroit defensive line would pressure and sack
Ben Roethlisberger
multiple times. Pretty much everyone else had this season.
But the Lions couldn't really reach Roethlisberger for a multitude of reasons. Roethlisberger was getting rid of the ball faster than any quarterback Detroit had faced this season. They also only blitzed 14.6 percent of the time, the Lions' lowest percentage since a loss to Cincinnati in Week 7. And they only sacked Roethlisberger once and hit him twice. A rookie like
Mike Glennon
against this defensive line, though, could have some issues.
Keep Johnson involved:
Johnson was held without a catch and was only targeted three times in the second half against Pittsburgh, a rarity for the man considered the consensus best receiver in the NFL. Of course, Johnson still had a massive day with six catches for 179 yards, but they need to find Johnson in a more balanced manner to keep the Tampa Bay defense guessing.
Specifically, the Lions should try to target Johnson to the side of the field where
Dashon Goldson
would have been. The Buccaneers' starting safety won't play this week, so having a talented but relatively inexperienced player in
Mark Barron
could lead to some mistakes and some ways for Johnson to exploit Revis.
Focus on Vincent Jackson:
The Buccaneers' top receiver is quietly having one of the better seasons of his career, already catching 56 passes for 827 yards and five touchdowns. In Tampa's destruction of Atlanta last Sunday, he had 10 catches for 165 yards, his fourth 100-yard game of the season.
He'll be a problem for the Lions' inconsistent cornerbacks.
Rashean Mathis
will likely draw the Jackson assignment initially, but don't be surprised if you see the Lions roll coverage toward Jackson as he has been their only true receiving option.
November, 21, 2013
11/21/13
10:00
AM ET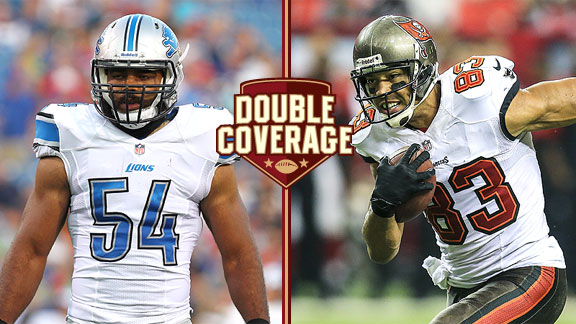 USA Today SportsDeAndre Levy and the Lions will need to keep Vincent Jackson in check on Sunday.
Tampa Bay started its season terribly before finding some answers the past two weeks. Detroit started its season strong but is suddenly vulnerable and has some questions.
Only the Lions are in the playoff picture heading into the last six weeks of the season. Meanwhile, the Buccaneers can play spoiler and give a damaging blow to the Lions' playoff hopes.
The Buccaneers will try to do that with a rejuvenated defense that caught the eye of Detroit quarterback
Matthew Stafford
.
"They are an extremely talented defense," Stafford said. "Probably the most talented defense we've played all year."
ESPN.com NFL Nation reporters Michael Rothstein (Lions) and Pat Yasinskas (Buccaneers) break down Sunday's matchup.
Rothstein:
What has happened over the past couple of weeks to turn this Tampa team around?
Yasinskas:
The short answer is that the Bucs suddenly have gotten much better at finishing games, a huge problem early in the season. But it goes much deeper than that. Coach Greg Schiano has a reputation for being stubborn and inflexible. But he's changed in recent weeks. His mood has been lighter on the practice field and when he's met with the media. More importantly, he's adjusted some things on the field. He's stopped stunting so much on the defensive line, and that's created more straight-ahead rushes for defensive tackle
Gerald McCoy
. Schiano has used cornerback
Darrelle Revis
in more man-to-man coverage after playing him in a lot of zone early in the season. The Bucs also have been running the ball much better, and that's a tribute to the offensive line.
Speaking of McCoy, he and
Ndamukong Suh
came out in the same draft, and early on, it looked like Suh clearly was the better player. But McCoy has been outstanding of late. What kind of a year is Suh having?
Rothstein:
Suh's actual statistics are fairly pedestrian and wouldn't really stand out to anyone if they were just watching Detroit from afar. But he has faced a lot of double-teams throughout the season and has been somewhat consistent throughout the year. He played his best in the two games against Chicago -- four quarterback hurries in Week 10, two sacks in Week 4 -- but he and the rest of the Detroit defensive line almost inexplicably struggled to reach Pittsburgh quarterback
Ben Roethlisberger
this past Sunday.
Detroit has not blitzed much this season, putting a lot of pressure on the front four, starting with Suh.
That'll lead into my next question -- how has
Mike Glennon
been progressing this season, and how does he move when he is pushed in the pocket a little bit?
Yasinskas:
Glennon has been a pleasant surprise. He was thrown into the lineup when
Josh Freeman
was benched, and he struggled at first. But Glennon has steadily improved and has been very good in recent weeks. He had only three incompletions in Sunday's victory over Atlanta. He's shown poise and leadership. Glennon's strength is his big arm, and the Bucs are trying to develop more of a deep passing game. They showed signs that's catching on when
Vincent Jackson
caught two long passes against the Falcons.
I first saw Glennon when I was covering the filming of "Gruden's QB Camp" this past spring. Watching Glennon's college tape, I thought he didn't have the mobility to succeed in the NFL. As it turns out, I was wrong. Glennon is not a running threat, but he's not a statue, either. He's been extending some plays by scrambling.
Speaking of deep passing games, the matchup I can't wait to see is
Calvin Johnson
against Revis. I saw the Lions-Steelers game, and it seemed like Johnson disappeared in the second half. What was all that about? Revis and Johnson went head-to-head in a 2010 game, and Johnson caught just one pass for 13 yards. Do you see Revis, with a little bit of help, being help to keep Johnson quiet?
Rothstein:
It depends on what Tampa tries to do defensively. When teams have tried covering Johnson with single coverage, he's destroyed opponents. It happened a good amount against Dallas and early against Pittsburgh. It goes to the situation most teams have had to face this season -- do you double-team Johnson and give a lighter box to
Reggie Bush
and
Joique Bell
, or do you play single high to focus on Bell and Bush and put Johnson in lighter coverage?
That said, Revis is one of the best corners in the league -- something Stafford acknowledged Tuesday -- and it should be an intriguing matchup Sunday. Johnson likes going against the top corners in the league and has had some success this season in those matchups, notably against Arizona's
Patrick Peterson
(six catches, 116 yards, two touchdowns) and Dallas'
Brandon Carr
(14 catches, 329 yards).
One of the other ways teams have had success against Detroit is to pressure Stafford, which hasn't been easy this season. It goes back to that first question with McCoy, but is he the key to any pressure Tampa might get?
Yasinskas:
McCoy is the central piece of the defensive line, and everything feeds off him. But he's not alone in the pass rush. End
Adrian Clayborn
has some pass-rush skills, and the Bucs have started lining up outside linebacker
Dekoda Watson
as a rush end. But the Bucs also like to use their linebackers as blitzers, and
Lavonte David
(five sacks) is a very good pass-rusher. But it all goes back to McCoy. The Bucs rely on him to push the quarterback off the spot, and the other players can clean up.
You mentioned Bush. At least from a distance, it seemed like he got himself in the doghouse by fumbling against Pittsburgh. Is Bush in good graces with the coaching staff, or will we see less of him Sunday?
Rothstein:
Doghouse? No. But he needs to work on protecting the ball better and hanging on to it, period. He's struggled with drops all season and lost fumbles two of the past three weeks. He's too big a weapon for Detroit to move away from him -- especially at home -- but if he continues on this trend, Bell might steal some of his snaps.
November, 7, 2013
11/07/13
12:00
PM ET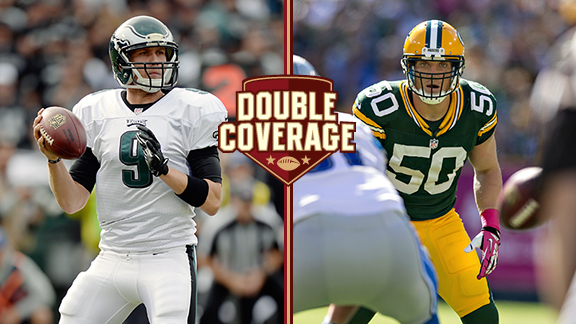 Getty ImagesNick Foles and A.J. Hawk meet Sunday in Green Bay in a game that's turned in the Eagles' favor.
If you expected the
Philadelphia Eagles
to have the edge at quarterback for their Week 10 meeting against the
Green Bay Packers
at Lambeau Field, go to the head of the class.
The teams play Sunday, a week after their quarterbacks made headline news. The Pack's
Aaron Rodgers
broke his collarbone in Monday night's loss to the
Chicago Bears
, a day after the Eagles'
Nick Foles
tied the NFL record with seven touchdown passes against the
Oakland Raiders
.
A game that looked to be safely in the Packers' column is suddenly wide open. NFC North aficionado and all-around NFL expert Kevin Seifert breaks down the game with ESPN.com Eagles reporter Phil Sheridan.
Phil Sheridan:
I'll start with the obvious one: Can the Packers win without Rodgers? Did they take his durability for granted in not having a better backup in place?
Kevin Seifert:
On a local level, the backup quarterback has been an annual source of controversy for the Packers throughout Rodgers' career as a starter. Nationally, most people didn't find out about it until Monday night.
Seneca Wallace
is the backup only because he was available when they realized none of the players they took to training camp was up to the job. He is 6-15 in his career as a starter, and his career seemed over in August 2012 when the
Cleveland Browns
released him.
The Packers' entire scheme is built around Rodgers doing things that only Rodgers can do. Think of what happened when the
Indianapolis Colts
played without
Peyton Manning
in 2011. The Packers will need to make fundamental changes to their offense -- and expect substantial elevation in other areas of their team -- to make it through this wilderness.
I have to imagine the Eagles can't believe their luck to be facing Wallace instead of Rodgers, huh?
Sheridan:
They are saying all the right things about wanting to face the best and never wanting to see anyone get hurt, but they aren't oblivious. This game looked like a double-digit loss the day the schedule came out, and it still looked like an easy Packers home win until Rodgers' collarbone broke Monday night. So it not only becomes a winnable game for the Eagles, it comes when a win, combined with a Dallas loss (the Boys are in New Orleans), would move them even with the Cowboys at 5-5.
And it's not like the Eagles owe anybody an apology when it comes to luck. They haven't had a quarterback start and finish two games in a row since September, and they've been down to
Matt Barkley
twice.
They may not have a starter as good as Rodgers, but their backup isn't half bad. Foles threw for seven touchdowns Sunday against an Oakland defense that didn't blitz or, at times, even cover receivers. Given Dom Capers' background, how would you expect him to respond to a challenge like this?
Seifert:
Capers is known for major scheme changes from week to week, depending on matchups. But as usual, the Packers are dealing with injuries that will limit his options. They are down four linebackers at the moment, although the Packers are hopeful that
Clay Matthews
can return soon -- if not Sunday -- and play with a club to protect his broken thumb.
In short, I'm not sure how many options Capers will have. He does have a group of talented cornerbacks --
Tramon Williams
,
Sam Shields
,
Casey Hayward
and
Davon House
. Capers will have to hope that they can stick with the Eagles' group of perennial All-Pros and future Hall of Famers better than the Raiders did.
Are the Eagles' receivers really that good?
Sheridan:
If they are, they have managed to keep that greatness a secret until Sunday in Oakland.
DeSean Jackson
is a dynamic player, no question about that, but he has been taken out of games in the past when cornerbacks get physical with him. The Raiders did not, and Jackson went off.
As for
Riley Cooper
and
Jason Avant
, they have not made up for the loss of
Jeremy Maclin
to a torn ACL during training camp. Cooper had great numbers Sunday -- five catches, three touchdowns, 139 yards -- but he has been neutralized more often than not during the season.
Tight ends
Brent Celek
and
Zach Ertz
had big numbers at Oakland too. So either the Eagles offense really turned a corner or the Raiders just didn't have anyone playing corner. Maybe a bit of both.
The Packers have added a more robust running game to their offense this season. Now that Rodgers is hurt, can
Eddie Lacy
& Co. carry the team until the quarterback is back? Is that even possible in this pass-happy league?
Seifert:
I tend to doubt it. Up until Monday night's game against the Bears, much of the Packers' success in the run game came against light boxes (six men or fewer) designed to focus first on the pass, according to the charting we get from ESPN Stats & Information. The Bears brought a safety into the box Monday night and the Packers still rushed for 199 yards, but we should note that the Bears have the NFL's fourth-worst rush defense this year.
And even when you run successfully, it usually takes longer to score and thus your total points can drive down. The Packers were averaging 30 points per game before scoring 20 Monday night against the Bears.
How do you think the Eagles will approach it? Eight men in the box? Nine? How about 11?
Sheridan:
This sets up a bit like the Tampa Bay game, I guess.
Mike Glennon
was making his second start, and the Bucs' passing game was not expected to be a big threat. The Eagles focused on shutting down
Doug Martin
, and they did, holding him to 67 yards on 16 carries. It helps, of course, to get a lead and force the opponent to throw the ball more.
All season, the Eagles' focus has been to stop the run while limiting big pass plays downfield. That made them vulnerable to intermediate passing and runs after the catch. Tampa Bay's
Vincent Jackson
, for instance, had nine catches for 114 yards and two touchdowns while the Eagles were focused on Martin.
That has to be the Packers' blueprint for success. If Wallace can get the ball out quickly and catch
Jordy Nelson
and
Andrew Quarless
in stride, the Packers can move the ball. The Eagles are better at tackling and covering underneath than they were, but there's opportunity there.
September, 25, 2013
9/25/13
12:05
PM ET
With Wednesday's news that the Buccaneers are benching quarterback
Josh Freeman
in favor of
Mike Glennon
, it's time for a scouting report on the rookie.
Glennon
Let's turn back to this
Insider item
I did with ESPN's Jon Gruden during Gruden's QB Camp in the spring. Gruden spent more than four hours with Glennon and, prior to that, spent a lot of time preparing for the session by watching college tape.
Let's see some of Gruden's thoughts on Glennon:
"When I worked with Glennon, I told him there are some things he did better than anyone else in college football last year,'' Gruden said. "Specifically, he can flat-out drive the football. The guy can absolutely hum it. Glennon can throw the ball to the wide side of the field effortlessly. In college, with the wider hashmarks, when you throw the ball to the wide side of the field, it's a big-time throw. In fact, there are some programs that don't even attempt it -- they don't even bother asking a QB to attempt a wide-side throw down the field. That's not the case with Glennon.
"This guy can make some really difficult down-the-field throws. If you watch the camp session with Glennon, you'll see we went through a "Fox Two XY Hook." I coached that pattern for 18 years. I'm not sure I've ever seen a QB at any level throw it with the ease Glennon can.
Brett Favre
threw a certain second-reaction post, by my count, about four times in his career. I saw Glennon throw it four times last season.
Gruden also gave a flattering answer when asked to compare Glennon to a current NFL quarterback.
"If you want a recent comparison, I don't think the similarities to
Joe Flacco
are unfair,'' Gruden said. "They're both 6-foot-6, they both have really nice throwing motions and they both have a nice, compact stroke that just looks effortless. If you watch end-zone film of Flacco, there are times when you go, 'Wow!' when he snaps one off. I found myself saying the same with Glennon a few times."
July, 12, 2013
7/12/13
12:00
PM ET
»
NFC Eight in the Box:
East
|
West
|
North
|
South
»
AFC:
East
|
West
|
North
|
South
A look at the one move each team in the NFC North needed to make but didn't.

Chicago Bears:
General manager Phil Emery approached the draft with hopes of selecting a quarterback, and there were reports of the Bears privately working out North Carolina State's
Mike Glennon
. The plan made sense for a number of reasons. First, the team was bidding farewell to 2012 backup
Jason Campbell
. Second, new coach Marc Trestman is known as a quarterback guru and the Bears could benefit from having him develop a rookie. Third, starter
Jay Cutler
is entering the final year of his contract. Ultimately, however, the Bears couldn't justify using any of their six selections on a quarterback. For now, 2012 third-stringer
Josh McCown
is penciled in as Cutler's backup.

Detroit Lions:
It sounded greedy, but a need at wide receiver existed all offseason. After releasing
Titus Young
and shepherding
Ryan Broyles
through his second ACL rehabilitation in as many years, the Lions don't have many sure things behind receiver
Calvin Johnson
. Veteran
Nate Burleson
participated in offseason practice but suffered a major leg injury last season.
Mike Thomas
remains on the roster after being acquired last year from the
Jacksonville Jaguars
, and several players have talked up the potential of first-year player
Pat Edwards
. The Lions tried to supplement via free agency, pursuing
Darrius Heyward-Bey
, among others, but in the end, they added no one of experience and drafted no one with major potential.

Green Bay Packers:
Did the Packers do enough from a personnel standpoint to improve their defense against the type of run-heavy offenses that gave them trouble last season? We all know they worked hard on developing a better approach and scheme, even sending their defensive coaching staff to a college coaching clinic at Texas A&M. But they added only one notable player, first-round draft pick
Datone Jones
, to their front seven. They also hope that 2012 first-rounder
Nick Perry
can establish himself as an outside linebacker. The Packers are hoping to play a different way with largely the same players.

Minnesota Vikings:
It's true that the Vikings chose a cornerback,
Xavier Rhodes
, with one of their three first-round draft choices, but it's still fair to question whether the team did enough to make up for the departure of slot cornerback
Antoine Winfield
in the offseason. Winfield had an excellent season in 2012 and was one of the underdiscussed reasons why the Vikings finished 10-6. The Vikings have what appears on paper to be a promising young core of cornerbacks, with Rhodes,
Chris Cook
and
Josh Robinson
. But none of them has played the nickel role that Winfield excelled at last season, and Cook has never been able to stay on the field.
April, 23, 2013
4/23/13
9:45
AM ET
Jason La Canfora's report for CBSSports.com
is a reminder that the
Chicago Bears
should not be ruled out as a candidate to draft a quarterback, despite their relatively limited number of draft picks.
According to La Canfora, the Bears were scheduled to work out NC State quarterback
Mike Glennon
.
ESPN draft analyst Mel Kiper Jr.

rates Glennon as the draft's fourth-best quarterback, and he seems likely to be drafted before the end of the second round.
We discussed the issue
earlier this month
, noting that Bears starter
Jay Cutler
is entering the final year of his contract. Perhaps the Bears are looking to hedge their bet against Cutler's future, but I also think they would simply like to take advantage of hiring a quarterback guru as their new head coach.
If Marc Trestman is as good with quarterbacks as the Bears hope, they would be missing an opportunity not to draft them regularly and see if they can be converted into commodities. If nothing else, those quarterbacks could develop into competent and cheap backups rather than require an annual foray into free agency to find Cutler's backup.
Glennon is a strong-armed 6-foot-6 pocket passer who played at one of the schools that Trestman worked for during his career as an assistant. He was part of ESPN analyst Jon Gruden's QB Camp this spring, and Gruden wrote he was the
"classic prototype" quarterback
whose traits, in an age of mobility expectations, "might not be worth quite what they used to be." Still, Gruden concluded, he can make "absolutely any throw."