December, 3, 2012
12/03/12
11:45
AM ET
After the Detroit Lions' 35-33 loss to the Indianapolis Colts, here are three issues that merit further examination:
ESPN.com

We've had plenty of offseason discussions about the value of defensive backs relative to pass rush in the NFL's current passing era. A reasonable argument can be made that an elite pass rush, as the Lions have displayed at times, can better protect an average group of cover men than if the situation were reversed. Perhaps that's why the Lions have felt comfortable cobbling together their secondary on a yearly basis under general manager Martin Mayhew. Sometimes it has worked, but Sunday it was a big reason for the Lions' loss. Veteran cornerback Drayton Florence gave up receiver LaVon Brazill's 42-yard fourth-quarter touchdown in a situation where the cornerback's only job is to keep the receiver from getting behind him. Florence was signed just before the start of the season and clearly was available for a reason. I'm not blaming Florence for the loss and I'm not saying an elite cornerback couldn't also get beat in that situation. I'm saying that a patchwork secondary has its risks, and Sunday we saw what can happen. If you're playing a corner who can't cover in a prevent-style defense, and you're playing him because you realized at the end of training camp that you needed more help than you gave yourself in the offseason, then, well, you probably deserve the result.

Defensive tackle Ndamukong Suh had an indisputably great game. The Colts lost yardage on four of his six tackles. He had one sack, hit Luck six times and batted down a pass. It's hard to ask for more than that from a defensive tackle in a regulation game. Perhaps you could question why one of those hits didn't come on the last play of the game, when Andrew Luck seeped through the pocket long enough to find receiver Donnie Avery for the game-winning score, but you could say that about everyone on the Lions roster in some way. We noted earlier that Colts guard Mike McGlynn was furious with Suh for what he viewed as celebrating the concussion of teammate Winston Justice, but I haven't seen a replay yet. It's not visible on the version the NFL puts on its Game Rewind feature. McGlynn isn't the first opponent to accuse Suh of such antics, but at this point there is nothing conclusive we can say.

I know there has been plenty of debate about the Lions' playcall on third down just after the two-minute warning. A conversion would have sealed the game for the Lions, but Mikel Leshoure's one-yard run ensured the Colts would get one final possession. Coach Jim Schwartz played it by the book, opting to run down the clock with the Colts out of timeouts rather than attempt a pass considering there was five yards to go. (It should be noted that quarterback Matthew Stafford had hit only one of his six attempts in the fourth quarter.) I think this is one of those situations where people would be upset with whatever Schwartz decided if it didn't work. Don't forget the 2010 game against the New York Jets, when an incomplete pass by quarterback Drew Stanton late in the game provided the Jets ample time on their final possession. Sunday, the ball was at midfield and the Colts were going to have no more than 1 minute, 14 seconds to work with. The Lions were let down by a poor directional punt by Nick Harris and atrocious defense on the final drive.
And here is one issue I still don't get:
If the season ended today, the Lions would have the No. 8 overall pick in the 2013 draft. And amazingly, we could craft a relatively long list of needs for a team that returned 21 of 22 starters this season because it believed itself close to contending for a championship. Nate Burleson's injury, Titus Young's maturity and concern over Ryan Broyles' knee makes receiver a surprisingly thin position. As we just discussed, the Lions are paying this season for the little attention they've paid to their secondary. Allowing four fourth-quarter comebacks is indicative of poor pass coverage when it was required. And you wonder who among the Lions' long list of pending free agents on defense, from Cliff Avril to DeAndre Levy to Justin Durant to Louis Delmas to Chris Houston, will need to be replaced as well.
November, 7, 2012
11/07/12
12:00
PM ET
As we noted last month, we've done away with the weekly Stock Watch post and instead will hit it after every quarter of the season. Here's what we posted
after every NFC North team had played four games
, and below is our assessment now that everyone has played at least half of the games on their 2012 schedule. I'm such a happy guy that I went crazy and shifted a slot from our "Falling" category to "Rising" to reflect the fact that all four of our teams are at least .500 at the moment. The glass is half-full up in here.
FALLING
[+] Enlarge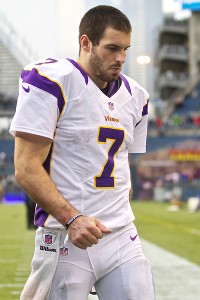 Stephen Brashear/Getty ImagesChristian Ponder has thrown six interceptions in the past four games, three of them losses.
1. Minnesota Vikings' vision:
The most important task facing the Vikings this season was not challenging for a postseason spot, something a 5-3 record through eight games put them in position to do. Instead, it was developing and cementing quarterback
Christian Ponder
as their long-term answer at the position. Ponder made clear progress during training camp and
played efficiently in the Vikings' conservative structure
early this season. But a slump has now extended to five games, lowlighted by a pair of sub-70 yard efforts, and raised an uncomfortable specter. If Ponder can't straighten himself out, his second NFL season will be a failure. The Vikings' long-term plan centers around his successful development. Would they give him an unchallenged third season to prove himself? Or would they need to start considering contingency plans? NFL franchises are lost without a quarterback, putting the Vikings at a critical point under their current leadership.
2. Health in Green Bay:
Nearly half of the
Green Bay Packers
' Week 1 lineup has missed at least one game because of injuries. All told, the Packers have lost 40 starts from players who were either listed as the starters on the team's opening depth chart or moved into that role as a result of other injuries. They face a post-bye landscape without receiver
Greg Jennings
, right tackle
Bryan Bulaga
, running back
Cedric Benson
, linebackers
Nick Perry
and
Clay Matthews
, and cornerback
Charles Woodson
, for various periods of time. Receiver
Jordy Nelson
's status is uncertain. Optimists recall the Packers won the Super Bowl two years ago with 15 players on injured reserve. A realist would wonder how likely it is to repeat that feat under such circumstances.
RISING
1. Cornerbacks in Chicago:
Even in a passing league, NFL teams have devalued the cornerback position in favor of pass rushers in recent years. Conventional wisdom has suggested that rules inhibiting aggressive coverage made pressure a better defensive weapon. But the
Chicago Bears
have proved otherwise this season, getting dominant performances from cornerbacks
Charles Tillman
and
Tim Jennings
both in coverage and playmaking. Their coverage has helped the Bears' pass rush compile an NFL-high 21 sacks from a standard four-man alignment, and as playmakers they've contributed a combined eight interceptions, three touchdowns, 21 defensed passes and seven forced fumbles. Oh, and they're combining to earn $6.55 million this season. That might have to change between now and the start of the 2013 season.
2. Scott Linehan, Detroit Lions offensive coordinator:
The Lions have faced considerable criticism for not forcing more downfield passes against defenses who are blatantly aligned to stop those plays. That strength-on-strength argument sounds good around the water cooler, but it's a suicidal long-term approach. Linehan and coach Jim Schwartz understood that and, from the beginning, have insisted on a traditional antidote: The running game. Personnel shortages
made that difficult earlier this season,
but the emergence of
Mikel Leshoure
and
Joique Bell
provide hope for the second half of the season. The two combined for 149 yards on 29 carries last Sunday against the
Jacksonville Jaguars
, and Leshoure scored three touchdowns. Linehan deserves credit for maintaining a sane thought process amid early season panic around the team. A successful running game might not force radical defensive changes, but it will give the Lions a reliable way to move the ball and score if they don't.
3. Adrian Peterson, Vikings running back:
Exactly 315 days ago, Peterson's left knee was a mangled mess. We've already noted
his stunning comeback,
but it's worth updating after his 182-yard performance last Sunday against the
Seattle Seahawks
. In his past three games alone, Peterson has amassed 458 yards and four touchdowns, including breakaway runs of 74 and 64 yards. He leads the NFL in rushing yards (his total of 957 this season is 163 more than the NFL's next-most productive running back), yards from scrimmage (1,107), yards per carry (5.7), yards after contact (515) and runs of at least 20 yards (11). His comeback has been no less impressive than that of
Denver Broncos
quarterback
Peyton Manning
, and his recovery came in less than half the time.
4. Jay Cutler, Bears quarterback:
From this vantage point, Cutler made substantial progress on multiple fronts over the past month. We got to the point where Cutler's quirks and sideline exchanges became
a matter of course rather than cause for personality debates.
We acknowledged how good
he has been in clutch situations
. And now we should note that the Bears are 12-1 in Cutler's past 13 starts dating to last season. Since the start of the 2010 season, in fact, the Bears have a .750 winning percentage in his starts (24-9). For reference, the Packers have a .769 winning percentage under quarterback
Aaron Rodgers
in that same span.
October, 1, 2012
10/01/12
11:30
AM ET
After the Minnesota Vikings' 20-13 victory over the Detroit Lions, here are three issues that merit further examination:
ESPN.com

In-game charting from ESPN Stats & Information uncovers a revealing approach the Vikings have taken with tailback Adrian Peterson, who is still recovering from December knee surgery. In four games this season, 94 percent of his carries and total yards have come on runs between the tackles. Sunday, none of his 21 carries went outside of the tackles. In previous seasons, Peterson has run between the tackles anywhere from 69.7 percent (2009) to 81.6 percent (2010). When the trend is so clear after a fair sample size, it's fair to call it intentional. It makes perfect sense to maximize what Peterson still has -- strength and power -- rather than force what is still coming around, namely his speed and explosion out of cuts. Regardless, Peterson had more bounce in his step Sunday than at any point this season. He finished with 102 yards on 21 carries while playing the highest percentage of the Vikings' snaps (79) since he returned.

The debut of receiver Jerome Simpson coincided with one of the worst passing days, in terms of net yards, by an NFL team this season. But Simpson absolutely had an impact on this game as a deep threat. His leaping 27-yard reception, the Vikings' second-longest this season, extended a fourth-quarter possession and required the Lions to use two extra timeouts. In the first half, meanwhile, Simpson drew a pair of pass interference calls. So looked at one way, Simpson accounted for 107 yards of offense on six plays -- four catches for 50 yards and two penalties for 57. Maybe that's why usually dispassionate coach Leslie Frazier had Simpson in a bear hug when the game was over. The Vikings couldn't have hoped for too much more in his first game of 2012.

It's been a while since we've seen two safeties play as well in the same game as Harrison Smith and Jamarca Sanford did Sunday. Between the two of them, they defended six passes. Smith's biggest hit dislodged the ball from receiver Calvin Johnson in the end zone, while Sanford forced and recovered a fumble by Lions running back Mikel Leshoure. It was Sanford's second forced fumble since replacing the injured Mistral Raymond in Week 3. They were not perfect, of course, and Smith should have intercepted a deep pass to Johnson on the first play of the game. But it's amazing how much better a defense looks when its safeties can make a play on well-thrown balls to good receivers who are open. It's been years since the Vikings had even a glimpse of that potential.
And here is one issue I still don't get:
The Vikings are the darlings of the NFL after a wholly unexpected 3-1 start, including two victories against 2011 playoff teams. But with that success brings added scrutiny, and it's fair to question whether the Vikings can sustain on the low-octane offensive model displayed at various points during this start. Let's be clear on how rare it is to win a game without an offensive touchdown, as the Vikings did Sunday. For this franchise, at least, it hasn't happened since a 2005 victory over the New York Giants. It's a once-in-seven-years kind of thing. The Vikings scored six points Sunday aside from Percy Harvin's 105-yard kickoff return and Marcus Sherels' 77-yard punt return. But maybe that's the point. Perhaps this team's identity will be to find ways to win, without any theme or trend. Eventually in the NFL, confidence snowballs.
August, 25, 2012
8/25/12
11:38
PM ET
Following the
Detroit Lions
' preseason game was painful Saturday night, whether it was via Twitter or Internet play-by-play or the local television broadcast. Five starters and one key backup, including quarterback
Matthew Stafford
, were reported to suffer injuries in a
31-20 loss
to the
Oakland Raiders
. Our job now is to figure out which injuries are significant and which ones sound worse than they are.
[+] Enlarge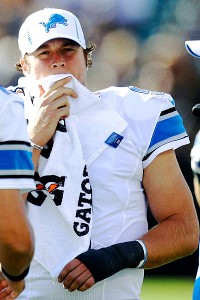 AP Photo/Ben MargotLions QB Matthew Stafford was sporting a wrap Saturday but told reporters he could have continued had it been a regular-season game.
The Lions are headed back east this evening, and it might take a few days for word to filter out about everyone. But according to beat writers who covered the game,
X-rays on Stafford's left hand
were negative. Stafford
told reporters
he would have continued playing if this were a regular-season game, even after the Raiders'
Dave Tollefson
drove him into the hard infield dirt at Oakland-Alameda County Coliseum.
Other injuries included:
Running back Kevin Smith injured his right ankle but told reporters that X-rays were negative and that he had not suffered the more-serious high-ankle sprain.

Both starting cornerbacks, Chris Houston and Bill Bentley, departed with injuries. Houston had a left ankle injury and Bentley had a shoulder injury.

Defensive tackle Ndamukong Suh had ice on his knee in the second half, and running back Mikel Leshoure -- making his Lions debut after fighting back from a number of injuries, had a wrap on his midsection after his final run, according to the Associated Press. There are no indications that Suh was icing for any reason other than maintenance.
Naturally, the biggest concern is with Stafford, and the initial panic I saw on Twitter reflected how recently it was that Stafford was viewed as an injury-prone quarterback as opposed to a 5,000-yard passer. We'll obviously monitor his situation closely, but earliest indications suggested Saturday night's injury was not serious.
June, 18, 2012
6/18/12
7:00
AM ET
We're Black and Blue All Over:
Good morning! Here's hoping everyone had a great weekend, especially Father's Day, and is raring and ready to go for a final week of offseason camp coverage before the entire NFC North goes into a month-long shutdown.
As we discussed Sunday
, Green Bay Packers defensive end Anthony Hargrove will have the appeal of his eight-game suspension heard Monday by NFL commissioner Roger Goodell. On Tuesday, the Minnesota Vikings will open their mandatory minicamp, which concludes Thursday. Be sure to let me know what you want to hear about, and I'll do my best to convince coach Leslie Frazier not to cancel any of the practices I intend to cover.
In the meantime, let's catch up on weekend coverage around the NFC North:
May, 8, 2012
5/08/12
12:49
PM ET
We
noted last week
that free agent running back
Ryan Grant
had an offer on the table from the
Detroit Lions
, and subsequent reports suggested Grant would visit the Lions as early as Monday. So I wanted to pass along that ESPN's John Clayton confirmed that Grant did not visit Monday and has no visits scheduled.
Running backs have had an especially difficult time gaining traction in this free agent market, considering the continuing shift toward the passing game. If the
Green Bay Packers
have interest in re-signing Grant, it appears to be minimal.
Grant has said he would prefer to remain with the Packers, and the Lions have three other running backs in
Jahvid Best
,
Mikel Leshoure
and
Kevin Smith
with whom to compete.
April, 3, 2012
4/03/12
6:14
PM ET
On Monday
, we learned that Detroit Lions running back
Mikel Leshoure
had been cited twice in the past month for marijuana possession. The second resulted in an arraignment that reportedly is scheduled to take place this week.

On Tuesday
, Lions defensive tackle
Nick Fairley
was arrested and charged with misdemeanor marijuana possession in Mobile, Ala.
As several of you point out, that makes three members of the Lions' 2011 draft class to have marijuana-related legal problems since the end of the season. Offensive lineman
Johnny Culbreath
paid a fine in January after
being charged with misdemeanor possession
.
Typically we don't get too worked up about a misdemeanor crime. But three similar incidents in a short period of time reflect poorly on the franchise, and a statement released Tuesday afternoon implies rising concern from the team.
It read
: "We are aware of the incident involving Nick Fairley. We hold all of our players to a high standard of behavior and the recent charges against Nick and Mikel Leshoure are not consistent with those standards. We are extremely disappointed. We will continue to gather information and will have further comment at the appropriate time."
I don't think these incidents will impact any player's status with the organization. If Culbreath wasn't released or disciplined (publicly), then you wouldn't think that Leshoure or Fairley would. However, all three will be subject to the NFL's substance abuse program, which triggers suspensions on a second offense.
In the end, this is a collection of relatively minor offenses, at least from a legal perspective. But the timing and close proximity suggests the Lions might need a more forceful internal deterrent. To combat post-whistle penalties last season, coach Jim Schwartz instituted an infamous zero-tolerance policy. Perhaps a similar program is necessary now.